7 Sensational Pancake Recipes From Around the World
Pancakes have been around, in one form or another, since as early as 30,000 years ago, National Geographic research shows — that's long before IHOP was in business! Since the early days, people around the world have come up with countless ways to doctor their starch-based mixes over the fryer.
Take a world tour of popular pancakes by trying any of these 7 recipes at home.
1. Austria: Kaiserschmarrn
Fortunately for all of us, Austrian Kaiserschmarrn is easier to cook than it is to spell. Although the word may appear garbled to English speakers, it translates directly from the German words for "emperor" (kaiser) and "shredded pancake" (schmarren), reports the Collins German-English Dictionary. The kaiser is an homage to Austria's Kaiser Franz Joseph, who couldn't get enough of this sweet dish during his reign, writes the Austrian Tourism Board.
Though the cake appears thick, it's actually a light, creamy, and doughy confection that can be enjoyed for either dessert or breakfast. "Pair it with a hot cup of coffee for the ultimate in sweet, cozy comfort food," suggests Dramatic Pancake.
Visit Dramatic Pancake for the recipe.
2. China: Scallion Pancakes
Buttery and savory, Chinese Scallion Pancakes are one of the great delights of this Asian nation's cuisine, and they're surprisingly easy to make. "The process is not as complicated as it seems," From Away writes. "And the result is flaky, light and amazing." Try serving along with a mixture of soy sauce, rice wine vinegar, sugar, ginger, and scallions to bring out the best in your dish's flavors.
Visit From Away for the recipe.
3. France: Crêpes
French crêpes are a famous and well-loved type of thin pancake, often flavored, filled, or topped with sweet (sometimes savory) ingredients. Cookie Named Desire's recipe for Hazelnut Crêpes offers a highly adaptable basic crêpe, ideal for cooks of any skill level. As blogger Amanda writes, "These crepes are really light and nutty and are perfect for filling with chocolate and a variety of fruit."
Visit Cookie Named Desire for the recipe.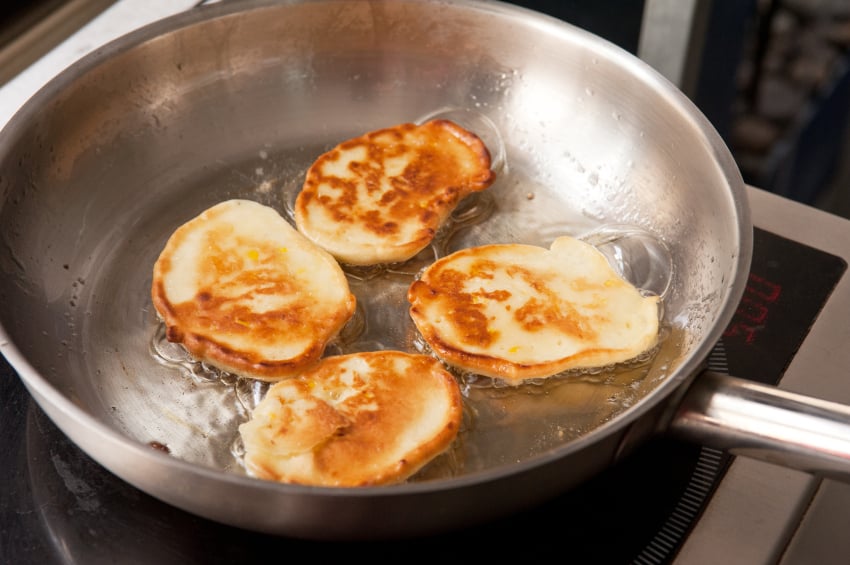 4. Venezuela: Cachapas
Corn-based cachapas, deriving from Venezuela, offer up a tinge of sweetness and savory goodness in each bite. About Food reports that like many pancake-style food items, these corn cakes can be dressed up with sweet or savory accoutrements, depending on the eater's preference. "Use your imagination when topping these — savory, spicy or sweet. You'll find them amiable to most anything you can dream up," writes Pinch And Swirl. This particular recipe takes the savory route, incorporating olive oil, tomato, corn, and avocado to create a mouthwatering dish to be enjoyed at any time of day.
Visit Pinch And Swirl for the recipe.
5. India: Dosas
"One of my favorite recipes to make over is the delicious dosa. I love these crispy, flaky, healthy circles of lentil-and-rice goodness with a passion," writes Holy Cow Vegan. Indian dosas are typically made from a fermented mixture of rice batter and ground lentils, About Food reports, but this Jamie Oliver-inspired recipe saves you some time in the kitchen using a delightfully simple chickpea flour base. Stuff it to your heart's content with any variety of flavorings, though we especially recommend this spiced potato and pepper preparation for a hearty, healthy, and delicious snack.
Visit Holy Cow Vegan for the recipe.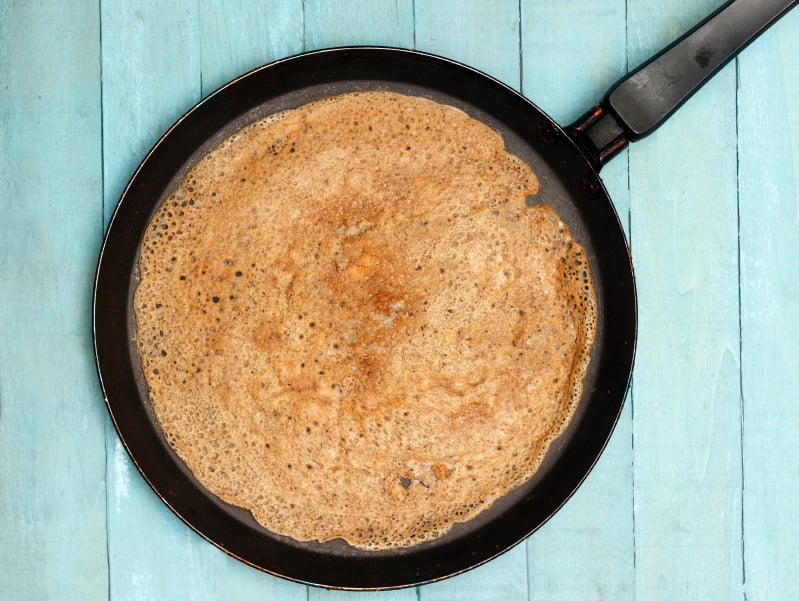 6. Somalia: Anjero
Anjero, sometimes known as lahooh, are sourdough pancakes that take center stage in many Somali kitchens. The dish is often drizzled with butter and sugar for a simple and satisfying breakfast, but can also be paired with beef and other rich meat stews for a savory, warming dinner. "They are light, spongy, chewy and taste a bit like crumpets," writes Abderazzaq Noor, contributor to The Somali Kitchen. This recipe takes just 30 minutes to complete and serves 4 to 6 people.
Visit The Somali Kitchen for the recipe.
7. Korea: Kimchijeon (Kimchi Pancakes)
For a taste of of Korea's famously spiced vegetable dish, kimchi, in pancake form, look no further than this kimchijeon recipe from The Kitchn. "Kimchi pancakes, or kimchijeon, are crispy, a bit chewy, and full of the umami goodness of Korean-style fermented cabbage," writes Kitchn contributor Emily Han. Serve them up as a snack, side dish, or appetizer — we promise you they'll disappear in minutes!
Visit The Kitchn for the recipe.
More from Life Cheat Sheet:
Want more great content like this? Sign up here to receive the best of Cheat Sheet delivered daily. No spam; just tailored content straight to your inbox.