7 Easy Recipes Turning Plain Beans Into Outstanding Dishes
For being such a versatile superstar in the kitchen, beans often get passed over for sexier ingredients like pork and beef. It's a shame, really, because whether they're the star of the dish or the supporting role, beans are so good at so many things. They're cheaper than other proteins, for one, and just as good for you — if not better. Comparing their nutrition facts, 1 ounce of pinto beans has 6 grams of protein, 0 grams of fat, 4 grams of fiber (that's 17% of your daily value in 1 ounce!), and 8% of your daily value of iron. An ounce of ground beef, on the other hand, has 5 grams of protein, 4 grams of fat, 0 grams of fiber, and 3% of your daily value of iron.
Don't shy away from dried beans! It's a little more time, but the flavor of cooking your own is incomparable and way lower in sodium. To take any bean from dried to ready-to-use, soak overnight in plenty of cold water. Drain and recover with water or stock. Add herbs and spices to the water such as pepper, bay leaves, rosemary, and crushed red pepper, but do not add salt or acidic ingredients (tomatoes, lime juice) because they prevent the beans from softening. Bring to a hard boil for 5 minutes, and then cook at a simmer until soft — about an hour. Those with a pressure cooker can forgo the soaking and start with 20 minutes in the cooker, ending with 20 minutes simmering on the stove.
With a resurgence in heirloom popularity, it's also easier than ever to get some stunning heirloom beans instead of being limited to black, pinto, and lima beans. Grab a bag of beans and make one of these stunning recipes. Embrace the magical bean!
1. Mussel and White Bean Stew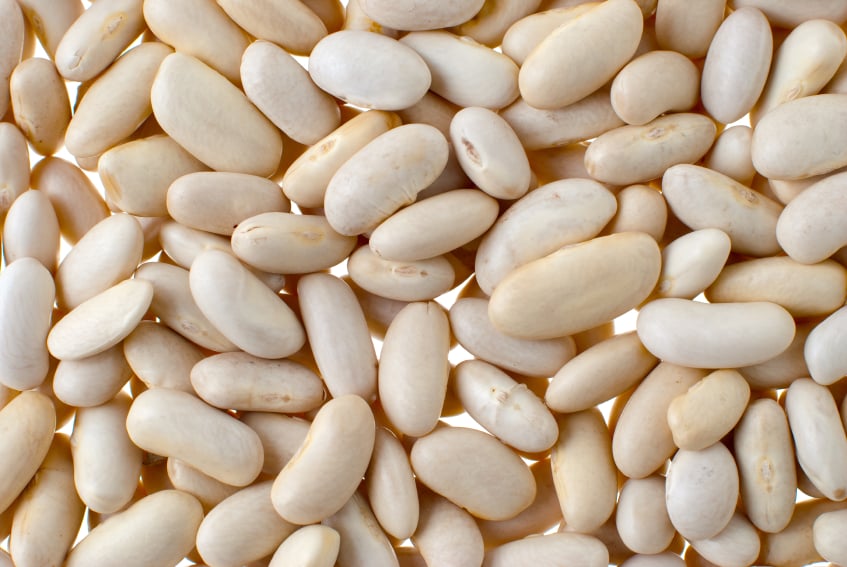 This dish is made for hunks of crusty bread. This recipe from Food & Wine uses two 14-ounce cans of cannellini, but you can substitute 1½ cups dried beans and cook them with bay leaves for added flavor.
Ingredients:
2 pounds mussels, scrubbed
¾ cup dry sherry
¾ cup dry white wine
¼ cup extra-virgin olive oil
2 garlic cloves, minced
1 Thai or other small red chile, minced
Two 14-ounce cans cannellini beans, drained and rinsed
Salt
3 tablespoons chopped parsley
Crusty bread, for serving
Directions: In a deep skillet, combine the mussels, sherry, and wine. Bring to a simmer, cover and cook over moderate heat until the mussels open, 3 minutes. Remove the mussels from their shells. Strain the broth; reserve 1 cup.
Wipe out the skillet and heat the olive oil in it. Add the garlic and chile and cook over moderate heat for 1 minute. Stir in the beans. Add the broth, season with salt and bring to a boil. Add the mussels and the parsley and heat through. Serve the stew with crusty bread.
2. Cauliflower, Fennel, and White Bean Salad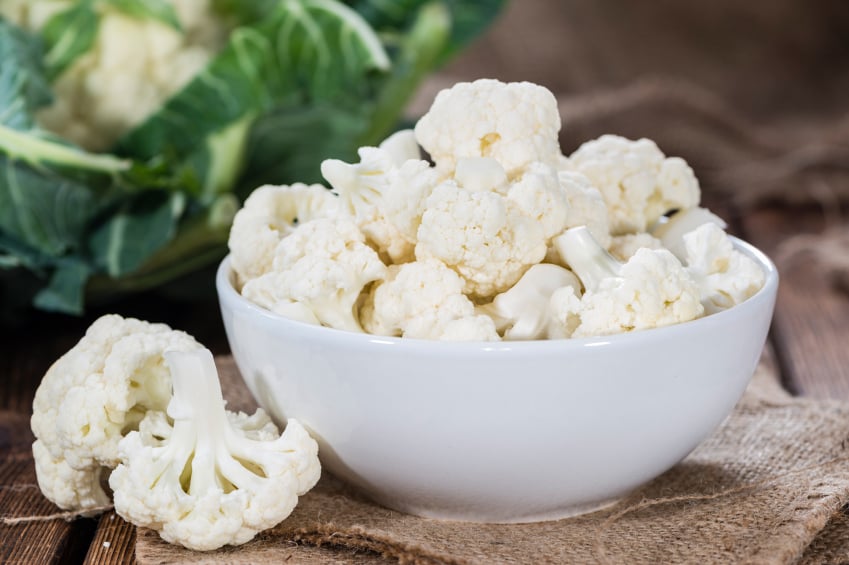 This is one hefty salad. Forget your usual bean salads, the author of this recipe from The Kitchn, Faith Durand, describes this dish as "crunchy and soft at the same time" with salty, creamy, sweet, and bright acidic flavors running throughout.
Ingredients:
⅓ cup olive oil
2 long sprigs fresh thyme
1 lemon
1 tablespoon red wine vinegar
1 small head of cauliflower
1 (15-ounce) can white beans, drained and rinsed, or 1½ cups cooked white beans
1 fennel bulb
Handful fresh chives
Handful fresh parsley
½ cup crumbled feta cheese
Kosher salt
Freshly ground black pepper
Directions: Heat the olive oil in a small frying pan. De-stem the thyme leaves, discarding stems. Cook thyme in the hot olive oil just for a few moments, or until fragrant. Remove from heat and set aside.
Zest the lemon and set aside the zest, saving for some other use. Juice the lemon and whisk the juice and vinegar together.
Chop or shred the cauliflower into bite-sized florets. Drain and rinse the beans. Chop and shave the fennel bulb using a mandoline or a knife. Mince the chives and parsley. Combine cauliflower, beans, fennel, chives, parsley, and thyme oil in a large bowl and toss. Mix in cheese. Add lemon juice mixture and toss to coat. Season salad to taste with kosher salt and black pepper.
3. Borlotti Beans in Tomato Sauce with Creamy Parmesan Polenta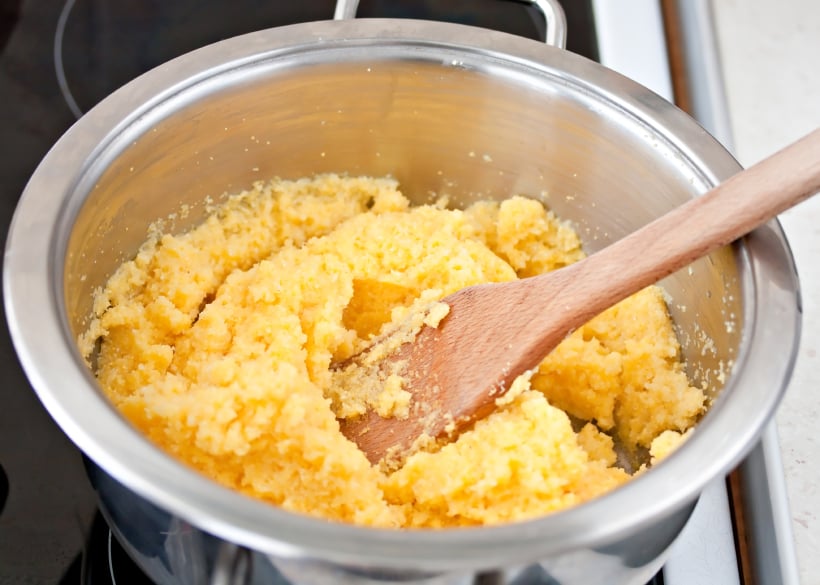 This recipe from Joy the Baker uses Borlotti beans, an heirloom that bean-grower Rancho Gordo describes as a "beautifully dense, velvety bean." Joy describes this dish as "one big bowl of good-for-you comfort." We describe it as a must-make.
Ingredients:
Beans
3 tablespoons unsalted butter
½ medium yellow onion, chopped
1 medium fennel bulb trimmed and chopped
3 garlic cloves, finely chopped
4 teaspoons fresh oregano
¼ teaspoon dried red pepper flakes
Salt
1 small carrot, peeled and shredded
1 (28-ounce) can whole tomatoes or plum tomatoes
Pepper
3 cups cooked and drained Borlotti beans
Polenta
1 cup polenta
3 cups cold water
2 cups whole milk
1 teaspoon salt
⅓ cup grated Parmesan cheese
Directions: In a small, heavy bottom sauce pan over medium heat, melt butter. Add onions, fennel, garlic, 2 teaspoons oregano, and red pepper flakes, plus a pinch of salt and pepper. Sauté for 10 minutes.
Add shredded carrot and sauté for 2 to 3 minutes more.
Add tomatoes and stir to break up. Add another pinch of salt.
Reduce heat to very low simmer and cook, uncovered, stirring occasionally, until the tomatoes begin to separate from oil, about 2 hours.
Add the rest of the oregano, plus more salt and pepper to taste. Add Borlotti beans and stir to combine.
To make the polenta, place 1 cup of dried polenta in a medium-size bowl. Top with one cup cold water. Set aside.
In a medium-size sauce pan, bring 2 cups of whole milk and remaining 2 cups of water to a boil. Once boiling, add salt. Slowly whisk the polenta and water mixture into the boiling milk mixture. Turn flame down to medium-low. The time the polenta takes to cook will depend on whether you're using fine grain or course polenta. Fine grain polenta will only take a few minutes to cook, and coarse grain will take a little longer. However long it takes, stir occasionally until you're reached a desired thickness.
Turn of flame and add grated parmesan cheese. Stir to incorporate.
Serve Borlotti with tomato sauce over warm polenta and top with extra Parmesan.
4. Really Awesome Black Bean Burgers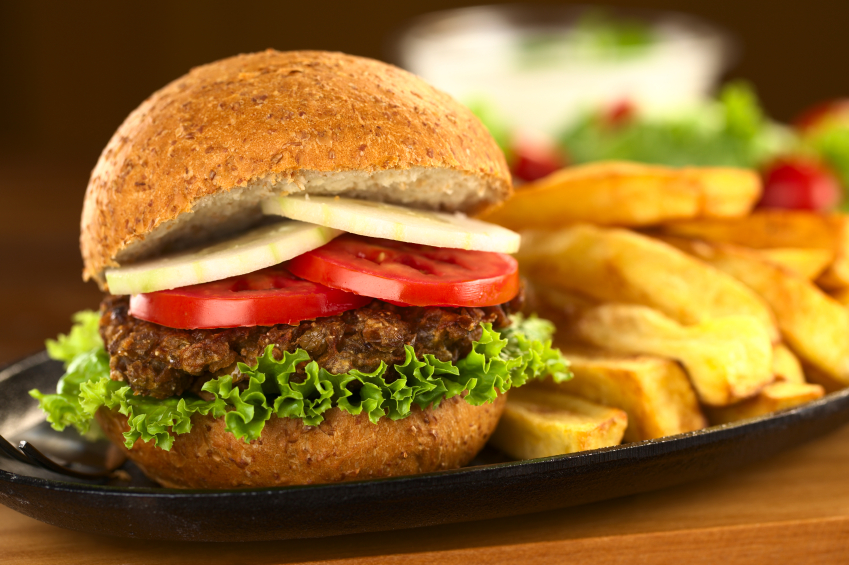 Most black bean burgers suffer from three afflictions: They're too mushy, they fall apart, and they're too bland. These burgers from Serious Eats, though, are the shining beacon of the perfect black bean burger. The secret, it turns out, is baking your beans and cooking the burger patties over a medium heat so they firm and cook all the way through. And, of course, seasoning heavily. If you're a black bean fanatic, try seeking out Black Turtle or Black Coco beans.
Ingredients:
2 (15-ounce) cans black beans, rinsed and drained, or 1½ cups dried beans, cooked
4 tablespoons vegetable oil, divided
1 medium onion, finely chopped
1 large poblano pepper, finely chopped
3 medium cloves garlic, minced
1 chipotle chili in adobo sauce, finely chopped, plus 1 teaspoon sauce
¾ cup roasted cashews
½ cup finely crumbled feta or cotija cheese
2 tablespoons mayonnaise
1 whole egg
¾ cup panko bread crumbs
Kosher salt and freshly ground black pepper
6 to 8 hearty hamburger buns, toasted
Optional but Suggested Toppings
Cheese as desired, such as pepper jack, cheddar, muenster, or Swiss
Condiments as desired, such as chipotle mayonnaise, ketchup, mustard, or mayonnaise
Toppings as desired, such as shredded lettuce, sliced onions, and pickles
Directions: Adjust oven rack to center position and preheat oven to 350 degrees Fahrenheit. Spread black beans in a single layer on a foil-lined rimmed baking sheet. Place in oven and roast until beans are mostly split open and outer skins are beginning to get crunchy, about 20 minutes. Remove from oven and allow to cool slightly.
While beans roast, heat 2 tablespoons oil in a medium skillet over medium-high heat until shimmering. Add onion and poblano and cook, stirring frequently, until softened, about 5 minutes. Add garlic and cook, stirring constantly, until fragrant, about 2 minutes. Add chipotle chili and sauce and cook, stirring, until fragrant, about 30 seconds. Transfer mixture to a large bowl.
Place cashews in the bowl of a food processor and pulse until chopped into pieces no larger than ⅓-inch, about 12 short pulses. Add to bowl with onions and peppers.
When beans are slightly cooled, transfer to food processor. Add cheese. Pulse until beans are roughly chopped. Transfer to bowl with onion/pepper mixture. Add mayonnaise, egg, and bread crumbs and season with salt and pepper. Fold together gently but thoroughly with hands.
Form bean mixture into 6 to 8 patties as wide as your burger buns. Heat 1 tablespoon oil in a large non-stick or cast iron skillet over medium heat until shimmering. Add 4 patties and cook until well-browned and crisp on first side, about 5 minutes. Carefully flip and cook until second side is browned, about 5 minutes longer.
5. Bean Bolognese
For a hearty, cheaper, low-fat take on spaghetti bolognese, try this one from Eating Well. The original recipe calls for a can of "salad beans," which is a mixture of chickpeas, kidney beans, and pinto beans. You can also use any bean in the cranberry bean family, such as Borlotti.
Ingredients:
1 (14-ounce) can salad beans, or other beans, rinsed, divided
2 tablespoons extra-virgin olive oil
1 small onion, chopped
½ cup chopped carrot
¼ cup chopped celery
½ teaspoon salt
4 cloves garlic, chopped
1 bay leaf
½ cup white wine
1 (14-ounce) can diced tomatoes
¼ cup chopped fresh parsley, divided
8 ounces whole-wheat fettuccine
½ cup freshly grated Parmesan cheese
Directions: Put a large pot of water on to boil. Mash ½ cup beans in a small bowl with a fork.
Heat oil in a medium saucepan over medium heat. Add onion, carrot, celery, and salt; cover and cook, stirring occasionally, until softened, about 10 minutes. Add garlic and bay leaf; cook, stirring, until fragrant, about 15 seconds. Add wine; increase heat to high and boil until most of the liquid evaporates, 3 to 4 minutes. Add tomatoes and their juices, 2 tablespoons parsley and the mashed beans. Bring to a lively simmer and cook, stirring occasionally, until thickened, about 6 minutes. Add the remaining whole beans; cook, stirring occasionally, until heated through, 1 to 2 minutes more.
Meanwhile, cook pasta in the boiling water until just tender, about 9 minutes or according to package directions. Drain.
Divide the pasta among 4 bowls. Discard the bay leaf and top the pasta with the sauce; sprinkle with Parmesan and the remaining parsley.
6. Chana Masala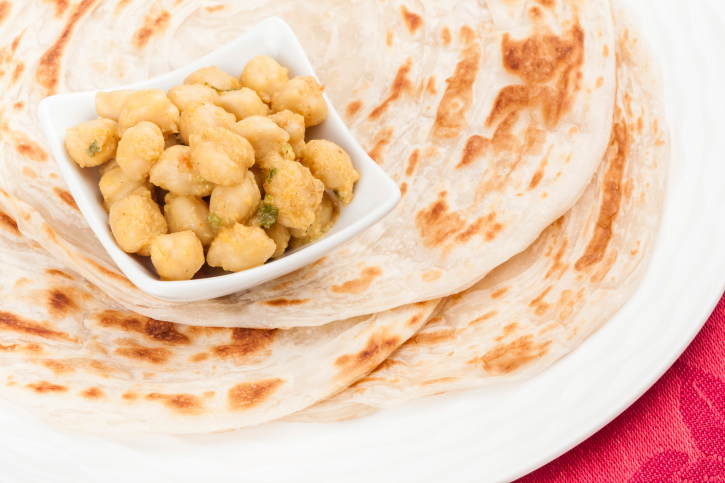 This Indian Chickpea dish from Food52 is incredibly easy but still full of complex flavors. With a big bag of chickpeas averaging only a few dollars, it's also much more cost-effective than ordering it from a restaurant!
Ghee is clarified butter and a staple in Indian cooking. You can make it, buy it, or substitute with butter and a splash of olive oil. If you've cooked your own chickpeas, exchange the water in the recipe for the liquid left after you cooked the beans, known as "pot liquor." Pot liquor is generally regarded as sacred and should be used in every possible application.
Ingredients:
½ tablespoon ghee, or butter plus a splash of olive oil
1 teaspoon cumin seeds
½ cup onion, diced
1 teaspoon garlic, finely diced
1 teaspoon ginger, finely grated
½ jalapeño, finely diced
3 teaspoons coriander powder
1 teaspoon turmeric powder
¼ teaspoon cayenne pepper
½ teaspoon garam masala powder
1 teaspoon smoked paprika
½ teaspoon salt
1 cup canned, pureed tomatoes
2½ cups cooked chickpeas
½ cup water
Directions: Measure out all the spices except the cumin seeds and put them in a small bowl.
Let the ghee melt in a small saucepan over medium-low heat. Once the ghee begins to sizzle, add the cumin seeds and stir for 5 seconds. Add the onion and sauté for 2 minutes. Add the garlic and cook for 1 minute. Add the ginger and jalapeño and cook for 1 more minute. Add the spices and then the puréed tomatoes. Mix, then put a lid on the pan and let everything cook down for 5 to 10 minutes.
Once the tomato has reduced and the ghee starts to separate from the sauce, add the chickpeas and water. Mix, then bring it to a boil before reducing to a simmer. Cook for 10 minutes, then squish a few chickpeas with a spoon to thicken the sauce. Garnish with yogurt and cilantro. For a full meal, serve over rice or with roti.
7. Pan Fried Corona Beans and Kale
First things, first: These beans are huge. They're not kidding around. They're also, as Rancho Gordo describes them, dense, creamy, and luxurious all at the same time. You could substitute with large butter beans, but if you can get your hands on Coronas, definitely use those in this recipe from 101 Cookbooks. This recipe is probably hearty enough for some to make it a meal, but you could also bulk it up further with some farro or wheat berries. These beans, though, will steal your heart (and make it stronger, because they're good for you).
Ingredients:
½ bunch lacinato kale, stems removed
2 tablespoons extra virgin olive oil
2 to 3 big handfuls of cooked large white beans
¼ teaspoon fine grain sea salt
⅓ cup walnuts, lightly toasted
1 clove garlic, minced
⅛ teaspoon freshly grated nutmeg
Shy 1 tablespoon fresh lemon juice
Zest of 1 lemon
⅓ cup freshly grated Parmesan cheese
Directions: Finely chop the kale, wash it, and shake off as much water as you can. Set aside.
Heat the olive oil over medium-high heat in the widest skillet you own. Add the beans in a single layer. Stir to coat the beans, then let them sit long enough to brown on one side, about 3 or 4 minutes, before turning to brown the other side, also about 3 or 4 minutes. The beans should be golden and a bit crunchy on the outside.
Add the kale and salt to the pan and cook for less than a minute, just long enough for the kale to lose a bit of its structure. Stir in the walnuts and garlic, wait 10 seconds, then stir in the nutmeg. Wait ten seconds and stir in the lemon juice and zest. Remove from heat and serve dusted with Parmesan cheese.
More from Culture Cheat Sheet: