7 Simple Single-Serve Dessert Recipes to Indulge in Tonight
When your sweet tooth starts to ache late at night, unless you have a batch of cookies stored in a jar, your homemade dessert options are few and far between. Or at least, that is how they seem. You don't need to make thirty-six cookies or a tray of brownies to stop your cravings in their tracks, and indulge in the perfect dessert. Instead, you can make a single-serving sized portion of your favorite dessert. How do you accomplish this? Just follow one of these seven recipes.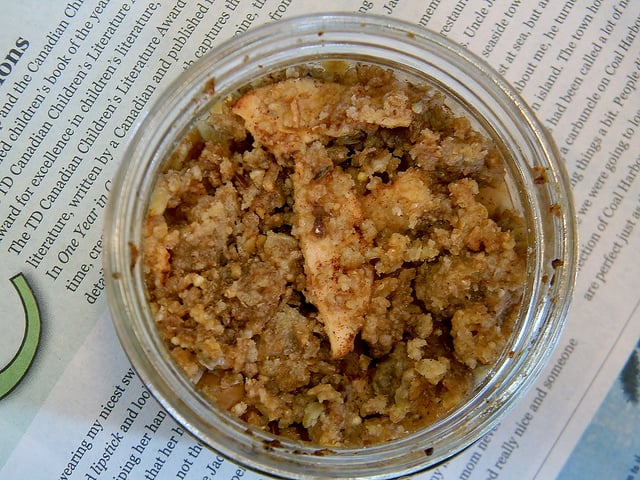 1. Pear or Apple Crisp
Crisps and crumbles are fantastic for sharing, but when you only want one bite, it is much easier to take all the ingredients that go into the traditional dessert, and tailor it to one person. Ramekins are an ideal baking dish for making the single-serving crisp from Food.com.
Ingredients:
1 apples or 1 pear, peeled and thinly sliced
2 tablespoons brown sugar
2 tablespoons quick-cooking oats
1 tablespoon flour
⅛ teaspoon cinnamon
1 tablespoon butter
Directions: Place fruit in small baking dish. In separate bowl, combine all remaining ingredients, then sprinkle over fruit. Bake at 375 degrees Fahrenheit for 25 minutes or microwave on high for 2½ minutes or until fruit is tender.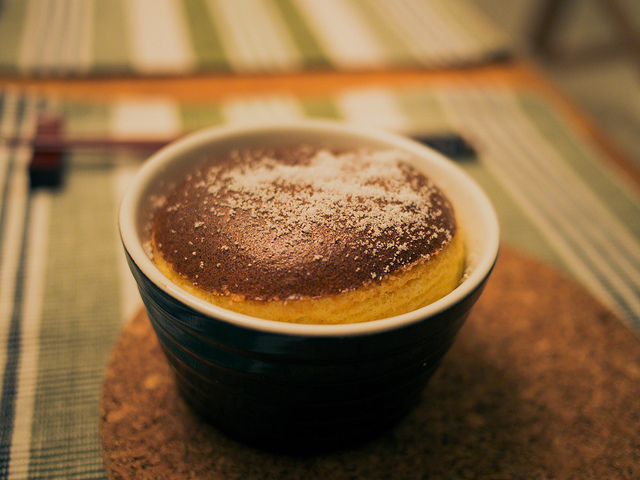 2. The 3-2-1 Microwave Cake
We love this Duncan Hines recipe because it allows for endless creativity on your part. Any kind of cake mix can be used in conjunction with the Angel food cake mix, ideal for single servings of your favorite cakes. Plus, you'll have a big batch ready to go after you combine all the ingredients, so each time afterwards, the already simple microwave cake is even easier to make.
Ingredients:
1 box Angel Food Cake Mix
1 box any flavor regular Cake Mix
2 tablespoons water
Directions: Mix the 2 cake mixes together in a gallon zip-lock bag. To make the cake, take 3 tablespoons cake mix; mix this with 2 tablespoons water. Mix together and microwave for 1 minute. Let this rest for 15 minutes and serve with toppings such as fruit, powdered sugar, or whipped cream.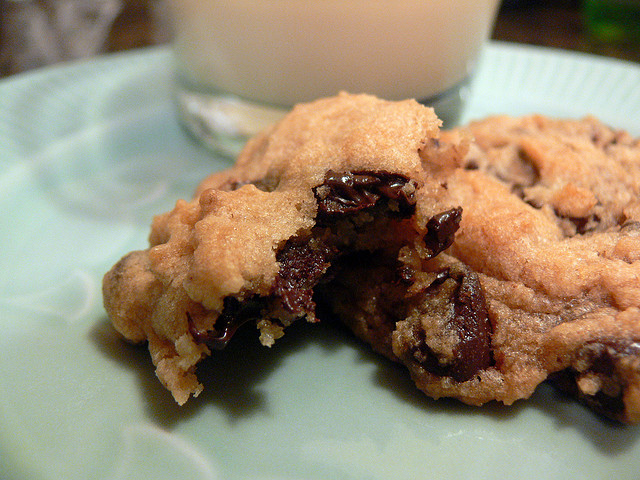 3. Single Serve Chocolate Chip Cookie
Nothing beats taking a bite of a chocolate chip cookie that is fresh out of the oven. With a little help from Spark Recipes, you don't need to rely on anything from the freezer section or have to clean up a lot of mixers and kitchen tools to fulfill this craving. Serve your warm cookie and cool glass of milk tonight.
Ingredients:
2 tablespoons flour
1 tablespoon brown or white sugar
¼ teaspoon baking powder
1-2 teaspoons chocolate chips, or to taste
2 teaspoon butter
½ tablespoon 1 percent milk
Directions: Mix flour, sugar, and baking powder. Cream in the butter. Mix in the milk, and stir in chocolate chips. Place the cookie on a baking sheet that has been sprayed with pam. Bake in preheated 350 degree oven for 10 minutes or until golden on top.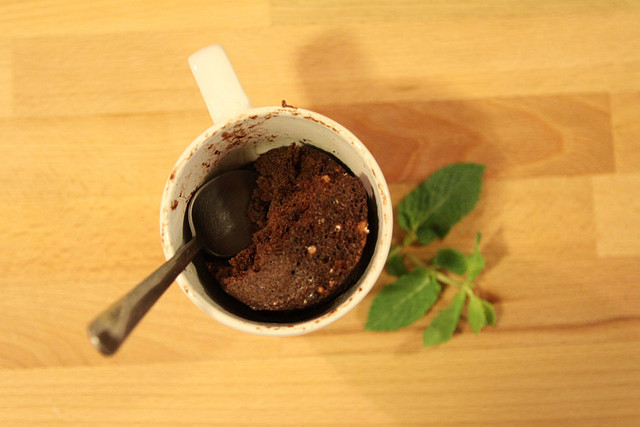 4. Brownie in a Mug
Perfect on its own, the brownie in a mug from AllRecipes.com can only be improved if you decide to make a few simple additions. Dollop ice cream on top in your mug or remove the brownie from the mug to fit in more ice cream in a bowl, with all the ice cream sundae fixings of your choosing.
Ingredients:
¼ cup white sugar
¼ cup all-purpose flour
2 tablespoons cocoa powder
1 pinch salt
3 tablespoons water
2 tablespoons olive oil
Directions: Stir sugar, flour, cocoa powder, and salt together in a mug. Add water and olive oil; stir until mixture is evenly moist. Cook in microwave for 1 minute 40 seconds.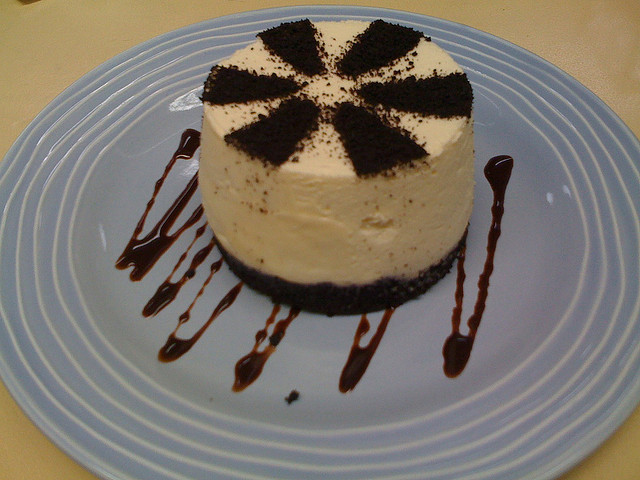 5. Single Serve Oreo Cheesecake
Having Oreos in cheesecake whenever you want is a reality with this single serve dessert from iVillage. To amp up the Oreo flavor, add more crushed cookies to the top of your dessert, which needs to cool in the fridge for about an hour.
Ingredients:
2 Oreos
2 tablespoons granulated sugar
1 tablespoon butter, melted
1 egg
2 ounces cream cheese, softened
½ teaspoon vanilla
2 tablespoons sour cream, plus more for topping
½ teaspoon lemon juice
Directions: Preheat the oven to 350 degrees Fahrenheit. Put the butter in a 1-cup ramekin (or a small, oven-safe, glass baking dish) and microwave on high for 20 seconds to melt. Put the Oreos in a plastic sandwich bag and hit them lightly on the countertop with the flat bottom of a mug until they are crushed into powder.
Dump the cookie crumbs into the ramekin, stir, and use your fingertips to press the crust evenly over the bottom and partway up the side. Whisk the cream cheese until smooth, then slowly blend in the sour cream and sugar. Add the egg, vanilla and lemon juice and beat until smooth. Pour into the filling and bake for 20 minutes. Remove and let cool, then refrigerate for at least 1 hour before eating. If desired, top with a swirl of sour cream before serving.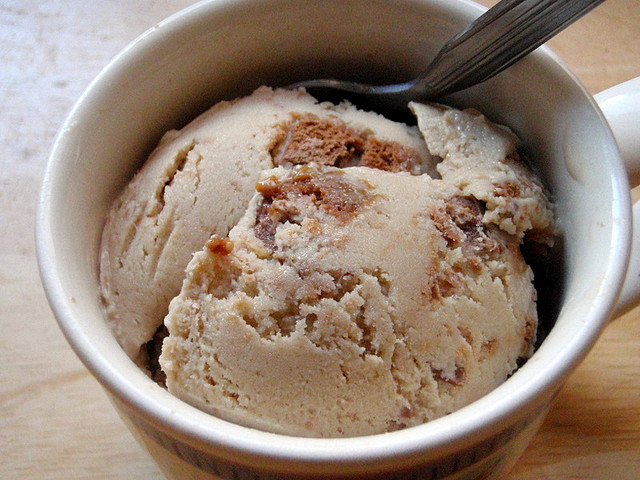 6. Coffee Cup Blonde Brownie
While some relish a bite of chocolate brownie, others prefer the blonde brownie for their dessert. The News-Gazette will keep the cravings for brownies away for this segment of the population with the recipe it provided for blondies in a coffee cup. Although there are not butterscotch chips, you could try adding some, or drizzling melted chips overtop your brownie, or, of course, ice cream.
Ingredients:
5 tablespoons flour (whole wheat works as well)
3 level tablespoons brown sugar
1½ tablespoons butter, softened
3 tablespoons water
⅛ teaspoon baking powder
¼ teaspoon vanilla extract
1 pinch salt
Directions: Mix well in at least a 12-ounce mug, until all ingredients are incorporated, especially butter. Put in microwave on high for one minute. My microwave usually takes more like a minute and 30 seconds to cook my brownie properly. I'd just try a minute first, and then add 10-second intervals until you find the time that works with your microwave. Let it cool a bit before eating, and then enjoy your brownie!
7. Chocolate Pudding
A timeless classic, this homemade chocolate pudding is just a few minutes away when you follow Taste of Home's recipe. If you're really feeling ambitious, you could cook up a single-serving of chocolate pudding, and as you wait for it to cool, make one of the mug brownie recipes for a pudding-brownie parfait.
Ingredients:
1½ teaspoons cornstarch
pinch salt
½ cup milk
¼ cup semisweet chocolate chips
whipped cream and baking cocoa, optional
Directions: In a 2-cup glass measuring cup, combine the cornstarch, salt, and milk until smooth; add chocolate chips. Microwave, uncovered, on high for 45 seconds or until hot but not boiling; stir. Cook 20-30 seconds longer or until mixture just begins to boil; stir. Cool. Pour into a small bowl. If desired, top with whipped cream and sprinkle with baking cocoa.
More From Wall St. Cheat Sheet: