7 Sumptuous Italian Dishes to Serve for the Holidays
Holiday customs in Italy are deeply rooted in friends, family, and feasting. While the culture is known year-round for its sumptuous culinary offerings, Christmas and the holidays in general offer an opportunity for new heights of decadence and deliciousness. The spreads include everything from robust savory dishes to sinfully indulgent sweets, with foods that will suit even the pickiest eater's palette.
Impress friends and family this holiday season with an unforgettable feast featuring any of these seven Italian dishes.
1. Mushroom Pâté Crostini
Italian holiday celebrations frequently incorporate a savory crostini antipasto served with pâté, reports the BBC. Kick off your holiday celebration with these sophisticated yet easy-to-assemble Mushroom Pâté Crostini from Rachael Ray. The pâte is an irresistibly savory mixture of sautéed mushrooms, shallots, and garlic. A touch of sherry or Marsala lends elegance to the dish. Rachael Ray's recipe yields 2½ cups of pâté.
Ingredients:
1 stick butter
2 pounds coarsely chopped crimini mushrooms or mixed mushrooms
A few sprigs of thyme, chopped
3 shallots, sliced
4 cloves garlic, sliced
Salt and lots of coarse black pepper
½ cup Marsala or sherry
Finely chopped parsley, for garnish
Cornichons, halved
Crostini (sliced, toasted baguette)
Directions: Melt the butter in a large skillet over medium to medium-high heat. Add the mushrooms and brown, about 10 minutes. Add the thyme, shallots, and garlic and cook for 10 to 12 minutes more, until the mushrooms are very dark and the shallots are very tender. Season with salt and pepper.
Deglaze the pan with the Marsala or sherry. Transfer everything to a food processor and pulse to process the mushrooms into a coarse paste. Transfer to a serving dish and garnish with parsley. Serve with charred or toasted bread and cornichons.
2. Tortellini in Broth (Brodo)
Many lovers of Italian cuisine opt to serve gentle, warming brodo, or Tortellini in Broth, for the holidays. The dish requires just three easy ingredients, combining to create a soothing and understated dish steeped in Italian tradition. For best results, use a homemade chicken stock — you can find Bell'Alimento's recipe for a warming chicken stock here (note that you can freeze leftover chicken stock in jars to thaw for future use). Bell'Alimento recommends placing the tortellini into the bowl, then ladling the broth on top for an elegant presentation.
Ingredients:
5 cups homemade chicken stock
2-inch piece of Parmigiano-Reggiano rind
9 ounces fresh cheese tortellini
¼ cup grated Parmigiano-Reggiano
1 tablespoon minced flat leaf Italian parsley
Directions: Add chicken stock and rind to a large pot, then bring to a boil. When boiling, reduce to a simmer. Add tortellini and cook until pasta is tender and cheese is melted.
Place 6 to 8 tortellini into each bowl. Ladle broth on top. Garnish with grate Parmigiano-Reggiano and parsley, if desired.
3. Red Wine and Goat Cheese Risotto With Caramelized Mushrooms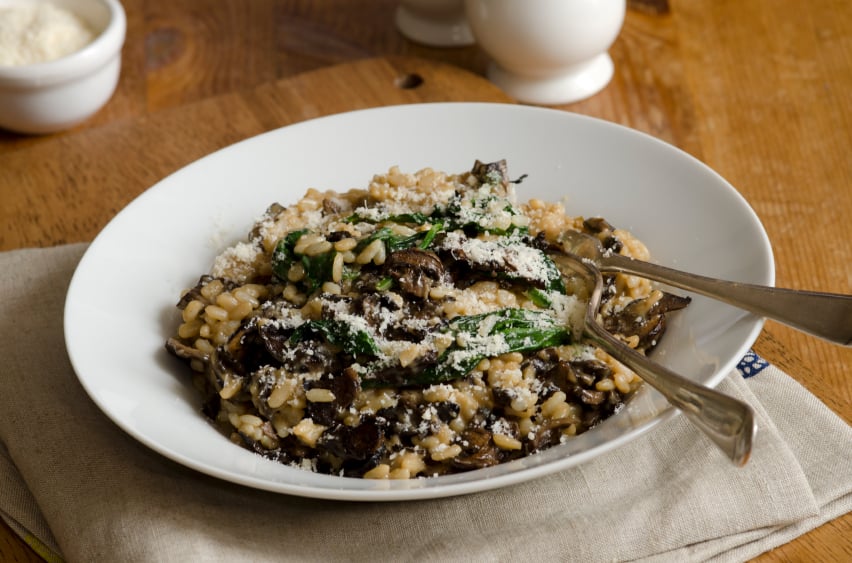 For a change of pace this holiday season, serve up a sumptuous and savory risotto. This creamy Red Wine and Goat Cheese Risotto With Caramelized Mushrooms from How Sweet It Is makes the perfect side dish — and could make a wonderful vegetarian entrée with the substitution of vegetable stock. Juicy mushrooms accent the creamy, cheese-laden dish, while red wine offers a perfectly balanced finish. Top it all off with fresh basil for a splash of holiday color and a fresh herbal flavoring. This recipe yields 4 hearty holiday servings.
Ingredients:
2 tablespoons olive oil
2 tablespoons unsalted butter
3 garlic cloves, minced or pressed
1¼ cups arborio rice
1 cup of your favorite red wine
3 to 4 cups chicken stock
6 ounces goat cheese
3 cups sliced mushrooms
¼ teaspoon salt
¼ teaspoon pepper
Fresh basil for topping
Directions: In a large skillet, heat a tablespoon of butter and a tablespoon of olive oil over low heat, then add mushrooms. Let cook for 10 to 15 minutes, stirring occasionally until mushrooms are juicy and caramelized.
While mushrooms are cooking, heat 1 tablespoon each of butter and olive oil over medium heat in a large saucepan. Once hot, add garlic and cook for 30 seconds. Add rice, tossing to coat in the butter and oil, then toast while stirring occasionally for 3 to 4 minutes. Add in wine, stirring every few minutes until absorbed. Once absorbed, add in 1 cup stock, stirring until absorbed.
Repeat two to three more times, until all stock has been added and absorbed. This should take about 15 minutes. Reduce the heat to low and add in salt, pepper, 5 ounces of goat cheese and mushrooms, then stir. Serve with remaining goat cheese crumbled on top and a sprinkling of fresh basil.
4. Salt Cod With Tomatoes and Capers (Baccalà alla Vesuviana)
Many Italian households honor Christmas Eve with a partial fast, meaning that meatless dishes are bypassed for lighter fare such as seafood or vegetarian options. For some families, this meal, termed "The Feast of the Seven Fishes," has religious significance, while many other families simply gather to share a dinner with loved ones, reports Epicurious. Epicurious tapped acclaimed chef Mario Batali to share his own custom menu for the Feast, and Batali did not disappoint, sharing 10 decadent options for a true-to-tradition feast (see the full list here).
One of Batali's heartier offerings for the season is this Salt Cod With Tomatoes and Capers, also known as Baccalà alla Vesuviana. Batali recommends serving this piquant dish at room temperature for enhanced flavor. The recipe yields 4 entrée servings, or 6 appetizers.
Ingredients:
2 pounds center-cut skinless boneless salt cod (baccalà), rinsed well
2 tablespoons salt-packed capers
7 tablespoons extra-virgin olive oil
1 medium onion, finely diced (about 1½ cups)
4½ teaspoons red pepper flakes
1 (28-ounce) can whole San Marzano tomatoes in juice
1 teaspoon kosher or coarse sea salt
¼ cup fresh flat-leaf parsley, coarsely chopped
¼ cup plus 1 tablespoon fresh mint, coarsely chopped
Directions: In large bowl, combine cod with water to cover by 2 inches. Cover and refrigerate, changing water three times a day, for one to three days. Refrigerate until ready to use.
In small bowl, combine capers with water to cover by 1 inch. Cover and refrigerate one day, changing water three times.
Drain and rinse capers, then squeeze dry. Drain cod and pat dry, then cut into 4-by-2-inch pieces.
In heavy 6- to 8-quart pot over moderate heat, heat 3 tablespoons oil until hot but not smoking. Add onion and sauté until softened and golden, 3 to 4 minutes. Add red pepper flakes, capers, tomatoes and juice, and salt. Using wooden spoon, gently crush tomatoes. Bring to simmer, then carefully add cod. Add parsley and ¼ cup mint and gently spoon some of sauce over cod. Simmer, uncovered, until cod is tender and heated through, about 5 minutes.
Using slotted spatula, transfer cod to serving platter. Remove pot from heat and stir in 3 tablespoons olive oil. Spoon sauce over fish, then sprinkle with remaining 1 tablespoon mint and 1 tablespoon olive oil. Serve warm or at room temperature.
5. Italian Rack of Lamb (Carre d'Agnello con Carciofini)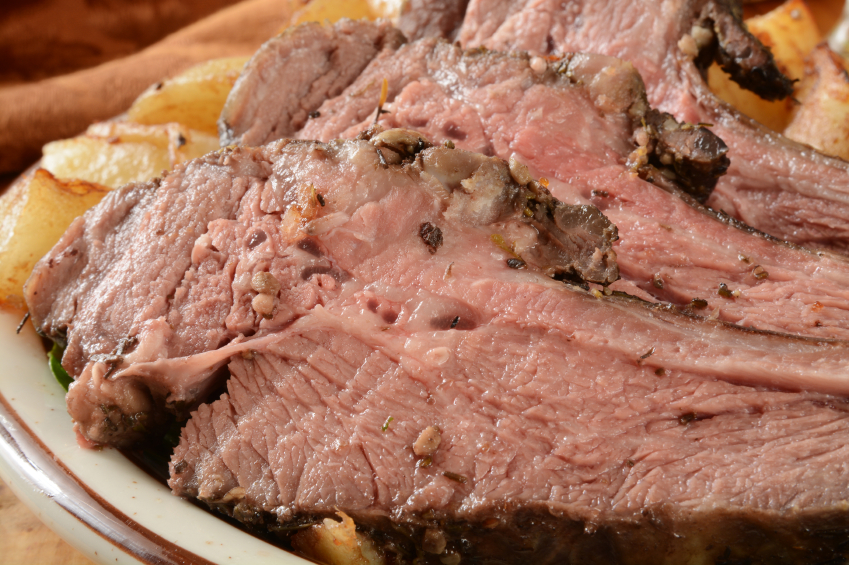 Those wishing to throw lighter fare to the wind this holiday season may prefer serving a hearty rack of lamb, or Carre D'Agnello con Carciofini, for the holidays. This recipe, tested and shared by Cooking in Sense, was originally developed by master Italian chef Gennaro Contaldi. Contaldi pulls out all the stops with this lamb dish, adding bold prosciutto, sun-dried tomatoes, and artichoke for sharp and distinctive flavor. Thyme adds a subtle edge to the finish that your guests are sure to love. The dish is easy to make yet lends a distinctive and elegant touch to the holiday festivities. The recipe yields 1 full rack of lamb.
Ingredients:
1 rack of lamb
Salt and pepper
Olive oil
8 ounces sliced prosciutto, cut into strips
4 large spring onions, cut in halves or quarters vertically
2 large whites of spring onions, thinly sliced
Leaves from 4 sprigs fresh thyme
2 small jars miniature artichoke hearts, drained and halved
1 jar sun-dried tomatoes, drained and halved
Directions: Season the lamb with salt and pepper, then rub with olive oil. Layer the rack first with the proscuitto and then the halfs of spring onions. Roast at 450 degrees Fahrenheit for 40 minutes.
Sauté the sliced spring onions in 1 tablespoon of olive oil until soft, then add the thyme, artichokes, and tomatoes, then continue to sauté for 2 minutes. Add the artichoke mixture to the roasting pan for the last 10 minutes.
6. Root Mash and Lentils With Wine-Braised Shallots
The BBC notes that lentils, or lenticchie, are customarily included as a side in an Italian Christmas dinner. To suit that purpose, Dishing Up the Dirt shares this tantalizing Root Mash and Lentils With Wine-Braised Shallots dish from chef Yotam Ottolenghi's cookbook Plenty More. Although the side dish offers robust flavors, it is deceptively simple to cook, requiring staple ingredients that you may even have on hand in the pantry or fridge — lentils, a few veggies, and spices, to name a few. Red wine adds a dazzling complexity to the dish that friends and family will adore. The recipe takes an hour and 20 minutes to make and yields 4 to 6 servings.
Ingredients:
⅓ cup Puy lentils
1 small celery root, peeled and cut into chunks (about 2 cups)
2 large carrots, cut into chunks (about 2 cups)
1 medium-large winter squash (butternut, kabocha, or acorn) peeled and cut into chunks (about 3 cups)
3 to 4 tablespoons unsalted butter
2 tablespoons pure maple syrup
1½ teaspoons ground cumin
Salt and pepper
Braised shallots
2 tablespoons olive oil
1 pound shallots, peeled and left whole
1½ cups red wine
1 cup vegetable stock
2 bay leaves
1 teaspoon black peppercorns
4 thyme sprigs
1 tablespoon super fine sugar
¾ teaspoons salt
2 tablespoons grass fed unsalted butter
Directions: Start with the shallots. Place the oil in a saucepan over high heat. Add the shallots and fry for about 5 minutes, stirring occasionally, until colored all over. Add the wine, stock, bay leaves, peppercorns, thyme, sugar and ¾ teaspoon salt. Cover, turn down the heat to low, and simmer gently for 1 hour. Remove the lid, increase the heat, and boil for about 8 minutes, until the remaining liquid is reduced by half. Use a slotted spoon to remove the shallots from the pan and keep them somewhere warm. Stir the butter into the sauce and set aside until ready to use.
Bring a large pot of water to a boil over high heat. Add the lentils, turn the heat down to medium, and simmer for about 25 minutes or until tender. Drain and set aside.
For the mash, half fill a saucepan with water and bring to a boil. Add the celery root and carrots and cook for about 10 minutes. Add the squash and cook for another 10 to 15 minutes, or until the vegetables are tender.
Drain the vegetables, shaking off as much liquid as possible and mash with a potato masher. Add the butter, maple syrup, cumin, lentils, 1 teaspoon salt, and plenty of black pepper. Mix well and then divide the warm mash among serving plates. Top with the shallots, spoon the sauce over the top, and serve warm.
7. Panettone
Panettone, or Italian Christmas Bread, is one of Italy's most beloved holiday dishes. This soft, fruity bread is an impressive holiday treat. The dessert takes a fair amount of time to assemble — mostly hands-off — but it is assuredly worthwhile. After two days of letting the dough rise, you'll be rewarded with a sweet, flavor-packed, brioche-like bread. Brown Eyed Baker provides detailed instructions for her Panettone, incorporating vanilla bean, lemon zest, rum-soaked raisins, and candied orange peel for an exquisite taste of the season. The recipe takes about two days to complete and yields 1 (6-inch) loaf of panettone.
Ingredients:
1 cup raisins
2 tablespoons light rum
2 tablespoons hot water
3¾ cups all-purpose flour
⅔ cup granulated sugar
½ teaspoon active dry yeast
½ teaspoon salt
¼ teaspoon lemon zest
½ vanilla bean, split in half lengthwise
3 eggs, at room temperature
⅔ cup tepid water
1 tablespoon honey
10½ tablespoons unsalted butter, well softened
1 tablespoon unsalted butter, melted
1 tablespoon unsalted butter, chilled
⅔ cup candied citron in ¼-inch pieces
Special equipment
Panettone mold (6 by 4½ inches)
12-inch metal or wooden skewers
Directions: In a small bowl, combine the raisins with the rum and 2 tablespoons of hot water. Allow to soak at room temperature, stirring occasionally, until the raisins are plump and most of the liquid has been absorbed, at least 8 hours or overnight.
In a stand mixer fitted with a paddle attachment, mix together the flour, sugar, yeast, salt, lemon zest, and vanilla bean on low speed until combined. In a medium bowl, whisk together the eggs, tepid water, and honey. With the mixer on low speed, pour the egg mixture into the flour mixture. Increase the speed to medium-low and mix until all of the ingredients are combined. Add the softened butter, 1 tablespoon at a time, mixing until incorporated before adding more. Increase the speed to medium-high and beat until the dough is smooth and elastic, about 8 minutes.
Drain the raisins, discard the soaking liquid, and stir together with the candied citron and 1 tablespoon of melted butter. Stir this mixture into the dough with a wooden spoon.
Place the dough in a large bowl, cover with plastic wrap, and let rise in a cold oven with the door closed until it has nearly tripled in volume, 12 to 15 hours.
Locate and discard the vanilla bean, then sprinkle the dough lightly with flour and scrape out onto a lightly floured surface. Sprinkle a bit more flour onto the dough, then fold the edges of the dough in toward the center, forming a loose ball, and place, seam-side down, into the panettone mold. Cover with a damp kitchen towel (not terry cloth) and let rise in a draft-free place at warm room temperature until the dough is just above the top of the mold, about 3 to 5 hours.
Preheat oven to 370 degrees Fahrenheit. Place the dough-filled panettone mold on a baking sheet. Use a very sharp serrated knife to score an "X" across the entire surface of the dough. Place the 1 tablespoon chilled butter in the center of the X and bake until a wooden skewer inserted into the center comes out slightly moist but not wet, 60 to 75 minutes (the panettone will be very dark).
Remove from the oven and pierce 12-inch metal or wooden skewers all the way through the panettone (including the paper) 4 inches apart and 1 inch from the bottom so that the skewers are parallel. Hang the panettone upside down over a large stockpot and cool completely before cutting. To store the panettone, wrap tightly in plastic wrap, then either place in a resealable plastic bag, or wrap again in foil. The bread will keep at room temperature for up to one week.