7 Sweet Breakfast Recipes That Taste More Like Dessert
If the all-out frenzy that ensues when Girl Scouts sell their famed sweets is any indication, Americans really love cookies. They're easy to eat, go great with a glass of milk, and taste completely delicious. If you've ever wondered whether or not there was a way to morph the beloved dessert into something you can enjoy in the morning, then you're in for a real treat. These seven recipes give some of the most popular cookie flavors a breakfast makeover. Whip one up tomorrow for a sweet way to start your day.
1. Snickerdoodle Waffles
Something about the combination of cinnamon and sugar is so comforting, which is what makes snickerdoodles so wonderful. Get your fill of the flavor with these warming waffles from A Beautiful Mess. The recipe takes a simple batter, cooks it in an iron until nice and crispy, then dunks the finished waffles in the sweetened cinnamon.
Topping waffles with maple syrup is the usual go-to, but you might want to skip it for these treats. The recipe suggests finishing with a little bit of butter or some fruit, but we like to take it in a different direction. A topping of sour cream or crème fraiche thinned with some milk makes a tangy sauce that's wonderful when paired with the sweet coating. If you really want the syrup, though, no one will stop you.
Ingredients:
1⅔ cups all-purpose flour
1 tablespoon baking powder
1 tablespoon brown sugar
½ teaspoon salt
3 eggs
½ cup unsalted butter, melted, and cooled
1½ cups milk
1 teaspoon vanilla extract
⅓ cup sugar
1 tablespoon cinnamon
Directions: In a small bowl, mix together cinnamon and sugar. Set aside.
In a medium bowl, whisk first four ingredients to combine. Add eggs, milk, and vanilla. Stir just to combine. Pour in butter. Stir until a few lumps remain.
Heat waffle iron according to manufacturer's directions. Cook about ⅓ cup of batter at a time until crisp and golden. Immediately dip hot waffle into cinnamon sugar, coating both sides. Serve at once.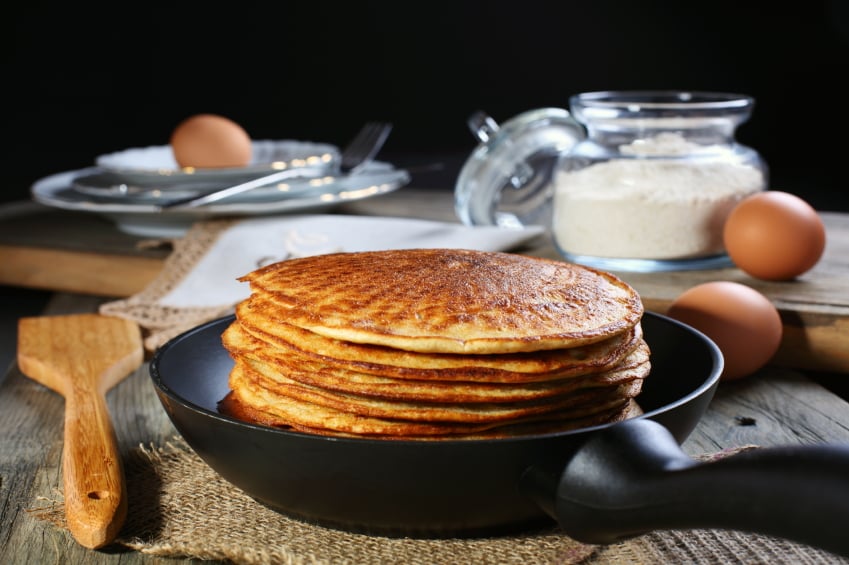 2. Oatmeal Cookie Pancakes
Oatmeal raisin cookies are sort of the health food of the cookie world, so turning them into pancakes isn't really that ridiculous. These flapjacks from Rachael Ray, featured on Food Network, add some banana to the mix to give them even more flavor. If you're not a raisin fan, feel free to swap in any other dried fruit. Tangy cherries are especially delicious.
Cooking pancakes in a large skillet is the route most people take, but a large griddle will give you the most consistent results. Let it heat slowly, grease with butter, then dollop the batter on. And don't worry if the first few seem pale, the initial ones always come out a little bit pale. Just stack those ones underneath the beautiful brown ones that follow.
Ingredients:
1 cup old-fashioned oats
1 cup all-purpose flour
½ cup brown sugar
2 teaspoons baking powder
½ teaspoon baking soda
1 teaspoon ground cinnamon
¼ cup chopped toasted walnuts
¾ cup sour cream
¾ cup milk
2 large eggs
1 teaspoon vanilla extract
2 very ripe bananas, mashed
¾ cup raisins
¼ cup unsalted butter, melted, plus more
Maple syrup or honey
Directions: Mix first seven ingredients in a medium bowl. In a small bowl, mix next four ingredients to combine. Pour wet mixture into dry, then stir until just combined. Fold in mashed bananas and raisins, then add ¼ cup melted butter. Mix until incorporated.
Heat a griddle over medium heat. Brush with melted butter. Cook ⅓-cup portions of batter on griddle until bubbles form on top and bottom is golden, then flip, and cook until second side is golden. Cakes take about 2 minutes per side. Remove, and repeat with remaining batter. Keep finished pancakes warm under a tent of aluminum foil. Serve with syrup or honey.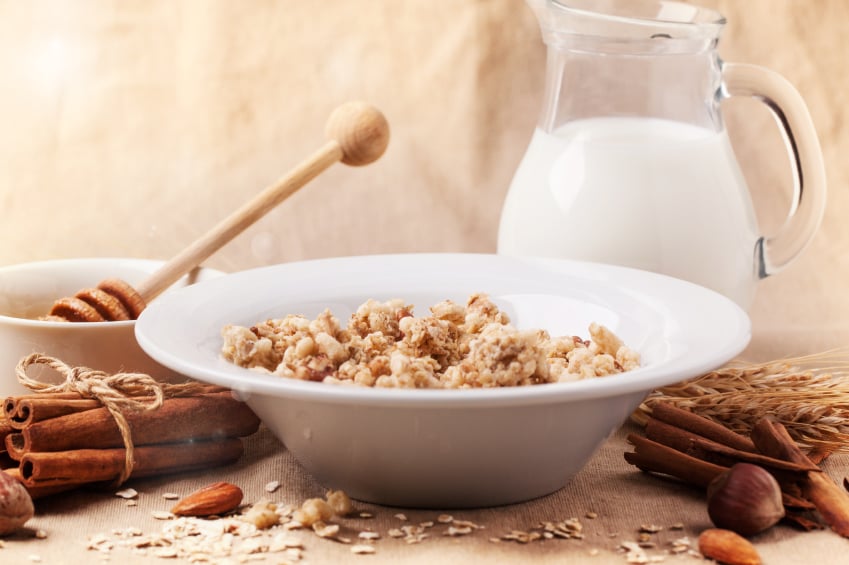 3. White Chocolate Macadamia Nut Granola
White chocolate is a divisive ingredient in the culinary world. Some people just can't stand it, and some argue that it's not even chocolate. For those who do love the creamy confection, it doesn't get much better than a cookie studded with the stuff, along with some crunchy bits of macadamia nuts. Cooking for Keeps turns the sweet treat into a crunchy granola perfect for some milk or yogurt. The key to getting some of the white chocolate into every bite is sprinkling the chips on while the granola is still warm from the oven, then tossing it all together.
Ingredients:
2 cups oats
1 cup sliced almonds
½ cup chopped macadamia nuts
¾ cup sweetened flaked coconut
¼ cup honey
2 tablespoons packed brown sugar
2 tablespoons coconut  oil
½ teaspoon salt
½ cup white chocolate chips
Directions: Preheat oven to 350 degrees Fahrenheit. In a large bowl, mix oats, almonds, macadamia nuts, and coconut.
In a liquid measuring cup, mix honey, brown sugar, and coconut oil. Microwave in 15-second intervals, stirring, until brown sugar and coconut oil are completely melted.
Stir liquid into oat mixture, and toss to coat. Spread onto a rimmed baking sheet, and bake 25 to 30 minutes, until golden, stirring every 10 minutes to ensure even cooking. Remove from oven and immediately sprinkle with white chocolate chips. Let sit 5 minutes, then toss to coat. Let cool. Serve. Store in airtight container at room temperature.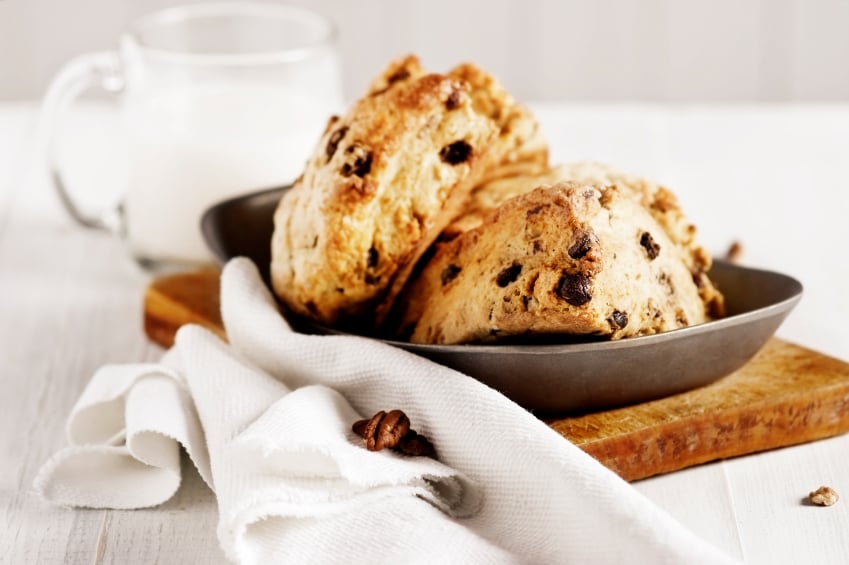 4. Chocolate Coconut Scones
Not to be confused with the tiny French treats that are so popular, coconut macaroons are a completely different creature. Some people like them plain, but it's hard to turn down one that's been dipped in a little bit of chocolate. Morph them into a morning meal with these delicious scones from My Baking Addiction. Despite the sinful inspiration, these scones manage to stay pretty healthy. They're made with whole-wheat flour and just a smidge of butter. If you'd like to make them vegan, it's super easy. Just swap coconut oil for the butter, use a flax egg, and make sure your chocolate chips are completely dairy free.
Ingredients:
Scones
¾ cup plus 2 tablespoons light coconut milk, divided
1 egg
¼ cup sugar
2 teaspoons vanilla extract
1 cup all-purpose flour
1 cup white whole-wheat flour
1 tablespoon baking powder
½ teaspoon salt
3 tablespoons unsalted butter, cold, and cut into small cubes
¾ cup mini chocolate chips
½ cup sweetened coconut flakes
Glaze
1 cup powdered sugar
2 tablespoons light coconut milk, plus more
¼ cup sweetened coconut flakes, toasted
2 tablespoons mini chocolate chips
Directions: Preheat oven to 375 degrees Fahrenheit. Line a rimmed baking sheet with parchment paper. Set aside.
In a medium bowl, whisk flours, baking powder, sugar, and salt, Using a pastry blender, or a fork, cut butter into dry ingredients until butter is size of small peas. Gently mix ¾ cup coconut milk, egg, and vanilla into flour mixture. Then fold in coconut and chocolate chips.
On a lightly floured surface, with floured hands, knead dough 4 to 5 times, just to bring together. Sprinkle additional flour, as needed. Dough will be sticky. Place dough onto prepared baking sheet and pat into an 8- to 9-inch circle, ¾-inch thickness. Using a sharp knife, cut into 12 wedges. Brush entire round with 2 tablespoons coconut milk. Bake 18 to 20 minutes, until slightly golden. Remove from oven and allow to cool.
In a shallow bowl, mix powdered sugar and 2 tablespoons of coconut milk, until smooth and thin enough to drizzle. Add more coconut milk, as needed. Dip tops of cooled scones in glaze, then sprinkle with toasted coconut and mini chocolate chips. Let glaze set, then serve.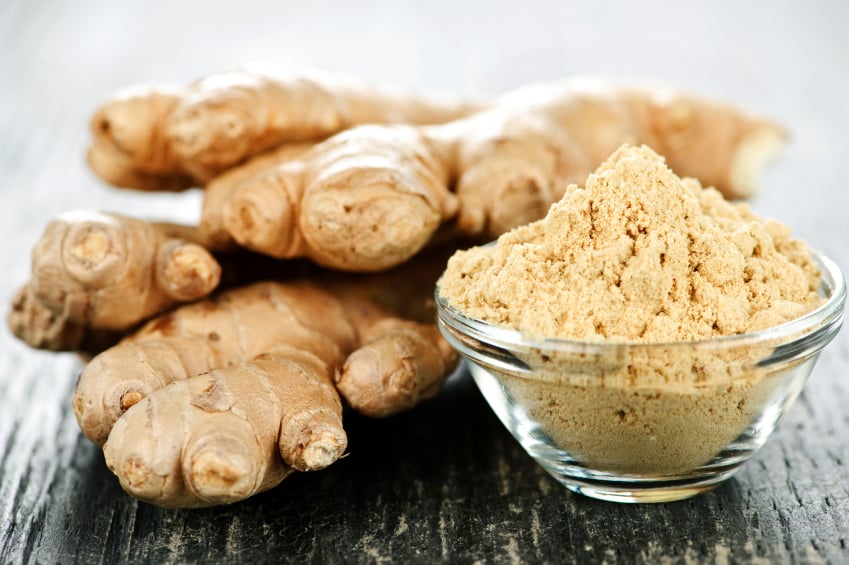 5. Gingersnap Overnight Oats
For those who have difficulty getting a decent breakfast before scurrying out the door, overnight oats are a complete winner. This recipe from Driftwood Gardens takes inspiration from zingy gingersnaps and adds a dose of molasses, ginger, and cinnamon. Just mix everything together and throw into the fridge overnight.
This recipe makes one serving, but it'll easily multiply to feed more mouths. Stick with individual jars, and then everyone can have their own portable breakfast. And if you don't like your oats cold, just heat the jar (without the metal lid!) in the microwave for a few minutes.
Ingredients:
1 cup unsweetened almond milk
¾ cup old-fashioned oats
1 tablespoon brown sugar
1 tablespoon molasses
1 teaspoon ground ginger
½ teaspoon cinnamon
½ teaspoon vanilla extract
Pinch of salt
Directions: Combine all ingredients in a jar or another container with a tight-fitting lid. Close lid, and shake until well combined. Set container in refrigerator and let chill overnight. Serve.
6. Monster Cookie Muffins
People who reach for monster cookies don't usually like the treats. They love them. If you're one of those fiends, then you'll go absolutely nuts for Something Swanky's over-the-top muffins. They're filled with candy coated chocolates, peanut butter, oats, and even get a decadent crumble topping. These might not be as healthy as your mom's bran muffins, but they are unbelievably tasty.
Ingredients:
Muffins
½ cup chunky peanut butter
¾ cup packed brown sugar
2 eggs
1 cup buttermilk
1½ cups all-purpose flour
½ cup rolled oats
1 teaspoon baking powder
¼ teaspoon baking soda
¼ teaspoon salt
2 tesapoons vanilla extract
½ cup chocolate coated candies
½ cup semisweet chocolate chips
Topping
¾ cup all-purpose flour
¼ cup old-fashioned oats
3 tablespoons packed brown sugar
½ cup unsalted butter, cold, cut into small cubes
Directions: Preheat oven to 375 degrees Fahrenheit. Grease a 12-cup muffin tin. Set aside.
Whisk together peanut butter and ¾ cup brown sugar until smooth. Add eggs, and whisk until incorporated. Whisk in milk until mixture is smooth. Add 1½ cups flour, ½ cup oats, baking powder, baking soda, salt, and vanilla. Mix just to combine. Fold in candies and chocolate chips. Divide batter among muffin cups.
To make crumble, combine brown sugar, oats, and flour in a small bowl. Using a pastry cutter, or a fork, cut butter into flour mixture until crumbly. Evenly distribute mixture over muffins. Bake 20 minutes, or until a toothpick inserted in center comes out with a few moist crumbs attached. Remove to a wire rack, and let cool.
7. Vegan Chocolate Chip Cookie Breakfast Parfait
Folks who avoid animal products don't often get to enjoy cookies or yogurt, but Simply Quinoa's parfait finds a way to combine vegan versions of both with phenomenal results. Whip up a simple cookie dough mixture with almond flour, quinoa flakes, coconut oil, almond butter, and some maple syrup. Stir in some chocolate chips, then press the mixture into a pan, and freeze. Then stir some chia seeds into coconut yogurt, and let the seeds gel. When you're ready to eat, just chop the dough into pieces and layer with the chia pudding. It's simple, satisfying, and completely decadent.
Ingredients:
Dough
¾ cup almond flour
¾ cup quinoa flakes
2 tablespoons coconut oil
2 to 3 tablespoons almond butter
2 to 3 tablespoons maple syrup
¼ cup chocolate chips
Yogurt
1 (16-ounce) container unsweetened coconut milk yogurt
¼ cup chia seeds
Directions: Line an 8-inch square baking pan with parchment paper. In bowl of food processor, pulse all cookie dough ingredients except for chips until combined. Stir in chocolate chips. Transfer to prepared pan, and press into an even layer. Freeze at least 4 hours.
In a small bowl, combine yogurt and seeds, mixing well. Cover and place in fridge at least 4 hours.
Remove dough from pan using parchment, then cut into small pieces. Layer yogurt with dough twice in each of four glasses. Serve.
More from Life Cheat Sheet:
Want more great content like this? Sign up here to receive the best of Cheat Sheet delivered daily. No spam; just tailored content straight to your inbox.