7 Traditional Roman Recipes Offering the Flavors of Italy's Capital
When in Rome, eat as the Romans do. Then again, why limit such tasty fare to just one city? Those of us unable to jet set to la città eterna at the drop of a hat are still able to enjoy its local dishes, all in the comfort of our own kitchens!
Rome's plentiful culinary scene offers everything from salted cod to wine-dipped cookies, and it's easier than you might think to emulate the region's extraordinary culinary traditions in your home cooking. Bring Roman cuisine to your friends and family at home using any of these 7 recipes.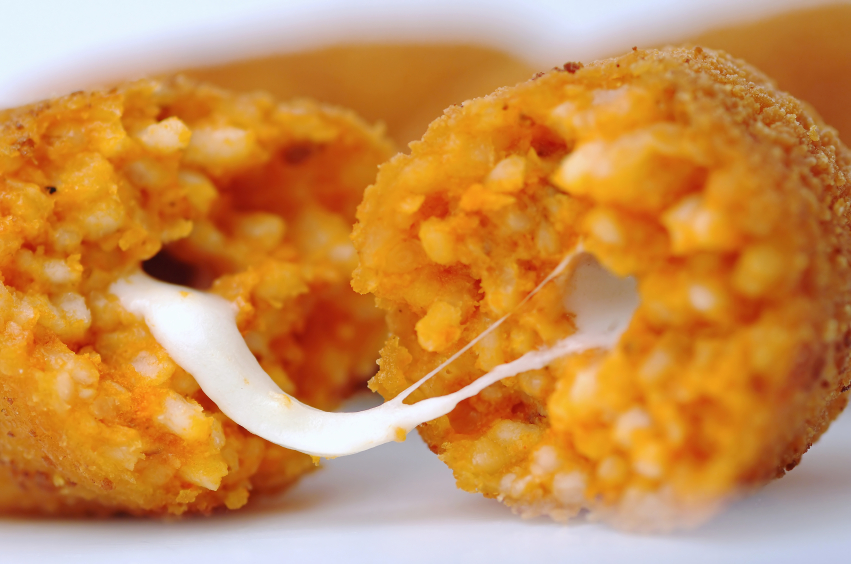 1. Supplì al Telefono
No matter who's on your guest list or what the occasion, fried, cheesy finger foods tend to be an appetizer-table MVP. There's really no going wrong with the "comforting, crispy, and fatty" snack formula, and Rome knows this as well as anybody. Supplì al Telefono are fried Roman rice balls stuffed with bolognese sauce and warm, gooey mozzarella cheese. Breaking a fritter in half, you'll discover a warm bed of cheese stretching tantalizingly across both ends (a visual which inspired the term al telefono). Manu's Menu's recipe yields about 20 of the snacks.
Ingredients:
1 liter beef stock


2 tablespoons and 3 tablespoons butter

7 ounces beef mince

½ onion, minced

4.25 ounces Parmigiano Reggiano, finely grated

7 ounces mozzarella, cubed

2 tablespoons extra-virgin olive oil

13.5 ounces tomato purée

Salt and pepper, to taste

1 pound rice, for risotto

2 eggs

3.33 ounces white wine

Breadcrumbs and 2 eggs, for coating


Vegetable oil for frying
Directions: For the meat sauce – Sauté the onion with 2 tablespoons of the butter and extra-virgin olive oil until soft. Add the beef mince and brown well, breaking all the lumps. Then add the wine and burn off the alcohol. Add the tomato purée, season with salt and pepper, and let the sauce cook on a slow fire for about 20 minutes or until the sauce thickens.
Add the rice, then add the stock little by little. Cook it as you would cook a risotto, but only for ⅔ of the normal cooking time, as the rice will keep on cooking while the fire is off and while cooling down. If you cook it fully, then you will get mushy rice. Also, the final risotto will need to be on the dry side to be able to make balls out of it, so keep that in mind when you add the stock toward the end. When ready, put off the fire and add the 3 tablespoons of butter and the finely grated Parmigiano Reggiano, and mix well. Also add the 2 eggs, lightly beaten, and mix well.
Pour the rice over a sheet of baking paper and spread it well so it cools down quickly. When the rice has cooled enough to handle it without getting burnt, make 20 balls with it. Make a hole in the center of each ball with your thumb and insert 2 or 3 cubes of mozzarella into it. Close the ball by pressing it and shape it like an egg.
For the coating – Beat the eggs in a bowl. Put the breadcrumbs in a separate plate. Dip each supplì in the egg and then coat well with breadcrumbs, pressing with your palm so the crumbs stick well to your supplì. When you have done this for all the supplì, re-dip them in the egg and coat again with breadcrumbs to obtain a double coating.
To cook — Deep fry them in warm vegetable oil, rolling them around with a slotted spoon. Remove them and put them on a plate lined with kitchen paper to drain the excess oil. Serve warm.
2. Stracciatella alla Romana
Delight in a taste of classic Roman comfort food with Stracciatella alla Romana, otherwise known as Roman Egg Drop Soup. You may have heard the term "stracciatella" before with regards to Italian fare, but this shouldn't be cause for confusion: The Italian verb "stracciare" simply means "to rip to shreds" — a preparation technique that can be used with a wide range of ingredients, writes Lidia's Italy. This light, soothing egg drop soup makes a perfect starter dish. The New York Times' recipe takes only 20 minutes to make and yields 6 servings.
Ingredients:
12 cups homemade chicken broth

Salt

6 large eggs

Nutmeg, for grating

Zest of 1 lemon, grated

Freshly ground black pepper

Parmesan, for grating


2 to 3 tablespoons chopped Italian parsley
Directions: In a soup pot over high heat, bring chicken broth to a boil. Season to taste with salt and reduce heat to a simmer.
Crack eggs into a medium-size bowl and beat lightly with a wire whisk. Whisk in about ½ teaspoon of grated nutmeg, the lemon zest, a large pinch of salt, several twists of the pepper mill, and 1¾ ounces grated Parmesan.
Pour egg mixture into simmering chicken broth and stir gently until mixture forms "little rags." Simmer for another minute or so.
Ladle the soup into individual bowls and sprinkle parsley over each serving. Pass more grated Parmesan separately.
3. Gnocchi alla Romana
If there's one thing Rome's best chefs are willing to do, it's go against the grain in the name of deliciousness. That's why these Gnocchi alla Romana are prepared unlike any other dumplings of the kind. The recipe relies on semolina (a wheat derivative, also used as the base for couscous) to achieve a soft, melt-in-your-mouth dumpling accented with butter, Parmesan, cream, and egg yolk for a rich and satisfying finish. Saveur's recipe, an adaptation of the method in chef David Downie's Cooking the Roman Way, yields 4 servings.
Ingredients:
4 cups milk

1½ cups (about 8 ounces) semolina

1½ cups finely grated Parmesan

8 tablespoons unsalted butter, softened

2 egg yolks, beaten


Kosher salt, to taste
Directions: In a 5-quart pot over medium-high heat, bring milk to a simmer while stirring. Reduce heat to low; slowly whisk in semolina. Cook, whisking, until tender, 8 to 10 minutes. Whisk in ½ cup Parmesan, 4 tablespoons butter, and yolks; season with salt. Remove from heat.
Wet a 15-by-10-inch rimmed baking sheet with a soaked paper towel. Pour semolina mixture onto baking sheet; smooth surface with spatula to ½-inch thickness. Let cool until firm, about 40 minutes.
Heat oven to 450 degrees Fahrenheit. Using a knife, cut gnocchi dough in 2-inch squares; transfer half of the squares to a buttered 9-by-13-inch baking pan. Sprinkle gnocchi with ¼ cup Parmesan and dot with 2 tablespoons butter. Layer remaining gnocchi on top and sprinkle with ¼ cup cheese and remaining butter. Bake until golden, about 15 minutes. Serve with remaining cheese.
4. 
Pizza alla Romana
Neopolitan-style pizza may be most widely influential variety in the U.S., writes Lonely Planet, but there are many master chefs — including noted restaurateur Marc Vetri — who prefer to stick with the tried-and-true formula for Pizza alla Romana.
The secret to Pizza alla Romana is all in the dough. Vetri's own preparation forgoes the use of a yeast starter, yielding a superbly crispy crust. Check out Marc Vetri's recipe for Eggplant, Stracciatella, and Marjoram Pizza alla Romana over at The Wall Street Journal to create a restaurant-worthy dish of your own. To save time, note that you can make the dough up to 3 days in advance (up to 1 month in advance, if stored in freezer). The sauce can also be prepared up to 4 days in advance if stored in the refrigerator.
Ingredients:
For dough
6 cups high-protein flour (or unbleached all-purpose flour), plus extra, for dusting
2 tablespoons sugar
¼ cup extra-virgin olive oil
2¾ teaspoons packed fresh cake yeast (or 1 teaspoon instant yeast)
2½ teaspoons fine sea salt
For sauce
1 (16-ounce can) peeled tomatoes, preferably San Marzano
¾ cup extra-virgin olive oil
Salt and pepper
½ bunch fresh basil
For topping
1 small eggplant
Olive oil
Salt and pepper
1 cup stracciatella cheese, cubed
1 teaspoon fresh marjoram, chopped
Directions: For the dough – Put flour, sugar, oil, and 1½ cups plus 2 tablespoons cold water in bowl of a stand mixer. Crumble in yeast. Using dough hook, mix on low speed until everything is moist, about 4 minutes, scraping bowl as needed with a rubber spatula. Increase mixer speed to medium and mix until dough clings to dough hook, about 4 minutes. Add salt and mix until dough is very soft and stretchy, another 3 minutes.
Cut dough into 6 or 7 equal pieces and roll into balls (about the size of a softball) on unfloured board. Arrange balls on baking sheet and scatter a little flour on top of dough. Cover entire sheet with plastic wrap and refrigerate overnight.
Remove dough from refrigerator and let stand at room temperature for 1 hour. Working one at a time, flatten ball on a floured work surface. Hold disk in the air and circle your fingers around the edge, pinching gently around the edge to make a border. It's easier to start stretching dough in the air instead of on a work surface, because gravity will pull and stretch it. Once it's about 8 inches in diameter, place dough on floured work surface and pat it out with your fingertips, from the center toward the edge, to fully stretch. Gently push your palms into center of the dough to stretch it toward the edges. Pat and stretch to a round about 12 inches in diameter and ⅛- to ¼-inch thick. Top as you like and bake.
For sauce – Purée everything with an immersion or upright blender. Taste and adjust seasoning.
For topping — Slice half a small eggplant into thin rounds, drizzle with olive oil, and season with salt and pepper. Bake in a 350-degree Fahrenheit oven until soft, 7 to 9 minutes. Cut rounds in half. Spread pizza sauce onto dough. Scatter on 1 cup cubed stracciatella and baked eggplant slices. Slide pizza onto hot stone and bake at 500 degrees Fahrenheit until cheese melts and crust is golden brown, 5 to 7 minutes. When pizza comes out of oven, sprinkle 1 teaspoon chopped fresh marjoram over the top.
5. Cacio e Pepe
Pinch us, we're dreaming! Surely it's too good to be true that such a marvelous, culturally significant Roman dish could be whipped up using just 4 ingredients. Luckily for us, it is true — and it's more than likely you have at least a few of those ingredients in your kitchen already. Pecorino cheese (known dialectically as cacio) and pepper have been used in cooking since ancient times, writes Eating Italy Food Tours. Cacio e Pepe has retained its original character — and its incredible popularity — for centuries due to the its simple and satisfying qualities. Chow's recipe for Cacio E Pepe takes 20 minutes to make and yields 6 to 8 servings.
Ingredients:
2 pounds dried spaghetti

3½ cups Pecorino Romano cheese, finely grated on the small holes of a box grater (about 8 ounces)

6 tablespoons unsalted butter (¾ stick), cut into tablespoon-size pieces


2 teaspoons coarsely ground black pepper
Directions: Bring a large pot (at least 12 quarts) of heavily salted water to a boil over high heat. Add pasta and cook according to package directions. Drain pasta, reserving 2 cups of the cooking water.
Return pasta and cooking water to the pot and place over low heat. Add remaining ingredients and stir until cheese and butter have melted and formed a creamy sauce, about 5 minutes. Season with salt and serve with additional cheese if desired.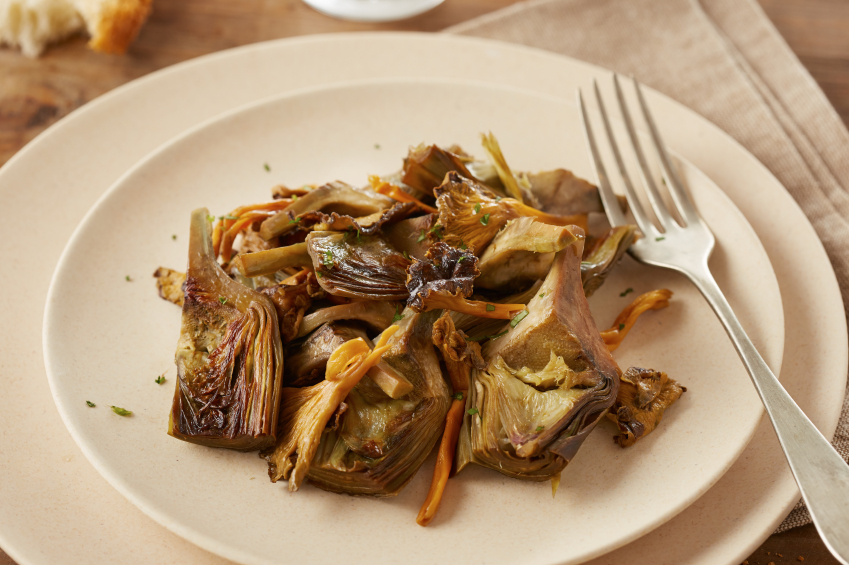 6. Artichokes Alla Romana
Much of Roman cuisine incorporates fresh vegetables native to the region, reports Rome.Info, with artichoke making no small number of appearances throughout the staple dishes in Italy's central Lazia region. An Italian In My Kitchen offers this recipe for Artichokes (or carciofi) alla Romana, combining chopped artichokes seasoned with garlic, oregano, and mint, then sautéing the mix to a delicate crisp. The recipe takes 40 minutes to make and yields 3 to 4 servings.
Ingredients:
10 small to medium artichokes (cleaned and halved), stems included

2 tablespoons chopped fresh mint
2 large cloves of garlic, chopped

2 teaspoons dried oregano

¾ teaspoon salt

¼ cup olive oil


1 cup water
Directions: In a large bowl, squeeze the juice of a lemon. Remove the tough outer leaves from the artichoke until you reach leaves that are pale yellow. Cut in half and remove choke. Cut stem from the artichoke, leaving about 2 to 3 inches, and clean. Put cleaned artichoke and stem into bowl of lemon water to prevent browning. Repeat with remaining artichokes.
In a small bowl, mix together mint, garlic, oregano, salt, and olive oil. Drain artichokes and stems and place in a medium frying pan; cover with oil mixture, add 1 cup of water, mix gently to combine, cover, and cook over low to medium heat for approximately 20 minutes or until water has evaporated and artichokes are tender.
7. Crostata di Ricotta
Barilla's Roman Ricotta Tart, or Crostata di Ricotta, sticks with customary methods of preparation. Rome.Info notes that this distinct tart is particularly common to the region and is a must-try for anyone wishing to delve fully into Roman cuisine. The tart is composed of airy, moist ricotta cheese combined with sugar, lemon, cinnamon, and candied — often rum-soaked — fruits. Feel free to experiment by sprinkling in some pine nuts or raisins for added taste and texture; the dish is very forgiving. This recipe takes 50 minutes to make and yields 4 servings.
Ingredients:
For pastry

2½ cups flour

¾ cup sugar

1 stick and 2 tablespoons butter at room temperature (10½ tablespoons)

2 egg yolks

1 egg


Salt, to taste
For ricotta mixture
Zest from ½ lemon, grated

1 pound fresh cow's milk ricotta cheese

1¼ cups sugar

1⅓ ounces chocolate

1 egg

2 egg yolks

1 pinch cinnamon

3½ ounces mixed candied fruit

Zest from ½ lemon and ½ orange, grated

½ cup rum


1 egg for brushing
Directions: Prepare short crust pastry by combining butter, at room temperature, with sugar and then eggs. Combine flour with a pinch of salt and grated zest of half a lemon and add it to the mixture. Wrap in foil and set aside for 30 minutes.
In a bowl, strain ricotta through a sieve and combine with sugar, two egg yolks, and one whole egg, orange and lemon zest, a pinch of cinnamon, and rum. Mix well; stir in candied fruit. Combine mixtures.
Roll out ¾ of the pastry dough (⅛ inch thick) and line bottom and side of a round buttered tart pan. Fill with ricotta mixture, spreading evenly. Roll out remaining dough, cut strips to cover the edge of the tart, and create a lattice across the filling.
Brush with beaten egg and bake in a 350-degree Fahrenheit oven until crust looks golden and crisp. Set out to cool. Dust with vanilla sugar before serving.
More from Life Cheat Sheet:
Want more great content like this? Sign up here to receive the best of Cheat Sheet delivered daily. No spam; just tailored content straight to your inbox.