Waffle Recipes for a Delicious Brunch at Home
Do you own a waffle maker? Did you get it as a wedding present, a going-to-college hand-me-down, or in a binge of waffle making that waffled you out years ago? We're going to guess that your waffle maker doesn't get as much use as it should. We're here to fix that.
All those hours waiting in brunch lines could have been spent at home with your waffle maker and a much cheaper Irish coffee/mimosa than the one you'll pay $10 for at an overcrowded restaurant. All you need is pantry staples and any add-ins that float your boat and you have waffles in half the time it took you to get a table at the brunch place around the corner. Bonus: The best way to eat a waffle is in your pajamas. Can't do that out at brunch. Here are 7 fantastic waffle recipes you can eat at home in your pajamas. Mimosas recommended.
1. All the Blueberries Buttermilk Waffles
There is one person we can rely on for waffles, and it's not Paula Deen. No, it's Joy Wilson of Joy the Baker. If there was one individual we could brunch with over waffles, we'd pick Wilson. Here, she throws as many blueberries as can fit without gumming up your waffle maker and then tops the finished waffles with more blueberries, cinnamon sugar, and maple syrup. Waffles are a great place for both an overflow of ripe, in-season berries and berries that aren't in season and need a little help. Her secret to waffles that aren't soggy on the bottom? Rest them on a wire rack while you're cooking the others.
Ingredients:
1½ cups all-purpose flour
2 teaspoons baking powder
½ teaspoon baking soda
½ teaspoon salt
3 tablespoons granulated sugar
⅓ cup melted unsalted butter
2 large eggs
2 teaspoons pure vanilla extract
1¼ cup buttermilk
1 heaping cup fresh blueberries, plus more for topping
Cinnamon sugar, for topping
Pure maple syrup for topping
Directions: Set your waffle iron in a level, clean surface and turn on to preheat.
In a large bowl, whisk together flour, baking powder, baking soda, salt, and sugar.
In a medium bowl, whisk together melted butter, eggs, vanilla extract, and buttermilk. Add the wet ingredients, all at once to the dry ingredients. Stir until just incorporated. Stir in the blueberries. Try not to over-mix the batter. A few lumps are fine.
Cook according to your waffle machine instructions.
Serve waffles warm topped with cinnamon sugar, more fresh blueberries, and a drizzle of pure maple syrup.
2. Raised Waffles
Too bleary-eyed in the morning to make waffles? Are you likely to swap salt for sugar if you try cooking before you've had at least one cup of coffee? We get it. Let past you take care of future you with this recipe for yeast raised waffles from Deb Perelman of Smitten Kitchen. Perelman points out the recipe is at least as old as Fannie Farmer's 1896 cookbook, it's one you need to know now. She describes these waffles as the cross between "the finest yeast doughnut you've ever sunk your teeth into and a rich brioche roll." How could you not make these?
These waffles need an overnight rest on the counter. Yes, the counter. Trust us. Not only does it transform them into a magically delicious breakfast, it also means you don't have to do anything but turn on the waffle iron in the morning.
Ingredients:
½ cup warm water
1 packet active dry yeast
2 cups milk, warmed
1 stick unsalted butter, melted and cooled until lukewarm
1 teaspoon table salt
1 teaspoon granulated sugar
2 cups all-purpose flour
2 large eggs
¼ teaspoon baking soda
Oil or melted butter for waffle iron
Powdered sugar, syrup or berries for serving
Directions: The night before, make the batter. Pour warm water in the bottom of a large bowl. Sprinkle yeast on top and let it dissolve and foam for 15 minutes. Stir in milk, butter, salt, sugar, and flour — I do a little bit of wet ingredients then a little bit of dry, back and forth, to avoid forming lumps. If lumps form, you can mostly whisk them out.
Cover bowl with plastic wrap and set out on counter overnight.
The next morning, whisk in eggs and baking soda until smooth. Heat waffle iron and coat lightly with butter or oil. Ladle in ½ to ¾-cup batter per waffle batch. The batter will be very thin and will spread a lot in the pan, so Deb suggests you err on the side of under-filled until you figure out the right amount. Repeat with remaining batter.
3. Whole Wheat Pumpkin Waffles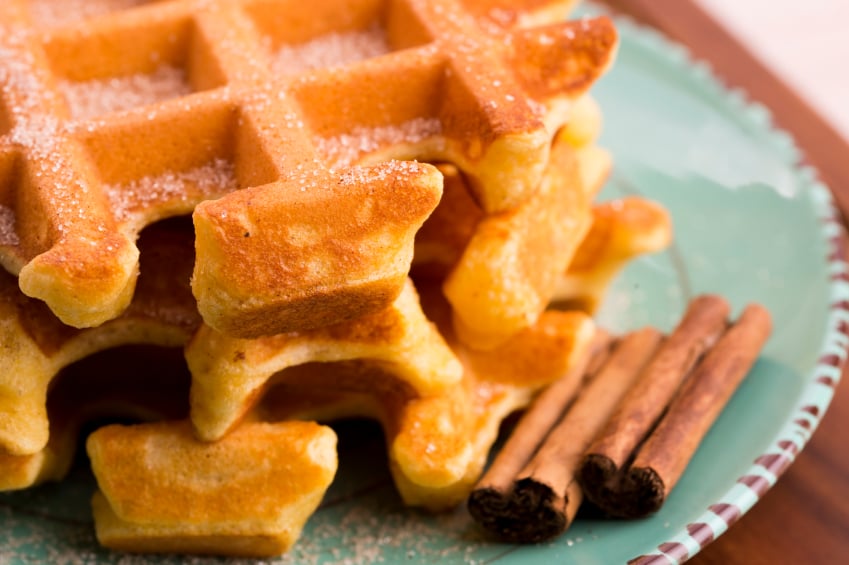 Assuming you're either a) not sick of pumpkin flavored things or b) there has been enough time between Pumpkin Spice Latte season and now, these waffles are not only healthier with their whole wheat and flax seed and low fat yogurt, but they're delicious to boot. Liz from The Lemon Bowl packs these pumpkin waffles with warm spices, and, between the yogurt and the pumpkin puree, they're super tender. By using whole wheat pastry flour, which is milled more finely from a softer wheat, they stay soft instead of feeling super dense and fibrous like whole wheat baked goods sometimes can. These waffles practically demand an Irish coffee.
Ingredients:
1 cup plain low-fat yogurt
¾ cup pure pumpkin
½ cup low fat milk
2 large eggs
2 tablespoons coconut oil, melted
2 tablespoons pure maple syrup
1 teaspoon vanilla
1¼ cups whole wheat pastry flour
½ cup ground flax seed
1 tablespoon baking powder
1 tablespoon cinnamon
1 teaspoon ground nutmeg
½ teaspoon ground cloves
½ teaspoon salt
Chopped walnuts and additional maple syrup for topping
Directions: Heat waffle maker while you begin making the batter.
In a medium bowl, whisk together all liquid ingredients, pumpkin through vanilla.
In a large bowl, whisk together dry ingredients: whole wheat pastry flour through salt. Slowly add the liquid ingredients to the flour mixture and stir until incorporated, careful not to over-mix.
Spray waffle maker with cooking spray and pour batter in, about ½ cup at a time. Cook until lightly golden brown or according to manufacturer's instructions. Serve with chopped walnuts and more maple syrup
4. Dark Chocolate Waffles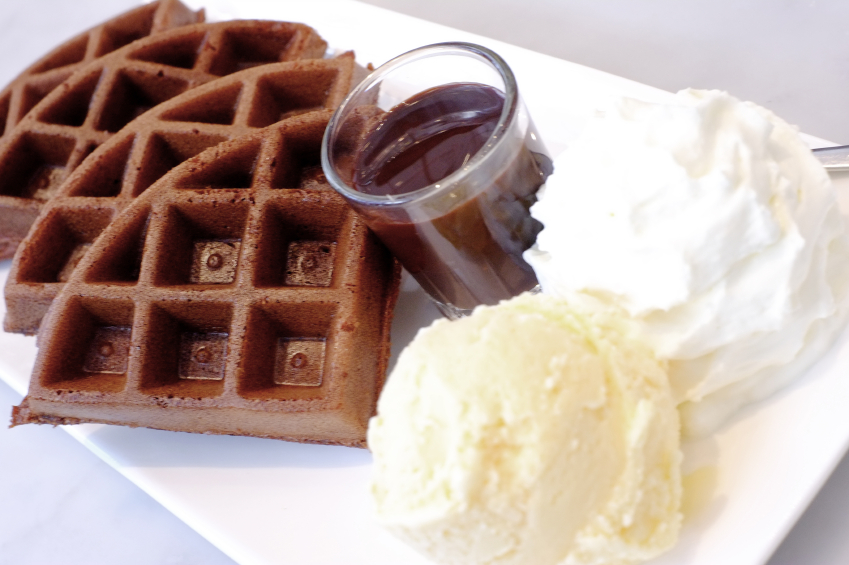 Chocolate for breakfast is toeing a line. Chocolate for brunch in the form of waffles, though, just makes sense. Seriously, if there's one time you absolutely have to make chocolate waffles, it's for an at-home brunch. The waffles from Bon Appétit aren't just flat chocolate, though, they're exciting. They have a slight tang from buttermilk and a well-rounded fruitiness from olive oil in the batter. This way, it's not just like eating cake for breakfast; it's a fully respectable brunch dish.
Ingredients:
2 cups all-purpose flour
½ cup unsweetened cocoa powder
¼ cup packed brown sugar
2 teaspoons baking powder
1 teaspoon baking soda
1 teaspoon kosher salt
3 large eggs, separated
2 cups buttermilk
½ cup olive oil
1 teaspoon vanilla extract
6 ounces bittersweet chocolate, finely chopped
Nonstick vegetable oil spray
Unsalted butter and warm pure maple syrup for serving
Directions: Preheat oven to 250 degrees Fahrenheit. Whisk flour, cocoa powder, brown sugar, baking powder, baking soda, and salt in a large bowl. Make a well in the center and add egg yolks, buttermilk, oil, and vanilla. Blend with a fork, then gradually incorporate dry ingredients, mixing just until combined.
Using an electric mixer on medium-high speed, beat egg whites in a small bowl until soft peaks form. Working in 2 batches, fold egg whites into batter just until combined. Fold in chocolate.
Heat a waffle iron until very hot; lightly coat with nonstick spray. Working in batches, cook waffles until cooked through. Transfer to a wire rack set inside a baking sheet, cover loosely with foil, and keep warm in oven until ready to serve.
Serve waffles with butter and syrup.
5. Waffle Iron Churros
Does it count as a waffle if it's a churro shaped like a waffle? Is it more waffle or more churro? Does it matter? We don't think so. If it's a brunch more on the side of lunch, these churro-waffles dipped in chocolate from Serious Eats is the way to go. The benefit of waffling your churros is that you're not frying them, which makes things cleaner and less likely to splatter you with hot oil before you've had breakfast. The indents from the waffle iron are an even better receptacle for chocolate sauce than the traditional ridges of a churro.
Ingredients:
Batter
½ cup water
4 tablespoons unsalted butter
¼ teaspoon salt
1 tablespoon sugar
¼ teaspoon cinnamon
½ cup all-purpose flour
2 large eggs
Topping and Chocolate Sauce
½ cup sugar
1 teaspoon cinnamon
¼ cup heavy cream
2 ounces semi-sweet chocolate
1 teaspoon corn syrup
Nonstick cooking spray
1 tablespoon unsalted butter, melted
Directions: In a small saucepan, bring water, butter, salt, sugar, and cinnamon to a simmer over high heat.
When butter has melted and sugar and salt have dissolved, lower heat to medium, add flour, and stir rapidly. The batter will form quickly as the flour absorbs the water mixture. Continue to cook over medium heat, stirring, for 1 minute.
Remove saucepan from heat and allow mixture to stand for 5 minutes. Add eggs one at a time to batter mixture, stirring until each is incorporated. The batter will be very stiff and look a bit like buttercream frosting.
Mix sugar and cinnamon on a plate for dipping. In a saucepan over low heat, combine cream, chocolate, and corn syrup and stir frequently until chocolate begins to melt. Turn off heat and set chocolate mixture aside.
Preheat the waffle iron. Coat both sides of the waffle iron with nonstick cooking spray.
Place about ¼ cup of batter on each section of waffle iron. Do not overstuff waffle iron, as the batter will expand considerably. Close the lid and cook until churros are golden brown, 5 to 10 minutes. Transfer churros to a plate and repeat with remaining batter.
Brush churros with melted butter and then dip them in cinnamon sugar. Serve warm with chocolate sauce for dipping.
6. Multi-Grain Waffles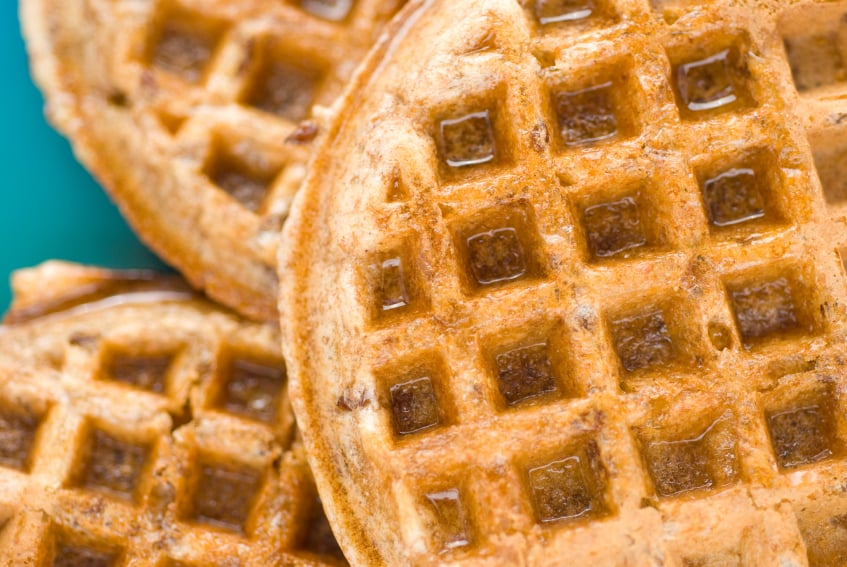 Looking for a more virtuous waffle? These multi-grain waffles from Eating Well use healthier fats like canola oil and a combination of rolled oats, whole wheat flour, all-purpose flour, and wheat germ to create a healthy waffle that also tastes good. Serve with a dollop of low-fat yogurt and plenty of fresh fruit.
Ingredients:
2 cups buttermilk
½ cup old-fashioned rolled oats
⅔ cup whole-wheat flour
⅔ cup all-purpose flour
¼ cup toasted wheat germ, or cornmeal
1½ teaspoons baking powder
½ teaspoon baking soda
¼ teaspoon salt
1 teaspoon ground cinnamon
2 large eggs, lightly beaten
¼ cup packed brown sugar
1 tablespoon canola oil
2 teaspoons vanilla extract
Directions: Mix buttermilk and oats in a medium bowl; let stand for 15 minutes.
Whisk whole-wheat flour, all-purpose flour, wheat germ or cornmeal, baking powder, baking soda, salt, and cinnamon in a large bowl.
Stir eggs, sugar, oil, and vanilla into the oat mixture. Add the wet ingredients to the dry ingredients; mix with a rubber spatula just until moistened.
Coat a waffle iron with cooking spray and preheat. Spoon in enough batter to cover three-fourths of the surface. Cook until waffles are crisp and golden brown, 4 to 5 minutes. Repeat with remaining batter.
7. Vegan and Gluten-Free Waffles
There's nothing sadder than a person who, due to dietary restrictions, can't brunch on waffles. Instead of succumbing to a bleak future of no waffles, we turn to Minimalist Baker for easy vegan gluten-free waffles. Being adapted for food sensitivities doesn't take away the customizability of these waffles, either. Go ahead and add bananas and peanut butter, strawberries and chocolate chips, apples and cinnamon, blueberries and coconut. The recipe developer's gluten-free flour blend goes like this: ¼ cup white rice flour, ¼ tapioca flour, ½ cup potato starch, 1½ cups brown rice flour. It'll make a cup more than you need for the recipe, so you can either scale it down or have some left over.
Ingredients:
1¼ cup unsweetened almond milk plus 1 teaspoon white or apple cider vinegar
¼ cup olive, canola or melted coconut oil
¼ cup agave nectar or maple syrup
Heaping ½ cup gluten-free rolled oats
1¾ cups gluten free flour blend
1½ teaspoon baking powder
Pinch sea salt
Directions: Combine almond milk and vinegar in a small mixing bowl. Then add olive oil, agave nectar, or maple syrup and whisk. Set aside.
Add dry ingredients to a large mixing bowl and whisk until well combined.
Add wet ingredients to dry and mix until well incorporated. Test batter for sweetness and flavor. Add more sweetener or some vanilla extract if desired. Let set for 5 to 10 minutes while your waffle iron preheats.
Once waffle iron is ready, generously coat with non-stick spray and pour on about ½ cup of batter. Cook according to manufacturer instructions and then remove and place on a baking rack in the oven at 200 degrees Fahrenheit to keep warm.
More from Culture Cheat Sheet: