7 Ways to Enjoy Healthy, Grown-Up Versions of Childhood Favorites
Just because you've grown up doesn't mean you've outgrown some of your favorite childhood foods. Unfortunately, many of the snacks and meals we enjoyed as kids are packed with sugar, fat, and other assorted bad-for-you ingredients. While we once innocently enjoyed these tasty treats, we are now quite aware of the damage they can do to our diets and waistlines. But there's no need to despair! You can still indulge in your childhood favorites by preparing these 7 healthy, grown-up versions instead. You'll never have to say no to another Bagel Bite, corn dog, or Pop-Tart again.
1. Baked Whole Wheat Corn Dogs
What's not to like about a hot dog wrapped in fried breading? While it may taste good, it certainly isn't good for you. All Women Stalk explains that hot dogs typically consist of a mix of animal by-products, flavorings, fillers, and preservatives, and are then coated in an unhealthy, deep-fried corn batter. There is good news, though! TheSkinnyFork.com has created a whole wheat turkey dog version that both adults and kids will enjoy. It yields 10 servings, with each containing 186.7 calories and 6.5 grams of fat.
Ingredients:
Dough
½ cup fat free milk, hot
½ cup hot water
2 tablespoons extra virgin olive oil
2 tablespoons brown sugar
1 cup corn meal
1½ cups whole wheat white flour
1 teaspoon salt
¼ teaspoon baking soda
¼ teaspoon paprika
⅛ teaspoon cayenne
⅛ teaspoon chili powder
2¼ teaspoons active dry yeast
Dogs
10 turkey hot dogs
2 egg whites, lightly beaten
1 tablespoon poppy seeds
Directions: Combine the hot milk and hot water with the yeast in a small bowl and set aside for about 5 minutes until the yeast has activated. Once ready, mix in the oil, brown sugar, and corn meal. Then add in the flour, baking soda, and spices. Stir until the dough becomes sticky. Turn the dough out onto a lightly floured surface and knead for about 5 minutes, adding more flour if you need to. Shape the dough into a ball and place in a lightly oil bowl. Cover to allow to rise in a warm place for about an hour or until it has doubled in size.
Alternatively, you could toss all of the dough ingredients into a bread machine and run the dough cycle. Preheat oven to 400 degrees Fahrenheit. Line a baking sheet with parchment paper. Turn the dough out onto a lightly floured surface and roll it out so it's thin. Cut the dough lengthwise into 10 equal segments. Roll the hot dogs up using one dog per segment of dough. You will want to roll at somewhat of an angle to spiral the dough downward from one end to the other.
Be sure to give enough room at each end of the hot dog to pinch the dough in to cover entirely. Follow the same process for the remaining hot dogs. Lightly brush each dog with the egg whites and top with an even sprinkling of poppy seeds on all sides. Place each corn dog onto the prepared baking sheet and bake for 10 minutes. Remove from the oven, flip each corn dog, and bake for another 5-10 minutes until the dough is starting to brown and crisp slightly. Serve warm.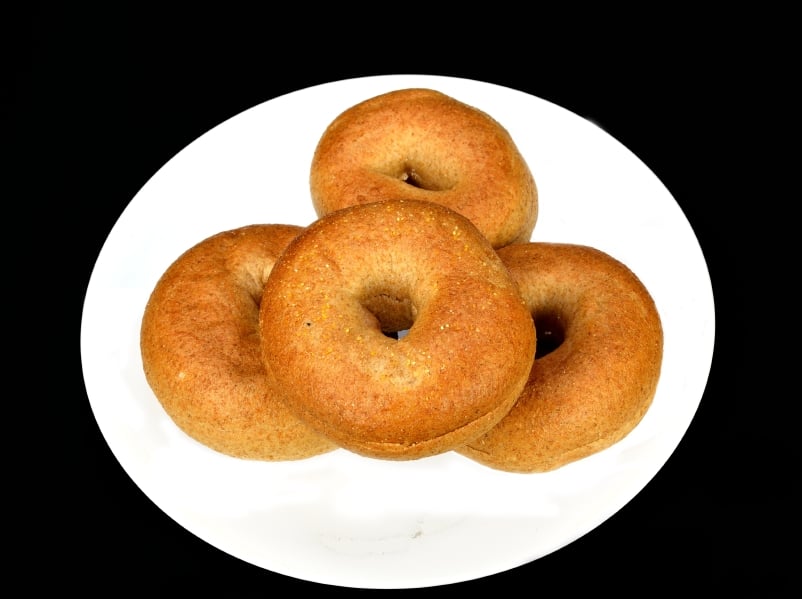 2. Homemade Bagel Bites
Domesticated Duchess delivers a healthy version of bagel bites that can be enjoyed as a filling snack or a light dinner. You can also freeze some of the bites if you'd like to have some stored away for a quick weeknight supper. If you're going to freeze your mini pizza bites, prep them, but don't bake. Instead, place on a baking sheet and flash freeze for about 20 minutes. Place them in a sealable freezer bag, and when you're ready to cook your bites, place in the oven for about 15 minutes at 425 degrees Fahrenheit.
Ingredients:
6 mini whole wheat bagels (split in half)
¾ cup of pasta sauce
¾ cup of low-fat mozzarella cheese
½ cup of pepperoni, chopped
Italian seasoning
Directions: Preheat oven to 425 degrees Fahrenheit. Take a large baking pan and cover with foil.  Use cooking spray to grease. Split each bagel in half on the foil. Cover with pasta sauce. Cover in cheese. Sprinkle chopped pepperoni or other toppings on bagel. Dash Italian seasoning on each bite. Bake 9-11 minutes, then put on broil for the last 2 minutes.
3. Healthy Pop-Tarts
Wouldn't it be wonderful if you could enjoy Pop-Tarts without the sugar, corn syrup, food dyes, and trans fats? Thanks to Chocolate-Covered Katie, you can! These bite-sized Healthy Pop-Tarts each contain 29 calories, 1.2 grams of fat, and 0.9 grams of sugar. If you'd prefer, you can also make regular sized Pop-Tarts.
Ingredients:
½ cup plus 3 tablespoons spelt flour (you can also use all-purpose flour, or a mix of the two)
Tiny bit over ¼ teaspoon salt
1½ tablespoons agave or pure maple syrup (or honey)
¾ of a packet stevia, or omit and add 1 extra tablespoon of the above liquid sweetener
¾ teaspoon pure vanilla extract
2 tablespoons vegetable or coconut oil
1 tablespoon more oil, or milk of choice
Directions: Preheat oven to 350 degrees Fahrenheit. Combine dry ingredients and stir. In a separate bowl, combine all wet ingredients, then mix wet into dry and stir. Pour crumbly dough into a gallon-sized plastic bag and form into a ball. Still in the bag, roll dough into a very thin square. Chill at least 20 minutes, or your Pop-Tarts will be crispy. Meanwhile, grease a baking pan, and make up your fillings.
For a berry flavor, mash strawberries or other berries, microwave a few seconds, then stir in a little stevia or powdered sugar. Portion about 1 teaspoon on each of half the rectangles. For a peanut butter and jelly filling, spread a thin layer of your favorite jam on half of the rectangles, then add about 1 teaspoon peanut butter. For an apple pie filling, stir together chopped apples, cinnamon, and Sucanat or brown sugar.
Cut open the bag and slice the dough into rectangles. If you've rolled it thinly enough and use all the dough, you should be able to get 34-38 rectangles. Cut much bigger rectangles if you want regular sized Pop-Tarts, as opposed to minis. Put a little filling, about ¾ teaspoon, on half the rectangles, then place remaining rectangles on top. Cinch down with a fork or your fingers; it's okay if some of the filling comes out. Bake 14-18 minutes, depending on how crispy you want the crust.
Once cooled, spread on glaze, and store in a plastic container for soft Pop-Tarts or a glass container for crispy ones. To prepare the glaze, microwave, or heat on the stove, 1 small strawberry for 20 seconds, then mash very well until it's like soup. Add ½ cup powdered sugar or sugar-free powdered sugar and stir. It'll seem extremely thick at first, but it'll eventually turn into icing.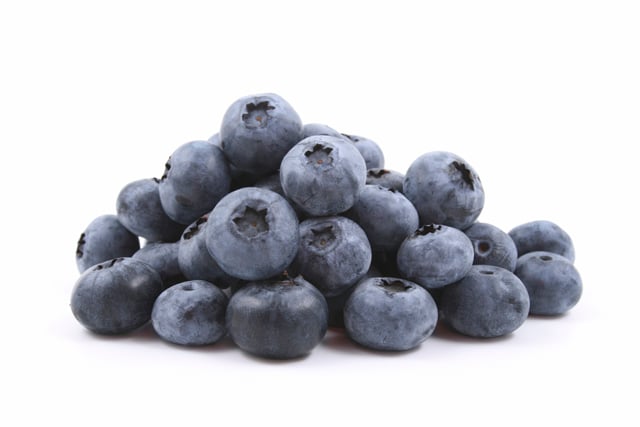 4. Blueberry Chia Fruit Roll-Ups
Tasty as they may be, store-bought fruit roll-ups are riddled with sugar and artificial ingredients. Luckily, Homemade Hearts has created a sensational snack that will certainly satisfy your sweet tooth. It's filled with chia seeds and blueberries, meaning it's packed with protein, fiber, and healthy omega fats. It yields 12 rolls. Note: You'll need a dehydrator to prepare this recipe.
Ingredients:
2 cups blueberries
½ cup apple sauce
2 tablespoons chia sheeds
3 Medjool dates, pitted
Directions: Purée all ingredients in a food processor. Using an offset spatula, spread the mixture over a parchment paper-lined dehydrator sheet. Make sure it is approximately ⅛-inch thick and fairly even. Dehydrate at 15o degrees Fahrenheit for 8-12 hours. You want it dry enough so it does not stick, but it needs to stay pliable. Drying time may vary on humidity levels and thickness of your mixture.
Once it has reached the desired consistency, remove parchment paper from dehydrator tray. Keep the paper and fruit leather together. Using scissors, cut the parchment paper together with the fruit leather in half. Roll each half lengthwise. Attach 6 strings on each piece and cut each roll into 6 smaller rolls. Store in an airtight container for 2-3 weeks.
5. Healthy Homemade Oreos
Even Oreos can be enjoyed guilt-free when they're prepared with whole grains, all-natural ingredients, and zero sugar. Desserts With Benefits' recipe yields about 47 cookies, with each 2-cookie serving containing 120 calories and less than 1 gram of sugar.
Ingredients:
Wafer Cookies
1 cup brown rice flour
1 cup oat flour
¾ cup Dutch processed cocoa powder (unsweetened)
1½ teaspoons baking powder
1¼ teaspoons salt
½ cup unsweetened applesauce
½ cup non-hydrogenated vegetable shortening
1 cup granulated erythritol (or dry sweetener of choice)
1½ teaspoons Ener-G Egg Replacer plus 2 tablespoons water (or one egg)
1 teaspoon vanilla extract
3 tablespoons plus 2 teaspoons water
Filling
5 tablespoons unsweetened almond milk
3 tablespoons non-hydrogenated vegetable shortening
1 teaspoon vanilla extract
2 scoops vanilla brown rice protein powder
1 cup Powdered Erythritol (or another powdered sugar substitute)
Directions: Preheat the oven to 350 degrees Fahrenheit. To make the wafer cookies, in a large bowl, sift together the rice flour, oat flour, cocoa, baking powder, and salt. In a small bowl, whisk together the egg replacer, water, and vanilla. In a separate bowl, add the applesauce and shortening. Microwave at 20-second intervals, stirring between each one, until very soft. Stir in the erythritol. Add the egg replacer to the applesauce mixture. Dump the wet mixture over the dry mixture. Fold together. It should be dry and crumbly.
Add the water 1 tablespoon at a time, folding between each addition. Shape dough into a disc, wrap in plastic wrap, and refrigerate for 30 minutes. Take the disc out of the fridge, and line a cookie sheet with parchment paper. Roll the dough between parchment paper until ⅛-inch thick. Use a circle cookie cutter and transfer the circles to the cookie sheet. Poke holes into the surface of each circle and bake for about 12 minutes. Slide cookies off parchment paper and onto a wire cooling rack.
Let cool completely. For the filling, in a large, microwave-safe bowl, add the almond milk and shortening. Microwave at 20-second intervals, stirring between each one, until melted. Stir in the vanilla extract. Stir in the protein powder. Stir in the erythritol. Scoop frosting into a piping bag with circle tip. Flip half of the chocolate wafers and pipe a circle outlining the cookie, then fill it in. Top with a wafer to make sandwiches.
6. Honey Bunny Grahams
You'll never have to grow up thanks to Half Baked Harvest. These wholesome, crunchy, and satisfyingly sweet honey bunnies transform Teddy Grahams into whole wheat bites of healthy goodness. It yields 225-250 honey bunnies. You'll want to have a small, animal-shaped cookie cutter for this recipe.
Ingredients:
1 cup whole wheat flour or whole wheat pastry flour
¾ cup flour
½ cup wheat germ (un-toasted)
2 tablespoons dark brown sugar
1 teaspoon cinnamon
1 teaspoon baking powder
½ teaspoon baking soda
½ teaspoon salt
6 tablespoons unsalted butter, cold and cut into chunks
¼ cup honey
3-4 tablespoon ice water
Directions: Preheat the oven to 350 degrees Fahrenheit. In the bowl of a stand mixer add the whole wheat flour, flour, wheat germ, brown sugar, cinnamon, baking powder, baking soda, and salt. Mix to combine. Add the chunks of cold butter and the honey. Beat until mixture resembles small peas. Add 1 tablespoon of cold water at a time until the dough just barely holds together. Divide the dough in half and shape into 2 flat disks, wrap in plastic wrap, and refrigerate for 10 minutes. Line two cookie sheets with parchment paper or a silpat.
Place the dough onto a lightly floured surface. Roll out the dough into a rectangle, about ⅛-inch thick. Using a small bunny shaped cookie cutter, or any small animal cookie cutter. Place the shapes onto prepared baking sheets and bake for 8-10 minutes, or until lightly golden around the edges but not dark brown. Allow to cool and store in an air tight container.
7. Whole Wheat Cheddar Crackers
Time warns that even though Goldfish are free of trans fats, the cheddar-flavored crackers are packed with salt. Just one serving of this snack-time favorite contains 250 milligrams of sodium. However, by using only 4 healthy ingredients, Weelicious' recipe for Whole Wheat Cheddar Crackers contains just 30 milligrams of sodium per serving. You can also channel your inner child by using cookie cutters to create fun-shaped crackers.
Ingredients:
2 cups cheddar cheese, grated
1 cup whole wheat flour
1 tablespoon spike salt-free seasoning (any salt free/herb seasoning will work)
6 tablespoons unsalted butter, chilled
Directions: Preheat oven to 400 degrees Fahrenheit. Place the first 3 ingredients in a food processor and pulse to combine. Add the butter and pulse and until a ball forms. Roll out dough ¼ inch thick on a floured or parchment-covered surface. Slice into crackers or cut out shapes with a cookie cutter. Bake for 15-17 minutes. Serve.
More from Life Cheat Sheet: 
Want more great content like this? Sign up here to receive the best of Cheat Sheet delivered daily. No spam; just tailored content straight to your inbox.