7 Ways to Go Big in Small Bathroom Design
[sc_inpost_bigbox ad_name="bathroom" position="alignright"]Designing a small bathroom might sound limiting at first, but there's actually a lot you can do to improve the look of your space without remodeling it. It may look cramped and difficult to upgrade, but you can spend less money revitalizing a small bathroom than gutting it and still create more space. Here are some big ideas for improving your small bathroom:
1. Remove clutter
While your bathroom should have the essentials, sometimes you add pieces that don't make sense. It could be the additional towel racks, an extra large shelf, too many trinkets on the countertop—you never know where the clutter is going to pile up. So to cut down on how cramped your small bathroom feels, de-clutter. Take out the shelving you don't use or remove items that are solely in place for decor. Put everything you really need in the under-cabinet area beneath the sink, if you have one, and store secondary items in a linen closet nearby. Cut the room down to the essentials. It will feel like you have more breathing room by the time you're finished.
2. Clear up floor space
If you have a particularly narrow small bathroom, you're already running out of floor space. A wide cabinet area with a built-in sink cuts down on the space you could use. Take out the sink and under-cabinet area and replace them with a pedestal sink specifically designed for small bathrooms. It doesn't take up as much floor area. Though you don't get the cabinet space you had before, you can make up for that problem by installing shelving or a mirror cabinet around the pedestal sink. This way, you avoid stubbing your toe in the narrow bathroom and still have an important wash area.
3. Install smaller bathroom elements
Sometimes small bathrooms come with installations meant for big bathrooms. This includes:
Bathroom cabinets
Sinks
Vanities
Bathtubs and showers
Toilets
Rather than trying to squeeze around these huge installations, replace them with their smaller alternatives. Manufacturers and local home remodelers are skilled at finding the right-sized elements for a small bathroom. This isn't a project you can DIY, unfortunately, but it costs less than starting from scratch. The end result is a small bathroom that flows better and prevents injury. It also frees up floor space and gives you more room for wall shelving, along with other decorating options you didn't have before.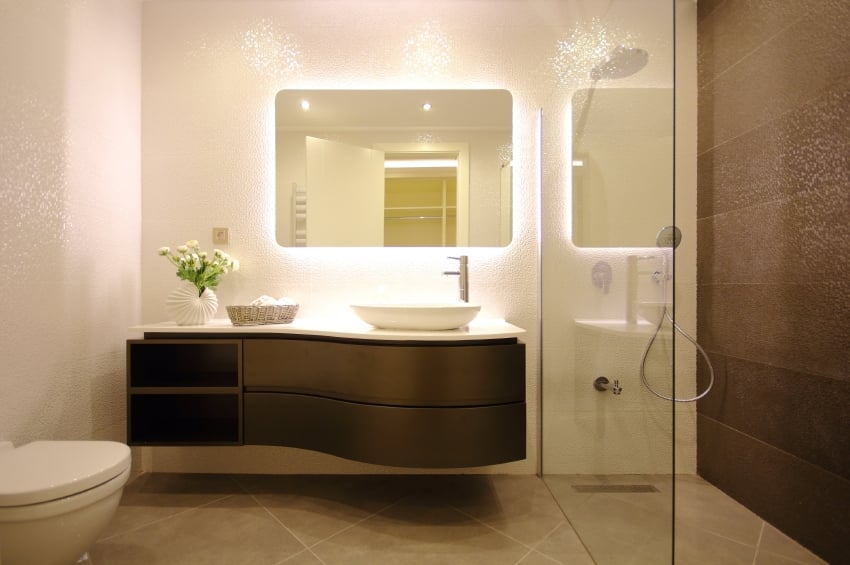 4. Simplify the shower
One of the major space-wasters in a small bathroom is the bathtub/shower combo. How often do you plan to spend time luxuriating in a bathtub that's cramped by the walls around it? Rather than letting that bathtub waste space, you should take it out and install a walk-in shower. This takes up far less space than a rectangular bathtub, and you can install it in a corner so you save the most space. This leads to a very uncluttered, practical bathroom layout. The cost to install a shower varies between $1,000 and $5,500, though it could cost less if you repurpose your existing setup.
5. Use the walls for storage
So you've taken a few steps to open up the bathroom—installing a walk-in shower, taking out big bathroom elements, clearing up clutter—and you have more wall space. It is absolutely crucial to balance the openness of your bathroom with your storage needs. This doesn't mean installing a lot of standing shelves or wide cabinets that take up floor space. Rather, you should think vertically. Open shelves improve your storage options, and they won't take away from your floor space. You can put some linens on them, decorative elements—anything you have in mind. You can also put down a few small decorative baskets or boxes, but be aware of their placement for your safety.
6. Increase the lighting
Small bathrooms often feel cramped, small, and tight because there's not enough lighting. You should add more lighting to the room if you want to increase its open feeling. Particularly, mix together lighting and mirrors. Mirrors often help a room feel more open and larger than it actually is. Place a mirror on the longest wall in the room (above a sink, most commonly) and it can significantly increase how the room appears in size. Then you can add more recessed lighting, hanging lamps or other bright elements to complement the room. Avoid glares and using one type of light to minimize shadows and enhance the appeal of decor elements. If possible, embrace natural light from windows and skylights.
7. Choose a new paint color
With the ability to get to more wall space, you should consider changing the color palette to increase the room's brightness and openness. Try light colors like white, tan, taupe, or pastels. If you want to go the other way and do a dark color, that's also fine. Just be sure to coordinate everything in the room with that hue so it doesn't clash. Everything should be coherent and create a warm, inviting space.
[sc_inpost_ad ad_name="bathroom"]
These are only some of the "big" ideas you could implement when redesigning your small bathroom. All in all, it comes down to how much you're willing to spend on your bathroom renovation. Here are some additional small bathroom design ideas for homeowners who want to spend $500 or $5,000, and what you can get for either price.
More From Life Cheat Sheet:
Want more great content like this? Sign up here to receive the best of Cheat Sheet delivered daily. No spam; just tailored content straight to your inbox.