7 Wine Sauce Recipes for Restaurant-Worthy Dishes
Little alterations in recipes can go a long way. Switching or adding a sauce can be the special touch a meal needs, and wine is just the ingredient that can give you restaurant-quality meals at home. What's Cooking America explains a few basics for cooking with wine.
First, you always want to use a wine you'd actually drink. When cooking with wine, you want to intensify the flavors of the food, not hide them — this makes enjoying the taste of what you are using essential. Plus, as you cook the wine, the alcohol evaporates and the acidic and sweet notes are concentrated in the sauce or reduction. The vibrant flavors achieved through cooking with wine means a little can impart a big impact. To see where wine and cooking can take you, check out these seven recipes.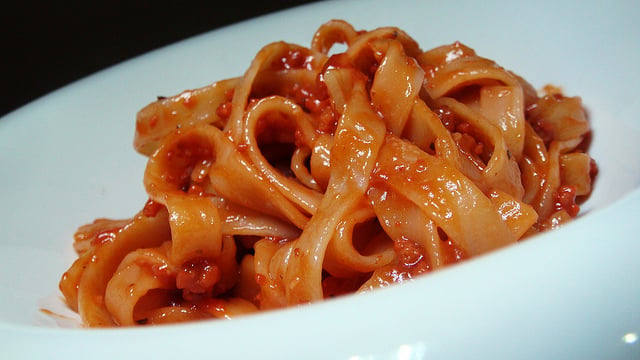 1. Red Wine Tomato Pasta
Upgrade pasta night with Southern Living's red wine tomato pasta. On top of the red wine, the entire sauce is homemade, making this pasta dish a little more effort than a quick meal, but the flavors will make it well worth the added kitchen time.
Ingredients:
1½ teaspoons minced fresh garlic
2 tablespoons olive oil
½ cup dry red wine
2 (14½ ounces) cans petite diced tomatoes, undrained
2 tablespoons chopped fresh or 1 teaspoon dried basil
1 tablespoon chopped fresh or ½ teaspoon dried oregano
1 teaspoon sugar
¼ teaspoon freshly ground black pepper
12 ounces uncooked thin spaghetti
1 (4-ounce) block mozzarella cheese, shredded
⅓ cup freshly grated Parmesan cheese
Toppings
chopped fresh basil
freshly grated Parmesan cheese
Directions: Sauté garlic in hot oil in a large skillet over medium heat for 1 minute or until lightly browned. Carefully stir in wine and next five ingredients (tomato, basil, oregano, sugar, pepper); bring to a boil. Reduce heat to medium low and simmer, stirring occasionally, for 20 minutes or until thickened.
Cook pasta according to package directions; drain. Stir together hot pasta, mozzarella cheese, and ⅓ cup Parmesan cheese in a large serving bowl, tossing to coat until cheeses start to melt. Pour tomato sauce over pasta mixture and toss to combine. Serve immediately with desired toppings.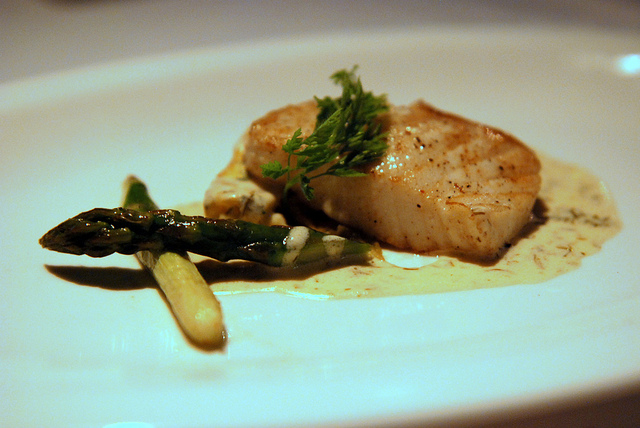 2. Lemon Beurre Blanc
In this recipe from Seafood, via Williams-Sonoma, the lemon beurre blanc is paired with scallops (about 30 to serve six people). Beurre blanc pairs well with seafood in general, and if you aren't into the scallops, consider salmon — or ditch the fish entirely and use the sauce for a chicken or vegetable dish.
Ingredients:
1 tablespoon fresh lemon juice
1 tablespoon dry white vermouth or wine
1 small shallot, minced
12 tablespoons (1½ sticks) cold unsalted butter, cut into 12 pieces
salt and freshly ground white pepper, to taste
minced fresh chives for garnish
Directions: In small, heavy, nonreactive saucepan over medium-low heat, combine the lemon juice, vermouth, and shallot. Bring to a low boil and cook until the liquid is reduced to about 1 teaspoon. Remove the pan from the heat and, using a whisk, beat in 1 piece of butter, then a second piece. Place the pan over very low heat and whisk in the remaining butter one piece at a time to make an emulsified sauce. Remove from the heat and whisk in salt and white pepper.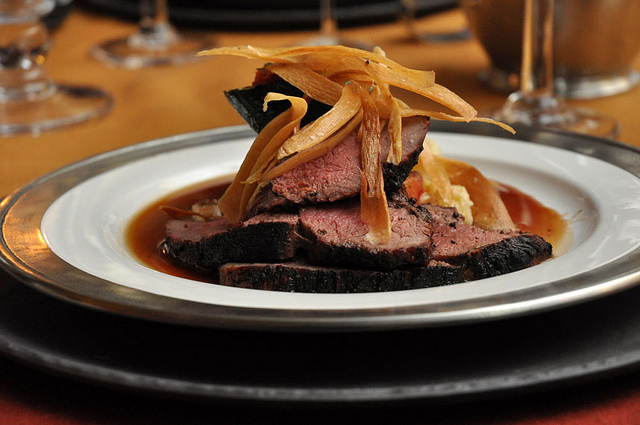 3. Bordelaise Sauce
Perhaps you noticed that the last recipe paired sauce with chicken and seafood, but not beef. When you have a steak in need of a little wine, try a classic bordelaise sauce. Named for France's Bordeaux region, CBS featured this basic version, which every steak lover needs to have in his or her recipe rotation.
Ingredients:
3 tablespoons shallots, finely diced
1 sprig thyme
1 bay leaf
½ teaspoon peppercorns, crushed
1¼ cup red wine (whatever kind you like)
1¾ cup veal stock (beef stock is fine)
salt and pepper, to taste
1 tablespoon butter
Directions: Combine the shallots, thyme, bay leaf, crushed peppercorns, and wine in a saucepan. Over medium heat, reduce about 90 percent (until the wine is a syrup) — this will take about 10 minutes. Add stock once reduced. Cook the mixture until thick. You will know the sauce is thick enough when it evenly coats the back of your spoon and you can draw a clean line down the middle. Strain and season with salt and pepper to taste, and swirl in butter off heat.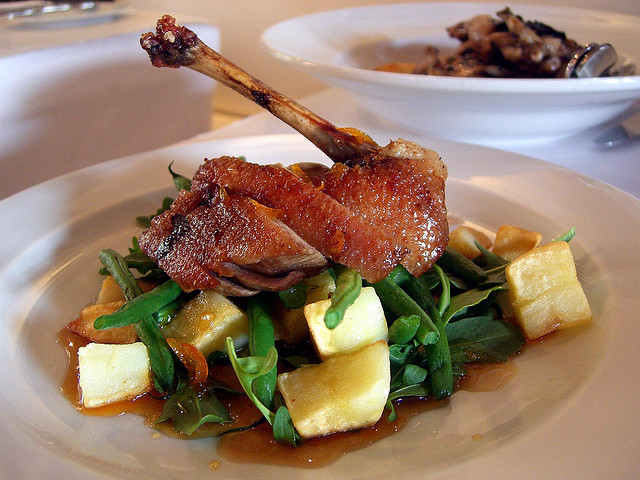 4. Madeira Sauce
Of course, when you want one wine sauce that can go either way, look no further than Madeira. Steak, pork, duck (pictured), and chicken can all be prepared with Gateway Gourmet's recipe. You can either make your own Demi-Glace or purchase it ready to use.
Ingredients:
3 tablespoons finely chopped shallots
1 ounce butter (¼ stick)
½ pound white or crimini mushrooms, sliced (optional)
½ teaspoon cracked peppercorn
1 bay leaf
1 sprig fresh thyme (¼ teaspoon dried)
¼ cup red wine
¾ cup Madeira wine
1 cup Demi-Glace
¼ cup heavy cream (optional)
Directions: In a medium saucepan, sauté shallots in butter for 1-2 minutes or until translucent. Add mushrooms and cook until mushrooms are tender, approximately 3 minutes. Remove mushrooms and set aside. Add peppercorns, thyme, and bay leaf, and cook 30 seconds. Add red wine and reduce by half. Add Madeira wine and bring to boil. Add Demi-Glace and whisk until incorporated into the sauce. Return mushrooms to pan and add heavy cream and reduce briefly. Serve over beef, veal, pork, chicken, or other grilled or roasted meats. The heavy cream is strictly optional and gives the sauce a richer color and flavor.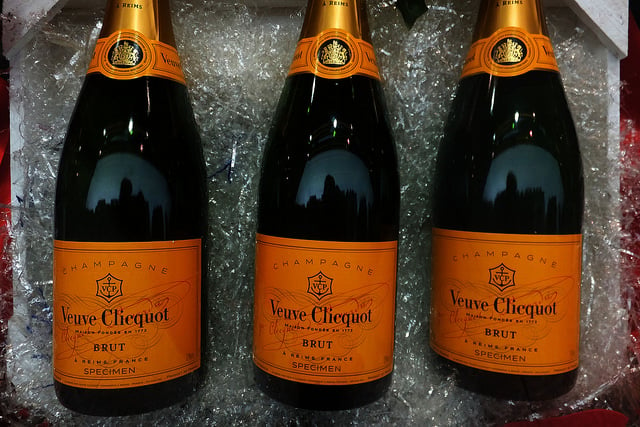 5. Champagne Butter Sauce
For anyone feeling decadent, head to the kitchen to make this champagne butter sauce from Just a Pinch and plan dinner around this delicious offering. Whether it's over vegetables, seafood, or chicken, the sauce will be a superb finish to a simple dish.
Ingredients:
2 tablespoons butter
1 shallot, finely diced
½ cup champagne, dry
1 cup heavy cream
salt and pepper
Directions: In a sauce pan over medium heat, melt butter and sauté shallots until soft and translucent. Add Champagne and simmer; reduce to half. Add heavy cream and simmer; reduce to half. Add salt and pepper to taste. Drizzle over fish or steamed vegetables.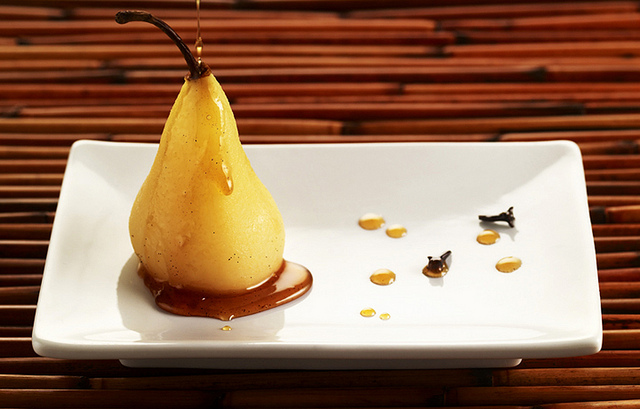 6. Poached Pears
It isn't always about meat and pasta, though. Pears poached in wine make an excellent dessert — just make Giada de Laurentiis's recipe from the Food Network to see how sweet wine in your dessert can be.
Ingredients:
1 (750-milliliter) bottle Moscato wine or other sweet dessert wine
2 cups simple syrup
1 cinnamon stick, broken in half
2 tablespoons honey
1 (¾-inch) piece fresh ginger, peeled and finely chopped
1 vanilla bean, split lengthwise
6 small, firm, ripe Anjou pears, peeled
serving suggestion: vanilla ice cream or gelato
Simple syrup
2 cups sugar
2 cups water
Directions: In a saucepan large enough to hold all the pears, combine the wine, simple syrup, cinnamon stick halves, honey, and ginger. Scrape in the seeds from the vanilla bean and add the bean and seeds to the saucepan. Bring the mixture to a simmer, stirring occasionally, until the honey has melted. Add the pears and simmer for 15-20 minutes, turning occasionally, until the pears are tender. Remove the pears from the liquid and allow to cool.
Continue to simmer the liquid until it thickens and is reduced by half, about 15-20 minutes. Cool to room temperature. Remove the cinnamon stick halves and the vanilla bean, and discard.
Place each pear on a small serving plate with a scoop of vanilla ice cream. Drizzle with the honey, ginger, and cinnamon syrup. Serve immediately. In a small saucepan, combine the sugar and water over medium heat. Bring to a boil, reduce heat, and simmer for 5 minutes, stirring occasionally, until the sugar has dissolved. Remove the pan from the heat and allow the syrup to cool.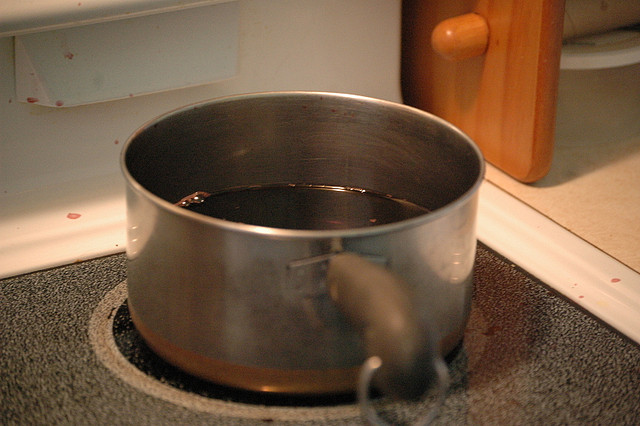 7. Port Wine Syrup
Your options don't stop at pears, either. This dessert requires a little international travel to Brazil, where French toast is called rabanada and can be served for dessert with a Port wine syrup. Just follow the recipe from Flavors of Brazil and you can give your dessert French toast — Brazilian or other — a sweet Port syrup.
Ingredients:
4 cups water
1 cup (250 milliliters) good quality dry Port wine
1 stick cinnamon, about 2 inches in length
2/3 cup honey
Directions: Combine all the ingredients in a large, heavy saucepan. Stir well to combine and bring slowly to a boil over medium heat, stirring to dissolve the honey. When it comes to the boil, reduce heat and continue to cook at a slow boil for 10 minutes, or until the syrup has thickened and reduced by one half. Remove from heat and cool to room temperature. Reserve.
More From Wall St. Cheat Sheet: