8 Cherry-Picked Recipes to Enjoy the Fresh Fruit's Season
The Los Angeles Times is reporting that the California cherry season will be short, KEPR in Washington is saying the season came early there, and farmers say it is one of the best seasons in years. The industry is hoping that the bumper crop out of the Northwest will keep the season from being cut unexpectedly short due to the low levels in California production, The Packer states. With a limited chance to get your California varieties, combined with the strong production in Washington, plus the simple fact that cherries are an amazingly addictive, wonderful fruit you should be running to the grocery store to buy a bag. But before you head out, you'll want to plan what you're going to make with these pitted, bite-sized treats. To help you out, we've got eight of the best recipes using cherries that you have to try this year.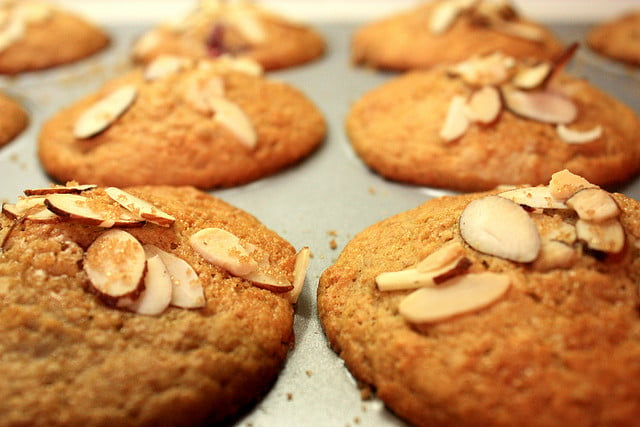 1. Cherry Almond Muffins
With a slight crunch from the toasted almond slivers, the cherry almond muffins from King Arthur Flour with be a delightful start to your day. If you have never pitted cherries before, there are plenty of resources online to help you out. Whole Foods uploaded this video tutorial several years ago, and Lifehacker can tell you how to do so with chopsticks and a bottle.
Ingredients:
½ cup (1 stick) butter
1 cup (7 ounces) granulated sugar
2 large eggs
2 cups (8½ ounces) All-Purpose Flour
½ cup (4 ounces) milk
2 teaspoons baking powder
½ teaspoon salt
2 cups (10 to 12 ounces) cherries, pitted, coarsely chopped, and drained
1 cup (4 ounces) slivered almonds, lightly toasted
1 teaspoon almond extract
granulated sugar
Directions: Preheat oven to 350 degrees Fahrenheit. Cream butter and sugar until fluffy. Beat in eggs, one at a time. Sift together dry ingredients and add them to butter/sugar mixture alternately with milk. Stir in almond extract, then gently fold in almonds and cherries.
Spoon muffin batter into 12 greased muffin cups; cups will be quite full. Sprinkle each muffin with a little granulated sugar, and bake for 30 minutes, or until muffins test done.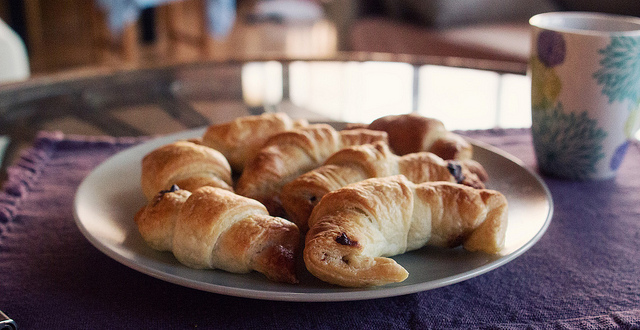 2. Cherry-Chocolate Croissants
The use of crescent roll dough in this recipe from Thumb in Plumb means that croissants will be appearing on your table in flash–especially when compared to the amount of time it would take you to make pastry dough. Use your favorite type of chocolate for the filling–dark chocolate or semi-sweet chips would probably work best.
Ingredients:
1 can Pillsbury Crescent Rolls
20 cherries, pitted
chocolate chips (fill individual rolls to taste)
cinnamon sugar (1 cup of white sugar mixed with 4 tablespoons cinnamon)
Directions: Preheat oven to 375 degrees Fahrenheit. Grease a baking sheet and make your cinnamon sugar in a large mixing bowl. After pitting your cherries in a separate bowl add a dash of sugar and mix to coat. Break apart the crescent rolls and toss in the cinnamon sugar mixture till coated on both sides. Place a pinch of chocolate chips and about 4-5 cherry halves in the middle of the roll and loosely fold over the edges then transfer to baking sheet.
Evenly space the croissants on the baking sheet. When all the croissants are ready to go put them in the oven for 10 minutes or until the rolls are golden. Remove from oven and eat.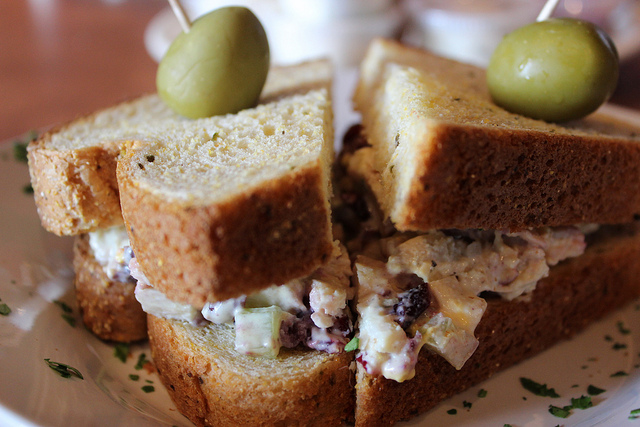 3. Cherry Chicken Salad
Either make the chicken according to the recipe that follows from Gourmet Food and About.com, or use leftover chicken, or even chicken from the grocery store in your cherry chicken salad–which would make a great sandwich, wrap, or pita filling.
Ingredients:
Chicken
1¼ pounds skinless, boneless chicken breasts
1 rib celery, cut in half
½ onion, peeled
1 slice lemon
1 bay leaf
1 teaspoon kosher salt
Salad
1 cup pecan halves, toasted
poached chicken cut into bite-size pieces
½ cup diced Vidalia onion
1 rib celery, diced small
½ pound fresh cherries, pitted
¾ cup mayonnaise
Kosher salt and freshly ground black pepper, to taste
Directions: To prepare the chicken, place it in a 4 to 6-quart pot. Add enough cold water to cover the chicken by 1 inch. Add the celery, onion, lemon slice, bay leaf, and salt. Bring to a boil over medium-high heat. Reduce the heat to medium and simmer for 20 to 25 minutes, or until the chicken is cooked through. Using tongs or a slotted spoon, remove chicken from the pot. Cool completely and chop before making the salad.
For the salad, preheat the oven to 350 degrees. Line a baking sheet with foil or parchment paper. Place the pecans in a single layer on the baking sheet. Bake for 5 to 7 minutes, removing once to stir, until fragrant and toasted. Watch carefully to avoid burning.
In a medium mixing bowl place the chicken, onion, celery, cherries, and pecans. Add mayonnaise and gently stir so that all contents are lightly covered in mayonnaise. Season with salt and pepper. Refrigerate for at least 1 hour before serving.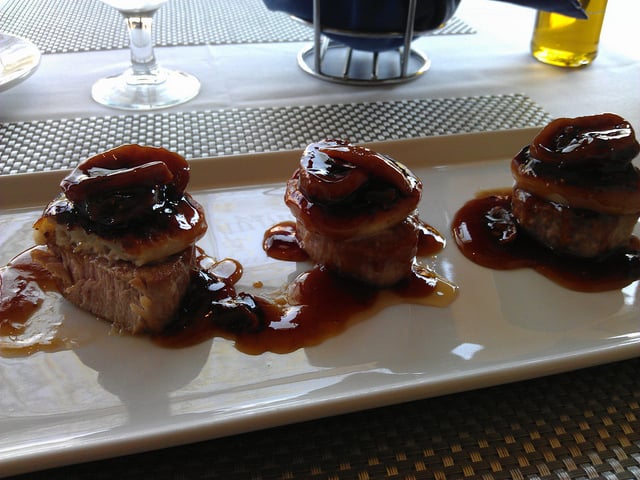 4. Pork Medallions with Cherry Sauce
You can keep this Better Homes and Gardens recipe on file and make it even when it isn't cherry season since the sauce can also be made with frozen cherries. It will make enough for four.
Ingredients:
1 pound pork tenderloin
nonstick cooking spray
¾ cup cranberry juice or apple juice
2 teaspoons spicy brown mustard
1 teaspoon cornstarch
1 cup sweet cherries (such as Rainier or Bing), halved and pitted, or 1 cup frozen pitted dark sweet cherries, thawed
Salt
Freshly ground black pepper
Directions: Trim fat from pork. Cut pork crosswise into 1-inch-thick slices. Place each slice between two pieces of plastic wrap. With the heel of your hand, press each slice into a ½-inch-thick medallion. Remove plastic wrap. Sprinkle lightly with salt and freshly ground black pepper. Coat an unheated large nonstick skillet with cooking spray. Heat skillet over medium-high heat. Add pork; cook for 6 minutes or until pork is slightly pink in center and juices run clear, turning once. Transfer to a serving platter; keep warm.
Combine cranberry juice, mustard, and cornstarch; add to skillet. Cook and stir until thickened and bubbly. Cook and stir for 2 minutes more. Stir cherries into mixture in skillet. Serve over pork.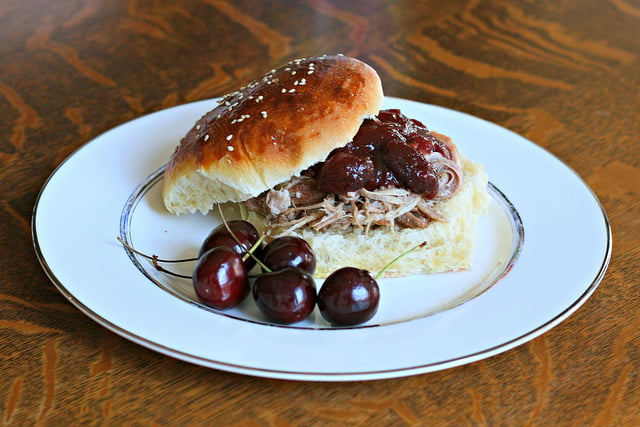 5. Cherry Barbecue Sauce
This Taste of Home barbecue sauce will be the summer flavor you need on ribs, chicken, and you could even try it out on steak. Again, it can be part of your off-season recipe index since frozen cherries can be substituted for fresh. It makes about 3½ cups of sauce.
Ingredients:
1 medium onion, chopped
2 tablespoons butter
2 garlic cloves, minced
2 cups fresh or frozen dark sweet cherries, pitted and coarsely chopped
1 cup ketchup
⅔ cup packed brown sugar
¼ cup cider vinegar
1 tablespoon Worcestershire sauce
2 teaspoons ground mustard
½ teaspoon pepper
⅛ teaspoon Liquid Smoke, optional
Directions: In a large saucepan, saute onion in butter until tender. Add garlic; cook 1 minute longer. Stir in the remaining ingredients. Cook, uncovered, over medium-low heat for 20 minutes or until cherries are tender and sauce is thickened, stirring occasionally.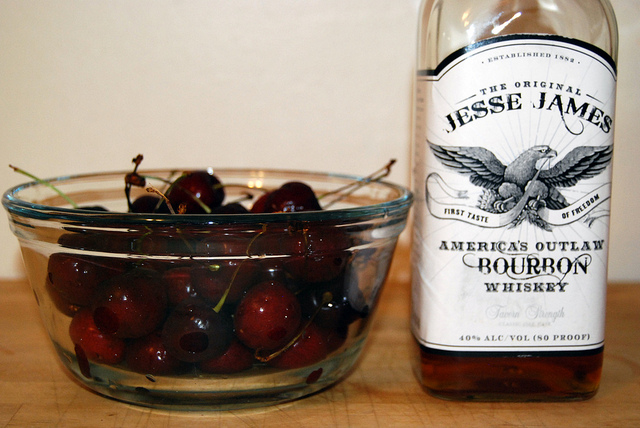 6. Cherry-Orange Bourbon
Cherries aren't only for eating, they're for infusing bourbon too. The end result from this Martha Stewart recipe is good enough to drink on its own, but you could also add a splash of soda water or ginger ale.
Ingredients:
2 cups fresh or frozen sour cherries
1 strip orange zest
500 milliliters Bourbon
Directions: Combine ingredients in a clean one-liter jar with a lid. Store in the refrigerator and shake daily for four days until infused, then strain and discard solids.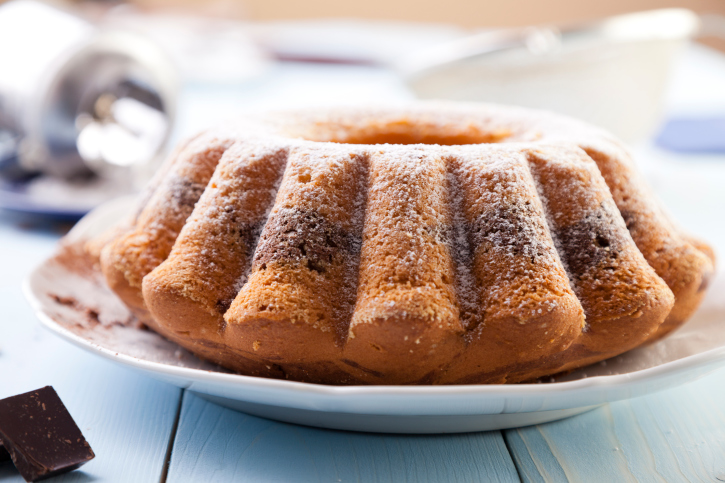 7. Dark Cherry Bundt Cake
Cherry and almond are paired together once again in Eating Well's bundt cake. Kept moist with yogurt, and with a deep cherry filling, this bundt can be served with coffee at breakfast or with ice cream for a summer dessert.
Ingredients:
Cherry Filling
¼ cup sugar
1½ teaspoons cornstarch
3 cups fresh or frozen dark sweet cherries, pitted and coarsely chopped
2 tablespoons kirsch, or orange juice
1 teaspoon freshly grated lemon zest
¼ teaspoon almond extract
Cake
1⅔ cups cake flour
1 cup whole-wheat pastry flour
2½ teaspoons baking powder
½ teaspoon baking soda
½ teaspoon salt
1 cup sugar
3 tablespoons butter, slightly softened
3 tablespoons canola oil
1¼ cups nonfat vanilla, or lemon yogurt
2 large eggs
2½ teaspoons vanilla extract
1 teaspoon almond extract
2 teaspoons confectioners' sugar, for garnish
Directions: Preheat oven to 350 degrees Fahrenheit. Very generously coat a 10-inch Bundt or tube pan with cooking spray. Dust the pan with flour, tapping out the excess. To prepare the cherry filling combine sugar and cornstarch in a medium nonreactive saucepan. Stir in cherries, kirsch (or orange juice), lemon zest and almond extract. Bring to a boil over medium-high heat and cook, stirring occasionally, until the mixture looks like very thick jam and has reduced to about 1 cup, 5 to 7 minutes.
For the cake, sift cake flour, whole-wheat flour, baking powder, baking soda and salt into a medium bowl. Beat sugar, butter and oil in a large bowl with an electric mixer on low, then medium speed, until very light and fluffy, about 1½ minutes, scraping the sides as needed. Add half the yogurt and beat until very smooth. With the mixer on low speed, beat in half the dry ingredients until incorporated. Beat in the remaining yogurt, eggs, vanilla and almond extract until combined, scraping the sides as needed. Stir in the remaining dry ingredients just until incorporated. Spoon a generous half of the batter into the prepared pan, spreading to the edges. Spoon the cherry mixture over the batter. Top with the remaining batter. Grease a butter knife and swirl it vertically through the batter and cherries.
Bake the cake until a toothpick inserted in the thickest part comes out with no crumbs clinging to it and the top springs back when lightly pressed, 50 to 65 minutes. Transfer the pan to a wire rack and let stand until the cake is completely cooled, about 1½ hours. Very carefully run a knife around the edges and center tube to loosen the cake from sides and bottom. Rap the pan sharply against the counter several times to loosen completely. Invert the pan onto a serving plate and slide the cake out. Dust the top with confectioners' sugar before serving.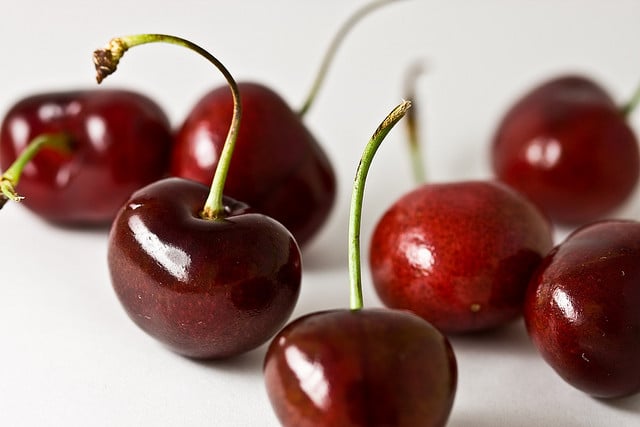 8. Cherry Custard Tart
Take a break from the usual pies this year and make The Kitchn's cherry custard tart instead. The sugary crust will caramelize as it bakes, developing a crisp, chewy base. It is baked in an 11-inch tart pan with a removable bottom.
Ingredients:
1 stick of unsalted butter
1 cup of sugar
1¼ cup of flour
½ teaspoon of salt
½ teaspoon of ground cinnamon
½ teaspoon of baking powder
2 cups pitted fresh cherries
2 eggs
2 cups half and half
Directions: Preheat oven to 375 degrees Fahrenheit. Cream the butter and sugar. Sift together the flour, salt, cinnamon, and baking powder. Add to butter/sugar and mix briefly. The mixture should be crumbly but moist enough to hold together when pressed. Set aside ¼ cup and press remaining dough into tart pan, making sure the sides are strong and even.
Add cherries, spreading evenly over the bottom. Sprinkle on the reserved ¼ cup of mixture and place tart pan on a baking sheet and slide into the oven. Bake for 15 minutes.
Meanwhile, whisk the eggs in a bowl, then add the half and half and whisk until combined. After 15 minutes, open oven door and pull the baking sheet half way out of the oven. Carefully and quickly pour the custard mixture over the tart and carefully push the baking sheet back in and close the oven door. Bake another 25 minutes, until crust is deep gold and the custard is set and beginning to brown. Remove from oven and let cool slightly before removing tart ring. Let cool completely before sliding off bottom. Serve at room temperature or slightly chilled.
More From Wall St. Cheat Sheet: