8 Crowd-Pleasing Crab Appetizers to Serve at Your Holiday Party
'Tis the season for planning holiday parties, and you've come to the right place to figure out your appetizer menu. Tender crab meat hits peak season around the holidays, reports Eat the Seasons. This makes it an especially popular ingredient to include in our December festivities, and — given that crab meat as adaptable as it is delicious — the tender meat lends itself especially well to hors d'oeuvres. There are innumerable ways to spice up your crab using seasonings, cheeses, veggies, and more, and we've covered some of the best ones here.
Serve one of these eight divine crab-based appetizers at your next holiday gathering.
1. Crab and Gouda Stuffed Mushrooms
These melt-in-your-mouth Crab and Gouda Stuffed Mushrooms from Peas and Crayons are the perfect savory selection for your holiday party this season. You'll stuff the bite-size button mushrooms with a combination of sautéed veggies, tender crab meat, rich Gouda cheese, seasonings, and crispy breadcrumbs. The result? A warm and comforting appetizer that will have your guests begging for the recipe. This dish takes just 25 minutes to make and yields 25 stuffed button mushrooms.
Ingredients:
25 to 30 button mushrooms
¼ cup diced red pepper
¼ cup diced celery
¼ cup diced onion
3 button mushrooms, chopped
3 cloves of garlic, minced
½ tablespoon butter
½ teaspoon Old Bay seasoning blend
¼ teaspoon garlic powder
¼ teaspoon salt
¼ teaspoon paprika, plus extra for topping
Salt and pepper, to taste
4 ounces lump crab meat
½ cup Gouda cheese, plus extra for topping
¼ cup panko breadcrumbs
Directions: Preheat oven to 350 degrees Fahrenheit and line a baking sheet with foil. Drizzle foil with a little olive oil or spritz with your favorite cooking spray. Remove the stems from your mushrooms and arrange them on the baking sheet.
Finely dice your veggies and, with a ½ tablespoon of butter, sauté the celery, onion, and red pepper. Toward the end, add your chopped mushrooms and garlic; continue to sauté until onions and celery are translucent and tender, and mushrooms are fully cooked. Season with Old Bay, garlic powder, paprika, salt, and pepper; stir and pour into a mixing bowl. Add your crab, panko breadcrumbs, and cheese, then mix. Spoon mixture into mushroom caps and top with a little extra Gouda and paprika.
Bake for 15 to 20 minutes, or until mushrooms are tender and stuffing is golden. Grab a fork and enjoy.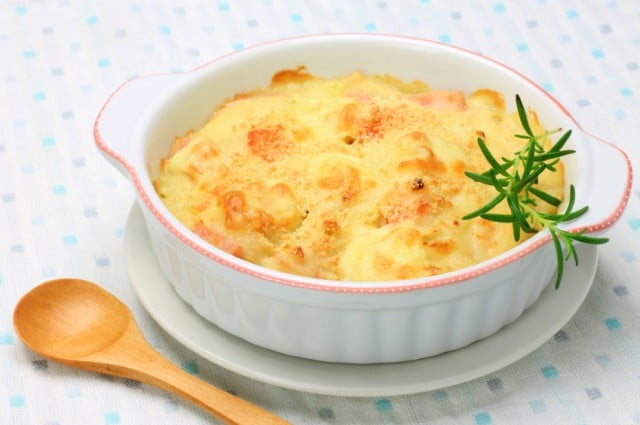 2. Crab Meat Au Gratin Dip
This dish from Amy in the Kitchen is more than just your average crab dip: It's a smooth, cheesy, and decadent extravaganza of flavor! The dish begins with a butter and flour roux, in which you'll sauté your veggies. Next, you'll add in the Swiss and American cheeses, along with salt, pepper, and cayenne pepper for a bit of a kick. But fresh crab meat steals the show in this sophisticated starter, making for a truly hearty dipping sensation.
Top off the mixture with some shredded cheese, scallions, and paprika and you're good to go! Broiling the dish will result in a warm, beautifully browned dipping sauce, best served along with butter crackers or crusty bread. This recipe for Crab Meat Au Gratin Dip takes 30 minutes to make and yields 4 servings.
Ingredients:
½ stick butter
3 teaspoons flour
½ cup onions, chopped
¼ cup celery, chopped
5-ounce can of evaporated milk
1 egg yolk, beaten
¾ cup Swiss cheese, shredded (reserve 3 tablespoons for topping)
1 slice American cheese
8 ounces white crab meat
½ teaspoon salt
¼ teaspoon black pepper
¼ teaspoon cayenne pepper
¼ cup green onion, chopped
Dash of paprika
Directions: Turn oven broiler on. In a heavy saucepan, melt the butter over medium heat, add the flour, and stir until combined. Add the onion and celery to the roux and cook on low-medium heat until the vegetables are tender. Stir in the evaporated milk and egg yolks; keep stirring until fully blended. Add the Swiss cheese, American cheese, salt, black pepper, and cayenne pepper and stir continuously until the cheese has melted. Gently stir in the crab meat and cook on low heat for 5 minutes.
Scoop the mixture into a small oven-safe baking dish and top with shredded Swiss cheese, green onion, and paprika. Place the baking dish onto a cookie sheet and place under broiler for 5 minutes, or until the cheese has melted and started to brown. Remove from oven and serve warm with crackers.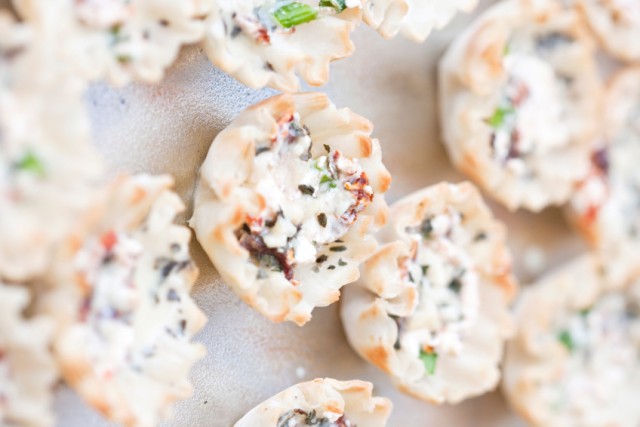 3. Cheesy Phyllo Crab Bites
Iowa Girl Eats' Cheesy Phyllo Crab Bites are a spinoff of the Chinese favorite Crab Rangoon. This dish consists of crispy, layered phyllo shells stuffed with cheesy, creamy, seasoned seafood goodness. Chop your crabmeat roughly to get the best texture for this dish, complementing the smooth garlic-infused cream cheese and sour cream in the filling. This recipe yields about 30 servings and makes for a great go-to dish during the holiday season.
Ingredients:
1 pound Alaska King Crab legs, thawed, then meat removed and roughly chopped (about 6 ounces of meat)
8 ounces cream cheese, softened to room temperature
½ cup sour cream
2 green onions, chopped
1 teaspoon sugar
1 teaspoon Worcestershire sauce
¼ teaspoon garlic powder
¼ teaspoon ground ginger
30 frozen phyllo shells
Directions: Preheat oven to 350 degrees Fahrenheit. Add cream cheese, sour cream, green onions, sugar, Worcestershire sauce, garlic powder, and ground ginger to a medium-size bowl, then stir until smooth. Fold in chopped crab, then spoon 2 teaspoons of the mixture into each mini phyllo shell. Bake for 10 to 12 minutes, or until mini cups are golden-brown around the edges. Top with a few sliced green onions for color and enjoy!
4. Cheesy Cornbread Crab Poppers
Here again we're faced with the stellar combination of crab meat and the rich flavors of cheese. Host the Toast offers this recipe for Cheesy Cornbread Crab Poppers, which combine the sweetness of cornbread and the rich flavor of crab with savory sharp cheddar for an altogether delightful balance of flavors. Host the Toast recommends serving these bites along with a Sriracha, horseradish, and mayonnaise dip at your gathering. And if you prefer your starters with a little spice, try throwing some chopped jalapeños into your poppers! This recipe takes 30 minutes to make and yields 30 poppers.
Ingredients:
1 (10-ounce) package of lump crab meat
1 box of corn muffin mix
1 cup panko breadcrumbs
1 (8-ounce) package of cream cheese, at room temperature
1 cup shredded sharp cheddar cheese
1 large egg
1 stick of unsalted butter, melted
½ cup milk
½ red bell pepper, finely chopped
2 green onions, sliced
1 clove garlic, minced
2 tablespoons sugar
Pinch of salt
Canola oil, for frying
Directions: Combine all of the ingredients in a large bowl and mix well. Roll the mixture into balls, slightly smaller than the size of golf balls. Place on parchment paper or a baking sheet.
In a large, high-walled pot or a wok, heat oil over medium-high. You want to make sure there is enough oil to cover ⅔ of the crab balls. Test the oil to see if it's ready by dipping the end (handle side) of a wooden spoon in the oil. If the oil begins to bubble, it's ready. If not, let it sit a bit longer.
Once the oil is ready, drop in 4 to 5 crab balls. Reduce the heat slightly and let them cook until a deep orange-brown, turning occasionally. Remove the poppers from the oil and let them drain on a paper towel. Once they're cool enough to handle, cut a ball in half to check. If the inside is cooked well, then continue to cook the poppers in the same manner. If the inside seems to have cooked less than the outside, then reduce the heat of the oil and try again, leaving the poppers in for slightly longer until they reach the proper color.
Serve the poppers warm, with the dipping sauce of your choice.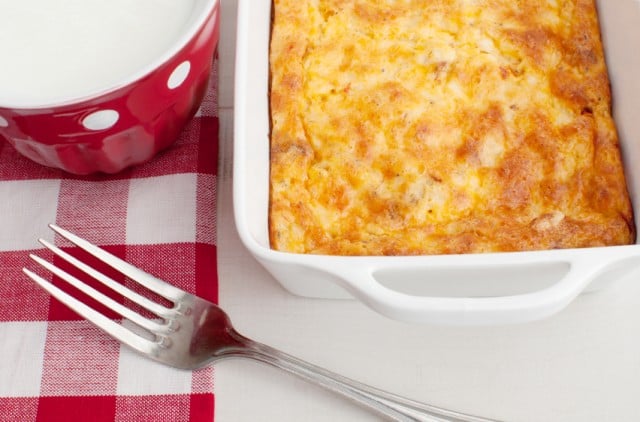 5. Artichoke and Asiago Crab Dip
There's nothing quite like a gooey, cheesy treat to warm you up during the holiday season. Foodie Bride offers just that with this oven-baked Artichoke and Asiago Crab Dip. The dish offers hearty chunks of artichoke hearts and crab meat along with Asiago cheese, resulting in an unbeatable combination of tastes. This recipe takes about 35 minutes to make and yields 8 servings — and although it's best served hot or warm, the leftovers do keep well for a couple of days. If you'd prefer to prepare the dish ahead of time, simply combine all ingredients, refrigerate, then bake directly before serving.
Ingredients:
For the crab dip
8 ounces cream cheese
½ cup mayonnaise
½ cup plain Greek yogurt
1 tablespoon lemon juice
1 bunch green onions, chopped
1½ cup grated Asiago cheese
1 (14-ounce) can of quartered artichoke hearts, drained
8 to 12 ounces jumbo lump crab meat
Salt
Pepper
For the pico de gallo
2 Roma tomatoes, seeded and chopped
¼ cup chopped red onion
1 jalapeño, seeded and chopped
1 handful cilantro, chopped
¼ cup green onion tops, chopped
Squeeze of lime juice
Salt
Directions: Preheat oven to 425 degrees Fahrenheit.
Beat the cream cheese, mayo, and yogurt together until smooth. Add the white and light parts of the green onions (dark green parts will be used for the pico), lemon juice, and 1¼ cup grated cheese. Fold in artichokes and crab. Season to taste with salt and pepper.
Transfer to a 1½-quart casserole dish and spread evenly, sprinkling the remaining cheese on top. Bake for about 20 minutes, until bubbly and golden-brown.
To make the pico, toss all ingredients together and set aside until ready to serve. Remove the dip from the oven, top with pico, and serve warm with blue corn tortilla chips, crackers, or toasted crostini.
6. Crab Cake Bites
These Crab Cake Bites offer all the creamy deliciousness of crab cakes but in bite-size form. Savory Simple notes that this recipe yields best textural results when the crab meat stays in those rough chunks, rather than torn up into smaller pieces, which might give the cake a "mushier" feel. The dish is a simple yet elegant combination of crab meat, breadcrumbs, mayonnaise, and distinctive seasonings — a holiday offering that everyone will love! This recipe takes 20 minutes to make and yields about 21 servings.
Ingredients:
16-ounce container fresh jumbo lump crab meat
1 large egg
½ cup regular mayonnaise
½ cup Italian bread crumbs
1 teaspoon Old Bay seasoning
⅛ teaspoon fines herbs
⅛ teaspoon garlic powder
½ teaspoon dijon mustard
1 teaspoon Worcestershire sauce
1 to 2 tablespoons unsalted butter
Optional: dijon mustard for serving
Directions: Set the oven to broil and place the oven rack near the top.
In a medium-size bowl, gently pick through the crab meat to remove any shells. Try not to break up the lumps.
In a separate bowl, beat the egg and then whisk in the mayonnaise until well combined. Add the breadcrumbs, Old Bay, fines herbs, garlic powder, mustard, and Worcestershire sauce, stirring until well combined. A little bit at a time, gently fold the wet mixture into the crab meat. This part takes some patience because you want to avoid breaking up the lump meat.
Using a kitchen scale, weigh out 1-ounce bites and gently shape them with your hands. Lightly grease the bottom of a baking sheet and place the crab cake bites on the sheet. Place a small piece of butter on top of each crab cake bite.
Broil for 7 to 10 minutes, keeping a close eye to ensure they don't burn. Allow them to cook on one side the entire time. If the tops seem like they're going to burn, lower the oven rack or switch broiler to a lower setting. When the tops are golden brown, remove the pan from the oven and allow to cool. Place a toothpick in each crab cake bite before serving.
7. Crab Deviled Eggs
Give your old-fashioned deviled eggs a makeover with these Crab Deviled Eggs from Spicy Southern Kitchen. The appetizer combines crabmeat with the flavors of Sriracha, shallot, and tarragon in little hard-boiled egg boats. You can throw this dish together in a flash for a snack that's perfect for feeding a crowd. This recipe yields 6 servings.
Ingredients:
6 large hard-boiled eggs
6 ounces crabmeat
3 tablespoons mayonnaise
1 tablespoon sour cream
2 teaspoons minced shallot
1 teaspoon chopped tarragon
¾ teaspoon Sriracha sauce
¼ teaspoon apple cider vinegar
Pinch of salt
Directions: Cut eggs in half lengthwise and scoop out yolks. Place yolks in a medium bowl. Mash yolks with forks. Mix in mayonnaise and sour cream until mixture is smooth. Fold in crab meat, shallot, tarragon, Sriracha sauce, apple cider vinegar, and small pinch of salt. Mound crab mixture into each egg white half. Refrigerate until ready to serve.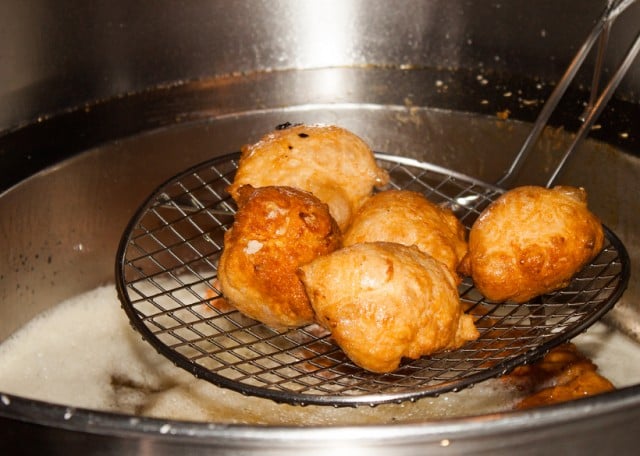 8. Blue Corn and Crab Fritters With Chipotle Aioli
Fry up your crab in fritter form with these Blue Corn and Crab Fritters With Chipotle Aioli. Urban Cookery's dish combines a sophisticated spice blend with butter, mayo, and crab meat for an incomparable crab appetizer that your guests will not soon forget. Sautéed onion and corn add a tinge of sweetness and wonderful texture to round out the dish, and the chipotle aioli makes a perfect accompaniment to your tasty fried treats. This recipe takes an hour and 25 minutes to make, and yields 20 to 25 fritters.
Ingredients:
1 tablespoon butter
¾ cup onion, minced
1 cob of corn, kernels only
1¼ cups all-purpose flour
½ teaspoon baking powder
½ teaspoon salt
½ teaspoon black pepper
¼ teaspoon paprika
⅓ cup whole milk
1 egg
½ pound blue crab meat, chopped
Canola oil, for frying
For chipotle aioli
¼ cup mayonnaise
½ teaspoon chipotle pepper seasoning
Directions: Heat up a small skillet and add butter. Once the butter has started to melt, add in onion and corn kernels, and sauté over a medium heat for about 8 minutes. Remove from heat and set aside.
In a large bowl, combine flour, baking powder, salt, pepper, and paprika. Mix together with a fork. In a small bowl, whisk together milk and egg. Pour the milk and egg mixture into the flour mixture; stir to combine completely. Stir in crab meat and onion-corn mixture. Mix together and refrigerate at least an hour to allow the mixture to cool.
While batter is cooling, make a simple aioli by combining your mayonnaise with chipotle pepper powder, adding chipotle to preferred taste.
Heat up a deep fryer with canola oil to 375 degrees Fahrenheit. Remove your batter from the fridge and in batches, using an ice cream scoop, scoop batter into the hot oil and fry until golden-brown (about 3 to 5 minutes). Repeat with remaining batter.  Serve hot with aioli.
More from Life Cheat Sheet: