8 Delicious Desserts Packing a Dose of Vegetables
Most of us were told as kids that if we didn't eat our vegetables, we couldn't have dessert. While this was a surefire way to get us to eat broccoli and peas and carrots when we were younger, age and wisdom have taught us something else: we can put vegetables in our dessert. It may not be the same as eating a healthy serving of steamed veggies, but it's a still a great way to sneak an extra helping of healthy things into your day.
Before running off in terror, consider carrot cake. This vegetable-packed cake is moist, sweet, and flavorful without tasting heavily of vegetables. Zucchini bread is much the same. If these two culturally acceptable and widely loved desserts are as "normal" as they are, have faith that the desserts we're sharing here are not some awful trick. They're delicious and vaguely more nutritious than your average dessert. Give these 8 desserts a chance, and you'll forget you're eating vegetables with dessert.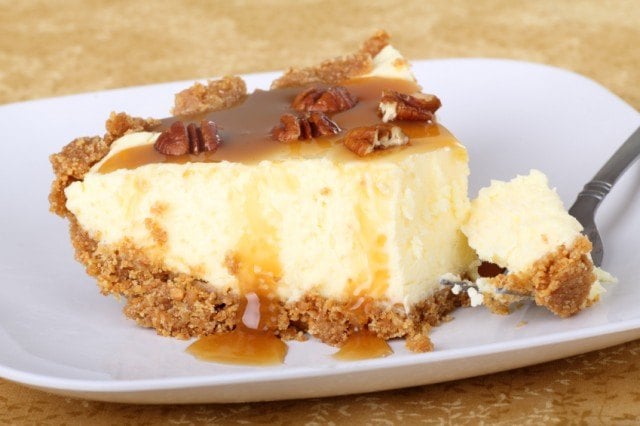 1. No-Bake Carrot Cheesecake
There's more to carrot desserts than typical carrot cake, as proven by this carrot cheesecake from Good Housekeeping. It uses carrot juice instead of shaved carrots, offering plenty of sweetness and vitamin A without any of the chewy carrots. It's incredibly easy and, though it takes at least 4 hours in the refrigerator to set, it only takes 15 minutes of active time to prepare. The caramel-coated walnuts on top add a perfect crunch to the creamy cheesecake. If you're so inclined, you could make the Graham cracker crust with this recipe here, or you could buy a premade crust.
Ingredients:
1 pound cream cheese
½ cup sugar
½ teaspoon vanilla extract
½ teaspoon pumpkin pie spice
1 pinch salt
¾ cup carrot juice
½ cup heavy cream
1 homemade or store-bought Graham cracker crust
¼ cup caramel sauce
½ cup walnuts
Directions: With mixer on high speed, beat cream cheese, sugar, vanilla, spice, and salt until fluffy. Reduce speed to low. Slowly beat in carrot juice until well mixed; set aside.
Whip cream until stiff peaks form. Gently fold whipped cream into cream cheese mixture. Spread filling in Graham cracker crust. Refrigerate at least 4 hours or up to 1 day.
Place caramel sauce in microwave-safe bowl. Microwave on high 10 seconds or until slightly runny. Stir in walnuts. Spoon walnut mixture onto cheesecake. Refrigerate until ready to serve.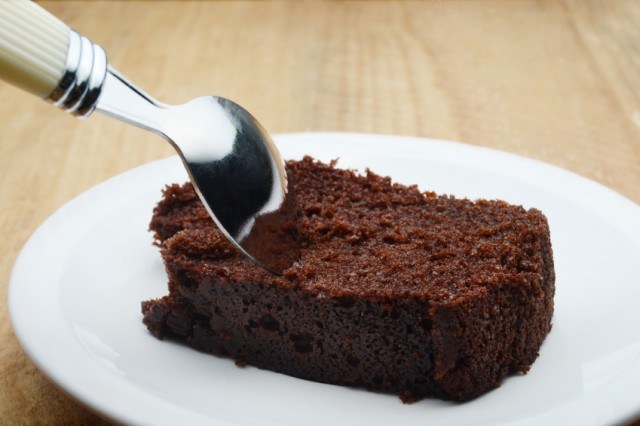 2. Chocolate Beet Cake
This cake uses beets to stay incredibly moist, but the chocolate completely covers up the earthy flavor of the vegetable. Though David Lebovitz roasts beets for this cake, you can boil them if it's easier for you. For quicker cooking, cut the beets into chunks. Lebovitz also addresses the use of superfine sugar — if you can't find any (also called castor sugar), pulse normal granulated sugar in the food processor for about 10 seconds.
The crème fraîche spread thinly on top gives the cake a bit of creamy zing, and the poppy seeds add a bit of pop. Altogether, it makes for a wonderful late-afternoon cake or a slightly less sweet after-dinner dessert.
Ingredients:
8 ounces beets, unpeeled, rinsed, and scrubbed free of dirt
7 ounces bittersweet or semisweet chocolate, 70% cacao solids, chopped
¼ cup hot espresso or water
7 ounces butter, at room temperature, cubed
1 cup flour
3 tablespoons unsweetened cocoa powder
1¼ teaspoon baking powder
5 large eggs, separated, at room temperature
Pinch of salt
1 cup superfine sugar
Directions: Butter an 8- or 8½-inch springform pan and line the bottom with parchment paper.
Boil the beets in salted water with the lid askew until they're very tender when you stick a knife in them, about 45 minutes. Drain, then rinse the beets with cold water. When cool enough to handle, slip off the peels, cut the beets into chunks, and grind them in a food processor until you get a coarse, yet cohesive, puree.
Preheat the oven to 350 degrees Fahrenheit. In a large bowl set over a pan of barely simmering water, melt the chocolate, stirring as little as possible. Once it's nearly all melted, turn off the heat but leave the bowl over the water. Pour in the hot espresso and stir it once. Then add the butter. Press the butter pieces into the chocolate and allow them to soften without stirring.
Sift together the flour, cocoa powder, and baking powder in a separate bowl.
Remove the bowl of chocolate from the heat and stir until the butter is melted. Let sit for a few minutes to cool, then stir the egg yolks together and briskly stir them into the melted chocolate mixture. Fold in the beets.
In a stand mixer, whip the egg whites until stiff. Gradually fold the sugar into the whipped egg whites with a spatula, then fold them into the melted chocolate mixture, being careful not to overmix.
Fold in the flour and cocoa powder.
Scrape the batter into the prepared cake pan and reduce the heat of the oven to 325 degrees Fahrenheit and bake the cake for 40 minutes, or until the sides are just set but the center is still is just a bit wobbly. Do not overbake.
Let cake cool completely, then remove it from the pan. Spread crème fraîche on top and sprinkle with poppy seeds before serving.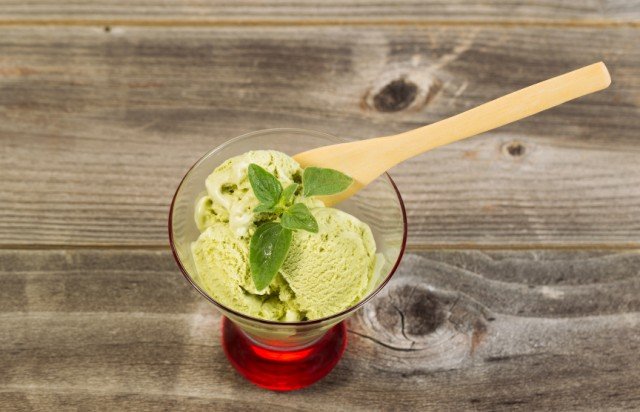 3. Fresh Mint and Spring Peas Ice Cream
Peas in ice cream? Yes! Fresh spring shelling peas right out of the market are so sweet in the first place, they're often referred to as the candy of the vegetable world. Mint and peas are a wonderful pair, tasting fantastically refreshing and invigorating in ice cream form. This recipe from 52 Scoops is best made with fresh peas right from your local farmers market, but can also be successfully made with frozen peas. The bright green color is perfect for spring, and it's really fun to eat!
Ingredients:
3 cups of peas
½ cup tightly packed fresh mint leaves
1 tablespoon lemon juice
2 eggs
½ cup white sugar
¼ cup honey
3 cups half-and-half, divided
Directions: Fill a pot with at least 2 cups of water and bring to a boil. Add the peas and a pinch of sugar, and boil until they are tender; this will take about 2 minutes for fresh peas and 3 minutes for frozen peas. Prepare an ice bath to shock the peas. Quickly drain the peas in a colander and transfer them to the bowl of ice water to stop the cooking and to preserve their bright green colour.
Strain the peas and place them, the mint leaves, and ½ cup of the half-and-half into a blender and puree until smooth, scraping the sides down as required. If your blender is not very powerful, pass the puree through a fine sieve to remove any larger bits. You should have at least 2 cups of silky pea puree. Stir in the lemon juice.
In a heavy saucepan, lightly whisk together the eggs and sugar. Add the honey and 2 cups of the half-and-half. Cook the mixture over medium-low heat, stirring constantly, until the mixture is thick enough to coat the back of a wooden spoon.
Remove from heat immediately and add the remaining half and half to stop cooking. Place the saucepan into an ice bath to cool the custard rapidly.
When the custard is cool, whisk in the pea puree. Chill overnight in the fridge.
Pour the custard into an ice cream maker and prepare according to the manufacturer's instructions.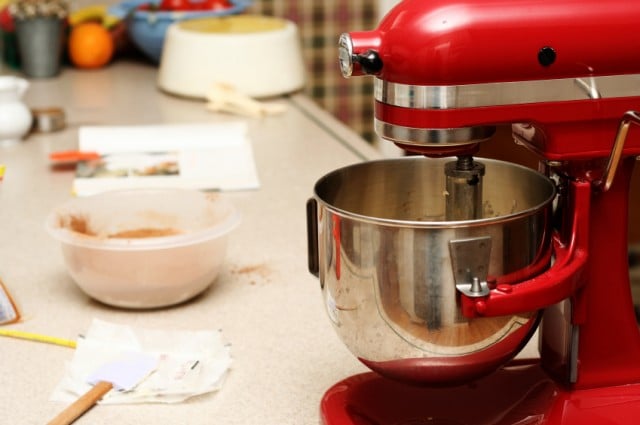 4. Zucchini and Jalapeño Cookies With Lime Glaze
Anyone with a vegetable garden is likely to soon be inundated with more zucchini and jalapeños than they know what to do with. They're just two of those plants that produce so much that meals become exercises in creative ways to use them up. Inevitably, this spills over into dessert — which is when we turn to this incredibly unique and fun cookie recipe from Baker Bettie. The jalapeño is de-ribbed and seeded, which removes much of the heat. The cookies shouldn't be a full, spicy attack on your taste buds so much as a subtle heat. The lime glaze really pulls it all together.
Ingredients:
Cookies
2½ cups all-purpose flour
1 teaspoon baking soda
½ teaspoon kosher salt
½ teaspoon cinnamon
1 cup butter, room temperature
½ cup sugar
½ cup light brown sugar
1 egg
1 teaspoon vanilla extract
1 cup grated zucchini
1 medium jalapeño, seeded and finely chopped
1 teaspoon lime zest
1 tablespoon lime juice
Glaze
2 cups powdered sugar
2 to 6 tablespoons lime juice
1 tablespoon lime zest
Directions: Combine dry ingredients in a bowl and whisk together.
In the bowl of a stand mixer, cream the butter and sugars until light and fluffy. Add the egg and vanilla and beat until incorporated. Add grated zucchini, chopped jalapeño, lime zest, and lime juice.
Slowly add dry ingredients with mixer on low and beat until incorporated. Scrape down the bowl as needed. Refrigerate the dough for at least an hour.
Preheat the oven to 375 degrees Fahrenheit. Bake for 8 to 12 minutes, until lightly browned.
Allow cookies to cool completely before drizzling with the glaze.
While the cookies are cooling, make the glaze. Start with 2 tablespoons lime juice and whisk it into the powdered sugar and lime zest. Add ½ tablespoon more at a time until the desired consistency is reached. Glaze can be made as thick or thin as desired.
Drizzle on cooled cookies.
5. Chocolate Eggplant Torte
The other name for this torte from Grok Grub is "Vegan Heartache Cake." It's so good, it hurts (and it's vegan). Actually, it's so named because it's adapted from the Red Velvet Chocolate Heartache Cookbook, subtitled "the ultimate feel-good book of natural cakes that taste naughty," but it also makes a rich, dark, fudgy cake with help from eggplant and bananas, without any real hint of those flavors in the finished cake. It's sneaky and delicious. Don't fear the eggplant — this is a mysteriously great place for it.
Ingredients:
1 (1-pound) eggplant
5¼ ounces 70% dark chocolate
1 banana
⅓ cup maple syrup
¼ cup good quality raw cacao powder
½ cup almond flour
2 teaspoons cream of tarter
1 teaspoon baking soda
¼ teaspoon salt
Coconut oil, for greasing pans
Dark chocolate, for garnish
Sliced almonds, for garnish
Directions: Grease a loaf pan and line with a sheet of parchment paper.
Heat your oven to broil on the high setting. Grease a cookie sheet, then slice the eggplant lengthwise. Place slices on the cookie sheet, cut side down.
Broil for 20 minutes, or until the eggplant is cooked through and very soft. Remove the eggplant and reset the oven's heat to 350 degrees Fahrenheit.
When the eggplant is removed and while cooling slightly, melt chocolate over boiling water in a double boiler.
Scrape the inside of the eggplant out of its skin. Add to a food processor, along with the banana, maple syrup, and melted chocolate. Puree until smooth.
In a large mixing bowl, combine the cacao powder, almond flour, cream of tarter, baking soda, and salt. Mix well, then spoon the eggplant puree into the dry ingredients and stir until just combined. Pour into the greased loaf pan and bake at 350 degrees Fahrenheit for 40 minutes.
Remove from the oven and let cool in the pan. When ready to remove, grasp the parchment paper lining and use it to transfer the cake to a plate.
Refrigerate for minimum one hour to set the cake, then, if desired, trim the top so the cake lies flat. Invert on a serving plate, then sprinkle with sliced almonds, drizzle with melted chocolate, slice, and serve.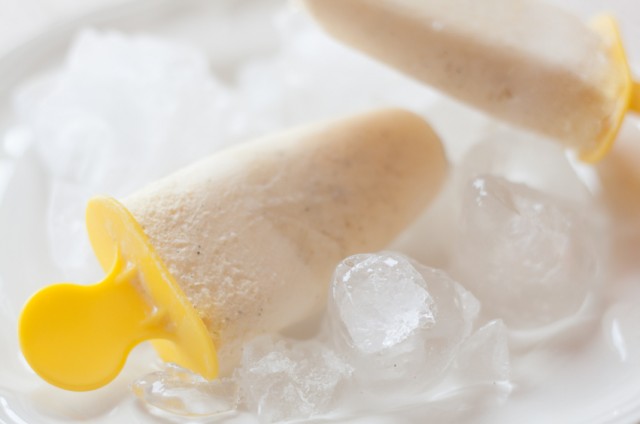 6. Corn Paletas
A paleta is a Latin American ice pop made, typically, from fresh fruit. In this recipe from Serious Eats, they're made with fresh sweet corn. In the height of sweet corn season, this vegetable is just like peas: sweet enough to be considered vegetable candy. Here, the creamy sweetness is put to great use in a refreshing popsicle. Use very fresh corn for this (frozen is OK if you can't get your hands on just-picked corn, but fresh is best) and use it as soon as possible. The natural sugars begin to turn to starch quickly after picking, so timing is everything when working with fresh corn.
Ingredients:
4 ears of corn
2 cups milk
½ cup sugar
1 cup half-and-half
Pinch salt
½ teaspoon vanilla
Directions: Shuck the corn and remove all the stringy silk. Discard the leaves and strings and hold the corn vertically over a clean cloth. Hold the corn with one hand and slice down all around to get the kernels off. Take the cores of the ears and break or cut into 3 to 4 pieces.
Put the corn kernels, cores, milk, and sugar in a medium saucepan over moderate heat and cook, stirring once in a while, until the corn is tender — about 20 minutes or so. Remove from heat, cover, and steep for 20 to 30 minutes.
Strain, throw away the corn centers, and blend about ⅔ of the kernels with the milk. You can strain if you want a very smooth paleta. Stir in the half-and-half, salt, and vanilla, and chill completely.
Pour the mixture into the molds, leaving a bit of room at the top as it expands.
Freeze and insert a stick once the mixture is semi-frozen so the stick will stand on its own and freeze until completely set for several hours. Unmold them by dipping the molds into a pan with tall sides filled with warm water. Leave for a few seconds and pull up gently.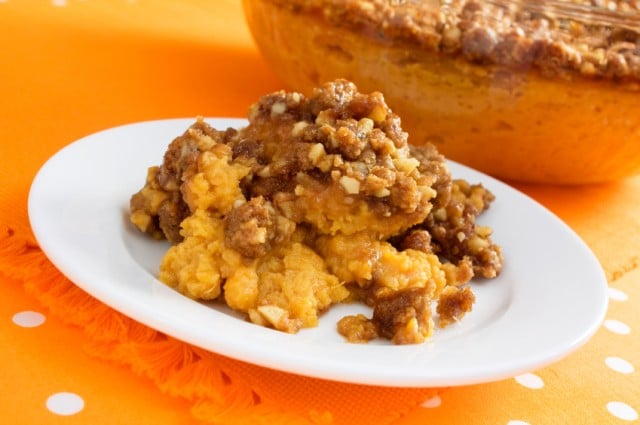 7. Sweet Potato Bread Pudding With Pecan Streusel and Whiskey Sauce
Sweet potato is one of those vegetables that is often found around the holidays as a dessert masquerading as a vegetable. Mashed sweet potatoes covered in marshmallows is a tough thing to call healthy and a bit of a stretch to consider a vegetable side, but it's easy to make the switch right on over to dessert (and you still get those vitamins). This bread pudding from The Kitchn has a crunchy streusel topping and a "sinful" sauce for drizzling.
Ingredients:
Pecan streusel 
1 cup pecan halves
¼ cup packed brown sugar
2 tablespoons butter, melted
1 tablespoon flour
Bread pudding
3 sweet potatoes
6 large eggs, lightly beaten
2 cups whole or 2% milk
1 cup heavy cream
1 cup packed dark brown sugar
1 teaspoon good-quality vanilla extract
¼ teaspoon ground cinnamon
1 (16-ounce) loaf Challah bread, cut into 1-inch cubes
Whiskey sauce
½ cup unsalted butter
¼ cup sugar
1 egg, lightly beaten
1 tablespoon whiskey, or to taste
¼ cup heavy cream
Directions: For the pecan streusel, combine the pecans, brown sugar, butter, and flour in the bowl of a mini-food processor and pulse until finely chopped. Set aside.
For the bread pudding, preheat oven to 400 degrees Fahrenheit. Place on a baking sheet lined with aluminum foil and cook until tender all the way through, approximately 1 hour. Cool and peel, discarding the skins. Mash with a potato masher or fork.
In a large bowl, whisk 1½ cups mashed sweet potato, eggs, milk, cream, brown sugar, vanilla, and cinnamon until well combined. Pour over the bread cubes and toss to coat every piece. Set aside for about 30 minutes to an hour, stirring occasionally.
Reduce oven temperature to 375 degrees Fahrenheit. Evenly press the bread mixture into a large, buttered casserole dish and top with the pecan streusel. Cover with aluminum foil. Place the casserole dish inside of a large roasting pan and transfer to the oven. Carefully pour enough hot water into the roasting pan so it comes about three-quarters up the sides of the dish.
Bake for 40 minutes. Remove the aluminum foil and continue cooking until the streusel is bubbly and light golden brown, about 10 more minutes. Remove roasting pan from the oven, and then very carefully lift the casserole dish out of the water.
While that's cooking, make the whiskey sauce: add butter and sugar in a double boiler and cook, whisking frequently, until the sugar is completely dissolved, about 10 minutes. Remove from heat and cool for a few minutes. Whisk in the egg, stirring vigorously to prevent egg from curdling. Stir in bourbon and cream.
Allow to cool for a few minutes before slicing. Serve with plenty of warm whiskey sauce.
8. Tipsy Apple-Parsnip Cake With Raisins and Cider Glaze
Parsnips get so little love from most Americans, but they're so delicious and very nutritious. Parsnips have more fiber and vitamins C, K, and E than their close cousin the carrot. The parsnip is also rich in B-complex vitamins such as folate and thiamin. Much like making a carrot cake, this glazed cake from Food52 is soft and full of warm spices. It's lightly flavored with dark rum and sweet with apples and plumped raisins. The parsnips add just a touch of spiciness to the cake.
The recipe calls for golden baker's sugar, which isn't a staple in most kitchens. It's a bit like sugar in the raw, only much finer. To approximate the subtle molasses flavor and the grain side, mix ⅔ cup light brown sugar with ⅔ cup white sugar.
Ingredients:
⅓ cup golden raisins
⅓ cup plus 3 tablespoons apple cider, divided
⅓ cup dark rum
½ vanilla bean or 1 teaspoon vanilla extract
12 tablespoons unsalted butter, at room temperature, plus more for greasing the pan
1⅓ cups golden bakers sugar
4 large eggs, at room temperature
2 cups flour
2 teaspoons baking powder
1 teaspoon cinnamon
½ teaspoon freshly grated nutmeg
½ teaspoon kosher salt
1 large apple, such as Jonagold
1 parsnip
1 cup confectioners' sugar
1 teaspoon lemon juice
Directions: Add the raisins, ⅓ cup of the apple cider, the rum, and the vanilla bean — scraped, both seeds and pod — to a small bowl or container. Cover the bowl or close the lid on the container and allow it to sit overnight.
Preheat the oven to 350 degrees Fahrenheit. Grease a 9-inch Bundt pan.
In the bowl of a mixer, cream the butter and sugar for 3 to 4 minutes on medium speed, until light and fluffy. Add the eggs one at a time, mixing thoroughly after each. Sift together the flour, baking powder, ground cinnamon, nutmeg, and salt. Add the dry ingredients to the wet, mixing the batter on low speed, just until everything is incorporated.
Meanwhile, peel and core the apple. Peel the parsnip. Shred both with a box grater or the shredding disk of a food processor. Add the shredded apple and the parsnip to the batter.
Drain the raisins but reserve the raisin liquid. Add the raisins to the batter, along with 2 tablespoons of the raisin liquid. Mix on low speed, just until combined.
Spoon the batter into the greased Bundt pan and move the pan into the oven. Bake for 45 minutes, or until the top is golden-brown and a toothpick comes out clean. Out of the oven, allow the cake to cool for at least 1 hour.
While the cake is cooling, make the glaze: In a small bowl, whisk together the powdered sugar with the remaining 3 tablespoons apple cider and the lemon juice.
Take the cake out of the pan and move it to a plate. Pour the glaze all over the top. Allow the glaze to set, and serve.
More from Life Cheat Sheet:
Want more great content like this? Sign up here to receive the best of Cheat Sheet delivered daily. No spam; just tailored content straight to your inbox.ho