8 Deliriously Good Desserts Baked With Candy
Make life sweeter by using candy in your desserts. Creamy caramel fillings and crunchy peanuts are just delicious extra flavors and textures that will elevate your cookies, cakes, pies, and other sweets to a decadent dish. We've gathered together eight recipes for you to make, mixing and matching your baked goods with candies for a seriously sweet confection.
1. Peanut Butter Buckeye Brownie Cheesecake
Buckeyes are chocolate peanut butter candy made to look like the nut that comes from a buckeye tree. You don't necessarily need to use buckeye candies for Midwest Living's recipe, since Reese's or another chocolate peanut butter candy could easily be substituted to create this brownie cheesecake that yields sixteen servings.
Ingredients:
1 (19½ ounce) package brownie mix
¾ cup hot fudge-flavored ice cream topping, warmed
2 (8 ounce) packages cream cheese, softened
1½ cups crunchy peanut butter
1 (14 ounce) can sweetened condensed milk
1½ cups whipping cream
2 tablespoons powdered sugar
4 chocolate-covered peanut butter cups, chopped
2 tablespoons chocolate-flavored syrup
Directions: Prepare brownie mix according to package directions, using the 13 x 9 x 2-inch pan option. Cool completely on a wire rack; set aside. Cut brownies into bars. Using about ¾ of the bars, press brownies into the bottom of a 9 x 3-inch springform pan, forming an even crust. Spread with the fudge ice cream topping; set aside. Crumble remaining ¼ of the brownies; set aside.
In a large mixing bowl, combine cream cheese and peanut butter. Beat with an electric mixer on medium speed for until just combined. Add sweetened condensed milk. Beat until just combined. In a medium bowl, beat whipping cream until soft peaks form. Add powdered sugar. Beat until stiff peaks form. Reserve ½ cup of the whipped cream mixture. Fold remaining whipped cream into the cream cheese mixture.
Spread one-half of the cream cheese mixture over the hot fudge topping in pan. Sprinkle with one-half of the reserved brownie crumbles. Spread remaining cream cheese mixture over the brownies. Top with the reserved ½ cup whipping cream. Sprinkle remaining brownie crumbles and chopped peanut butter cups. Drizzle with chocolate syrup. Cover and chill for 4 to 24 hours.
2. Butterfinger Pie
Anyone who loves Butterfingers needs to try this incredibly simple pie from Food.com. To put a slightly homemade spin on the dessert, you could make your own graham crack crust with the recipe from AllRecipes.com.
Ingredients:
6 (2⅛ ounce) Butterfinger candy bars, crushed
1 (8 ounce) package cream cheese
1 (12 ounce) carton Cool Whip
1 graham cracker crust
Directions: Mix together crushed butterfingers, cream cheese, and Cool Whip. Put it in pie crust. Chill.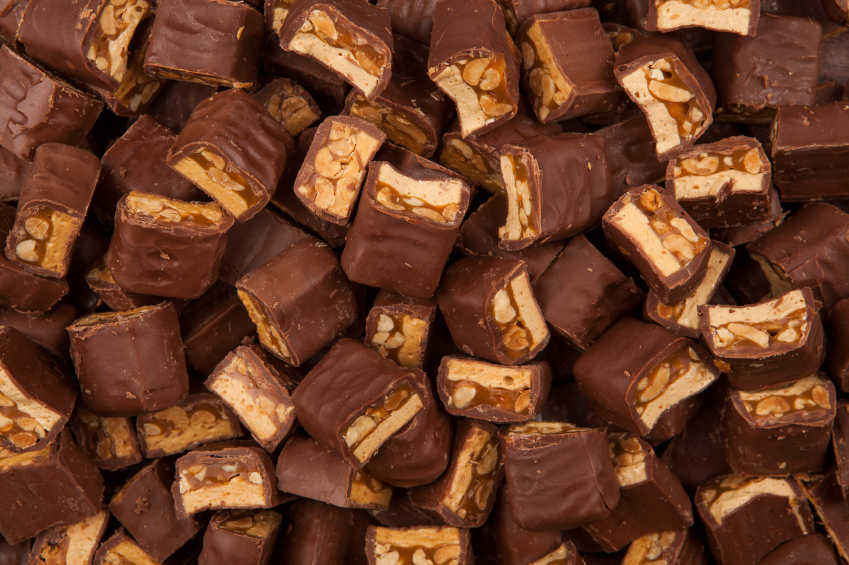 3. Candy Bar Pie
For a pie with a few more ingredients, and some cookie flavoring too, make the candy bar pie from Kraft. A Snickers bar would come closest to the candy suggested in the recipe, although you could use the chocolate candy of your choosing.
Ingredients:
4 ounces cream cheese, softened
1 tablespoon cold milk
1 (12 ounce) container Cool Whip, thawed, divided
1 chocolate-coated caramel-peanut nougat bar (2.07 ounces), finely chopped
2 packages (3.9 ounces each) chocolate instant pudding
1½ cups cold milk
1 (6 ounce) Oreo pie crust
Directions: Mix cream cheese and milk in large bowl with whisk until blended. Stir in 1½ cups Cool whip and candy.
Beat pudding mixes and 1½ cups milk in separate large bowl with whisk 2 min. (Pudding will be thick.) Stir in 2 cups of the remaining Cool Whip; spread half onto bottom of crust. Cover with layers of cream cheese mixture and remaining pudding mixture.
Refrigerate 4 hours or until firm. Garnish with remaining Cool Whip before serving.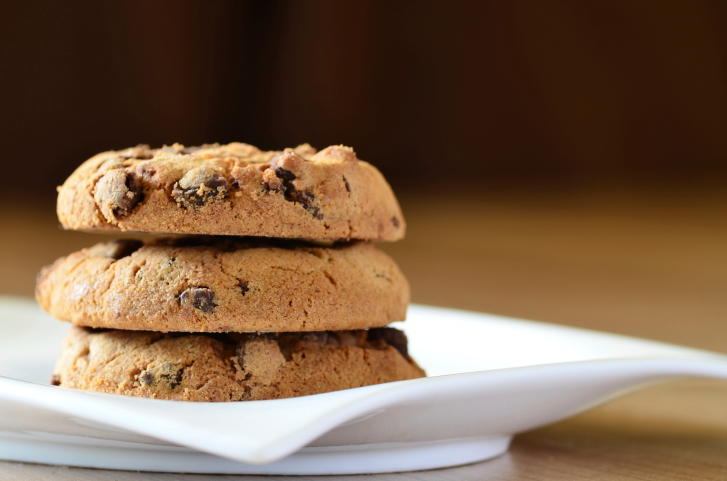 4. Milky Way Stuffed Cookie
Surprise your guests by filling your regular chocolate chip cookies with candy bars. Once you master Inspired Taste's method for stuffing cookies with candy bars, you'll be able to turn out any combination of flavors you'd like; it yields about twelve to fourteen cookies.
Ingredients:
1 cup butter, softened (2 sticks)
¾ cup granulated sugar
¾ cup packed light brown sugar
1 teaspoon vanilla extract
2 large eggs
2¼ cups all-purpose flour
1 teaspoon baking soda
1 teaspoon salt
10 ounces chocolate chips
12 to 14 "fun-size" Milk Way candy bars
Directions: Heat oven to 375 degrees Fahrenheit. Line two baking sheets with parchment paper or a silicone baking mat. In a large bowl, beat butter, both sugars and the vanilla extract on medium speed with a hand mixer until creamy, light and fluffy, scraping down the sides as necessary. This should take about 2 minutes. Then, add one egg and beat until combined. Repeat with second egg.
In a medium bowl, use a whisk to combine the flour, baking soda and the salt. Whisk about 10 times to make sure everything is well combined. Add the flour mixture, in thirds, to the butter mixture, beating until incorporated and scraping down the sides of the bowl as necessary. Stir in the chocolate chips.
Use the palms of your hands to roll about 12 cookie dough balls, using 2 tablespoons of dough for each. Then, flatten one cookie dough ball, place a Milky Way into the middle. Flatten a second cookie dough ball and cover the Milk Way. Squeeze/crimp together the edges so that the Milky Way is completely covered. Repeat with remaining dough.
Bake cookies 10 to 15 minutes or until the cookies are light golden brown. Let sit for 10 minutes, then move cookies to a cooling rack to cool completely.
5. Candy Bar Cake
Sugar addicts may meet their match with this Betty Crocker cake. Caramel sweetens the cake after baking (also keeping it moist), and candy is then sprinkled over the top. The whole dessert is then drizzled with warmed frosting, ensuring that every slice is as sweet as can be.
Ingredients:
2 cups all-purpose flour
1½ teaspoons baking soda
½ teaspoon salt
1½ cups sugar
½ cup butter or margarine, softened
3 eggs
1 teaspoon vanilla
4 ounces unsweetened baking chocolate, melted and cooled
1 cup buttermilk
1 can (14 ounces) sweetened condensed milk
½ cup caramel topping
1 bag (13.3 ounces) fun-sized chocolate-coated nougat and peanut candy bars, chopped (about 3 cups)
½ cup chocolate frosting
Directions: Heat oven to 350 degrees Fahrenheit. Grease bottom and sides of rectangular pan, 13 x 9 x 2 inches, with shortening; lightly flour. In medium bowl, mix flour, baking soda and salt; set aside.
In large bowl, beat sugar and butter with electric mixer on medium speed, scraping bowl occasionally, until fluffy. Beat in eggs, one at a time, until smooth and blended. Add vanilla. Stir in melted chocolate. Gradually beat in flour mixture alternately with buttermilk, beating after each addition until smooth. Pour into pan.
Bake 35 to 40 minutes or until toothpick inserted in center of cake comes out clean. Immediately poke top of cake all over with toothpick or fork. Mix condensed milk and caramel topping; spoon over warm cake, allowing it to soak in. Sprinkle chopped candy over cake. Place frosting in small microwavable bowl. Microwave uncovered on High 20 to 30 seconds or until pourable; drizzle over cake. Cool cake about 1½ hours before serving.
6. Chocolate Malted Milkshake
Making an appearance as a garnish, the malted milk balls in Paula Deen's milkshake from Food Network are a welcome, crunchy addition to any shake. It makes enough for about 2 or 3 milkshakes.
Ingredients:
2½ cups chocolate ice cream
½ cup original flavor malted milk powder
½ to 1 cup whole milk
Sweetened whipped cream, for garnish
Halved malted milk balls, for garnish
Directions: In the container of a blender, combine the ice cream and malted milk powder. Add the milk, a quarter cup at a time, blending between each addition, until the desired consistency is reached. Garnish with whipped cream and malted milk balls.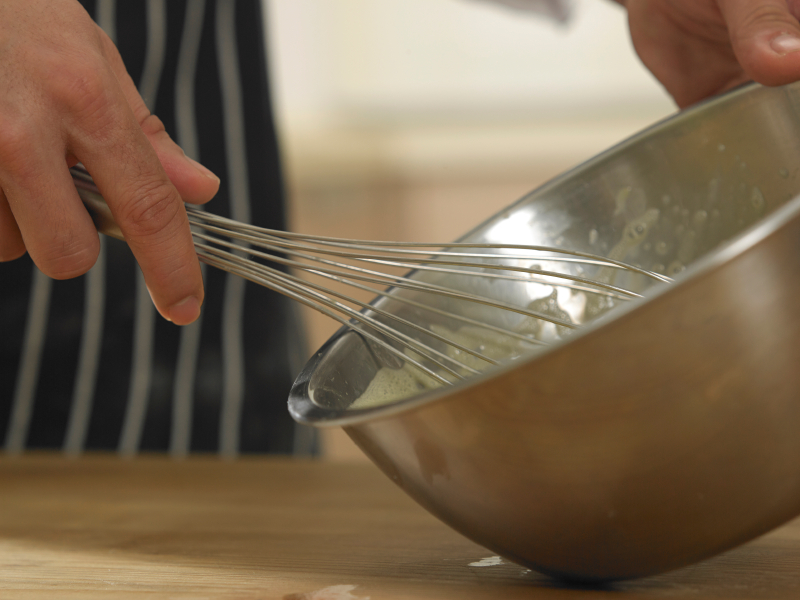 7. Peppermint Patty Brownies
AllRecipes.com will have you baking a batch of minty-fresh brownies with this recipe using peppermint patties. Pair with vanilla, or mint chocolate chip ice cream for a sweet sundae dessert.
Ingredients:
1½ cups margarine
3 cups white sugar
1 tablespoon vanilla extract
5 eggs
2 cups all-purpose flour
1 cup unsweetened cocoa powder
1 teaspoon baking powder
1 teaspoon salt
24 small peppermint patties
Directions: Mix butter, sugar, and vanilla. Beat in eggs till well blended. Stir in flour, cocoa, baking powder, and salt. Blend well. Reserve 2 cups of batter, set aside
Grease 13 x 9 x 2 inch pan. Spread remaining batter in prepared pan. Arrange peppermint patties in a single layer over batter about 1/2 inch apart. Spread reserved 2 cups batter over patties. Bake 350 degrees Fahrenheit (175 degrees Celsius) for 50-55 minutes till brownies begin to pull away from sides of pan. Cool completely in pan on wire rack. Enjoy!
8. Candy Bar Cookies
You'll be baking cookies from cake mix and candy with Taste of Home's recipe. Mix in chopped Snickers (used in the original), Milky Ways, Reese's Cups, or a combination of several candies of your choosing.
Ingredients:
1 package yellow cake mix (regular size)
½ cup packed brown sugar
½ cup butter, melted
2 eggs
3 Snickers candy bars (2.07 ounces each) , chopped
Directions: Preheat oven to 350 degrees Fahrenheit. In a large bowl, combine the cake mix, brown sugar, butter and eggs until well blended. Stir in chopped candy. Spread into an ungreased 13 x 9 baking pan. Bake for 25-30 minutes or until a toothpick comes out clean. Cool on a wire rack. Cut into squares.
More From Life Cheat Sheet:
Want more great content like this? Sign up here to receive the best of Cheat Sheet delivered daily. No spam; just tailored content straight to your inbox.