8 Great Garbanzo Bean Recipes for Chickpea Creations
Maybe you have a can of chickpeas staring down at you every time you open the cupboard, neglected because you just don't know what to do with it. Or maybe you buy your chickpeas in bulk and need a different way of preparing them. To help out both the chickpea novice and enthusiast, we've pulled together eight tantalizing recipes to get you cooking and baking with your garbanzo beans.
1. Curried Chickpea Salad
A stellar salad awaits anyone who makes this recipe from Whole Foods. With an infusion of Indian flavors, no bland bits of lettuce or flavorless bites will be found on your dinner table or in your lunch bag. It makes 8 servings.
Ingredients:
2 teaspoons cider vinegar
2 teaspoons lime juice
¼ cup extra-virgin olive oil
2 teaspoons curry powder
2 teaspoons maple syrup
½ teaspoon fine sea salt
½ cup raisins
2 teaspoons cumin seeds, toasted
2 (15-ounce) cans chickpeas, rinsed and drained
1 red bell pepper, cored, seeded and chopped
⅔ cup finely chopped red onion
½ cup fresh cilantro or parsley, chopped
8 cups mixed greens
4 cups pita chips (optional)
Directions: In a large bowl, whisk together vinegar, lime juice, olive oil, curry powder, maple syrup, and salt. Add raisins, cumin, chickpeas, bell pepper, onion, and cilantro, and toss to combine. Spoon chickpea salad over salad greens and serve with pita chips on the side, if you'd like.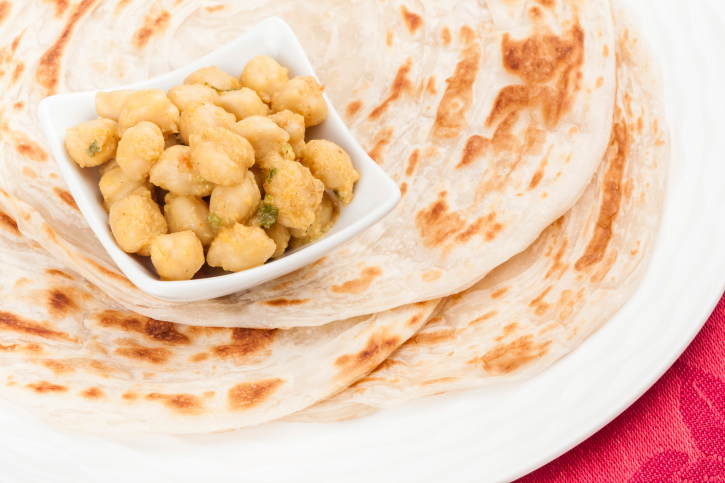 2. Chickpea Masala Sandwich
In a mashup of cultures, Saveur has provided a recipe for "doubles." Common in Trinidad and Tobago, CNN explains the sandwich arrived on the island when Indian workers went there in the late 1800s to farm the land. The Indian farmers brought their culture and food, and now you can bring it to your home.
Ingredients:
2 cups flour
1 teaspoon active dry yeast
1½ teaspoons ground cumin
1 teaspoon ground turmeric
½ teaspoon plus 1 tablespoon kosher salt
¼ teaspoon sugar
3 tablespoons vegetable oil, plus more for frying
1 large yellow onion, halved lengthwise and thinly sliced
2½ teaspoon curry powder
2 cloves garlic, smashed
6 sprigs cilantro, roughly chopped
1 (15-ounce) can chickpeas
3 tablespoons tamarind paste
1 Granny Smith apple
Directions: In a large bowl, whisk together flour, yeast, ½ teaspoon cumin, turmeric, ½ teaspoon salt, and sugar. Add ¾ cup 115 degree Fahrenheit water and mix with a wooden spoon until a soft dough forms. Turn out dough onto a floured surface. Knead dough until smooth and elastic, about 5 minutes. Lightly oil dough with 1 tablespoon vegetable oil and transfer to a large bowl; cover with plastic wrap. Transfer bowl to a warm place and let rise until it doubles in size, about 1½ hours.
Meanwhile, heat 2 tablespoons oil in a 4-quart saucepan over medium-high heat. Add onions and 2 teaspoons curry powder and cook, stirring occasionally, until onions soften, 15 minutes. Add the garlic, cilantro, chickpeas, and 1½ cups water. Bring water to a boil over high heat; reduce heat to medium and cook, partially covered, until chickpeas begin to fall apart, about 1½ hours. Mash half of the chickpeas against the side of the saucepan with a wooden spoon. Cover and set aside.
Divide dough into sixteen 1-ounce portions and form loose balls. Place each dough ball between 2 sheets of waxed paper and press the dough with your hands into a ⅛-inch-thick disk about 6 inches in diameter.
Pour in oil to a depth of 1½ inches in a 4-quart saucepan; heat over medium-high heat until the oil registers 325 degrees Fahrenheit on a deep-fry thermometer. Fry 1 dough portion at a time, inverting once with tongs, until puffed, about 30 seconds. Transfer to a paper towel-lined plate with tongs. Repeat with remaining dough, covering each portion with a paper towel as you stack the doubles on the plate.
In a small bowl, whisk tamarind paste with ½ cup warm water and remaining curry powder and cumin. Grate Granny Smith apple on a box grater and stir to combine. For each double, spoon on 1 tablespoon of chickpeas, add chutney, and top with another double. Serve hot.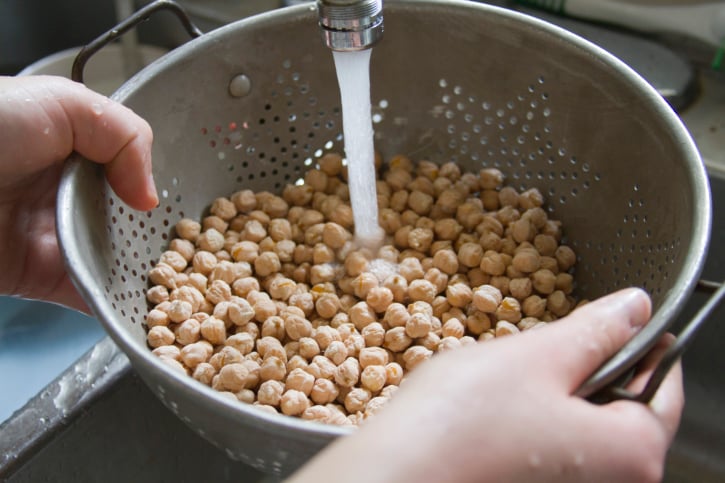 3. Chickpea and Chorizo Fideos
Cook pasta the Spanish way by making fideos. "When the Moors brought pasta to Spain in the 9th century, we didn't know what to do with it," chef Luis Bollo told Fine Cooking. "So we treated it like rice, cooking it in broth instead of in water and saucing it later, like the Italians do. That way, the noodles absorb all the flavors of the dish." Breaking spaghetti into noodles is one way, or you could look for actual fideo pieces or nests at the store before making Eating Well's recipe, which yields 4 servings.
Ingredients:
3 tablespoons extra-virgin olive oil, divided
½ package whole-wheat angel hair pasta (7-8 ounces), broken into 2-inch pieces
2 large cloves garlic, minced
½ cup chopped Spanish chorizo or pepperoni (about 2 ounces)
1 (14-ounce) can petite diced tomatoes
1½ cups water
½ cup dry white wine
1 (15-ounce) can chickpeas, rinsed
3 scallions (½ bunch), sliced
Directions: Heat 2 tablespoons oil in a Dutch oven over medium heat. Add pasta pieces and cook, stirring, until toasted and browned in spots, 2 to 3 minutes. Transfer to a bowl.
Add the remaining 1 tablespoon oil to the pan and heat over medium heat. Add garlic and chorizo (or pepperoni) and cook, stirring, until fragrant, about 1 minute. Add tomatoes, water, wine, and the toasted pasta; bring to a boil. Reduce heat to a simmer and cook, stirring occasionally, until the pasta is tender and most of the liquid is absorbed, about 8 minutes. Stir in chickpeas and scallions and cook 1 minute more.
4. Panisses
Food 52 calls them chickpea fries, and David Lebovitz considers them the perfect snack food. Technically, this fried French snack food is made with chickpea flour, but you can still even make that with chickpeas, The Perfect Pantry explains. When following Bon Appétit's recipe, be sure to continue cooking the chickpeas until a "wet concrete" consistency is achieved so that your panisses won't be undercooked.
Ingredients:
Nonstick vegetable oil spray
2¼ cups chickpea flour
1 teaspoon kosher salt, plus more
4 cups low-sodium chicken broth
1 clove garlic, finely grated
1 teaspoon Sriracha
Vegetable oil for frying, about 1½ cups
Directions: Lightly coat a 13-by-9-inch baking dish with nonstick spray. Whisk chickpea flour and 1 teaspoon salt in a large bowl, breaking up any clumps in flour. Make a well in the center and gradually pour broth into well, whisking to incorporate dry ingredients; add garlic and Sriracha and whisk until batter is smooth. Transfer mixture to a large heavy saucepan and cook over medium-high heat, whisking constantly, until bubbling and very thick (you will be able to see bottom of pan when whisking), 8 to 10 minutes.
Pour chickpea mixture into prepared baking dish and smooth top. Press plastic wrap directly onto surface and chill until firm, at least 3 hours. Turn chickpea mixture out onto a cutting board and cut into 3-by-½-inch pieces. Pour oil into a large skillet, preferably cast iron, to a depth of ¼ inch and heat over medium-high heat until oil bubbles immediately when a small piece of chickpea mixture is added. Working in batches, fry until panisses are deep golden brown and crisp, about 2 minutes per side; transfer to a paper towel-lined plate and season with salt.
5. Steak With Chickpeas, Tomatoes, and Feta
Crisping the chickpeas in a skillet gives a slight crunch to Real Simple's steak dinner. How salty feta cheese is varies by brand, so taste your cheese before you start cooking and seasoning. This recipe yields 4 servings and is ready in approximately 30 minutes.
Ingredients:
2 tablespoons olive oil
2 (1-inch-thick) strip steaks (about 1½ pounds total)
Kosher salt and pepper
1 (15-ounce) can chickpeas, drained and rinsed
4 plum tomatoes, sliced into half-moons
½ cup fresh cilantro
2 tablespoons fresh lemon juice
1 cup crumbled feta (4 ounces)
Directions: Heat 1 tablespoon of the oil in a large skillet over medium-high heat. Season the steaks with ½ teaspoon each salt and pepper. Cook the steaks to desired doneness, 4 to 6 minutes per side for medium-rare. Transfer to a cutting board; let rest for at least 5 minutes before slicing.
Wipe out the skillet and heat the remaining oil over medium-high heat. Pat the chickpeas dry with paper towels and add them to the skillet. Cook, stirring occasionally, until slightly crispy, 3 to 5 minutes. Stir in the tomatoes, cilantro, lemon juice, ½ teaspoon salt, and ¼ teaspoon pepper. Transfer to plates and sprinkle with the feta. Serve with the steak.
6. Shrimp Scampi with Chickpea Mash
Shrimp scampi is generally served with pasta, but Brian Boitano had a different idea in mind when he made shrimp scampi for the Cooking Channel. Cooked and mashed chickpeas replace the typical pasta, topped and flavored with the scampi and sauce from the shrimp pan. It yields 4 servings.
Ingredients:
6 tablespoons olive oil
2 cloves garlic, chopped
2 (15-ounce) cans chickpeas, drained and rinsed
½ cup warm chicken stock or broth
Kosher salt and fresh ground pepper
1½ pounds extra-large shrimp, shelled and deveined
½ teaspoon red pepper flakes
½ cup white wine
2 tablespoons chopped fresh parsley
1 tablespoon butter
Juice of 1 lemon
Directions: Heat 3 tablespoons of the olive oil in a large skillet over medium heat. Add half of the garlic and cook for 1 minute. Add the chickpeas and cook until heated through, about 5 minutes. Using a potato masher or fork, mash the chickpeas. Add the chicken stock and mix in. Taste, and season with salt and pepper if necessary. Keep warm while you cook the shrimp.
Heat a large skillet over high heat. Sprinkle the shrimp with salt and pepper. Add 2 tablespoons of the olive oil to the pan along with the remaining garlic and the red pepper flakes and cook for 1 minute. Add the shrimp and cook until pink and lightly browned on the edges, 3 to 4 minutes. Add the white wine and cook for 1 minute. Add the parsley, butter, and lemon juice and cook for 1 minute. Taste and add more salt and pepper if necessary.
Transfer the chickpea mash to a serving dish. Pour the shrimp and sauce over top, drizzle with the remaining 1 tablespoon olive oil and serve immediately.
7. Eggs with Chickpeas, Spinach, and Tomato
Any recipe that saves time in the kitchen, either while cooking or after, is one that will catch our eyes. Cooking Light's chickpea and egg dish falls into the easy clean-up category, using only one skillet to prepare all the ingredients. Make it the next time you want a delicious egg dinner for 4.
Ingredients:
1 tablespoon extra-virgin olive oil
3 tablespoons thinly sliced shallots (about 1)
1 teaspoon chopped fresh rosemary
Dash of crushed red pepper
1 garlic clove, thinly sliced
½ cup lower-sodium marinara sauce
1 (14-ounce) can chickpeas, undrained
2 cups fresh baby spinach
¼ teaspoon kosher salt
⅛ teaspoon freshly ground black pepper
4 large eggs
2 ounces pecorino Romano cheese, shredded (½ cup)
Directions: Heat a large skillet over medium heat. Add oil to pan; swirl to coat. Add shallots, rosemary, red pepper, and garlic; cook 2 minutes or until shallots are tender, stirring constantly. Add marinara and chickpeas; bring to a simmer. Stir in spinach, salt, and black pepper. Break eggs evenly over marinara mixture. Simmer gently for 15 minutes (do not stir), or until egg whites are almost set. Cover and cook for 1 minute or until egg whites are set (yolks should still be runny). Sprinkle with cheese.
8. Lemon Garlic Hummus
When you have chickpeas on hand, you'll never need to buy hummus again. Enjoy Taste of Home's lemon and garlic hummus with pita bread as suggested, serve it with fresh-cut vegetables, or use it as a sandwich or wrap condiment. The recipe makes about 1½ cups.
Ingredients:
¾ cup canola oil
2 cups canned garbanzo beans or chickpeas, rinsed and drained
3 tablespoons lemon juice
2 teaspoons minced garlic
½ teaspoon salt
Pita bread, cut into wedges, for serving
Directions: In a food processor, combine the oil, beans, lemon juice, garlic and salt; cover and process until smooth. Transfer to a small bowl. Serve with pita wedges.
More From Wall St. Cheat Sheet:
Want more great content like this? Sign up here to receive the best of Cheat Sheet delivered daily. No spam; just tailored content straight to your inbox.