8 Ice Cream Flavors Perfect for Winter Scooping
Ice cream isn't just a summer treat. Like everything else, the changing seasons just require a little flexibility, dictating what kind of ice cream you should be eating in the colder months. It would be ridiculous to make a fresh strawberry or peach ice cream in February, but it's the perfect time of year for Red Grapefruit Sorbet or Brown Sugar Brandy Ice Cream. Would you eat pine-flavored ice cream in the middle of summer? Probably not. So don't let the opportunity pass you by; snuggle up by the fire with a nice bowl of any of these 8 winter ice creams and enjoy the season.
1. Peppermint Ice Cream Floats
What kind of ice cream float would you make in winter? A hot chocolate float, of course! A bit like an Italian affogato met with the traditional root beer float, this icy hot treat from She Knows is bound to become a favorite. Yes, the ice cream will melt, but that just makes the hot chocolate even creamier and more delicious.
Ingredients:
Ice Cream
2 cups whole milk
2 cups heavy cream
1 cup sugar
½ teaspoon kosher salt
1 teaspoon vanilla extract
¼ teaspoon peppermint extract
¾ cup crushed candy canes
Hot Chocolate
2 cups whole milk
2 ounces semisweet chocolate
1 teaspoon dark brown sugar
¼ teaspoon vanilla extract
Directions: In a large bowl, add the whole milk, heavy cream, sugar, salt, vanilla extract and peppermint extract. Whisk together until sugar is fully dissolved. Pour the mixture into an ice cream maker, and process according to the manufacturer's directions.
After the ice cream is done processing, stir in crushed candy canes. Add to a freezer-safe container, and let harden for at least 4 hours.
When the ice cream is frozen, bring the milk to barely a simmer over medium-low heat. Once hot, remove from the heat and stir in the remaining ingredients.
Drop a scoop of ice cream into a large mug. Top with hot chocolate and dive in immediately.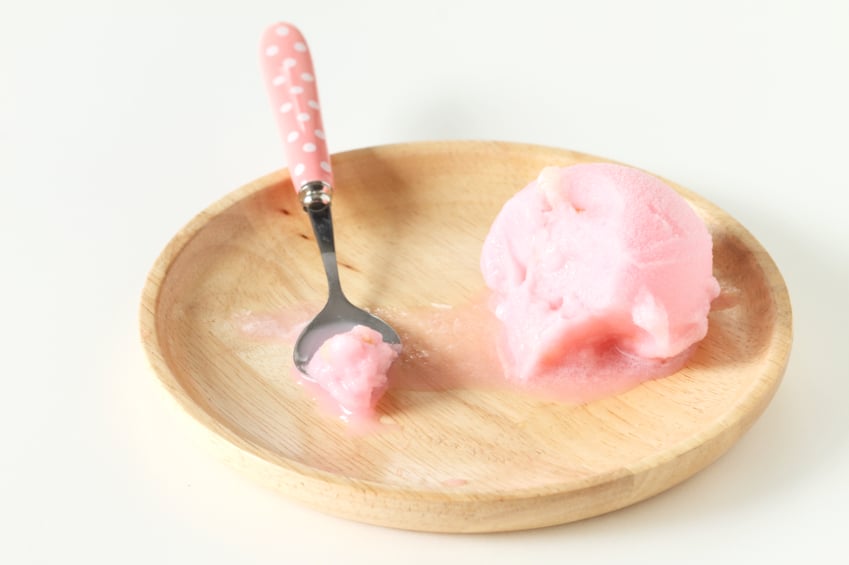 2. Red Grapefruit Sorbet
This sorbet from Martha Stewart takes full advantage of a winter citrus season, but adds a warming kick with a pinch of black pepper to keep it wintery and cozy. It's a lovely treat for sitting in a warm, sunny window, letting the frozen world outside sleep in its snowy stillness.
Ingredients:
1¼ cups sugar
1¼ cups water
1 teaspoon grated grapefruit zest
2 cups freshly squeezed red-grapefruit juice
2 tablespoons freshly squeezed lemon juice
½ teaspoon freshly ground black pepper
Directions: Combine the sugar, water, and grapefruit zest in a medium saucepan, and bring to a boil over medium-high heat, stirring occasionally until the sugar dissolves. Remove the pan from the heat and set it aside to steep for 5 minutes.
Stir in the grapefruit juice and lemon juice. Strain the mixture through a fine-mesh sieve into a bowl. Stir in the black pepper, and set it aside to cool. To help it cool faster, set the container in a bowl of ice water and stir occasionally.
Cover and refrigerate the sorbet base until it is thoroughly chilled, about 4 hours or up to overnight.
Process the sorbet in an ice cream machine according to the manufacturer's directions. Transfer it to a freezer-proof container, cover, and freeze until ready to serve.
3. Maple Ice Cream With Tipsy Raisins and Maple-Candied Cashews
When you make this ice cream, seek out Grade B syrup. The darker, more caramelized flavor lends a depth to this ice cream that really makes it stand out. The vanilla-bourbon soaked raisins in this ice cream are optional, but recommended. Similarly, the roasted cashews candied in butter, brown sugar, and maple syrup are optional, but short of a nut allergy, why would you not include them? Winter time is sugaring time, when 32 degrees and sunny skies during the day means the maple sap is flowing and the evaporators are running, turning sugar shacks across the north into saunas of steaming sugar water, boiling down and down into sticky syrup. This ice cream from Food52 is a celebration of those long days and nights boiling sap into syrup, a blend of cold temperatures and warm bourbon.
Ingredients:
⅓  cup golden raisins
½ cup bourbon
1 vanilla bean, seeds scraped, divided
1 egg white, beaten until a little stiff
2 cups unsalted cashews
1 cup maple syrup, divided
2 tablespoons salted butter
¼ cup light brown sugar
A few pinches of sea salt, divided
2 tablespoons sugar, divided
1½ cups whole milk
1½ cups heavy cream
5 large egg yolks
Directions: Prepare the raisins. In a small bowl, stir together the raisins, the bourbon and the seeds of ½ the vanilla bean. Let them mellow together, covered but unrefrigerated, for about 2 hours. Drain the bourbon before using.
While that's sitting, make the candied cashews. Preheat the oven to 300 degrees Fahrenheit. Melt the butter.
In a large bowl, beat the egg white until it stiffens up a little. Add the cashews, and toss until they are coated. Add ¼ cup of the maple syrup and the melted butter, and toss until coated again. Add the brown sugar, and toss until the cashews are evenly coated.
Using your hands, spread the cashews in a single layer across a parchment paper-lined baking sheet. Sprinkle the cashews with some of the sea salt. Bake for about 25 minutes, breaking them up every 7 minutes or so. When they look candied, remove them from the oven and allow them to cool.
When the nuts are cool, use a mortar and pestle to lightly crush however many cashews you'd like to add to the ice cream.
Once the cashews are done, make the ice cream. In a small pot, reduce ¾ cup of maple syrup for about 10 minutes, or until it's noticeably thicker.
In a medium pot, bring the milk, cream and 1 tablespoon of the sugar to a boil, whisking occasionally. Remove it from the heat when it foams up in the pot.
In a separate bowl, mix the egg yolks with the remaining tablespoon of sugar. Beat energetically for a few minutes until the color lightens, then slowly pour the milk and cream mixture over the yolks, whisking constantly until incorporated. Strain the mixture through a sieve.
Wipe out the medium pot, and add back the strained custard. Stir in the reduced maple syrup, the remaining vanilla seeds and a pinch of the salt. Heat on medium-low, stirring occasionally until it starts to thicken. Run it through a sieve again.
Cool the ice cream base over an ice bath until it is quite cold, about 45 minutes. Add the ice cream base to an ice cream maker and let it go for about 20 minutes. In the last minute or two, add the golden raisins and the cashews. Freeze for at least 2 hours before serving.
4. Peanut Butter and Cayenne Ice Cream
This ice cream from A Beautiful Mess is all creamy sweet peanut butter up front with a kick of warm spiciness at the tail end. It's a great surprise, that heat from the inside out, that makes for a wonderful winter treat. If you're concerned about the spiciness, put in half the cayenne first and taste. If it's ok, add more.
Ingredients:
1 cup brown sugar
2 cups creamy peanut butter
3 cups half-and-half cream
2 cups heavy whipping cream
¼ teaspoon salt
1¼ teaspoon cayenne
Directions: Blend together the sugar and peanut butter until well-combined. Stir in the half-and-half, heavy whipping cream, and salt. Finish off with the cayenne. Chill thoroughly, then follow the instructions from the manufacturer of your ice cream machine.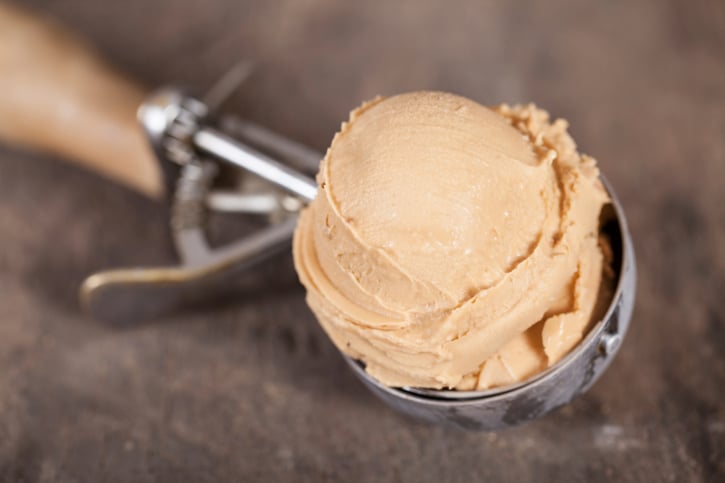 5. Brown Sugar Brandy Ice Cream
Is there any other season you would drink brandy? We don't think so. It's the kind of spirit you curl up next to the fire with. Instead, toss it in some brown sugar ice cream from Pass the Sushi and curl up next to the fire with a couple scoops. The addition of the alcohol also prevents the ice cream from freezing too hard, which helps keep it infinitely scoopable. If you don't have or don't like brandy, replace with bourbon.
Ingredients:
6 egg yolks
¾ cup dark brown sugar
2 cups heavy cream
1 cup whole milk
1 vanilla bean
¼ cup brandy
Directions: Whisk the egg yolks and brown sugar together in a large bowl. Set aside.
Combine the cream and milk in a medium, heavy-bottomed pot. Slit the vanilla pod in half lengthwise and scrape out the paste with the back of the knife. Add the vanilla pod and paste to the pot. Cook the mixture over medium heat, whisking occasionally, until the mixture just starts to bubble around the edges.
Remove the pot from the heat. Cover and let the mixture infuse for 15 to 20 minutes. Remove the vanilla pod and discard. Warm the mixture again on the stove until steaming.
Slowly drizzle it into the beaten egg mixture, whisking constantly. Return the combined mixture to the pot. Cook over medium heat, whisking constantly, until it registers 170 degrees Fahrenheit on a candy thermometer and is thick enough to coat the back of a spoon.
Remove the pot from the heat. Strain into a large bowl. Whisk in the brandy. Cool in an ice bath, whisking frequently to lower the mixture's temperature. Refrigerate until completely chilled, about 4 to 6 hours.
Process mixture in your ice cream maker according to the manufacturer's directions. Transfer to a container and freeze overnight.
6. Cinnamon Rum Ice Cream
This is the ice cream for those who love the rum in rum raisin ice cream but hate the raisins. You're out there, en masse, and we accept you. Leave the raisins out. You won't miss them in this ice cream from Bon Appétit. It's also the perfect accompaniment to an apple pie or crisp, which you can make while the ice cream is freezing. Pretty perfect timing, really.
Ingredients:
6 large egg yolks
1½ cups heavy whipping cream, divided
1½ cups whole milk
¾ cup sugar
Pinch of salt
2 tablespoons dark rum
2 teaspoons ground cinnamon
Directions: Whisk egg yolks to blend in medium metal bowl. Pour 1 cup cream into another medium bowl; set fine strainer over bowl with cream. Whisk milk, sugar, pinch of salt, and ½ cup cream in heavy medium saucepan; bring to simmer, stirring until sugar dissolves.
Gradually whisk hot milk mixture into egg yolks. Return mixture to same saucepan and stir constantly over medium-low heat until custard thickens slightly, about 5 minutes. Do not boil. Pour custard through strainer set over bowl with cream. Whisk mixture to blend; then whisk in rum and cinnamon. Chill custard until cold, about 2 hours.
Process custard in ice cream maker according to manufacturer's instructions. Transfer ice cream to container. Cover; freeze until firm, at least 4 hours or overnight.
7. Lemon, Honey, and Brandy Ice Cream
This ice cream from Serious Eats falls in the hot toddy camp of a guggle muggle, a Slavic or Mitteleuropean Jewish warming drink usually made in a similar vein as eggnog. Traditionally, the recipe states, you'd use Slivovitz, a plum brandy, but you can use any brandy in a pinch. The ice cream gets an extra festive kick from the apricots and candied ginger soaked in more brandy thrown in at the end. It's awfully fun to say Guggle Muggle Ice Cream, too!
Ingredients:
2 cups whole milk
1 cup cream
2 teaspoons grated ginger
½ teaspoon kosher salt
6 egg yolks
½ cup strong honey
Zest of 3 lemons
3 tablespoons plus ¼ cup brandy, divided
½ cup dried apricots, diced small
½ cup candied ginger, diced small
Directions: In a three-quart saucepan, combine milk, cream, ginger, and salt. Heat on medium-low, just below a simmer, for 10 minutes.
Meanwhile, whisk egg yolks and honey together in a medium bowl until thoroughly combined. After 10 minutes, slowly add about ½ cup of dairy into yolk mixture, whisking constantly. Transfer whisked mixture back to saucepan, whisk to combine, and cook on medium-low heat until custard coats the back of a spoon and a finger swipe leaves a clean line. Pour through a fine-mesh sieve into an airtight container.
Stir in lemon zest and 3 tablespoons brandy, then transfer to refrigerator to chill overnight. In a small bowl, combine apricots, candied ginger, and ¼ cup brandy. Refrigerate overnight.
The next day, churn ice cream according to manufacturer's instructions. In last minute of churning, slowly add soaked apricots, ginger, and any remaining brandy. Freeze for two to three hours before serving.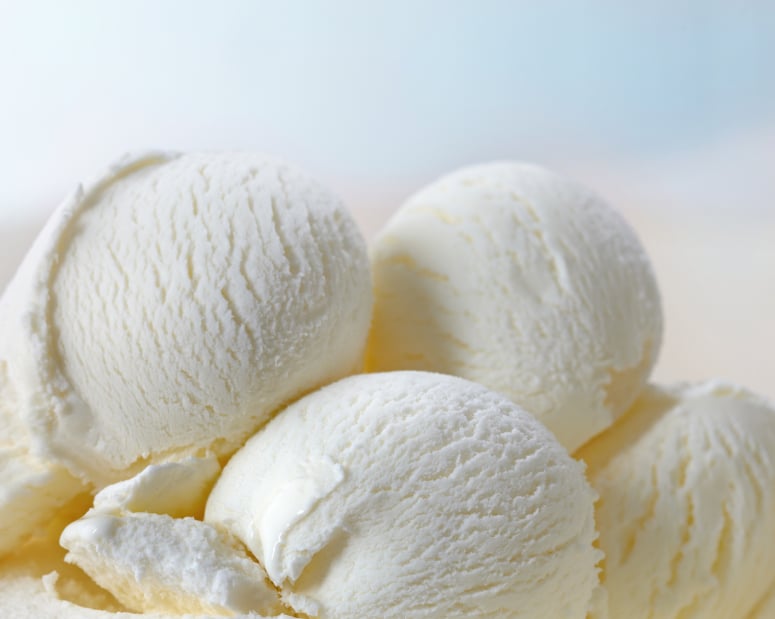 8. Mountain Pine Ice Cream
What other time of year but winter can you get away with putting your Christmas tree in your ice cream? This homemade ice cream from Marla Meridith uses pine syrup for flavor, which you can either buy here from Dram or learn how to make, here from the Food Network, straight from a snow-covered branch of pine gathered on a winter walk. Additional pine syrup can be used for winter cocktails. Pine is actually very high in vitamin C, so this ice cream can be considered flu protection, right?
Ingredients:
2 cups half-and-half
1 cup heavy whipping cream
¾ cup minus 3 tablespoons sugar
¼ cup pine syrup
Directions: Make sure your ice cream maker is chilled and ready to use. Attach a candy thermometer to the side of a saucepan. Combine all ingredients in the saucepan over medium heat, stir to combine. Bring mixture barely to a simmer; your thermometer should read 170 degrees Fahrenheit. Remove from heat and transfer ice cream mixture to a bowl. Chill in the fridge overnight or until thoroughly cold. Churn cold ice cream mixture according to your machine directions. Freeze until ready to use. Top with honey and sprinkles if desired.
More from Life Cheat Sheet:
Want more great content like this? Sign up here to receive the best of Cheat Sheet delivered daily. No spam; just tailored content straight to your inbox.