8 Marvelous Milkshake Recipes Under 300 Calories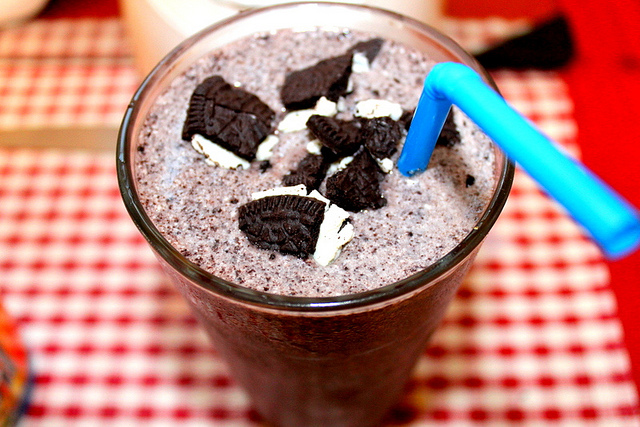 Milkshakes are supposed to be a treat, but you can still make one that is slightly better than the average frozen beverage. According to FitDay, your average shake will set you back over 300 calories and contain way too much saturated fat. Livestrong pinpoints the number to be around 509 calories per 16-ounce sized serving. Reducing the calories won't make your shakes into a health food, but it will make them slightly more diet friendly. You can do this by adding fresh fruit, blending your own shakes instead of buying them in the store, and switching out diary milk for alternatives like lower-calorie almond milk. For a frozen beverage under 300 calories that won't feel like diet food, follow one of these eight marvelous milkshake recipes.
1. Oreo Milkshake
Oreos and ice cream come in at around 212 calories per serving with this drink from AllRecipes.com, which makes enough for two milkshakes. It is also a great example of making your shake versus buying it. A similar milkshake from Jack in the Box has over 700 calories, and so does Burger King's take on the treat.
Ingredients:
2 scoops chocolate ice cream
⅓ cup milk
2 tablespoons whipped cream, or more to taste
1 tablespoon chocolate syrup
2 chocolate sandwich cookies (such as Oreos)
¼ cup whipped cream
2 chocolate sandwich cookies (such as Oreos), crushed
Directions: Blend chocolate ice cream, milk, 2 tablespoons whipped cream, chocolate syrup, and 2 chocolate sandwich cookies in a blender until smooth and frothy. Divide milkshake between two glasses. Top each with 2 tablespoons whipped cream and crushed chocolate sandwich cookies.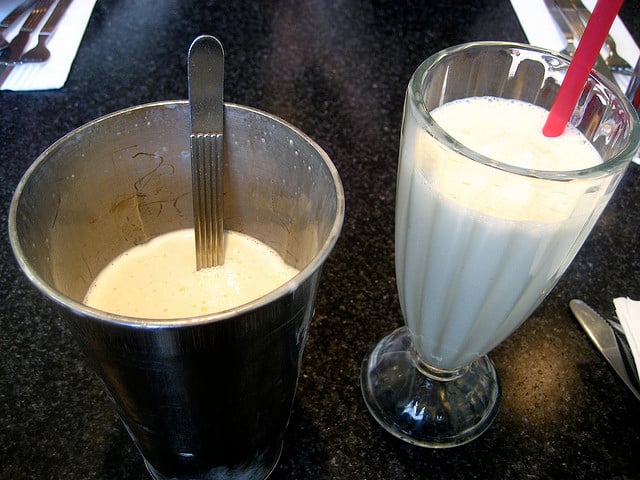 2. Heavenly Milkshake
Another way to swap out calories in your milkshake is to use a lower calorie, non-dairy milk. It should be noted that when you do this, you'll lose some benefits that milk provides, particularly protein. For example, when you use almond milk, you'll be getting less protein per serving than with dairy milk.
You can take this a step further, and remove traditional ice cream from the recipe too, and bring in frozen yogurt instead. Bobby Deen used this approach for his milkshake recipe on The Cooking Channel, which is a lighter version of his mom's creamy vanilla shake. Take the ratios provided, and make the shake your own. The basic has only 164 calories per serving, leaving plenty of room for add-ins and flavors while still staying under 300 calories. It makes 4 servings.
Ingredients:
2 cups nonfat frozen yogurt
1¼ cup almond milk
2 teaspoons honey
Directions: Combine the frozen yogurt, almond milk and honey in a blender; blend until smooth. Serve immediately.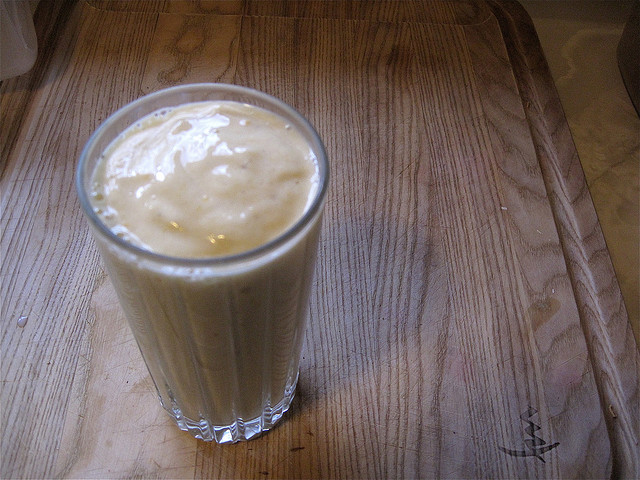 3. Banana Shakes
Adding more fruit to your diet is always a benefit, and frozen bananas can actually take the place of the ice cream in your milkshake. Frozen bananas can even be made into an "ice cream" by blending and freezing the frozen fruit. Replacing your ice cream with frozen bananas–like in this recipe from Taste of Home—will still result in a sweet treat, but with less fat, and potentially fewer calories. Your banana and peanut butter milkshake has about 218 calories, and you can make it with almond butter if desired.
Ingredients:
1 cup milk
2 tablespoons peanut butter
1 tablespoon honey
2 large ripe frozen bananas
Directions: In a blender, combine all ingredients; cover and process until blended. Pour into chilled glasses. Serve immediately. Yield: two to three servings.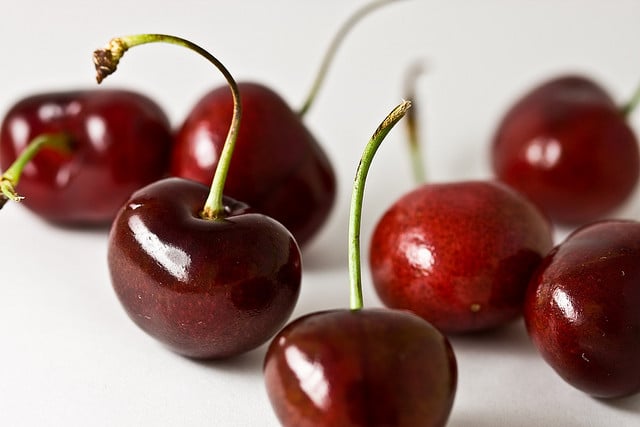 4. Cherry Vanilla Bean Milkshake
Frozen and blended bananas are delicious, but may not be how you want to add fruit to your evening treats. For a cherry-infused shake that promises to be so thick you need a spoon, try Eating Well's cherry-vanilla bean milkshake. The shake will still have a rich flavor thanks to the cherries and vanilla bean, even though you're using reduced-fat ice cream, and nonfat milk; it has about 276 calories per serving, and it makes 2 servings.
Ingredients:
1 10-ounce bag frozen pitted cherries (about 2 1/4 cups)
1 cup reduced-fat "light" vanilla ice cream
1 cup nonfat milk
½ vanilla bean, split lengthwise, or 1 teaspoon vanilla extract
Directions: Place cherries, ice cream, and milk in a blender. With the tip of a sharp knife, scrape all the black paste from inside the vanilla bean into the blender (or add vanilla extract); blend until smooth. Stop and stir once or twice if necessary to completely blend.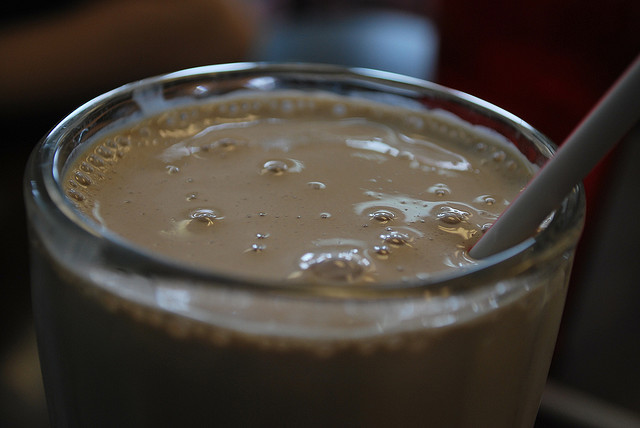 5. Chocolate Almond Banana Shake
You can even combine the two previous ideas, of almond milk and frozen bananas, for a non-dairy milkshake that is breakfast appropriate. Silk has a chocolate banana breakfast drink recipe that will shake up your morning routine, and has 267 calories per serving. The more ripe your banana, the less additional sweeteners, like honey, you will need.
Ingredients:
2 teaspoons honey
1 sliced frozen banana
1 cup chocolate soy or almond milk
Directions: Blend until creamy and enjoy!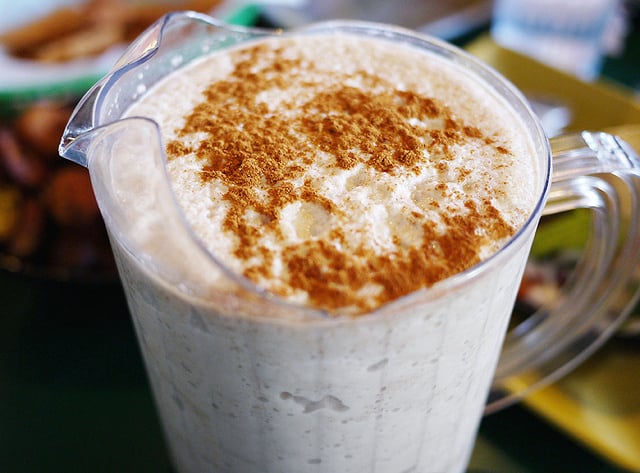 6. Pumpkin Pie Shake
If you've ever found yourself craving a little bit of Thanksgiving in the middle of the summer heat, Cooking Light has the milkshake that will quench your thirst and cravings all at once. At 198 calories, this pumpkin pie shake won't wreck your diet, and doesn't sacrifice flavor for calories.
Ingredients:
2 cups vanilla reduced-fat ice cream (such as Healthy Choice), softened
1 cup fat-free milk
⅔ cup canned pumpkin
¼ cup packed brown sugar
¾ teaspoon pumpkin-pie spice
3 tablespoons frozen fat-free whipped topping, thawed
pumpkin-pie spice (optional)
Directions: Combine first five ingredients in a blender; process until smooth. Pour ¾ cup ice cream mixture into each of 4 glasses. Top each with about 2 teaspoons whipped topping; sprinkle with the additional pumpkin-pie spice, if desired.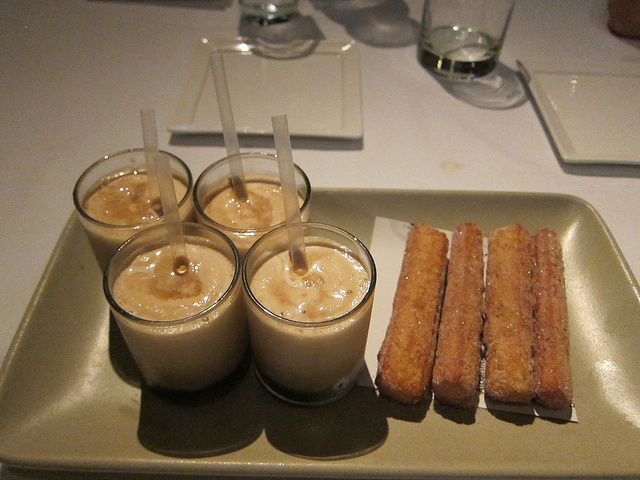 7. Mocha Milkshake
Frappuccinos and blended, frozen coffees are not the most waist-line friendly ways to find your caffeine fix, but as a dessert, you can't go wrong with the mocha milkshake from Food.com. Decadent and dreamy, the recipe makes two shakes, with about around 281 calories per serving.
Ingredients:
6 ice cubes
1 tablespoon instant coffee
2 tablespoons hot water
4 scoops vanilla ice cream
2 tablespoons Hersheys Chocolate Syrup
1 cup milk
Directions: Mix coffee and hot water until coffee is dissolved. Crush ice in blender and then add all remaining ingredients. Puree until smooth.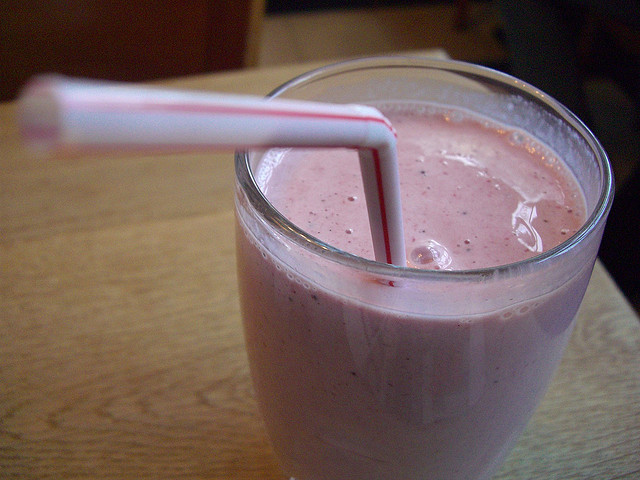 8. Strawberry Milkshake
Go for a classic milkshake flavor with this strawberry shake from Real Simple. You'll only need three ingredients before your blending away a shake that will cool you down, and only has 187 calories per serving.
Ingredients:
½ cup milk
1 pound strawberries, hulled
1 pint vanilla ice cream
Directions: Combine the milk, strawberries, and ice cream in a blender. Blend until mostly smooth with some pieces of strawberries remaining, 10 to 15 seconds. Divide between four glasses and serve immediately.
More From Wall St. Cheat Sheet: