8 Pasta Soup Recipes Perfect for a Cozy Meal
Pasta adds a pleasant textural element to all kinds of soups and stews, mingling with broth, veggies, meats, beans, and spices to yield irresistibly cozy meals. Armed with the right recipes and ingredients, you can make everything from a chunky spaghetti and meatball soup to a Thai noodle curry right in your own kitchen! For the best results in these dishes, Fine Cooking advises that pasta should be added toward the end of your soup-making process, as doing so will allow noodles to retain the delightful texture we all crave.
You and your family will love these eight recipes for comforting pasta soups.
1. Spinach Artichoke Pesto Tortellini Soup
Two Peas And Their Pod's recipe for Spinach, Artichoke, and Pesto Tortellini Soup offers a tasty medley of artichoke hearts, cannellini, cheese tortellini, pesto, spinach, and light seasonings. Please note that you can also use jarred or canned artichoke hearts in this recipe, so long as you drain them first. As for the basil pesto, you can try making your own at home — or, to save time, use a store-bought container. This recipe takes just 20 minutes to make and yields 6 servings. The leftovers make a great next-day lunch or dinner option!
Ingredients:
1 tablespoon olive oil
1 small yellow onion, diced
2 cloves garlic, minced
12 ounces frozen artichoke hearts
64 ounces vegetable broth
2 (14-ounce) cans cannellini or Great Northern white beans, rinsed and drained
3 cups cheese tortellini, refrigerated or frozen
2 cups fresh spinach leaves, roughly chopped
⅓ cup basil pesto
Salt and black pepper, to taste
Optional: Parmesan cheese, grated
Directions: In a large pot, heat the olive oil over medium heat. Add the onion and garlic and cook until tender, about 5 minutes. Stir in the artichoke hearts and cook for 2 to 3 minutes. Add the vegetable broth, beans, tortellini, and spinach leaves. Cook until tortellini is soft, about 7 minutes. Stir in the basil pesto and season with salt and black pepper, to taste. Serve warm with Parmesan cheese, if desired.
2. Crockpot Meatball Noodle Soup
Crockpot Gourmet's recipe for Meatball Noodle Soup offers a lighter alternative to your traditional spaghetti and meatball platter. Using turkey meatballs in this dish will help avoid a greasy, overly fatty soup. Should you opt to use beef for your meatballs, Crockpot Gourmet advises selecting a very lean cut. Feel free to prepare the meatballs ahead of time and store them in the freezer until you're ready to add them to the crockpot. This recipe yields 4 servings, and the dish is best served alongside crusty Italian bread and a fresh green salad.
Ingredients:
For the meatballs
1 pound lean ground turkey
1 egg
½ cup old-fashioned oats
½ cup Parmesan cheese
1 teaspoon dried Italian season blend
½ teaspoon salt
For the soup
24 ounces jar (or 3 cups) tomato sauce
4 cups chicken broth
½ teaspoon Italian seasoning
3 to 4 ounces dried spaghetti noodles, broken into 1- or 2-inch pieces, for later
Directions: In a medium bowl, add all meatball ingredients and work with hands until combined. Form into meatballs, large or bite-size — whatever you prefer.
Place meatballs into crockpot. Carefully add pasta sauce, broth, and seasoning. Don't stir, as this will break up the meatballs. Cook on low for 6 to 8 hours or on high for 3 to 4 hours. Then, add spaghetti noodles and let cook for 30 minutes on high, until noodles are done. Enjoy!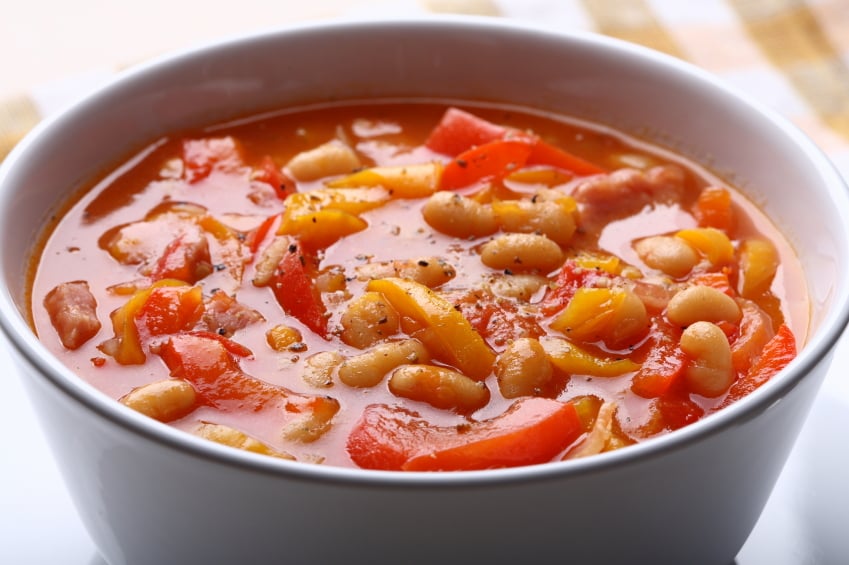 3. Pasta e Fagioli Soup
Pasta e Fagioli Soup is a staple of Italian fare, combining veggies, beans, and pasta in a hearty spiced broth. This no-fuss soup is flavored with oregano, thyme, and basil, making it an ideal choice for a quick, soothing, and simple weeknight dinner. Damn Delicious's Olive Garden-inspired recipe yields 8 generous servings — perfect for leftovers — and takes 30 minutes to make.
Ingredients:
1 cup ditalini pasta
2 tablespoons olive oil, divided
1 pound spicy Italian sausage, casing removed
3 cloves garlic, minced
1 onion, diced
3 carrots, peeled and diced
2 stalks celery, diced
3 cups chicken broth
1 (16-ounce) can tomato sauce
1 (15-ounce) can diced tomatoes
1 teaspoon dried basil
1 teaspoon dried oregano
¾ teaspoon dried thyme
Kosher salt and freshly ground black pepper, to taste
1 (15-ounce) can red kidney beans, drained and rinsed
1 (15-ounce) can Great Northern beans, drained and rinsed
Directions: In a large pot of boiling salted water, cook pasta according to package instructions; drain well and set aside.
Heat 1 tablespoon olive oil in a large stockpot or Dutch oven over medium heat. Add Italian sausage to the skillet and cook until browned, about 3 to 5 minutes, making sure to crumble the sausage as it cooks; drain excess fat and set aside.
Add remaining 1 tablespoon oil to the stockpot. Stir in garlic, onion, carrots, and celery. Cook, stirring occasionally, until tender, about 3 to 4 minutes.
Whisk in chicken broth, tomato sauce, diced tomatoes, basil, oregano, thyme, Italian sausage, and 1 cup water; season with salt and pepper, to taste. Bring to a boil; reduce heat and simmer, covered, until vegetables are tender, about 10 to 15 minutes. Stir in pasta and beans until heated through. Serve immediately.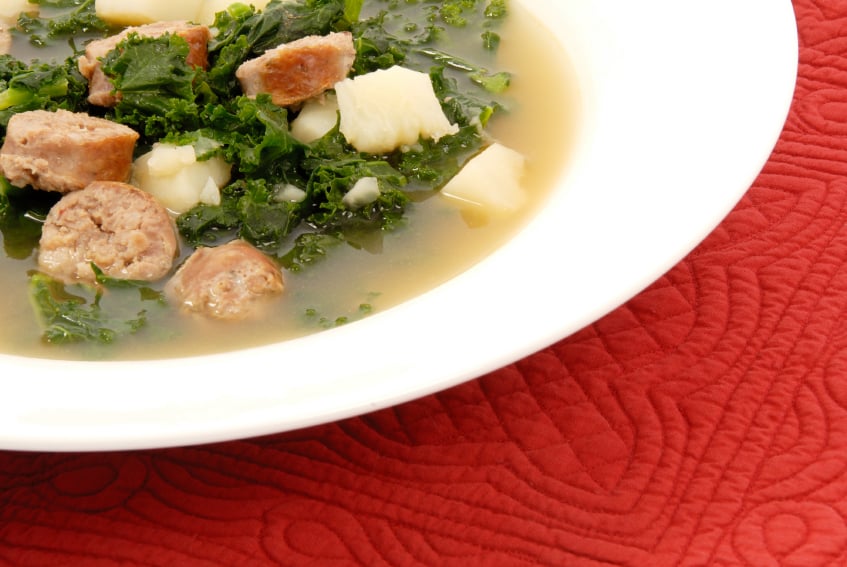 4. Kale and Sausage Rotini Soup
Although this Kale and Sausage Rotini Soup from Fashionable Foods calls for hot Italian sausage (pork), you may use whichever type of sausage is your favorite, or none at all. Again, you'll want to add in your rotini directly before serving to prevent it from soaking up too much broth; this method will also ensure that your pasta remains al dente. You can keep this soup in your refrigerator for up to 4 days after preparing, and leftovers can be frozen for up to 6 months. This recipe takes 25 minutes to make and yields 6 to 8 servings.
Ingredients:
For the sausage meatballs
3 links hot Italian sausage, removed from casing
1 egg, lightly beaten
1 tablespoon ketchup
¼ cup breadcrumbs
1 tablespoon extra-virgin olive oil
For the soup
1 onion, thinly sliced
3 cloves garlic, finely chopped
1 tablespoon tomato paste
1 bunch kale, chopped
Kosher salt and freshly ground black pepper
8 cups chicken broth
2 cups rotini, or short pasta of your choice
Parmesan cheese, grated
Directions: In a medium bowl, mix together the sausage, egg, ketchup, and breadcrumbs. Mix until just combined and shape into mini meatballs, about a tablespoon of meat for each meatball. Heat the oil over medium-high heat in a large soup pot. Add the meatballs and cook until brown on the outside. Remove to paper towels to drain and set aside.
Add the onion to the pot — if there is a lot of fat left in the pan, you can drain off all but a tablespoon — and sauté until translucent, about 1 minute. Add the garlic and cook until fragrant, about 1 minute. Add in the tomato paste and mix well. Then, stir in the kale and season with salt and pepper. Let the kale cook for 3 to 5 minutes, or until it's lightly wilted. Pour in the chicken broth and bring the soup to a simmer. Cook the soup, stirring occasionally, for 20 minutes. During the last 5 minutes of cooking, add the meatballs back in to heat through and finish cooking.
Meanwhile, cook the pasta in a pot of boiling salted water until al dente. Drain. Divide the soup into serving bowls and add noodles to each one. Top each serving with Parmesan cheese and serve.
5. Red Curry Noodle Soup
Drawing from Asian inspirations, this Red Curry Noodle Soup combines rice noodles, vegetables, and tofu in a mild and tasty coconut milk-based broth. To achieve that perfect curry flavor, you can either make your own red curry paste at home or purchase it at the grocery store (also available at any Asian market). You may want to adjust the level of curry paste in the dish according to your own spice preferences — Connoisseurus Veg advises adding just a bit at a time and taste testing. You can save yourself some time on the dish by preparing the noodles while the soup simmers. The recipe takes 20 minutes to make and yields 4 servings.
Ingredients:
3 ounces rice noodle vermicelli
4 cups vegetable broth
1 cup coconut milk
1½ tablespoons red curry paste
1¼ cups fresh baby corn, cut into 2-inch pieces
1¼ cups snow peas
½ pound extra firm tofu, cut into ½-inch cubes
2 scallions, chopped
¼ cup chopped fresh cilantro
Directions: Fill a large saucepan with water and place over high heat. Bring to a boil and remove from heat. Place noodles into water and soak until softened. This normally takes about 3 minutes, but refer to noodle package directions, as brands may vary. Remove from heat and drain. Rinse with cold water.
Combine broth, coconut milk, and curry paste in large saucepan. Place over medium heat and bring to a simmer, stirring occasionally. Make sure to stir enough to blend curry paste into broth completely.
Add baby corn and allow to simmer about 10 minutes, until baby corn is tender. Add snow peas and simmer just until bright green and tender-crisp, 2 to 3 minutes more. Stir in noodles and tofu. Ladle into bowls and top with scallions and cilantro.
6. Lemon, Chicken, and Orzo Soup
Lemon tends to be a popular ingredient in summertime staples — think lemon cakes and light pasta dishes — but citrus can be a welcome addition to fall and winter dishes, as well. She Wears Many Hats proves that point with a delightful Lemon, Chicken, and Orzo Soup, which combines celery, carrots, and onion with the flavors of chicken and lemon. If you'd like, you can use leftover grilled chicken, roasted chicken, or rotisserie chicken to save time.
Ingredients:
2 tablespoons olive oil
1 large onion, diced
2 cloves garlic, minced
2 celery stalks, sliced crosswise ½-inch thick
2 carrots, peeled and sliced
Kosher salt, freshly ground black pepper
1 teaspoon dried parsley
½ teaspoon dried thyme
½ teaspoon dried rosemary
½ teaspoon ground ginger
8 cups chicken stock (or broth)
1 pound roasted or rotisserie chicken, cut into chunks or pulled apart
4 tablespoons fresh lemon juice
¾ cup uncooked orzo pasta
Optional garnish: chopped fresh parsley, additional lemon wedges for squeezing
Directions: In a large heavy stock pot, heat oil over medium heat. Add onion, garlic, celery, carrots, and a couple of pinches of salt and pepper to season, cook, stirring occasionally, until vegetables are softened, about 4 to 6 minutes.
Push vegetables to side of pot. Add thyme, rosemary, and ginger and stir to toast for about 30 seconds, until fragrant. Stir herbs into vegetables.
Add stock, chicken, and lemon juice. Bring to simmer, cover, and let simmer about 5 minutes. Add orzo, cover, and simmer until al dente, about 8 minutes.
7. Lanzhou Beef Noodle Soup
Transport family and friends to Lanzhou, China, with this traditional Lanzhou Beef Noodle Soup recipe from The Woks of Life. The famous dish consists of a flavorful broth with shaved beef, tenderized Chinese radish, cilantro, scallion, chili oil, and long noodles. The flavors in this meal are truly unforgettable: Each hearty slurp introduces you to bursts of anise, cinnamon, clove, ginger, chili, peppercorn, and more. The dish takes 5 hours and 30 minutes to make, including cook time, and yields 6 servings.
Ingredients:
2 pounds beef or pork soup bones
Water
2¼ pounds beef shank
½ of a whole roasting chicken
4 cups chicken stock
Spice mix (recipe below)
Salt, to taste
½ of a small Chinese radish, quartered and thinly sliced
1 pound fresh or dried noodles
Hot chili oil, to taste (recipe below)
Chopped scallion
Chopped cilantro
For the spice mix
5 star anise
10 cloves
1 cinnamon stick
3 bay leaves
4 large slices of ginger
1 teaspoon fennel seeds
½ teaspoon cumin seeds
1½ teaspoons Sichuan peppercorns
1 teaspoon white peppercorns
3 pieces dried orange peel
For the hot chili oil
¾ cup oil
2 star anise
½ of a small cinnamon stick
½ teaspoon Sichuan peppercorns
3 tablespoons crushed red pepper flakes
1 teaspoon salt
¼ teaspoon sugar
Directions: Rinse the soup bones and pat dry. Roast them on a baking sheet at 400 degrees for 45 minutes. Bring a large stock pot of water to a boil, and add the beef shank and the chicken to the pot. Bring everything to a boil again. Once boiling, remove the shank and the chicken, discard the water, and clean the pot. This process gets rid of any impurities and will give your broth a cleaner flavor.
Put the beef shank and chicken back into the pot along with the roasted bones, 8 more cups of water, and 4 cups of chicken stock. Make the spice mix by combining all ingredients and tying them tightly in cheese cloth with a bit of kitchen string. Add this to the pot as well, and season with salt. Bring everything to boil.
Once boiling, turn down the heat to low and let everything simmer for about 2 hours. After 2 hours have elapsed, remove the beef shank and set aside. Add the sliced radish and continue simmering for another hour. After that, use tongs to pick out and discard the spice pouch, chicken, and soup bones. Taste the broth for salt and adjust the seasoning if needed. The soup base is ready.
While all that is happening, you can take the time to make your chili oil. In a small pot, add the oil, star anise, cinnamon, and Sichuan peppercorns.
Place the pot over very low heat and let everything toast together slowly for 15 minutes. Take care not to burn the spices. Use a slotted spoon to remove the spices, and turn off the heat. Let the oil cool for about 5 minutes, and then add the chili flakes. Slowly toast these in the hot oil until very fragrant and very red. Stir in the salt and sugar.
Once the broth and chili oil are done, cook the noodles in a separate pot according to the package instructions. Divide the noodles among 6 bowls. Slice the cooled beef shank into thin slices, and fan them out over the noodles. To finish, add a big ladle of broth and radishes, a spoonful of hot chili oil, and a handful each of chopped scallion and cilantro. Enjoy!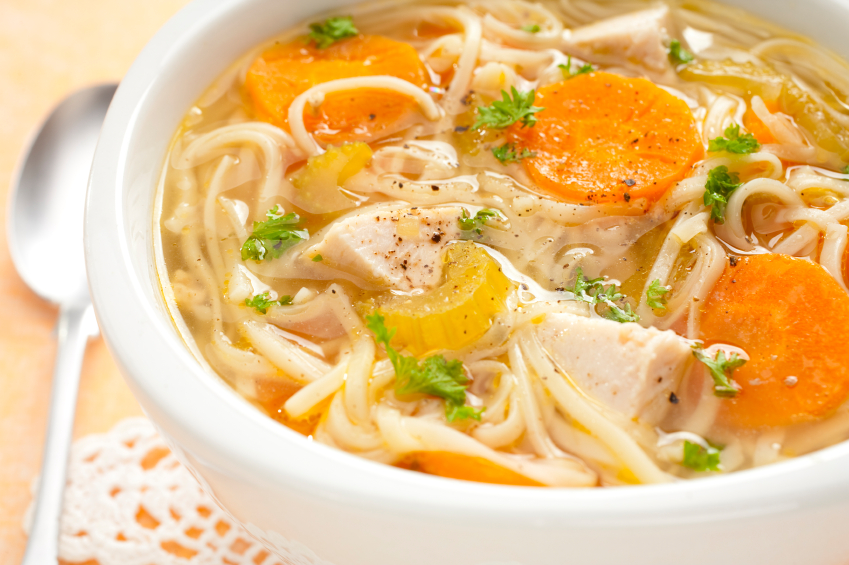 8. Turkey Noodle Soup
Pics & Pictures' Turkey Noodle Soup is a delicious and low-maintenance dish. Just throw the ingredients together in a pot, let it simmer, and enjoy! Carrots and celery mingle with bay leaf and thyme for a mild — yet distinct — flavoring, while egg noodles and chunks of turkey add a comforting textural element to the dish. As always, add in your pasta at the end to yield optimal results.
Ingredients:
2¼ cups cooked, chopped turkey
2 cups celery
2 cups carrots
2 cloves of garlic
8 cups chicken broth
¼ teaspoon dried bay leaves or 1 bay leaf
1 teaspoon dried thyme leaves
½ cup dried wide egg noodles
2 to 3 tablespoons butter
Salt and pepper, to taste
Directions: Cook noodles in separate pot, according to package instructions.
Sauté carrots, garlic, and celery in butter until tender, about 10 minutes.
In a large stock pot, add broth. Add turkey, carrots, garlic, celery, and spices. Heat on low-medium heat, stirring often. Add cooked noodles and heat, altogether, for about 10 minutes on medium heat. Stir often. Serve or cover and serve at a later time.
More from Life Cheat Sheet:
Want more great content like this? Sign up here to receive the best of Cheat Sheet delivered daily. No spam; just tailored content straight to your inbox.