8 Quick Weeknight Meals to Prepare This School Year
Transitioning from summer to a new school year can be chaotic. After-school activities and homework can end up consuming most of the evening, leaving little time to prepare dinner. However, you can still make sure your family gets a nutritious and delicious evening meal. These 8 dinner recipes are easy, healthy, and just what you need to help the family survive another school year.
1. Pan-Seared Chicken With Shallot and Carrots
It only takes 25 minutes to prepare these tasty chicken thighs and tender vegetables. The Delish recipe only yields 1 serving, so you'll want to be sure to prepare more to meet your family's needs.
Ingredients:
2 bone-in, skin-on chicken thighs
Coarse salt
Ground pepper
1 tablespoon all-purpose flour
1 shallot, halved and thinly sliced
2 carrots, thinly sliced
1 tablespoon chopped fresh parsley, for garnish (optional)
Directions: Season chicken with salt and pepper; sprinkle both sides with flour. Heat a medium skillet over medium-low. Place chicken, skin side down, in skillet, and cook (without turning) until skin is browned, 8 to 10 minutes. Turn chicken over, and push to one side of skillet. Add shallot and carrots to other side of skillet, and season with salt and pepper. Cook, tossing vegetables occasionally, until chicken is opaque throughout and vegetables are tender, 10 to 12 minutes. Transfer chicken and vegetables to a plate, and sprinkle vegetables with parsley, if desired.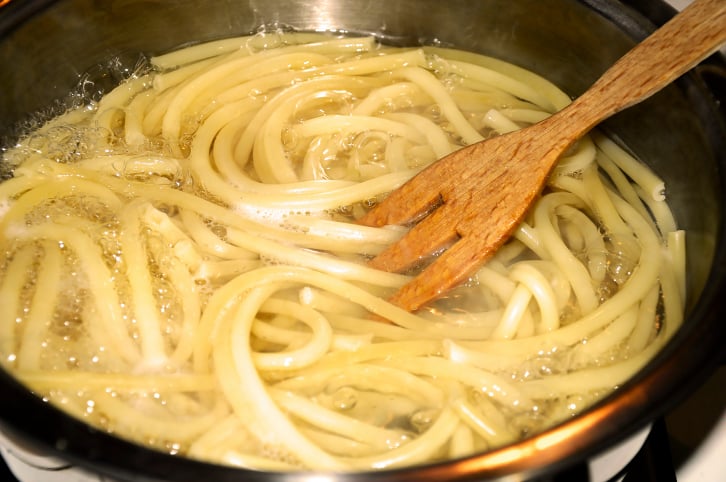 2. One-Pan Pasta
All you need is one pan to create this no-fuss family meal. Martha Stewart's recipe, which yields 4, is a combination of linguine, tomatoes, onion, garlic, red-pepper flakes, and basil. It will quickly become your go-to, especially on hectic weekday nights.
Ingredients:
12 ounces linguine
12 ounces cherry or grape tomatoes, halved or quartered if large
1 onion, thinly sliced (about 2 cups)
4 cloves garlic, thinly sliced
½ teaspoon red-pepper flakes
2 sprigs basil, plus torn leaves for garnish
2 tablespoons extra-virgin olive oil, plus more for serving
Coarse salt and freshly ground pepper
4 ½ cups water
Freshly grated Parmesan cheese, for serving
Directions: Combine pasta, tomatoes, onion, garlic, red-pepper flakes, basil, oil, 2 teaspoons salt, ¼ teaspoon pepper, and water in a large straight-sided skillet. Bring to a boil over high heat. Boil mixture, stirring, and turning pasta frequently with tongs, until pasta is al dente and water has nearly evaporated, about 9 minutes. Season to taste with salt and pepper, divide among 4 bowls, and garnish with basil. Serve with oil and Parmesan.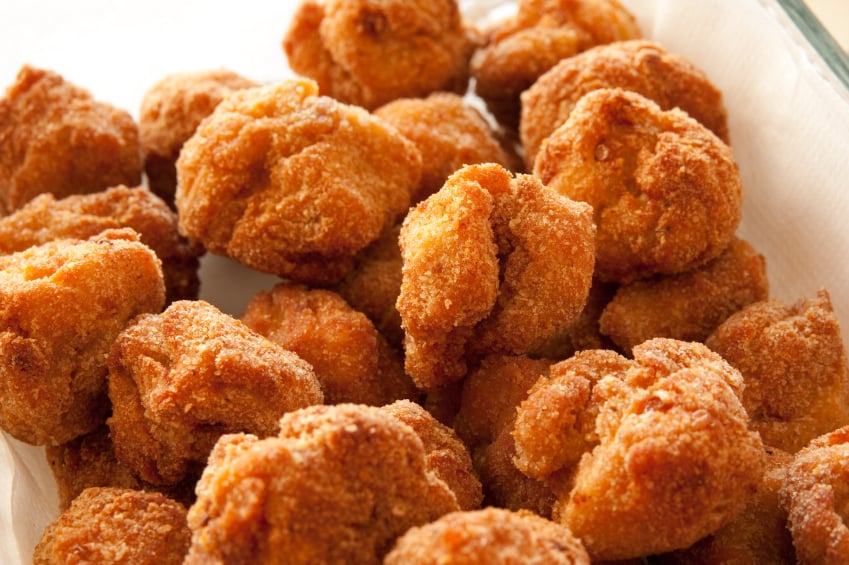 3. Herbed Chicken Nuggets
These tender nuggets, which are baked and not fried, will quickly become a family favorite. In fact, there's a good chance you'll find yourself enjoying AllRecipes.com's chicken nuggets just as much as your kids! The recipe yields 4 servings.
Ingredients:
4 skinless, boneless chicken breasts
2 eggs, beaten
1 tablespoon water
1 teaspoon chopped fresh parsley
½ teaspoon dried thyme
1 pinch crushed red pepper flakes
½ cup dried bread crumbs, seasoned
½ cup wheat germ
1 teaspoon dried basil
1 teaspoon ground black pepper
1 tablespoon vegetable oil
Directions: Preheat oven to 425 degrees Fahrenheit. Spray a baking sheet with non-stick cooking spray. Trim any fat from chicken and cut into 1-inch cubes. In a bowl, beat the eggs with the water and add the chicken. Combine the parsley, thyme, red pepper, bread crumbs, wheat germ, basil, and pepper. Stir in the oil with a fork and mix well to distribute evenly. Pour seasoning mixture into a resealable plastic bag and toss the chicken pieces to coat. Place coated chicken pieces on the prepared baking sheet and bake at 425 degrees Fahrenheit for 10 minutes, turn the pieces, and bake for an additional 5 minutes.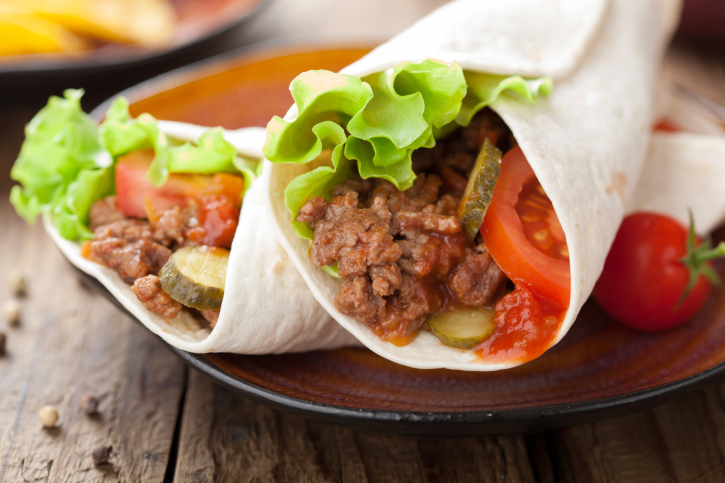 4. Crispy Bean and Cheese Burritos
With a prep time of 10 minutes, Family Circle's burrito recipe can easily be made in between helping the kids with homework. Plus, the brown rice, avocado, and beans create a nutritious and filling dinner your family will love. The recipe yields 6 servings, with each containing 415 calories and 15 grams of fat.
Ingredients:
1 bag (3 ½ ounces) boil-in-bag brown rice
1 cup salsa
⅓ cup chopped cilantro
1 ripe avocado, cut into ½-inch pieces
1 tablespoon lime juice
6 soft taco-size flour 

tortillas

1 cup shredded pepper jack cheese
1 can (15.5 ounce) black beans, drained and rinsed
Directions: Prepare rice according to package directions, about 10 minutes. Drain and place in a medium-size bowl. Stir in salsa and cilantro; set aside. In a small bowl, gently stir together avocado pieces with lime juice; set aside. Place tortillas on work surface and sprinkle 2 tablespoons cheese in center of each, from left to right. Top cheese with a heaping ¼ cup black beans. Place a heaping ⅓ cup rice mixture over beans then divide avocado pieces among tortillas. Fold up like an envelope, and repeat with remaining tortillas.
Heat a large nonstick skillet over medium-high heat. Coat top and bottom of burritos with nonstick cooking spray. Place 3 burritos in skillet, seam-side down, and cook for 1 to 2 minutes or until lightly browned and crisp. Turn burritos over and cook another 2 minutes. Repeat with remaining burritos, reducing heat if they get too browned.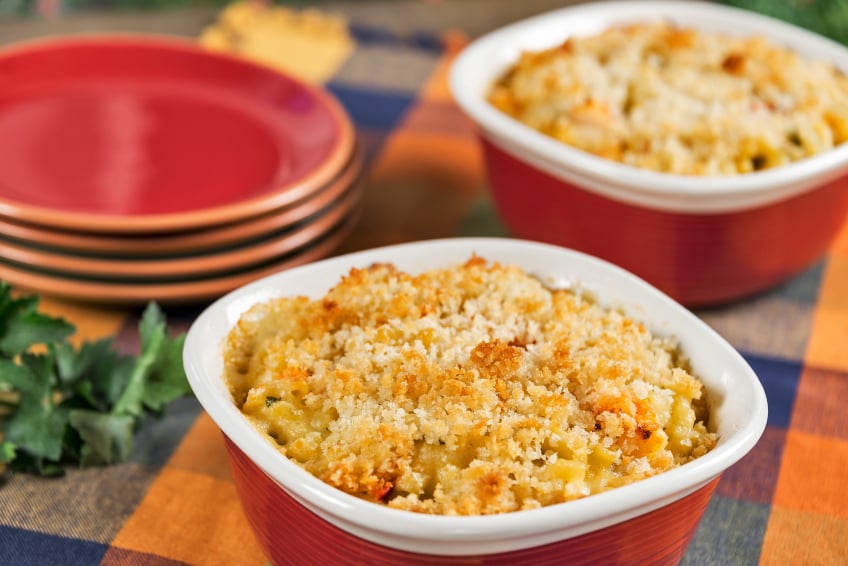 5. Broccoli Mac and Cheese
This is mac and cheese like you've never tasted before. CookingLight's recipe calls for Dijon mustard and Worcestershire sauce, along with nutrient-rich broccoli. If you can't find the large noodles that this recipe calls for, feel free to use the regular elbows instead. Each serving contains 380 calories and 10.1 grams of fat.
Ingredients:
8 ounces uncooked large elbow macaroni
2 cups chopped broccoli florets
1 ½ cups 1 percent low-fat milk
2 tablespoons all-purpose flour
1 teaspoon chopped fresh thyme
2 teaspoons Dijon mustard
2 teaspoons Worcestershire sauce
⅛ teaspoon salt
1 center-cut bacon slice, chopped
1 ½ teaspoons unsalted butter
4.5 ounces reduced fat cheddar cheese, shredded (about 1 cup)
Directions: Cook pasta according to package directions, omitting salt and fat. Add broccoli during the last minute of cooking; cook for 1 minute. Drain. Combine milk and next 5 ingredients (through salt) in a medium bowl, stirring with a whisk until smooth. Heat a large skillet over medium-high heat. Add bacon; cook 4 minutes or until crisp. Add butter to pan, and swirl until butter melts. Add milk mixture to pan; bring to a boil. Cook 1 minute, stirring frequently. Stir in cheese. Add pasta mixture to pan, stirring to coat.
6. Healthier Hamburger Helper
Hamburger Helper is a quick and easy weeknight dinner. Unfortunately, it's definitely not the healthiest meal. This School Family recipe, however, enables you to make a healthier version of the meat- and cheese-filled dish, ensuring you can prepare a fast and nutritional suppertime meal. The recipe yields 8 to 10 servings.
Ingredients:
1 tablespoon extra virgin olive oil
1 medium onion, cut into ¼-inch dice (about 1 ½ cups)
2 cloves garlic, minced
1 pound lean ground beef (93 or 95 percent lean)
1 teaspoon dried Italian seasoning
½ teaspoon black pepper
¼ teaspoon crushed red pepper flakes
8-ounce can no-salt-added tomato sauce
1 cup 1 percent low-fat milk, divided
10-ounce box chopped frozen spinach, thawed, drained and squeezed dry
12-ounce bag dried whole grain, wide egg noodles
2 tablespoons cornstarch
½ cup grated Parmesan cheese
¼ cup chopped fresh basil
Directions: Heat the oil in a large Dutch oven or saucepan over medium heat. Add the onion and cook, stirring frequently, until softened, about 7 minutes. Add the garlic and cook an additional minute. Raise the heat to medium-high. Add the meat, Italian seasoning, pepper, and red pepper flakes, and cook, breaking up the large pieces until no longer pink, about 5 minutes. Drain any excess fat. Stir in the broth, tomato sauce, ¾ cup of the milk, and the spinach, cover, and bring to a boil.
Stir in the pasta and return to a boil. Reduce the heat and cook at a low boil, covered, stirring occasionally, until the pasta is tender, about 9 minutes. In a bowl, whisk together the cornstarch and remaining ¼ cup milk until well-combined. Stir the cornstarch mixture into the pasta. Maintain at a low boil and stir gently until the mixture thickens, about 2 minutes. Remove from the heat and stir in the Parmesan cheese and fresh basil. Top individual servings with additional Parmesan cheese, red pepper flakes, and chopped basil as desired.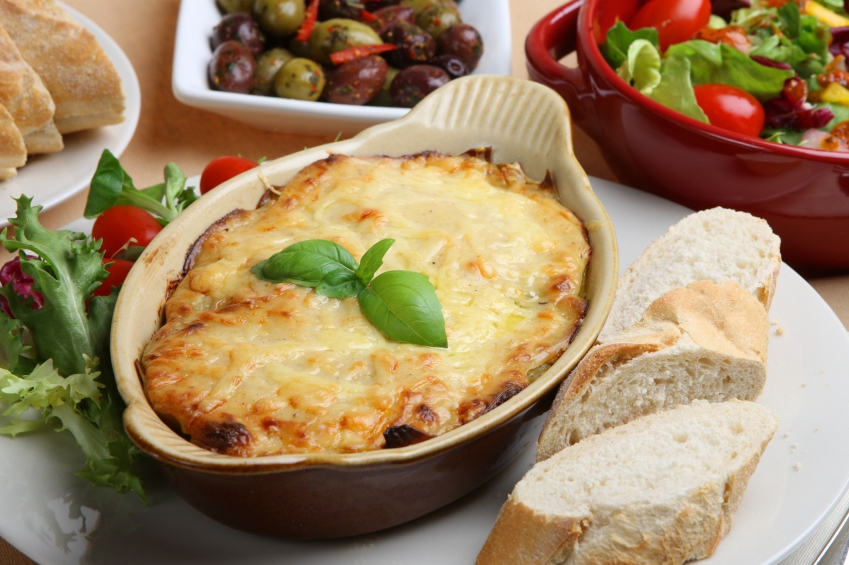 7. 5-Ingredient Chicken Parmesan Ravioli Bake
Aunt Bee's Recipes has created a fast and kid-friendly dinner dish. The best part, of course, is the fact that it only calls for 5 ingredients. With hardly any prep time involved, this chicken Parmesan ravioli bake is an effortless and tasty way to feed your family.
Ingredients:
25.5 ounces frozen popcorn chicken 

20 ounces 4 cheese refrigerated buitoni ravioli noodles

32 ounces marinara sauce

4 cups mozzarella cheese

1 cup shredded Parmesan cheese
Directions: Bake popcorn chicken according to package directions. Meanwhile, boil the ravioli in salted water for 1 minute less than al dente. Spray a 13 x 9-inch dish with cooking spray. Layer half the marinara, all of the ravioli, half the mozzarella, half the Parmesan, all of the chicken, the rest of the marinara, and finally, the rest of the mozzarella and Parmesan. Bake at 350 degrees for 15 to 20 minutes or until cheese is melted and bubbly.
8. Deep Dish Sausage Pizza With Spinach Salad
The Comfort of Cooking's recipe, which yields 4 to 5 servings, creates a crisp and crunchy crust, gooey cheese, and tasty sausages and herbs. Serve with a healthy salad as a side, and you'll have a mouthwatering weeknight meal.
Ingredients:
3 ½ tablespoons olive oil, divided
6 ounces Italian sausage, casings removed
12 ounces pizza dough, homemade or store bought, room temperature
½ pound mozzarella, grated (2 cups)
1 (14.5 ounce) can diced tomatoes, drained
½ teaspoon dried oregano
2 bunches spinach (about 8 cups)
2 large tomatoes, cut into small chunks
1 tablespoon balsamic vinegar
Salt and black pepper
Directions: Add 1 tablespoon olive oil to a pan and cook sausage over medium heat until browned, 6 to 7 minutes. As it cooks, break the sausage into crumbles with a potato masher (this makes it much easier) or large spoon. Drain on a paper towel-lined plate and set aside. Heat oven to 400 degrees Fahrenheit. Coat a 9-inch oven-proof skillet or cake pan with 1 and ½ tablespoons of the oil. Stretch and press the dough into the pan, covering the bottom and sides.
Top with half the mozzarella, then the tomatoes, oregano, and remaining mozzarella. Scatter the crumbled sausage over the pizza. Bake until the crust is golden brown, 30 to 35 minutes. Meanwhile, in a large bowl, toss the spinach with the tomatoes, vinegar, the remaining tablespoon of oil, ½ teaspoon salt, and ¼ teaspoon pepper. Serve with the pizza.
More From Life Cheat Sheet:
Want more great content like this? Sign up here to receive the best of Cheat Sheet delivered daily. No spam; just tailored content straight to your inbox.