8 Recipes Bringing the Grilled Greatness to Breakfast and Dessert
You don't hesitate to fire up the grill when it comes to dinner, but if that is the only meal you're preparing outside, then you are seriously missing out. Breakfast and desserts can grill up just as tastily as your dinner dishes, but don't take our word for it — these eight recipes can speak for themselves.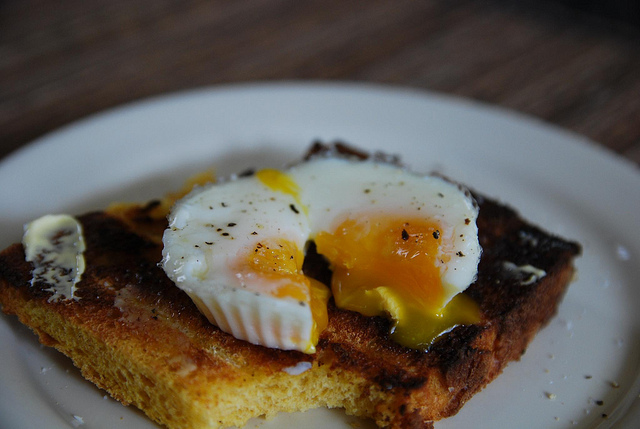 1. Eggs on the Grill
Crazy as it sounds, there are ways — like this idea from AllRecipes.com – to cook your eggs on the grill. Whether you're camping, tailgating, or just having breakfast at home, it is an easy, mess-free way to make eggs.
Ingredients:
Directions: Preheat an outdoor grill for medium-high heat and lightly oil grate. Coat all holes of a muffin pan with cooking spray and crack an egg into each hole. Place on grill and grill over medium-high heat for 2 minutes, or to desired doneness.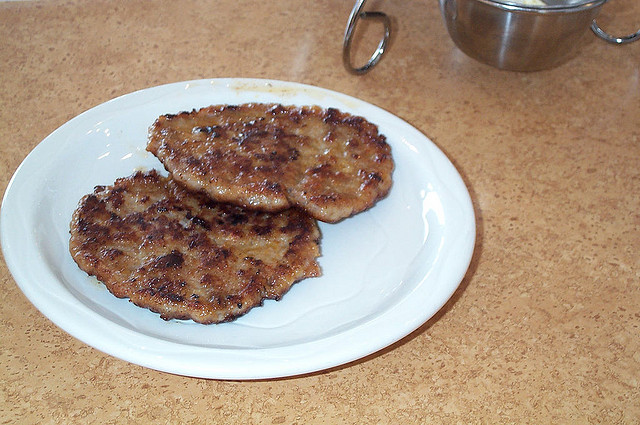 2. Apple and Cheddar Breakfast-Sausage Burger
Burgers for breakfast? When they are made with sausages, like in this recipe from Chow, why not? It will give new life to your breakfast sandwiches and makes enough for four burgers. You can also shape the sausage patties up to one day in advance.
Ingredients:
12 ounces fresh pork breakfast sausage, casings removed
1 medium tart apple, such as Granny Smith or Gravenstein
Vegetable oil, for coating the grill
1 tablespoon maple syrup, plus more for serving
4 English muffins, split
4 ounces sharp cheddar cheese, thinly sliced
Directions: Divide the sausage into 4 equal portions. Shape each portion into an even 1/4-inch-thick patty that's about 1/2 inch wider in diameter than the English muffins. Using your thumb, make a shallow 1-inch-wide indentation in the center of each patty, place them on a plate, and set aside.
Heat a grill pan or outdoor grill to medium high. Meanwhile, slice the apple into (1/2-inch-thick) rounds. Set aside the 4 widest slices, removing any seeds as necessary. Save any extra apple slices for another use. When the grill is ready, use tongs to rub the grate with several layers of paper towels dipped in vegetable oil. Using a flat spatula, transfer the 4 apple slices and the sausage patties (indentation-side up) onto the grill and cover the grill. Cook undisturbed (do not press down on the patties) until grill marks appear on the bottom of the patties and apples, about 3-4 minutes. Flip the patties and apples and brush them with the measured maple syrup, using all of it. Cover the grill and cook until the patties are cooked through and the apples have softened slightly, about 3-4 minutes more. Remove to a clean plate and tent loosely with foil.
Place the muffins cut-side down on the grill and toast until grill marks appear on the bottoms, about 2-3 minutes. Flip the muffins and evenly distribute the cheese among all of the muffin halves. Cover the grill and continue to cook until the cheese has melted, about 3 minutes more. Remove to a work surface.
To assemble, place 1 sausage patty and 1 apple slice on 4 of the muffin halves; top with the remaining 4 halves. Serve immediately, passing additional maple syrup on the side.
3. Grilled Breakfast Pizza
In this breakfast recipe from The Daily Meal, you start out with your preparations inside but finish everything off on the grill. If you do not want to make your own pizza dough, substitute with your favorite pre-made brand; the pizza will serve eight.
Ingredients:
1 pound bacon, cut into 1/2-inch pieces
3-4 eggs
2 cups flour
3 teaspoons baking powder
1 teaspoon salt
1/2 teaspoon dried oregano
1/3 cup shortening
3/4 cup milk
1 cup baby Bella mushrooms, sliced
1 green bell pepper, sliced
1-2 cup shredded sharp cheddar cheese
Salt and pepper, to taste
Oil, as needed
Directions: Preheat the grill to medium high for at least 15 minutes. In a sauté pan over a stove, cook the bacon until crispy. Using a slotted spoon, remove the bacon from the pan and set aside to drain. Beat together the eggs and season with salt and pepper. Scramble in the same pan as the bacon, until just set. Remove from heat and set aside your grill.
In a large bowl, mix together the flour, baking powder, salt, and oregano. Add the shortening to the same bowl and cut the dry ingredients into the shortening using a pastry cutter or a fork. The idea is to work it until the dough is crumbly and in very small pieces. Add a handful or two of the bacon and toss gently to combine. Slowly add the milk and stir the dough until it comes together, careful not to overstir it.
Using a rolling pin or your hands, spread the dough out into a large, round shape. Lightly grease one side of the dough with oil, and then grease the grill grates with a little oil, as well. Place the dough on the grill, oiled side down, and cook until the dough is set, about 2 minutes. Flip the dough and top it with the scrambled eggs, remaining bacon, mushrooms, peppers, and cheese. Cook the pizza, covered, for about 10 minutes, or until the dough is cooked through and the cheese has melted.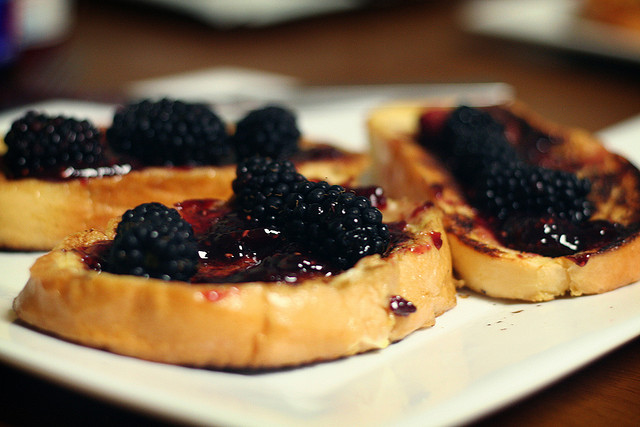 4. Grilled French Toast
The type of bread used to make French toast is always important, but especially so when you're grilling. You want something substantial that won't fall apart or get plastered to the grates. That is why Grilling.com says to cut your loaf of bread into thick slices. You could also use a thick-sliced bread, such as Texas toast.
Ingredients:
Whole loaf bread (white, Italian, challah or brioche)
5-6 eggs
1 teaspoon vanilla
Cinnamon, to taste
2 tablespoons (or more) milk
Nonstick spray
 2 -3 tablespoons Triple Sec, Cointreau, Grand Marnier or orange juice (optional)
Directions: Before preheating your grill to medium heat, spray nonstick spray on the grates. This will cut down on the bread sticking. Beat your eggs and add the milk, vanilla, cinnamon, and optional Triple Sec to the mixture. Cut your slices of bread pretty thick, because they are going to be going on the grill. Dip slices in egg mixture and make sure they get good and saturated. Once the grill is good and hot at medium, place your slices on the grill and cook until there are grill marks on one side. Be careful not to burn, and then switch sides.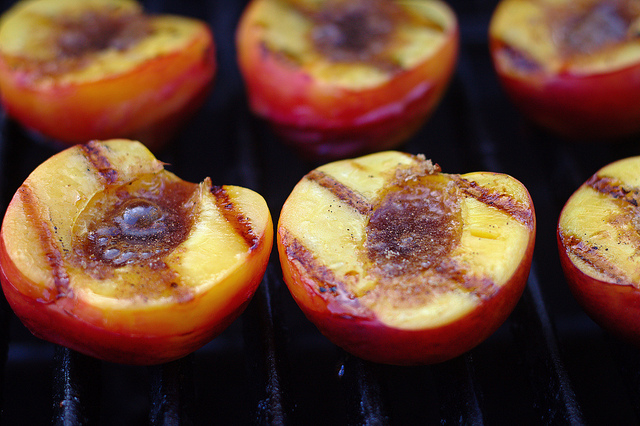 5. Grilled Peaches with Honey Cream
Add a bit of crunch to the peaches and cream from Cooking Light by sprinkling granola over the top. Even if you don't, you'll have four servings of a breakfast that provides fruit, filling Greek yogurt, and plenty of sweetness first thing in the morning.
Ingredients:
2 tablespoons unsalted butter, melted
2 tablespoons honey, divided
1/4 teaspoon ground cardamom
Dash of kosher salt
4 medium peaches, pitted and halved
Cooking spray
1/3 cup plain fat-free Greek yogurt
2 1/2 tablespoons half-and-half
1/4 teaspoon vanilla extract
1 cup raspberries
Directions: Combine melted butter, 1 tablespoon honey, cardamom, and salt in a medium bowl. Add peaches, and toss to coat. Let stand for 5 minutes. Heat a grill pan over medium heat. Coat pan with cooking spray. Arrange peaches on grill pan; grill 2 minutes on each side or until grill marks appear. Combine yogurt, half-and-half, remaining 1 tablespoon honey, and vanilla in a small bowl; stir with a whisk. Serve with peaches and raspberries.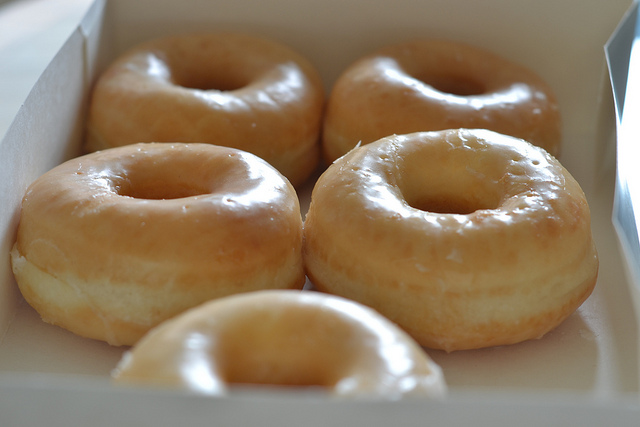 6. Grilled Donuts
File this recipe from Better Homes and Gardens under breakfast or dessert. You may have had warm glazed donuts from a shop or fresh out of the oven, but have you ever thought of grilling them? Serve this unique dish with strawberry basil dip or mint julep dip, if desired.
Ingredients:
8 glazed doughnuts
Nonstick cooking spray
Strawberry basil dip
6 ounces fresh strawberries, hulled (about 1 1/4 cups)
4 ounces cream cheese, softened (¼ cup)
3 tablespoons honey
1 tablespoon packed fresh basil leaves
Mint julep dip
6 tablespoons sugar
1 tablespoon packed fresh mint leaves
6 ounces cream cheese, softened (3/4 cup)
1/4 cup milk
2 tablespoons bourbon
Directions: For the strawberry basil dip, in a blender or small food processor, combine strawberries, cream cheese, and honey. Cover; blend or process until smooth, stopping to scrape down sides as necessary. Add basil; pulse until just chopped. Serve immediately, or cover and refrigerate.
To make the mint julep dip, in a small bowl, combine sugar and mint leaves. Using a wooden spoon, mash mint and sugar until fragrant, 30 seconds to 1 minute.
In a blender, container or food processor, combine sugar mixture, cream cheese, milk, and bourbon. Cover; blend or process until smooth, stopping to scrape down sides as necessary. Serve immediately, or cover and refrigerate.
Prepare the donuts. Heat charcoal or gas grill to medium low. Coat doughnuts with cooking spray. Grill doughnuts, covered, until lightly browned, 30 seconds-1 minute per side. Watch closely to avoid burning. Serve grilled doughnuts with dips.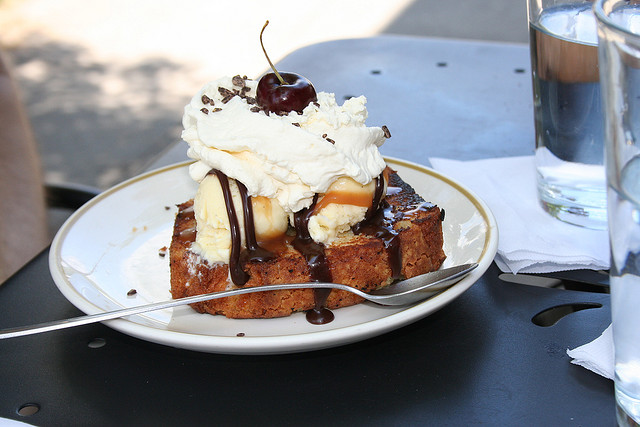 7. Grilled Pineapple and Pound Cake 
Bobby Flay usually has a few tricks up his sleeve when it comes to grilling, like in this Cooking Channel recipe. As with the donuts, it gives you a chance to take something you buy in the a store and truly make it your own. Paired with pineapple, ice cream, and topped with a caramel rum sauce, it is a dessert you'll want to make all summer long.
Ingredients:
2 tablespoons unsalted butter
¾ cup dark brown sugar
2 tablespoons dark rum
½ cup heavy cream
1 small pineapple, peeled and cut in half
¼ cup canola oil
1 store-bought pound cake, cut into ½-inch thick slices
Vanilla ice cream, for serving
Maraschino cherries, optional
Directions: Melt the butter in a small saucepan over high heat, add the brown sugar and rum, and cook, whisking until the sugar has melted and the mixture is smooth. Whisk in the heavy cream and cook until heated through and slightly thickened. Transfer the mixture to a bowl; keep warm.
Heat the grill to high. Brush the pineapple on both sides with the oil and place on the grill. Grill until golden brown and caramelized on both sides, about 6 minutes. Remove from the grill, stack the slices, and cut into chunks. While the pineapple is grilling, place the pound cake on the grill until lightly golden brown on both sides, about 20 seconds on each side. Remove the pineapple from the grill and, when cool enough to handle, either slice or cut into chunks.
Top each piece of pound cake with some of the pineapple and drizzle with the caramel-rum sauce. Top with more pound cake, vanilla ice cream, and a maraschino cherry, if desired.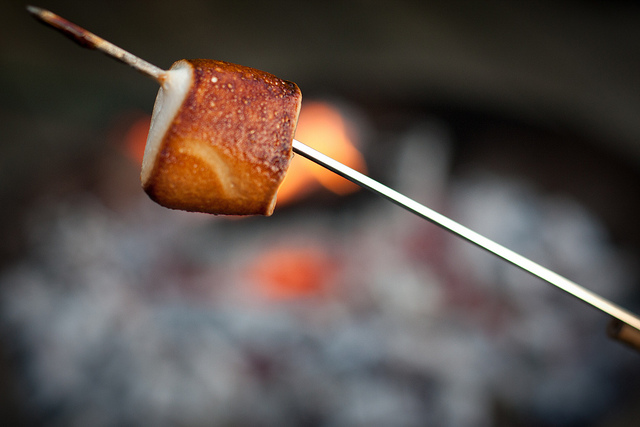 8. Peanut Butter S'mores
You're used to the idea of grilling marshmallows for s'mores, but this Taste of Home recipe will change how you view your s'more ingredients. Cookies replace graham crackers and peanut butter comes come in instead of chocolate squares for a decadently updated s'more.
Ingredients:
8 large chocolate chip cookies
4 teaspoons hot fudge ice cream topping
4 large marshmallows
4 peanut butter cups
Directions: Spread the bottoms of four cookies with fudge topping. Using a long-handled fork, grill marshmallows 6 inches from medium-hot heat until golden brown, turning occasionally. Carefully place a marshmallow and a peanut butter cup on each fudge-topped cookie; top with remaining cookies. Serve immediately.
More From Wall St. Cheat Sheet: