8 Recipes for a Holly Jolly, Healthier Holiday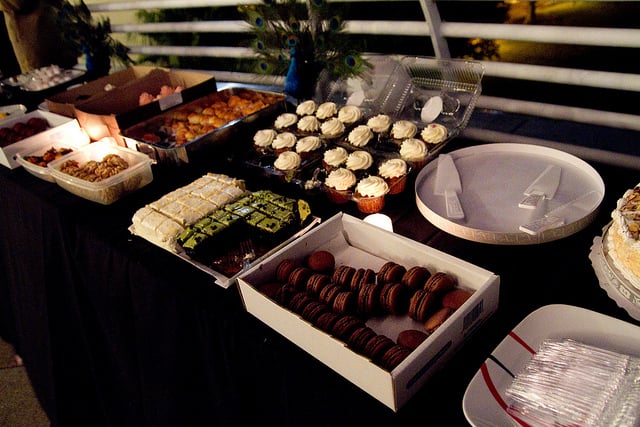 The holiday season can be a downfall for many dieters. Desserts, brunches, appetizers, and parties galore present multiple opportunities to feast on treats that aren't a gift to your health.
The statistics on holiday weight gain are all over the place, but the most accurate — and vague — are offered by the Cleveland Clinic. It says that "most adults gain some weight over the holidays." Weight gain and weight loss isn't a one-size-fits-all category. You may find you gain weight during the holidays are are looking to avoid that this year. Or perhaps you want to continue making smarter food choices, building strong, health-conscious habits.
Regardless of the reason, just because it's the holidays doesn't mean you have to give up on your health. The following are eight recipes that cut calories or use better ingredients to keep your diet on track through all the festivities this year.
1. Pecan pie cupcakes
A regular slice of pecan pie might set you back 500 calories and can be packed with fat. Making Food.com's pecan pie cupcake won't cut the flavor but will take the calories down to about 130 per serving.
Ingredients:
1 cup chopped pecans
1/2 cup all-purpose flour
1 cup packed brown sugar
2/3 cup butter, melted
2 eggs
Directions: Preheat oven to 350 degrees Fahrenheit. Combine all ingredients, mixing well. Spray a miniature muffin tin with nonstick cooking spray. Fill each 3/4 full and bake for approximately 18 minutes.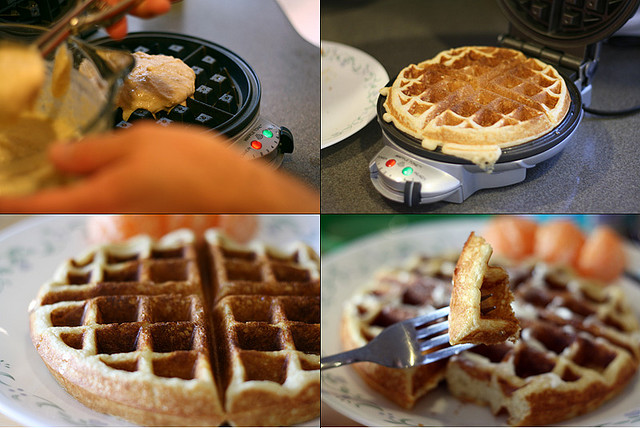 2. Whole-wheat waffles
Planning a brunch during the holiday season? Get the added benefits of whole grains by using King Arthur Flour's recipe. Compared to refined or enriched flour, whole wheat adds fiber and protein while retaining nutrients, the Whole Grains Council explains.
Ingredients:
1 1/2 cups whole-Wheat flour
2 teaspoons baking powder
1/2 teaspoon salt
2 tablespoons sugar
1 large egg
1 1/2 cups lukewarm milk
1/3 cup melted butter or vegetable oil
Directions: Preheat your iron while you make the waffle batter. Whisk together the flour, baking powder, salt, and sugar.
In a separate bowl, whisk together the egg, milk, and butter or oil. Mix together the wet and dry ingredients, stirring until combined. The batter will be a bit lumpy; that's OK.
Cook the waffles as directed in the instructions that came with your waffle iron.
Yield: 3 1/2 round, Belgian-style (deep-pocket) 7-inch waffles.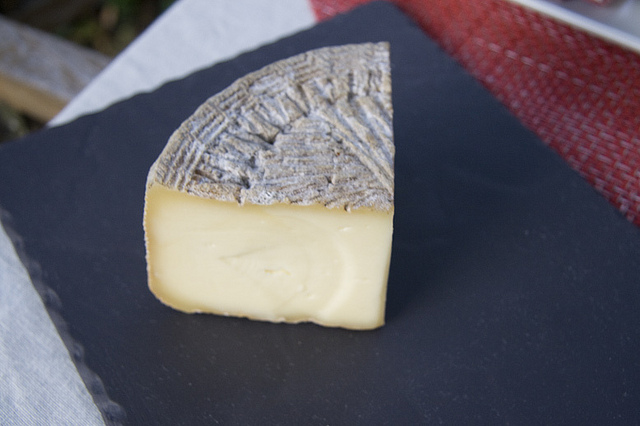 3. Mini Brie and apple quiches
Baking healthier isn't just for brunch or desserts. Eating Well knows that apples and brie make up a classic flavor combination. When paired together in mini quiche form, they become a portable, healthy appetizer for your next party.
Ingredients:
30 mini phyllo shells
1/2 medium apple, peeled and finely diced
5 large eggs
1 teaspoon Dijon mustard
1/4 teaspoon salt
Pinch of freshly ground pepper
Pinch of ground nutmeg
4 ounces Brie (1/2 small wheel), cut into 30 squares
Directions: Preheat oven to 350 degrees Fahrenheit. Arrange phyllo shells on a large parchment-lined baking sheet. Divide apple among the shells.
Whisk eggs, mustard, salt, pepper, and nutmeg in a large measuring cup. Pour the egg mixture over the apple (do not overfill the shells). Place a Brie square in each shell. Bake until the egg is set, the Brie is melted, and the phyllo is starting to brown around the edges — about 15 minutes.
Let cool slightly before serving.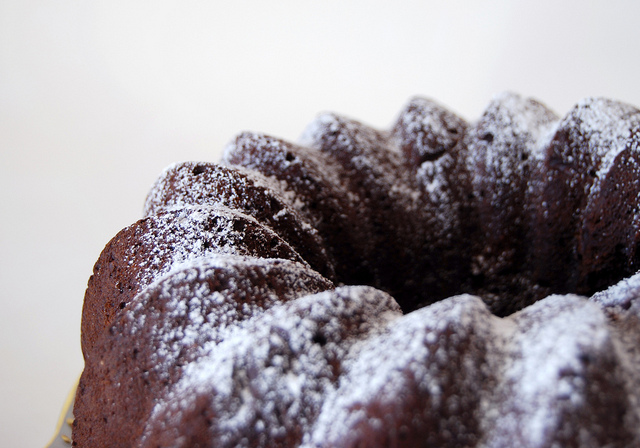 4. Decadent chocolate cake
A slice of this cake from the Food Network comes in at less than 200 calories, and the recipe uses protein-packed Greek yogurt. Most importantly, its rich flavors — cocoa, espresso powder — keep it from feeling like a "healthy" dessert.
Ingredients:
2 cups all-purpose flour
1 1/3 cups sugar
2 teaspoons baking powder
1/2 teaspoon baking soda
1/4 teaspoon cardamom
3/4 teaspoon fine salt
2/3 cup unsweetened, Dutch-process cocoa powder
1 teaspoon instant espresso powder
1/2 cup boiling water
1 tablespoon vanilla extract
1 cup low-fat (2 percent) Greek-style yogurt
1/2 cup 1 percent low-fat milk
1/3 cup canola oil
1 large egg
1 large egg white
1/3 cup currants, soaked in hot water for 1 minute, drained
1/2 cup chopped semisweet or bittersweet chocolate
Confectioners' sugar for dusting
Directions: Preheat the oven to 325 degrees Fahrenheit. Generously spray a 10-inch Bundt pan with cooking spray. Combine flour, sugar, baking powder, baking soda, cardamom, and salt in a medium bowl. Combine cocoa and espresso powder in a small bowl. Pour boiling water over the cocoa mixture, whisking until smooth. Stir in vanilla.
Whisk together the yogurt, milk, oil, egg, and egg white in a large bowl; stir in the cocoa mixture until blended. Gradually add the flour mixture, stirring until combined. Stir in the currants and chopped chocolate.
Pour the batter into the pan. Bake in the center of the oven until an inserted cake tester comes out clean, about 50 minutes. Cool on a baking rack for 10 minutes, then turn the cake out onto a baking rack to cool completely. Dust generously with confectioners' sugar just before serving.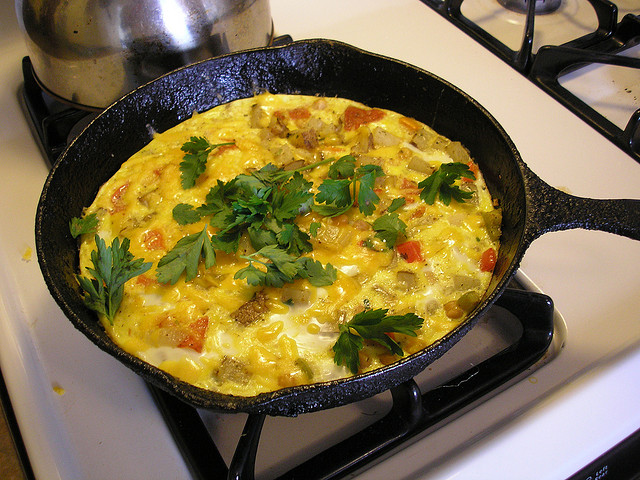 5. Potato and zucchini frittata
Back at brunch, you may find yourself looking for a heartier option than waffles. In that case, bake this protein-rich frittata from the Food Network, one serving of which has 18 grams of protein. It is low in calories but has high levels of cholesterol and sodium, so modifications may be necessary if those are health concerns.
Ingredients:
1 small russet potato, peeled and cut into 1/2-inch cubes
4 large eggs
2 egg whites
2 tablespoons coarsely chopped fresh cilantro leaves
3/4 teaspoon salt
1/4 teaspoon hot sauce
1 tablespoon olive oil
1 garlic clove, minced
1 small onion, finely chopped
1 small zucchini (about 6 ounces), grated and squeezed dry in clean kitchen towel
1/2 cup queso fresco (2 ounces)
2 strips cooked crumbled turkey bacon, optional
Directions: Bring the potatoes with enough cold water to cover to a boil in a small saucepan. Cook over medium-high heat, until the potatoes are tender, 6 to 8 minutes; drain and pat dry. Whisk together eggs, egg whites, cilantro, salt, and hot sauce in a large bowl.
Preheat the oven broiler to medium-high. Heat the oil in a medium (10-inch) ovenproof nonstick skillet over medium-high heat. Add the garlic and onion and cook, stirring occasionally, until the onion is translucent, 2 minutes. Add zucchini and cook until tender, about 6 minutes more. Add the cooked potatoes and cook, stirring occasionally, until the potatoes begin to brown slightly, about 4 minutes more.
Evenly pour the egg mixture over the vegetable mixture. Cook over medium heat, tilting the pan and lifting the edges with a rubber spatula to let the uncooked egg flow underneath. Sprinkle with cheese and the bacon, if using. Broil, 5 to 7 inches from the heat, until the eggs puff and are just set and the cheese is golden brown, about 5 minutes. Remove carefully to a plate or serve in wedges directly from the skillet.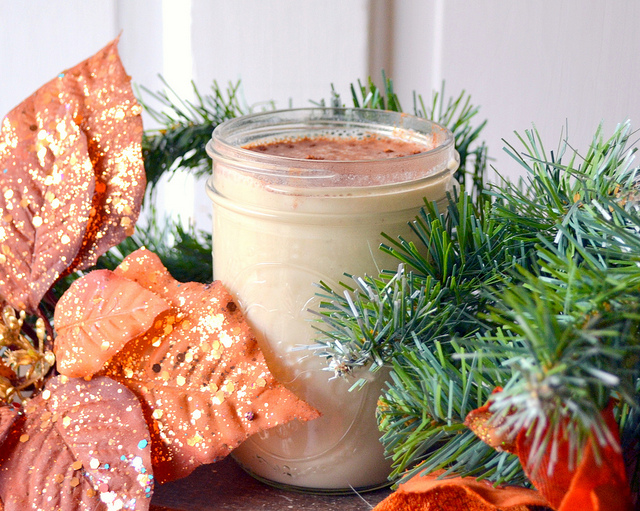 6. Eggnog
The contradiction of healthy eggnog was summed up by one reviewer of this Cooking Light recipe, who is definitely coming back for more. "I started off with modest expectations — a LIGHT version of eggnog? How good can it really be. I was shocked!! It is rich and creamy and tastes so close to the real thing."
So instead of missing out on eggnog altogether, skip on some of the full-fat ingredients and still indulge in the rich flavors of this holiday drink.
Ingredients:
3 1/2 cups 1 percent low-fat milk
1/2 cup fat-free sweetened condensed milk
1 tablespoon all-purpose flour
1/4 teaspoon grated whole nutmeg
1/8 teaspoon salt
2 large egg yolks
1/4 cup bourbon
2 tablespoons brandy
1 teaspoon vanilla extract
Additional grated whole nutmeg (optional)
Directions: Combine first five ingredients in a medium saucepan. Bring to a boil over medium heat, stirring constantly with a whisk. Place egg yolks in a medium bowl. Gradually whisk one-third of hot milk mixture into egg yolks. Add yolk mixture to remaining hot milk mixture, stirring with a whisk. Cook over medium heat 1 minute or until slightly thickened. Pour into a pitcher; stir in bourbon, brandy, and vanilla.
Cover surface of eggnog with wax paper; refrigerate at least four hours or overnight. Garnish with additional nutmeg, if desired.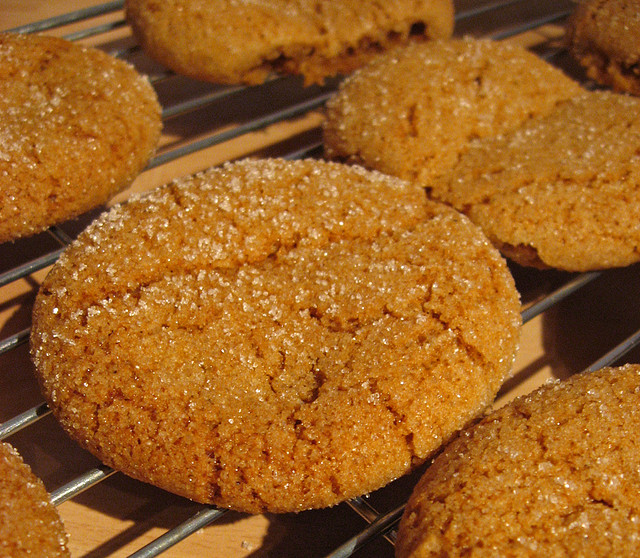 7. Soft and spicy ginger cookies
It just isn't Christmas without a Christmas cookie. Flavorful and less than 100 calories per serving, these Food.com cookies converted several people who "hate" ginger, according to reader comments. Make a batch of these crowd-pleasing, diet-friendly cookies to take to a party this year.
Ingredients:
3/4 cup margarine, softened
1 cup white sugar
1/4 cup molasses
2 1/2 cups all-purpose flour
1/3 cup water
1 1/2 teaspoons baking soda
2 teaspoons ground ginger
1 teaspoon ground cinnamon
1/2 teaspoon ground cloves
1/2 teaspoon nutmeg
1 tablespoon fresh ginger, chopped
1/4 teaspoon salt
3/4 cup raisins (optional)
2 tablespoons white sugar
Directions: In a large bowl, cream together the margarine and sugar until light and fluffy. Stir in the molasses. Mix the water and baking soda and stir. Sift together the flour, salt, and dry spices; add gradually to the sugar-margarine mixture. Gradually stir the sifted ingredients, along with the ginger and raisins, into the molasses mixture.
Shape dough into walnut sized balls and roll them in the remaining 2 tablespoons of sugar. (The dough may be too soft to handle at this point — I suggest either adding a bit of flour or refrigerating for 20 minutes or even overnight).
Place the cookies 2 inches apart onto an un-greased cookie sheet and flatten slightly. Bake at 350 degrees Fahrenheit for 10-12 minutes.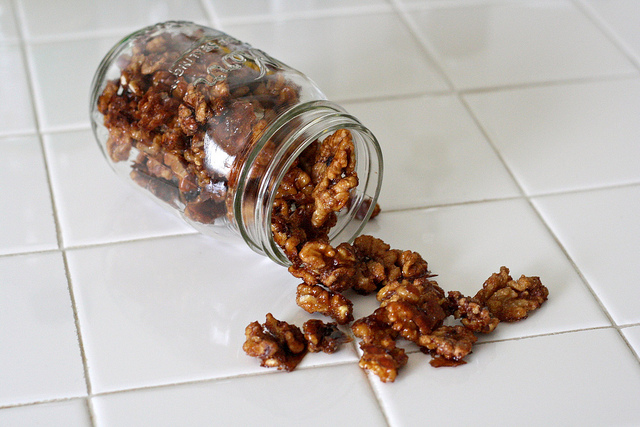 8. Cinnamon and vanilla walnuts
This recipe from the Nourishing Gourmet is working overtime this holiday season. Set the walnuts out in bowls for guests to snack on throughout the evening or save them for the dessert table. Either way, everyone will be munching on a sweet treat and getting a healthy dose of omega-3 fatty acids. They can even be made ahead of time and stored in an airtight container for up to two weeks.
Ingredients:
1 egg white
2 teaspoons of cinnamon
1 teaspoon of vanilla extract
1 teaspoon of salt
1/3 cup of rapadura, sucanat, maple sugar, or palm/coconut sugar
2 1/2 cups of walnuts
Directions: Preheat the oven to 300 degrees Fahrenheit  (the rack should be in the middle of the oven). Either lightly coat a cookie pan with coconut oil or butter or cover with parchment paper.
Lightly beat the egg white with a whisk (just until a bit foamy). Add the cinnamon, vanilla, salt, and sugar. Stir in the walnuts and coat them well. Remove the walnuts with a slotted spoon (allowing extra coating to drip out), and place on the cookie sheet. Spread out on the cookie sheet so that the nuts aren't touching for the most part. Place in oven for 25 minutes.
Remove from the oven and let cool for 20 minutes.
Don't Miss: Organic Foods: 7 Ways to Go Green and Save Green.