8 Recipes for a Pasta-Free Italian-Inspired Evening
When it comes to Italian food, pasta is just one of the many options at your cooking fingertips. Don't get us wrong, we are huge pasta fans, but sometimes when you crave Italian food, you want something other than just those tasty noodle dishes. For a quick primer in non-pasta ingredients, here are a few tips Dominique Rizzo, author of My Taste of Sicily, shared with Life Style Food. To elevate the flavors of your dishes, Rizzo says to use the best quality olive oil possible, always cook with fresh tomatoes, and to incorporate a lot of herbs — like rosemary, thyme, oregano, basil, and parsley.
"Italian food is often quick and simple to make so always have a good array of ingredients on hand," Rizzo explained, listing items like parmesan cheese, olives, tomatoes, and seasonings to stock up on. With the basics down, it is time to head to the kitchen so you can make one of these eight great recipes.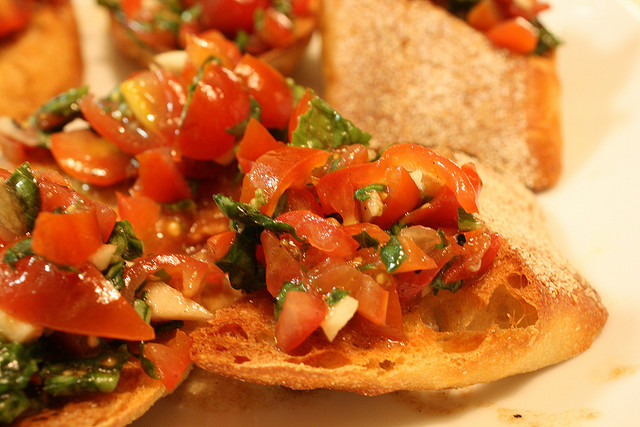 1. Bruschetta
All of this cooking and baking you're about to do is bound to make you hungry, and if you just absolutely cannot wait until your Italian meal is sitting on the table, make a classic Italian appetizer, like this bruschetta from Tuscan Recipes. You can also grill the bread instead of broiling it; this recipe serves around twelve people.
Ingredients:
8 chopped ripe roma (plum) tomatoes
5 leaves chopped fresh basil
2 cloves minced garlic
1 pinch of dried oregano
1 dash of crushed red pepper
1 pinch salt
1 pinch ground black pepper
2-3 tablespoons extra-virgin olive oil
1 loaf of Italian-style (or French) bread, cut into diagonal slices
Directions: In a large bowl, combine the tomatoes, basil, garlic, oregano, red pepper, salt, pepper, and olive oil. Use more olive oil, if necessary, to coat the entire mixture. Allow the mixture to sit for 10 to 15 minutes for flavors to blend.
In the meantime, preheat the broiler. On a baking sheet, arrange the slices of bread in a single layer and brown both sides slightly in the oven. Remove the slices from the oven. Spread the tomato mixture on the still warm toasted bread slices and serve.
2. Risotto
"Risotto is the king of the first courses in Venice due to the rice mills operating in the Veneto from the end of the 15th century," Sara Cossiga, a sommelier and gourmet tour organizer, told National Geographic. So when you're feeling a little Venetian, consider making this recipe from The New York Times. If you want more information on how to prepare the perfect risotto, check out Chef Lidia Bastianich's tips here.
Ingredients:
2 pounds peas in their pods (see note)
2 quarts broth, chicken or beef
¼ pound butter
2 slices prosciutto
2 cups Italian (Arborio) rice
salt and freshly ground black pepper
½ cup Parmesan cheese, freshly grated
Directions: Shell peas, wash pods, and add the pods to the broth. Cook for about 30 minutes. When the pods are soft, puree them in a blender or food processor with a little of the broth. Add this mixture to the remaining broth; you will have a rather thick greenish soup.
Melt half of the butter in a saucepan. When it is hot, add the chopped prosciutto, rendering the fat from the meat. Add the rice and stir until it is well coated. Start adding the broth one ladle at a time. Add salt and pepper to taste, and cook over medium heat until the rice is half done, stirring frequently. Add the peas and a little more broth.
When rice is firm but tender, add the Parmesan cheese. Before removing the pot from the heat, add the rest of the butter. Stir and serve immediately.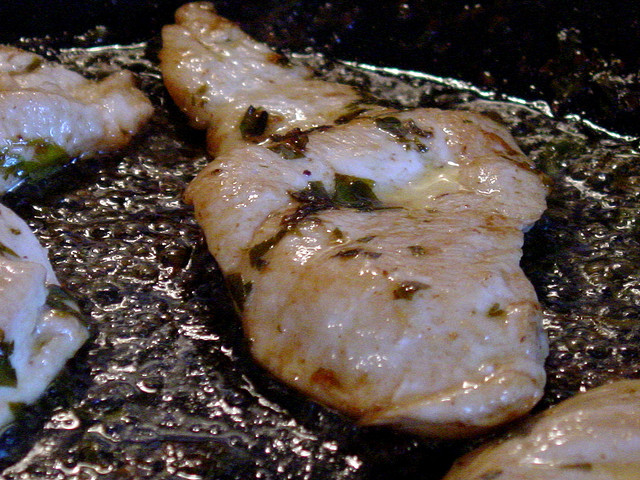 3. Tuscan Chicken
A blend of spices and herbs give Tuscan chicken its bold flavor, and by adding beans and sun-dried tomatoes, The Wanderlust Kitchen has made this into a fulfilling meal that can be made in one pan! All you need to clean is the skillet after making this dinner for four.
Ingredients:
2 tablespoon olive oil, divided
1 pound chicken breast tenderloins
1 teaspoon kosher salt
1 teaspoon freshly ground black pepper
1 teaspoon oregano
½ teaspoon thyme
½ yellow onion, diced
3 cloves garlic, minced
12 ounces mushrooms, sliced
⅔ cup sundried tomatoes, chopped
1 (15 ounce) can Cannelini Beans, drained and rinsed
2 (15 ounce) cans fire roasted diced tomatoes
1 tablespoon sugar
Salt and pepper, to taste
Parsley for garnish
Directions: Season the chicken with salt and pepper. Heat 1 tablespoon of olive oil in a large sauté pan or cast iron skillet over medium-high heat, then add the chicken and brown for 3 minutes on each side. Remove chicken and set aside on a plate. Add the remaining tablespoon olive oil to the pan. Add the sliced mushrooms in a single layer and brown, working in batches, a few minutes per side. Remove from the pan and set aside.
Add the onion and sauté for 3 minutes. Add the garlic, and sundried tomatoes. Sauté for 2 minutes. Stir in the diced tomatoes, spices, beans, and sugar. Transfer the chicken back to the pan and spoon some of the sauce and vegetables over top of the chicken. Cook, covered, on the stove top until the chicken is cooked through and the sauce is bubbling, about ten minutes. Return the mushrooms to the pan. Taste and add salt and pepper as needed. Serve hot, garnished with parsley.
4. Bistecca Alla Fiorentina
Get grilling, Italian-style with Saveur's Florentine steak, or Bistecca Alla Fiorentina. If you need some tips on how to get your porterhouses perfect, you can see what Bobby Flay had to say to Bon Appétit or use this Fine Cooking guide.
Ingredients:
2 (1½ inch-thick) bone-in porterhouse steaks (3½ pounds)
¼ cup olive oil
Kosher salt and freshly ground black pepper, to taste
2 sprigs rosemary
Lemon wedges, for serving
Directions: Heat a charcoal grill or set a gas grill to high; bank coals or turn off burner on one side. Brush steaks with half the oil and season with salt and pepper. Grill on hottest part of grill, flipping once, until browned, 4 to 6 minutes. Using rosemary sprigs as a brush, baste steaks with remaining oil. Cook to desired doneness, 4 to 6 minutes more for medium rare, or until an instant-read thermometer reads 125 degrees Fahrenheit. If the outside starts to burn before the steak is fully cooked, move to the cooler side of the grill until done. Let steaks rest 5 minutes; slice against the grain along the bone. Serve with lemon wedges.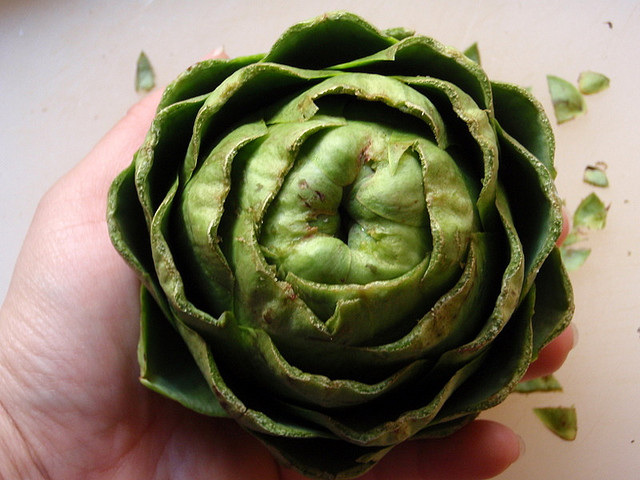 5. Roman-Style Artichokes
One possible side dish for your Florentine steak are Roman-style artichokes, which you can make with this Martha Stewart recipe. Anna Maria's Open Kitchen states that traditionally the artichokes are dressed with Mentuccia a mint leaf that is hard to come by in the U.S., so chefs here make substitutions with parsley and other ingredients.
Ingredients:
1 lemon
6 artichokes (8 to 10 ounces each)
½ cup dry white wine
¼ cup extra-virgin olive oil, plus more for drizzling
½ cup water
1 teaspoon coarse salt
¼ teaspoon red-pepper flakes, plus more for sprinkling
2 tablespoons minced garlic (from about 5 cloves)
2 tablespoons chopped fresh flat-leaf parsley leaves
1 tablespoon chopped fresh oregano leaves
1 tablespoon chopped fresh mint leaves
Directions: Preheat oven to 350 degrees Fahrenheit. Halve lemon and squeeze juice into a large bowl of cold water; add squeezed lemon halves to bowl. Working with 1 artichoke at a time, peel tough outer leaves and trim 1 inch from top. Trim fibrous green skin from heart and stem. Halve each artichoke lengthwise, scrape fuzzy choke from heart with a spoon, and transfer to lemon water.
Drain artichokes and place, cut side up, in a wide, shallow ovenproof pot. Pour wine, oil, and water over artichokes and sprinkle with salt, red-pepper flakes, garlic, and herbs. Bring to a boil over high heat. Cover, transfer to oven, and braise until artichokes are tender, about 45 minutes. Drizzle with oil, sprinkle with red-pepper flakes, and serve with pan juices.
6. Patate al Forno
For people who prefer their meat with a side of potatoes, there is an Italian answer for that as well. David Rocco provided this baked potato recipe to Cooking Channel – a less time-consuming side dish with a lot of fresh flavors.
Ingredients:
1½ pounds potatoes, peeled, thinly sliced
4 fresh basil leaves, chopped
4 fresh sage leaves, chopped
1 sprig rosemary, chopped
2 cloves garlic, chopped
salt and freshly ground black pepper
½ cup extra-virgin olive oil
Directions: Preheat oven at 400 degrees Fahrenheit. Put the potatoes in a roasting pan and sprinkle with the basil, sage, rosemary, and garlic. Season with salt and pepper, to taste. Drizzle extra-virgin olive oil on the potatoes, put the roasting pan in the oven and bake until golden brown and tender, approximately 45 minutes.
7. Panna Cotta
What's Cooking America explains this dish's name literally translates as "cooked cream" and is fantastic for dinner parties because it all of the major prep work is done the day before since the panna cotta sets up in the fridge overnight. To get this silky, creamy, wonderful dessert in your own home, follow the recipe Mario Batali gave to Bon Appétit.
Ingredients:
Panna cotta
2 tablespoons water
1¼ teaspoons unflavored gelatin
2 cups whipping cream
1¼ cups plain goat's-milk or whole-milk yogurt
1 teaspoon vanilla extract
½ cup sugar
Strawberries
2 (1-pint) baskets strawberries, hulled, thinly sliced
3 tablespoons balsamic vinegar
1 tablespoon sugar
½ teaspoon freshly ground black pepper
Directions: To make the panna cotta, pour 2 tablespoons water into small bowl. Sprinkle gelatin over water. Let stand until softened, about 15 minutes. Whisk 1 cup cream, yogurt, and vanilla in large bowl to blend. Heat remaining 1 cup cream and ½ cup sugar in small saucepan over medium heat, stirring until sugar dissolves and cream comes to simmer. Remove from heat. Add gelatin mixture, stirring to dissolve gelatin. Mix hot cream-gelatin mixture into yogurt mixture in bowl. Divide mixture among six ¾ cup ramekins, using about ½ cup for each. Refrigerate desserts uncovered until cold, then cover and refrigerate overnight.
Before serving, prepare the strawberries, by tossing the berries, vinegar, sugar, and pepper in large bowl to combine. Let stand 30 minutes, tossing occasionally. Spoon strawberries over panna cotta and serve.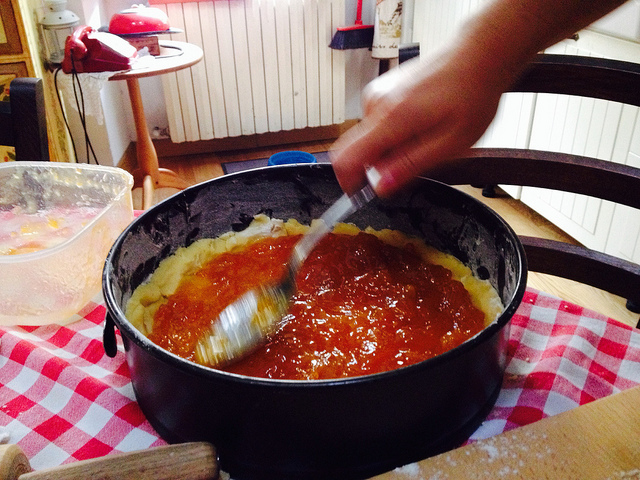 8. Raspberry Jam Crostata
We would say that a crostata is easy as pie, but truth be told, many find it even easier. This jam crostata from Food Network via Giada De Laurentiis is a good recipe to have on hand; sweet but not sickeningly so, it will make a wonderful dessert or mid-afternoon snack.
Ingredients:
1½ cups all-purpose flour
2 tablespoons sugar
½ teaspoon grated lemon peel
10 tablespoons (1¼ sticks) unsalted butter, chilled, cut into ½-inch pieces
¼ teaspoon salt
3 tablespoons ice water
flour for dusting, as needed
1 jar (¾ cup) raspberry preserves
1 tablespoon fresh lemon juice
1 tablespoon sliced almonds, toasted
Powdered sugar, for dusting, optional
Directions:  Mix the flour, sugar, and lemon peel, in a food processor. Add the butter. Pulse until the mixture resembles a coarse meal. Add salt. Pulse in the ice water, 1 tablespoon at a time, until moist clumps form. Gather the dough into a ball; flatten into a disk. Wrap the dough in plastic and refrigerate until firm, about 1 hour.
Position the rack in the center of the oven and preheat the oven to 400 degrees Fahrenheit. Roll out the dough on a floured surface to an 11-inch round. Transfer the dough onto a heavy baking sheet that has been lined with a silpat or parchment paper. Stir the lemon juice into the preserve and spread the preserves on top of dough, leaving a 2-inch border. Fold the dough border over the filling to form an 8-inch round, pleating loosely and pinching to seal any cracks in the dough.
Bake the crostata until the crust is golden, 35 to 40 minutes. Allow to cool. Sprinkle with the almonds and dust with the powdered sugar, if you wish. Slide a metal spatula under the crust to free the crostata from the baking sheet and serve.
More From Wall St. Cheat Sheet: