8 Recipes Utilizing Always In-Season Dried Fruits
There's nothing better than a fresh, local, in-season peach, strawberry, or fig. The problem is that there's so much time in the year when we don't have access to those perfect pieces, leaving us to either pretend that the watery grocery store substitutes are just as good or, more satisfyingly, turn to recipes that utilize preserved freshness. The great thing about dried fruit is that not only are they incredibly versatile, they're also a powerful punch of nutrition. Dried fruits like cranberries, grapes, and plums boast antioxidant levels twice as potent as their fresh counterparts, according to a 2005 study published in the Journal of the American College of Nutrition. As long as you watch portion sizes so as to not accidentally consume monstrous amounts of sugar and carbohydrates, they're really quite good for you.
Dried fruits can be a great off-season substitute for their gloriously fresh counterparts, if you know how to use them. Trying to replace one for the other rarely works out because the ratios are different, so we'll look at recipes designed for dried fruits here. For the best results, look for packages that only list the fruit. Watch out for added sweeteners and sulfites. Oxidation turns the fruit brown, and is a natural part of dehydrating fruit; don't turn away just because it looks a little brown and, well, dry. That's how it's supposed to look.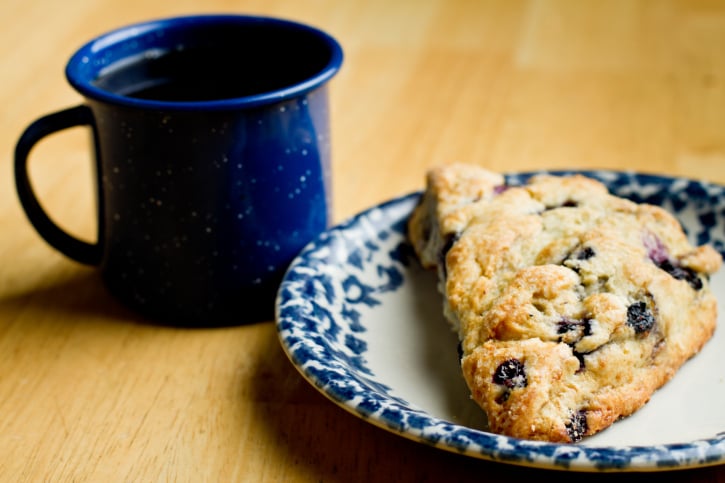 1. Meyer Lemon and Dried Blueberry Scones
It's finally citrus season, but that means it's really a far cry from fresh blueberries. Luckily, dried blueberries are still delicious with their concentrated sweetness and high vitamin levels. This recipe from Bon Appétit via Epicurious takes advantage of sweet, Meyer lemons and dried blueberries to create a scone that's just as good for breakfast as with an afternoon tea or coffee break.
If you don't have self-rising flour, combine 3 cups all-purpose flour with ¾ teaspoon salt and 3¾ teaspoons baking powder. If you're short on buttermilk, add 1 tablespoon of lemon juice to 1 cup of milk and let sit for 5 to 10 minutes. When you're out buying dried blueberries, 1½ cups is about 10 ounces of blueberries, give or take a couple ounces.
Ingredients:
3 cups self-rising flour
½ cup plus 1½ tablespoons sugar
¾ cup chilled unsalted butter, cut into ½-inch cubes
1½ cups dried wild blueberries
1 cup plus 1 tablespoon buttermilk
1½ tablespoons finely grated Meyer lemon peel or regular lemon peel
Directions: Position rack in top third of oven and preheat to 425 degrees Fahrenheit. Line large baking sheet with parchment paper.
Whisk self-rising flour and ½ cup sugar in large bowl. Using fingertips, rub in chilled butter until pieces are size of small peas. Add dried wild blueberries and toss to coat.
Mix 1 cup buttermilk and finely grated lemon peel in glass measuring cup. Pour buttermilk mixture into dry ingredients and stir until dough begins to form. Transfer dough to lightly floured work surface and gather together. Knead dough briefly, about 5 turns. Divide dough in half. Form each dough half into ball and flatten into 1-inch-thick disk. Cut each disk into 6 wedges.
Transfer scones to prepared baking sheet, spacing 1 inch apart. Brush tops with remaining 1 tablespoon buttermilk and sprinkle with remaining 1½ tablespoons sugar. Bake until scones are golden brown on top and toothpick inserted into center comes out clean, about 25 minutes.
2. Couscous Salad With Dried Apricots and Preserved Lemon
Dried fruit isn't just for baking! Many cultures take advantage of dried fruits in their traditional cuisines. This recipe from The New York Times is Middle Eastern to a T: sweet and salty preserved lemon, dried apricots, pearl couscous, mint and dill, and chopped pistachios. This is a great side dish for grilled lamb or roasted chicken rubbed with paprika and cumin.
Ingredients:
3 cups Israeli (pearl) couscous, whole-wheat or regular
1½ teaspoons cumin seeds
2 tablespoons sherry vinegar or white wine vinegar
¾ teaspoon coarse kosher salt, more to taste
½ teaspoon black pepper
¾ cup chopped dried apricots
¾ cup torn fresh mint leaves
⅔ cup coarsely chopped fresh dill
⅔ cup extra-virgin olive oil, more to taste
½ cup chopped scallion, white and light-green parts
2½ tablespoons chopped preserved lemon
Fresh lemon juice, to taste
Chopped pistachio nuts, for garnish
Directions: Bring a large pot of salted water to a boil. Add couscous and cook until just tender, 4 to 6 minutes. Drain.
Meanwhile, in a small dry skillet, toast cumin seeds until fragrant, 1 to 2 minutes. Lightly crush them using a mortar and a pestle or using the flat side of a heavy knife and a cutting board. Add to a bowl with the warm couscous, vinegar, salt and pepper and toss well. When the couscous is cool, add remaining ingredients and mix well. Taste and add more salt, lemon juice or oil if needed. Garnish with pistachio nuts if desired.
3. Winter Apple and Dried Fruit Pie
A bit like a mince pie though less heavily spiced, this recipe uses assorted dried fruits and sturdy apples to create a twist on the classic by adding variety in textures and flavors. Serious Eats recommends adjusting the sweetness depending on what dried fruits you decide to use. Tart fruits like cranberries and currants will need a bit more sugar in the pie, whereas sweet raisins and dates will need less. There's no de facto instruction for this dance of sweetness; go with your instincts and know that whatever you do to the sugar levels, this pie will still taste great.
Ingredients:
Pie Dough, ½ shaped and chilled in a pie plate, the other rolled flat and chilled on a floured sheet pan
8 medium Golden Delicious, Braeburn, or other baking apples peeled, cored, and sliced into ¼-inch slices
10 ounces dried fruits; Serious Eats recommends any combination of dried cherries, chopped dried figs, dried cranberries, currants, raisins
1 tablespoon zest from one lemon
6 ounces granulated sugar
½ ounce cornstarch
1 teaspoon cinnamon
1 pinch grated nutmeg
1 whole egg, lightly beaten
Sugar for top
Directions: Adjust oven rack to lower position and preheat the oven to 425 degrees Fahrenheit.
Place apple slices in a large bowl or pot. Pour boiling water directly over top to cover. Cover and set aside at room temperature for 10 minutes. Drain apples well and transfer to a large bowl. Allow to cool for 20 minutes, tossing occasionally.
Transfer to a large bowl and toss with the dried fruit. Whisk together the sugar, starch, and spices and add to the apple mixture. Toss until well-coated. Pour the contents of the bowl into the chilled pie shell. Cover with the top crust, either by cutting the chilled top crust into strips and weaving a lattice, or by covering the pie with the whole crust. Crimp the sides and chill the pie for 15 to 20 minutes.
When ready to bake, brush the top with egg wash and sprinkle with sanding sugar. If you've covered the pie with a whole top crust, cut slits in the top. Bake for 20 minutes, then turn down the heat to 375 degrees Fahrenheit and bake for additional time: For whole crust, approximately 40 minutes, for lattice, approximately 50 minutes. Regardless, rotate the pie halfway through. The crust should be golden brown and the filling should be bubbling. If parts of the crust start to look too dark, cover the darker parts with small patches of foil to protect them from the heat.
Allow the pie to sit for at least 4 hours before serving.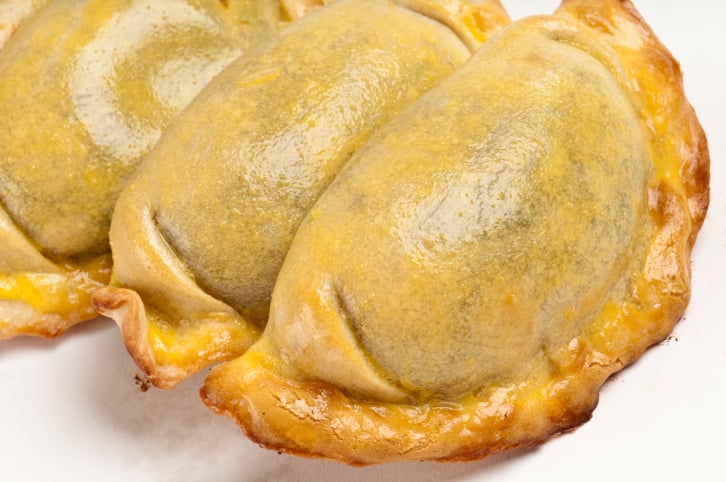 4. Beef Brisket and Picadillo-Stuffed Empanadas
Picadillo is a traditional Spanish and Latin American dish that varies greatly by region, but almost always involves beef, raisins, olives, and sherry. These flavorful empanadas from Saveur uses braised brisket, but in a pinch, you could use ground beef or cook the brisket in a crock pot.
Ingredients:
4 cups flour
6 tablespoons unsalted butter, cubed
1½ teaspoons kosher salt, plus more to taste
½ cup olive oil
1 pound beef brisket
5 cloves garlic, smashed
2 medium carrots, halved crosswise
2 large white onions, 1 quartered and 1 minced
3 tablespoons chile powder
1½ tablespoons finely chopped oregano leaves
2 teaspoons ground cumin
1 cup raisins
½ cup sliced pitted canned black olives
½ cup dry sherry
¼ cup sugar
¼ cup pine nuts
Freshly ground black pepper, to taste
Canola oil, for frying
Directions: Start by making the empanada dough. Combine flour, butter, and salt in a large bowl, and using your fingers, rub butter into flour until pea-size crumbles form. Add 1½ cups warm water and stir until dough forms. Knead in the bowl until smooth, about 4 minutes. Wrap in plastic wrap, and refrigerate for 1 hour.
Meanwhile, heat ¼ cup olive oil in a 6-quart saucepan over medium-high heat. Season beef with salt and pepper, and add to pan; cook, turning once, until browned on both sides, about 8 minutes. Add garlic, carrots, quartered onion, and 6 cups water; bring to a boil. Reduce heat to medium-low, cover, and cook until beef is very tender, about 2½ hours.
Remove from heat, and let beef sit in saucepan until cool enough to handle, about 30 minutes. Transfer beef to a cutting board, and reserve 1 cup cooking liquid; discard remaining liquid and vegetables or reserve for another use. Shred meat into thin strands, and then finely chop; set aside.
Wipe the saucepan dry, then heat remaining olive oil over medium-high heat; add minced onion, and cook, stirring, until golden brown, about 12 minutes. Add chile powder, oregano, and cumin, and cook for 1 minute. Add reserved beef and cooking liquid along with raisins, olives, sherry, sugar, and pine nuts; bring to a boil. Reduce heat to medium, and cook, stirring occasionally, until raisins are plump and meat has absorbed most of the liquid, about 20 minutes; set aside to cool.
Divide dough into 24 balls, and place on a work surface; using a small rolling pin or the heel of your hand, flatten each ball into a 5-inch disk, brush edges with water, and place 2 tablespoons filling in the center. Fold disks in half to form half-moons, and seal edges together using the tines of a fork. Refrigerate empanadas for at least 1 hour, or up to overnight.
Pour oil to a depth of 2 inches in a 6-quart saucepan, and heat over medium-high heat until a deep-fry thermometer reads 350 degrees Fahrenheit. Working in batches, fry empanadas until browned and crisp, about 6 minutes. Transfer to paper towels to drain before serving.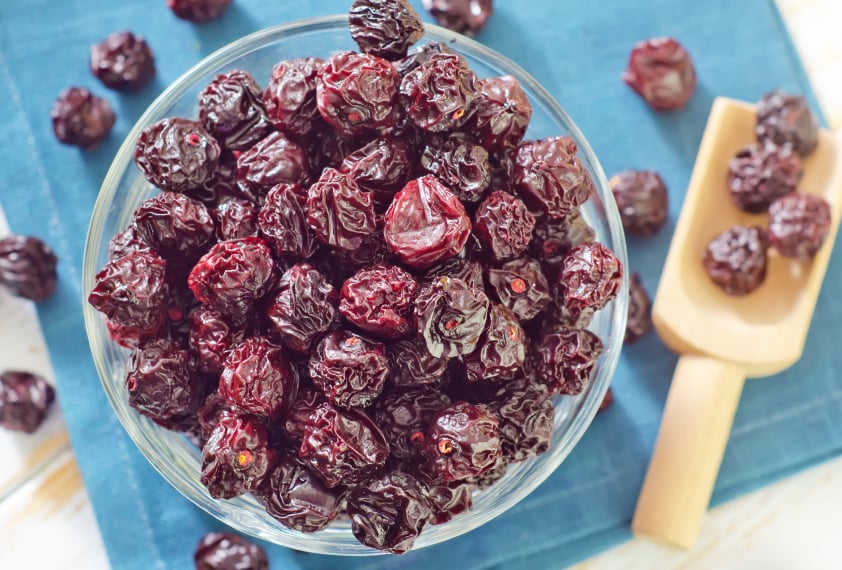 5. Chocolate Cherry Brownies
One of the best attributes of dried fruit is that they love absorbing liquid, leaving all kinds of great flavor combinations. These brownies from 101 Cookbooks uses port and dried cherries, though the recipe Heidi based hers on used dried plums (prunes) and brandy. Whiskey-soaked dates could be another option. Bourboned apricots would go really well in blondies. The possibilities are endless.
Ingredients:
Butter for greasing pan
2 cups dried cherries
Scant cup port wine
½ cup whole wheat pastry flour
⅓ cup unsweetened cocoa powder
½ teaspoon fine grain sea salt
2 teaspoons baking powder
10½ ounces 55% dark chocolate chips or chunks
5½ tablespoons unsalted butter
2 cups sifted muscovado sugar
4 large eggs
Scant ½ cup crème fraîche or sour cream
1 cup chocolate chips or chunks
More cocoa powder, for dusting
Directions: A day before making the brownies, cover the cherries with the port in a medium bowl and set aside, stirring once or twice every 12 hours.
Preheat the oven to 325 degrees Fahrenheit and place a rack in the top third. Butter and line a 13-by-9-inch baking dish with parchment paper. Sift the flour, cocoa powder, salt, and baking powder into a bowl and set aside.
Make a double boiler by placing a stainless steel bowl over a small pan of gently simmering water, not letting the water touch the bottom of the bowl. Place the 10½ ounces of chocolate into this bowl along with the butter and sugar. Stir just until the chocolate has melted and the ingredients come together. Transfer to the bowl of an electric mixer and allow to cool slightly. Mix on slow and add the eggs, one at a time, letting each get incorporated before adding the next, scraping down the sides of the bowl with a spatula when necessary. Add the flour mixture and stir by hand until combined, then add the crème fraîche, remaining chocolate chips, and the cherries with the port. Stir until just combined.
Spoon the mixture into the prepared pan and bake for about an hour, or until just set. Allow to cool completely in the pan. Heidi recommends chilling the brownies before attempting to slice them. Dust with cocoa powder before serving.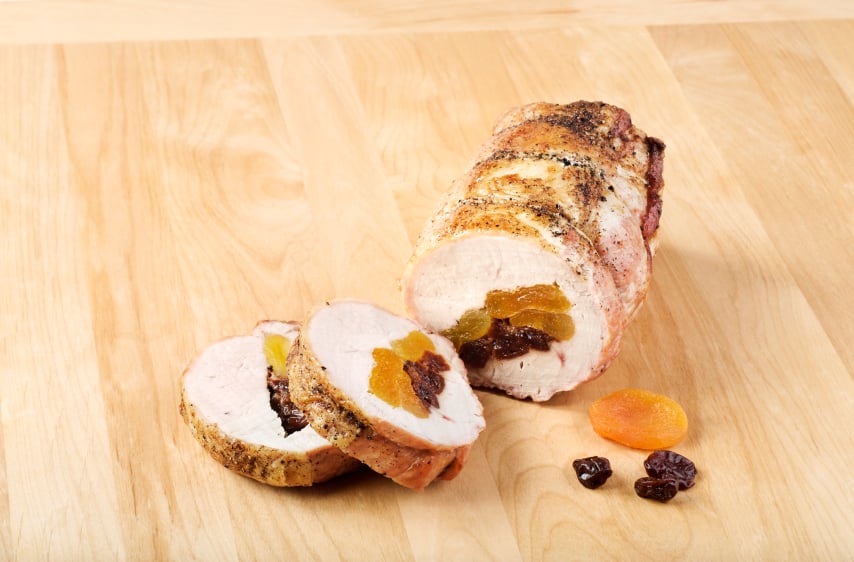 6. Pork Tenderloin Stuffed With Apples and Dried Fruit
There are two ways to stuff this tenderloin from Food and Wine. In the first, you insert a sharpening steel or the handle of a wooden spoon into the center and roll the meat around to widen it. The second way is to butterfly the tenderloin, fill it, and then tie it with butcher's twine, as shown in Bon Appétit's tutorial. Whichever way you decide to do it, the combination of pork and sweet, dried fruit is decidedly delicious.
Ingredients:
½ cup coarsely chopped mixed dried fruit, such as golden raisins, cranberries, apricots, and prunes
¼ cup full-bodied dry red wine
1 teaspoon unsalted butter
1 Granny Smith apple, peeled, cored, and thinly sliced
¼ cup finely chopped onion
3 tablespoons water
Salt and freshly ground pepper
One (1-pound) pork tenderloin
1 teaspoon vegetable oil
½ cup chicken stock or canned low-sodium broth
Directions: In a small bowl, mix the dried fruit with the wine. Melt the butter in a large ovenproof skillet. Add the apple and cook over moderate heat for 3 minutes. Add the onion and cook, stirring, until softened, about 7 minutes. Add the water as the pan dries out.
Drain the dried fruit, reserving the wine. Stir the dried fruit into the apple and onion in the skillet and season with salt and pepper. Transfer to a plate to cool. Coarsely chop ½ cup of the fruit mixture and reserve it for making the sauce. Wipe out the skillet.
Preheat the oven to 425 degrees Fahrenheit. Insert a sharpening steel or the handle of a wooden spoon into the thick end of the tenderloin. Carefully push the steel through the tenderloin and roll the meat to widen the hole slightly. Stuff the tenderloin with the fruit mixture and seal the ends with toothpicks.
Heat the oil in the skillet. Season the meat with salt and pepper and brown it in the skillet over high heat, turning, for about 6 minutes. Transfer the skillet to the oven and roast the meat for 10 minutes. Transfer the meat to a cutting board and let rest for 5 minutes.
Add the reserved wine to the skillet and cook over high heat, scraping up any browned bits, until syrupy, about 2 minutes. Add the stock and cook until reduced by half, about 5 minutes. Stir in the reserved ½ cup of the fruit mixture and season with salt and pepper. Slice the tenderloin crosswise ½-inch thick and serve with the sauce.
7. Mango White Chocolate Cookies
It's nearly impossible to walk by a package of dried mango without grabbing it. Instead of eating the whole thing in one sitting straight from the box or bag, stick some of it in these cookies from Confessions of a Chocoholic. If you've already eaten it all, revert to her White Chocolate Cherry Cookies With Sea Salt, instead.
Ingredients:
¾ cups butter, softened
⅔ cup packed dark brown sugar
⅓ cup granulated sugar
2 eggs
2 teaspoons vanilla extract
¼ teaspoon salt
1 teaspoon baking soda
1¼ cups all-purpose flour
1 cup old-fashioned oatmeal
1 cup chopped dried mangoes
1 cup white chocolate chips
Directions: In the bowl of a stand mixer, cream the butter and sugar until light and fluffy. Add eggs, vanilla extract, salt, and baking soda, and mix until smooth. Stir in flour and oatmeal until evenly incorporated, being careful to not overmix. Fold in dried mangoes and white chocolate chips.
Cover bowl with plastic wrap and chill for at least 2 hours.
Preheat oven to 350 degrees Fahrenheit. Scoop 2-tablespoon balls of dough onto a baking sheet lined with parchment paper. Bake in the middle rack one sheet at a time, for 12 minutes, or until cookies are lightly golden. Let cool on a wire rack before diving in.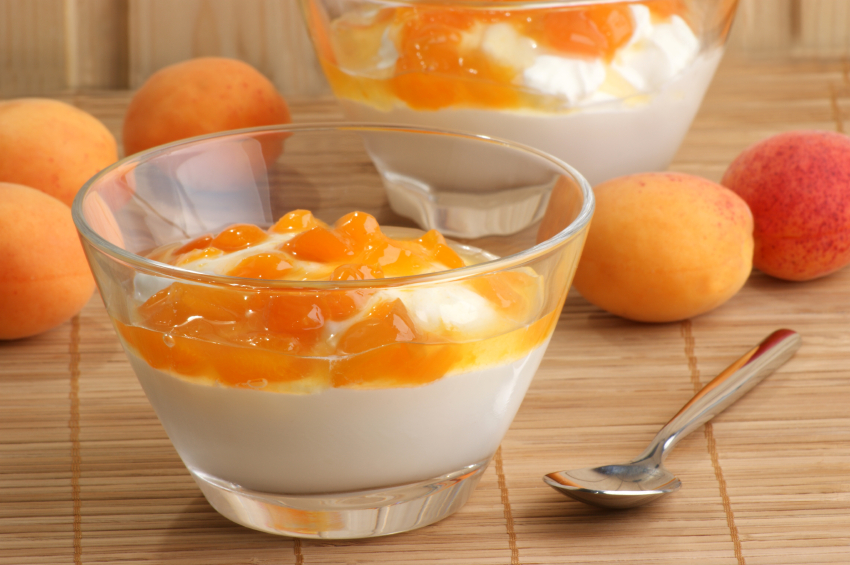 8. Dried Fruit Compote With Ginger Syrup
Now that you're well acquainted with dried fruit and all the ways you can incorporate them into your cooking and baking, here's the easiest possible way to dress up and enjoy your favorite dried fruits. This syrupy, flavorful compote from Bon Appétit via Epicurious is great with yogurt or over waffles for breakfast, and a fabulous topping to ice cream for dessert.
Ingredients:
1 (12-ounce) bottle strong ginger beer
1 cup mixed dried fruit such as stemmed figs, apricots, cherries, prunes, raisins, and sliced candied ginger
1 cup water
Directions: Bring ginger beer, dried fruit, and 1 cup water to a boil in a small saucepan. Reduce heat to low and simmer until liquid becomes syrupy and mixture is reduced to 1½ cups, 35 to 40 minutes. Let cool completely.
More from Life Cheat Sheet:
Want more great content like this? Sign up here to receive the best of Cheat Sheet delivered daily. No spam; just tailored content straight to your inbox.