8 Restaurants That Receive Top Reviews From Celebrity Chefs
When globally-renowned chefs aren't busy in the kitchens of their own restaurants, they have a few of their own favorite places to sit back, relax, and grab a bite to eat (hard to believe, right?). After all, if there's anyone out there who's earned the right to be picky about their food, it's the Ramsays, Batalis, and and Flays of the world.
Read on to find out which 8 international restaurants earned top marks from the world's most famous chefs. Some of these answers may surprise you!
1. Gordon Ramsay: Cheyne Walk Brasserie (London)
When Bloomberg asked this famously surly chef his favorite place to dine in greater London, Ramsay's response was simple: "Cheyne Walk Brasserie. It never disappoints and optimizes a good local restaurant, offering good food, served simply with great service."
Cheyne Walk Brasserie offers excellent French cuisine in a converted Victorian pub, offering diners a view of the Thames River from London's Chelsea district. Dishes are understated, but beautifully executed and made with the freshest of ingredients. To learn more about Ramsay's favorite haunt, visit the Cheyne Walk Brasserie website.
2. Mario Batali: Sin Huat (Singapore)
This small-time establishment in Singapore's red-light district is sure to provide diners with an unforgettable dining experience. As Batali tells The Daily Meal, "It's in a crazy neighborhood where the even streets are restaurant streets and the odd-numbered streets are prostitution."
Despite its unseemly location, Sin Huat's food is fresh and apparently out-of-this-world. Batali raves, "They fish out of the tank, and they cook it right before you in the wok, and I had one of the greatest meals I've ever had!" The Daily Meal notes that the meals at Sin Huat start at around $50.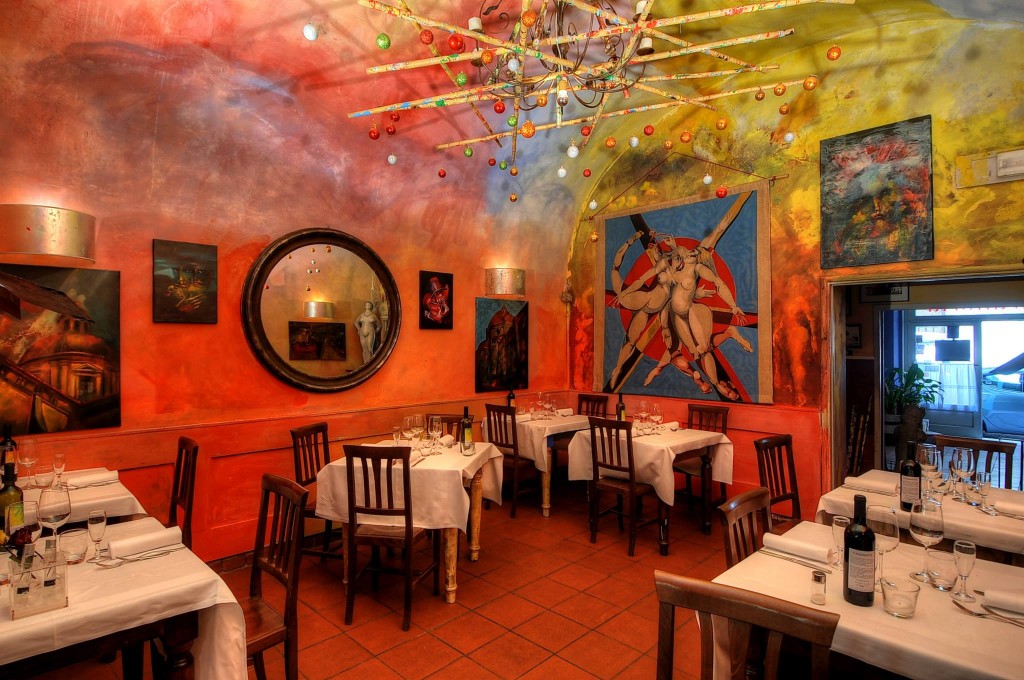 3. Rachael Ray: La Cucina del Garga (Florence, Italy)
Ray goes crazy for Florence's beloved La Cucina del Garga on her website, writing "The house specialty is the Il Magnifico: fresh fettuccine with orange and lemon zest, mint and parmigiano in a creamy brandy sauce." If you're staying for dessert, she adds that "The cheesecake is to die for. Ask the server to reserve you a slice — it goes fast!"
Ray isn't alone in her zest for the venue, as reviewers on Yelp and TripAdvisor can't seem to walk away without singing the restaurant's praises. Visit La Cucina del Garga's official website for more details.
4. Bobby Flay: J.G. Melon (New York City)
When questioned by Serious Eats: New York on his favorite burger in the city, Bobby Flay's answer was prompt: "J.G. Melon." Many of Flay's restaurants offer burgers as their own signature dishes, but perhaps none can measure up to the perfection of those churned out daily by this cash-only, Upper East Side eatery.
J.G. Melon is ranks highly on almost any reputable list of the best burgers in New York, comments Serious Eats. Meanwhile, renowned food critic and journalist Adam Richman even calls the J.G. Melon burger "perfectly correct" in his GQ article, "The 20 Hamburgers You Must Eat Before You Die." The service is known to be gruff at best, so keep the orders simple and to-the-point.
5. Anthony Bourdain: Il Timoniere (Rome)
"There's a place in Rome called Il Timoniere. We shot there in our Rome episode," Bourdain tells Forbes Travel Guide. "It's a really casual place and it's jokingly referred to as 'the angry cousin's.' They just do wonderful, very typical Roman pastas and braised dishes — it's very simple, but my whole crew's in love with the place. We eat there even if we're not shooting there."
Il Timoniere's website notes the establishment's mission to combine a classical gastropub feel with the offerings of a traditional Roman trattoria, serving Roman favorites such as tripe alla romana, sweetbreads, and saltimbocca with care. The restaurant has earned gushing reviews online via Yelp and TripAdvisor as well.
6. Eric Ripert: Sukiyabashi Jiro (Tokyo)
French Chef Eric Ripert is no stranger to fine dining. Ripert is chef and co-founder of New York's celebrated Le Bernardin, a French restaurant that has proudly held 3 Michelin Stars since its grand opening in 2005.
Ripert has several restaurants he considers "worth traveling for," one of which is Tokyo's famed Sukiyabashi Jiro. This revered sushi restaurant rose to even greater prominence with the critically-acclaimed documentary Jiro Dreams of Sushi, which details the life and times of master sushi chef Jiro Ono, the history of the establishment, and the culinary traditions that make these dishes so exceptional.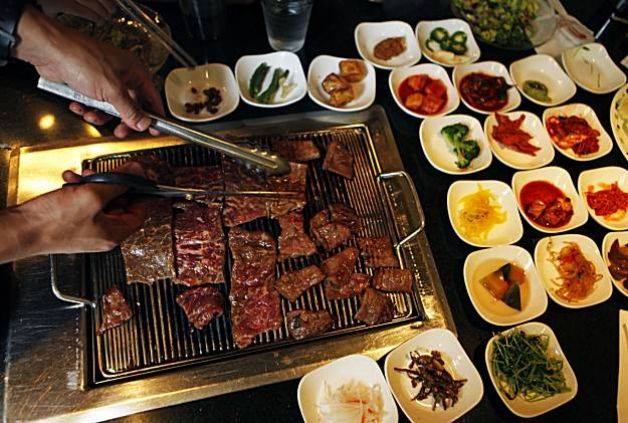 7. Masaharu Morimoto: Seoul Garden (New York City)
Famed Japanese Chef Masaharu Morimoto owns a spat of his own acclaimed restaurants spanning from Maui to Mumbai, but in his own spare time he likes to dig into some of New York's best Korean barbecue. "Japanese people love Korean barbecue," he tells Departures.com. "In Japan, Korean barbecue restaurants are open for 24 hours so they are a natural place to hang out after late-night work."
Back in New York City, Morimoto has a particular affinity for Midtown West's Seoul Garden Restaurant. "I like their spicy tofu soup and beef dumplings," he notes, adding that "[d]uring the cold winter, the first sip of hot soup makes me smile." Visit Seoul Garden's website for more information on dining options.
8. Daniel Boulud: Daniel et Denise (Lyon, France)
French chef Daniel Boulud is best known as being the owner and chef at his Manhattan flagship restaurant, Daniel. The restaurant is currently one of the few in Manhattan to have earned a highly-coveted two-star Michelin rating.
While he's not working on his craft in the kitchen, Boulud enjoys returning to his hometown, Lyon, France, to delight in some of the area's finest restaurants. Among his favorites, Boulud names Chef Joseph Viola's Daniel et Denise, chef Mathieu Viannay's La Mère Brazier, and Paul Bocuse's Auberge au Pont de Collonges.
"These Lyonnais restaurants are where I like to go for comforting and classic dishes," Boulud tells Departures.com. "They have a different feel, but all remind me of various aspects of Lyon's cuisine."
More from Life Cheat Sheet:
Want more great content like this? Sign up here to receive the best of Cheat Sheet delivered daily. No spam; just tailored content straight to your inbox.