8 Satisfying, Crunchy Chip Recipes Made With Healthy Ingredients
The satisfying, salty crunch that awaits the purchaser of a bag of potato chips is a well-relished snack. Unfortunately, that snack doesn't provide many nutrients, and it is considered "empty calorie" food. But that doesn't mean a salty-crunch factor has to be abandoned at snack time. To get a snack with a nutrient-filled base, consider whipping up a batch of homemade chips using fruits or vegetables. The following eight recipes will have you reaching for the fruit and veg chips over a greasy store-bought bag in no time.
1. Apple Chips
Sally's Baking Addiction has a few tips for how to get crispy apple chips. First, you'll want to slice your apples as thinly as possible — a mandoline is particularly useful for this step. Next, when baking, chose a low temperature for a long period of time. You'll flip the apples once when you're halfway through baking. After about two and a half hours, you'll want to turn off the oven with the chips inside. After an hour in the turned off oven, you'll take the chips out, and they should have reached a crispy chip consistency.
Ingredients:
3 apples (i.e. Granny Smith, Pink Lady, or Honey Crisp)
Ground cinnamon
Granulated sugar
Directions: Preheat oven to 200 degrees Fahrenheit. Line two large baking sheets with silicone baking mats. Set aside. Wash and thinly slice the apples as shown in the photos above. Spread the apple slices onto the baking pans making 1 single layer. In a bowl, combine cinnamon and sugar to your preferences. Sprinkle apples with cinnamon and sugar mixture.
Bake for 1 hour, flip the apples over, and bake for another 1-1.5 hours. Turn the oven off and keep the apples inside as the oven cools down for 1 hour. This will help them get crunchy. Some apples may just be chewy and only slightly crunchy after 3 hours in the oven. Store apple chips at room temperature in an airtight container.
2. Butternut Squash Chips
How much butternut squash chips can look like potato chips might cause you to think you're eating the real deal. Food Babbles used a mandoline to get the ultra thin consistency, but you could also use a vegetable peeler.
Ingredients:
1 butternut squash, about 2 pounds
2 tablespoons olive oil
1 tablespoon finely chopped fresh sage
1 tablespoon finely chopped thyme
1 teaspoon sea salt
Directions: Preheat oven to 200 degrees Fahrenheit. Line 2 baking sheets with parchment paper. Set aside. Peel squash then cut in half. Scoop the seeds out. Cut the squash into 1/8-inch thick slices using a mandoline slicer.
In a large bowl, toss butternut squash slices with olive oil, herbs, and sea salt until evenly coated. Spread slices in a single layer over two baking sheets. Bake in preheated oven for 3 hours, turning twice. After 3 hours turn off oven, leaving chips to cool in oven for 6 hours or overnight. Store in an airtight container.
3. Beet Chips
You could put out a bowl of regular old potato chips at your next party, or you could dazzle guests with the crispy crimson beet chips. Best Clean Eats used a mixture of red and golden beets for greater depth of color, but the effect is a visually stunning snack no matter which you use.
Ingredients:
4 medium beets
2 tablespoons olive oil
1/2 teaspoon seas salt
Directions: Preheat oven to 325 degrees Fahrenheit. Spray two baking sheets with cooking spray. Peel beets and thinly slice (1/16-inch) with a mandoline. Toss beet slices in a large bowl with olive oil and salt. If using a combo of red beets and golden beets, place them in separate bowls. The red beets will discolor the golden beets.
Lay beets on baking sheet. They can be touching but not overlapping. Bake for 30-40 minutes. Bake just a touch too long and they will burn around the edges, but you want to bake them long enough for them to lose most of their moisture. They crisp up as they cool.
4. Brussels Sprout Chips
Michael Symon started changing the way people view brussels sprouts when he started frying them at his restaurant in Cleveland, but others — like Two Red Bowls – are mixing it up at home with brussels sprout chips. You can vary the recipe and spices as you wish. For example, to get a garlicky version, you could add 1/2 teaspoon garlic powder and 2-3 teaspoons parmesan or 1/4 teaspoon cayenne, and 1/2 teaspoon garlic powder for variety.
Ingredients:
1 pound of Brussels sprouts
About 1/2 to 1 tablespoon olive oil
Sea salt, to taste
Black pepper, to taste
Directions: Preheat your oven to 400 degrees Fahrenheit. Slice the stem off one sprout. Peel off as many outer leaves as you can. If there are still loose leaves but they won't come off, slice off a bit more of the bottom and peel again. Set the leaves aside in a large bowl; slice the heart in half and place in a separate bowl. Repeat until the sprouts are all done. If the sprouts are a bit damp, pat them until thoroughly dry.
Drizzle olive oil over the leaves and toss until each leaf is thinly coated. Sprinkle salt and pepper over the leaves to your preference. Add the additional seasonings (1/2 teaspoon garlic powder and 2-3 teaspoons parmesan for garlic-parmesan, 1/4 teaspoon cayenne, and 1/2 teaspoon garlic powder for spicy garlic cayenne) and toss again to coat.
For the leaves, spread them evenly across the baking sheet, leaving a bit of space between each leaf, and bake at 400 degrees Fahrenheit for 8-10 minutes, or until the edges are brown. Keep an eye on them, because they can burn quickly. For the hearts, do the same, but bake a bit longer — it will take about 15-20 minutes, at least, and 20-25 if you'd like them nice and brown.
5. Cinnamon Carrot Chips
Gabby's Gluten Free added even more cinnamon to this sweet and salty version of carrot chips. You can use olive oil, another vegetable oil, or butter if you do not have, or do not want to use coconut oil.
Ingredients:
3 large carrots, very thinly sliced into rounds
1 tablespoon coconut oil, melted
1/2 teaspoon salt
1/2 teaspoon ground cinnamon
Directions: Preheat oven to 425 degrees Fahrenheit, and line a baking sheet with parchment paper. Peel carrots and slice off tops and thin bottoms. Slice carrots into very thin rounds — as thin as you can manage. A sharp knife and patience will come in handy. Mix up cinnamon and salt in a small bowl and set aside.
Melt coconut oil in a small saucepan (or microwave.) Pour melted coconut oil over carrots, sprinkle with cinnamon salt mixture, toss to coat. Turn out onto baking sheet and spread evenly, ensuring that chips aren't stuck on one another. Bake for 10-20 minutes until browned and crisp — this will vary based on the thickness of carrots, your oven, etc. Just check them every few minutes and let them cook until crispy . Let cool completely — they will crisp up more while they cool.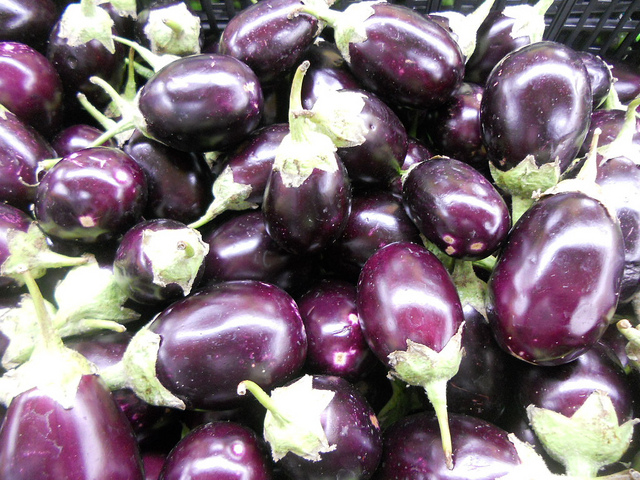 6. Eggplant Chips With Cilantro Pesto
Looking for an unusual, healthier chips and dip? HGTV found the solution with eggplant chips and cilantro pesto. Like the beet chips, this novel take on a party staple will wow any health conscious friends at your next gathering, or can be a delicious mid-day snack.
Ingredients:
2 cups fresh cilantro, packed
1/3 cup cashews, unroasted and unsalted
2 cloves garlic, skin removed
1/2 cup plus 3 tablespoons olive oil
1/2 cup Asiago cheese, grated
4 Japanese eggplants, thinly sliced into rounds
2 tablespoons salt
1 teaspoon paprika
1 teaspoon garlic salt
Extra salt and pepper to taste
Directions: Pulse the cilantro, cashews, and 2 cloves of garlic in a food processor until finely chopped. Stream in 1/2 cup olive oil while the food processor is on, making sure to scrape down the sides once fully incorporated. Add the Asiago cheese and a pinch of salt and pepper and combine. Taste, adjusting salt and pepper as needed, and set aside.
Slice the eggplants into 1/3-inch rounds and lay out on a parchment-lined baking sheet. Sprinkle the salt over the eggplant and let sit for about an hour. Using a paper towel, blot off the salt and water and place eggplant rounds back onto parchment paper.
Preheat oven to 350 degrees Fahrenheit. Combine the remaining olive oil, paprika and garlic salt in a small bowl. Using a small brush, brush the olive oil mixture onto both sides of the eggplant. Bake for 25-30 minutes. Make sure to keep an eye on the eggplant, as you don't want to let it burn. Remove from oven, sprinkle with finishing salt and serve immediately with the cashew cilantro pesto dipping sauce.
7. Oven-Baked Zucchini Chips
There are about 60 calories in 20 of these zucchini chips, according to Nutritionist in the Kitchen. The parmesan cheese and bread crumbs will give it the feel of a "guilty pleasure" chip, but this light snack is brimming with nutrients, like copper, manganese, and vitamin C thanks to the zucchini.
Ingredients:
1/4 cup dry whole wheat breadcrumbs
1/4 cup grated fresh Parmesan cheese
1/4 teaspoon seasoned salt
1/4 teaspoon garlic powder
1/8 teaspoon freshly ground black pepper
1/4 cup unsweetened almond milk (you could also use skim milk)
2 1/2 cups (1/4-inch-thick) slices zucchini
Cooking spray
Directions: Preheat oven to 425 degrees Fahrenheit. Combine first 5 ingredients in a medium bowl stirring with a whisk. Place milk in a shallow bowl. Dip zucchini slices in milk and dredge in breadcrumb mixture. Place coated slices on an oven proof wire rack coated with cooking spray; place rack on a baking sheet. Bake for 30 minutes or until browned and crisped. Enjoy!
8. Radish Chips
Snacking on radish chips won't derail a diet, because the little vegetable is so low in calories. A half cup of raw radishes is about 10 calories, and 1 large radish has 1 calorie. They are also packed with vitamin C, and fiber. So make this Food.com recipe for a diet-friendly alternative to potato chips.
Ingredients:
10 -15 large radishes
Nonstick cooking spray
Salt, to taste
Pepper, to taste
Directions: Preheat oven to 375 degrees Fahrenheit. Slice radishes into very thin chips and spread on a cookie sheet that has been sprayed with non-stick cooking spray. Lightly mist radish slices with cooking spray and then sprinkle with salt and pepper (if using other seasonings, now is the time to add them.) Bake for 10 minutes, flip, and bake for another 5-10 minutes or until crisp. Time may vary so watch these after flipping.
More From Life Cheat Sheet: