8 Savory Summer Dressings to Spice Up Your Salad
Summer is the perfect time to start eating more salads. The ingredients are fresh and flavorful, ensuring you are getting bite after bite of nutrient-rich foods. You can easily enhance your salad's flavor by putting a delicious dressing on top of your fresh fruits and veggies. To get you in the summer salad spirit, we've compiled eight dressing recipes that are guaranteed to drive your tastebuds wild!
1. Citrus Vinaigrette
Light and refreshing, this vinaigrette is a combination of zesty flavors, including lemon, lime, and orange. This Redbook recipe, which yields enough for a salad for four, is sweet, savory, and perfect for any salad.
Ingredients:
½ cup orange juice
¼ cup lime juice
2 tablespoon lemon juice
1 tablespoon white balsamic vinegar
1 red chile, minced
1 large shallot, minced
Chopped mint
½ teaspoon grated orange zest
½ teaspoon grated lemon zest
1 teaspoon Dijon mustard
Kosher salt
Black pepper
¼ cup extra-virgin olive oil
Directions: In a saucepan, simmer orange juice, lime juice, and lemon juice for 4 minutes or until ⅓ cup remains; pour into a bowl. Whisk in white balsamic vinegar, a minced red chile, minced shallot, chopped mint, orange and lemon zests, Dijon mustard, kosher salt, and black pepper. Whisking continuously, slowly add extra-virgin olive oil until emulsified.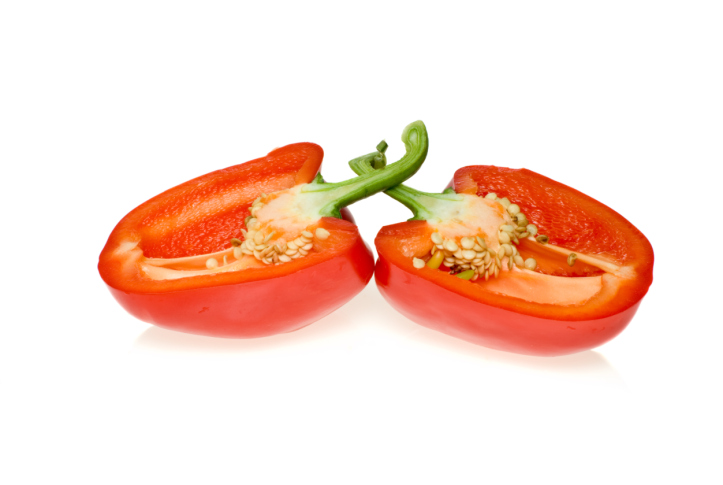 2. Spicy Mediterranean Vinaigrette
Spice up any salad with EatingWell's Mediterranean vinaigrette. Each flavorful bite will include hints of sweet raisins, honey, carrot juice, and crushed red pepper. This recipe makes about ¾ cup of dressing. Each tablespoon contains 55 calories and 5 grams of fat.
Ingredients:
½

 teaspoon black mustard seeds

¼

 teaspoon ground coriander
⅛ teaspoon ground cumin

½

 cup carrot juice
2 tablespoons golden raisins
2 tablespoons red-wine vinegar
4 sprigs fresh cilantro
1 tablespoon nonfat plain yogurt
1 teaspoon honey
1

½

 teaspoons crushed red pepper

¼

 teaspoon salt
Freshly ground pepper, to taste

¼

 cup extra-virgin olive oil
Directions: Heat mustard seeds, coriander, and cumin in a small dry skillet over medium heat until fragrant, 2 to 3 minutes. Add carrot juice and simmer over medium heat until reduced by half, about 3 minutes. Place raisins in a blender and add the hot juice. Let stand for 5 minutes to plump the raisins. Then add vinegar, cilantro, yogurt, honey, crushed red pepper, salt, and pepper and blend until combined. Pour in oil and blend until smooth, about 1 minute.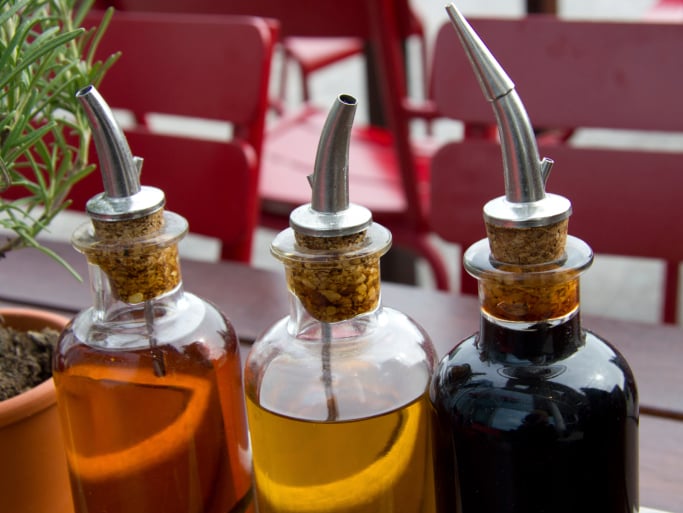 3. Cilantro Lime Vinaigrette
A combination of fresh lime juice, apple cider vinegar, cayenne pepper, ground cumin, and cilantro, this Foodista recipe is sweet and spicy. The easy-to-prepare vinaigrette yields 1 cup.
Ingredients:
¼

 cup fresh lime juice
2 tablespoons apple cider vinegar

¼

 teaspoon cayenne pepper

½

 teaspoon ground cumin

¼

 teaspoon kosher salt
1 tablespoon honey
2 tablespoons chopped cilantro
⅔ cup canola oil
Directions: Whisk together all ingredients except for oil, until well combined. Slowly drizzle in the oil, whisking constantly, until the mixture is completely combined.
4. Garlic-Herb Vinaigrette
The garlic and herbs in this Simple Bites recipe create a healthy and zesty must-eat dressing. Feel free to get creative with the herbs you choose; whatever is lurking in your cupboards should be fair game!
Ingredients:
½

 cup raw apple cider vinegar
1-2 tablespoons dijon mustard
3 garlic cloves, minced
Generous pinch of sea salt and black pepper
2 tablespoons fresh herbs or 2 teaspoons dried (basil, oregano, chives, and thyme are all nice)
1

½

 cups extra virgin olive oil
Directions: Combine all ingredients except olive oil in a jar. Stir well with a fork. Add olive oil, cover tightly, and shake well until combined. You can also use a blender and drizzle the oil in slowly while it is running. Serve over your basic green salad with added chopped vegetables.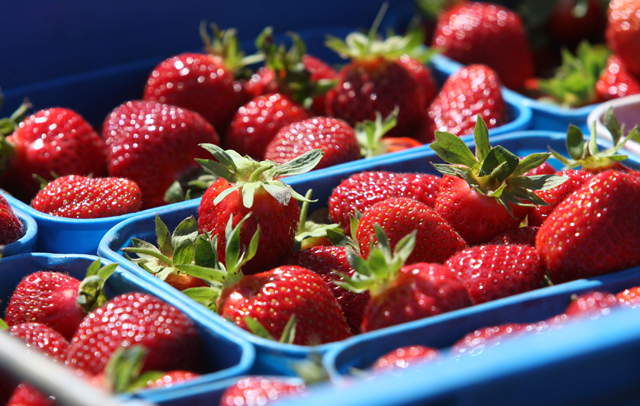 5. Strawberry Vinaigrette
Creamy, pureed strawberries, a touch of jalapeno, and sweet honey create a mouthwatering vinaigrette. Menu Musings recipe is also open for interpretation, so feel free to play around a bit with the ingredients. Do you prefer more strawberry and less spice, or are you looking for a dressing with a little more kick to it? This dressing can be customized to fit your tastes perfectly.
Ingredients:
2 cups fresh strawberries
1 tablespoon shallots, minced
1 – 1

½

 teaspoon jalapeno pepper, seeded and chopped
2 tablespoon lime juice

¼

 cup honey
4 tablespoon apple cider vinegar

¼

 cup canola oil

½

 teaspoon kosher salt

¼

 teaspoon coarse black pepper

¼

 teaspoon black poppy seeds
Directions: Cut up and throw the first six ingredients into the food processor; puree. With the motor running, drizzle in the oil until everything is blended. Add the salt and pepper and adjust the flavors to your liking. Stir in the poppy seeds. Store the vinaigrette in a closed container in the refrigerator.
6. Poppy Seed Dressing
Your summer veggies will taste even better after you drizzle on this delectable dressing. Real Housemoms has created a dressing that is sweet and tangy, balancing the strawberries with onion and mustard powder perfectly. This dressing goes great with fruit, so feel free to throw a few slices of apple or orange onto your plate. The recipe yields six servings.
Ingredients:
½ cup honey
½ cup white vinegar
1 teaspoon salt
1 teaspoon ground mustard
1 to 2 teaspoons grated onion
¾ cup plain non fat Greek Yogurt
1 tablespoon poppy seeds
Directions: Combine all ingredients in a jar and shake until combined. Pour over your salad, and enjoy!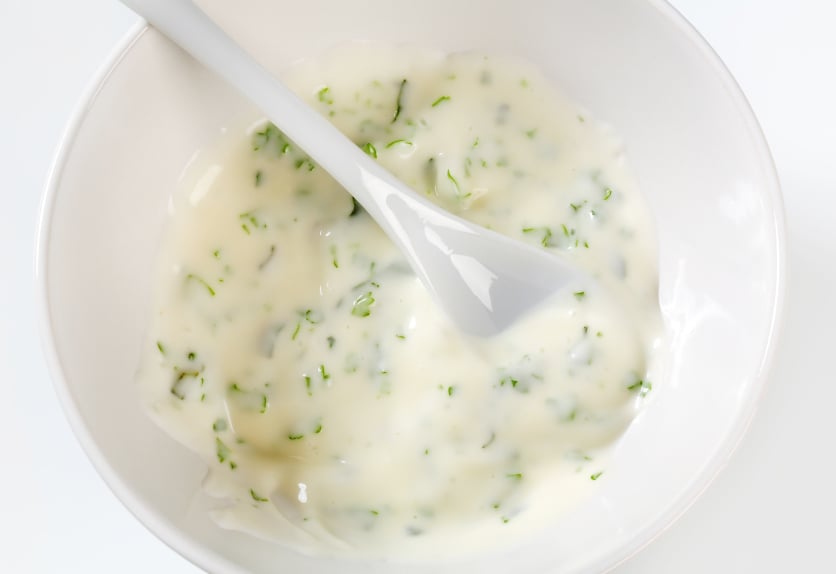 7. Dill Ranch Dressing
Prepare to enjoy a dressing that is rich and creamy. Fresh dill creates a versatile dressing that is perfect for salads or as a veggie dip. The Lemon Bowl's recipe yields four servings, with each containing 92 calories and 7.2 grams of fat.
Ingredients:
1 cup plain, low-fat yogurt
1 ½ tablespoons olive oil
¼ cup fresh dill, minced
2 tablespoons lemon juice (or white vinegar)
2 cloves garlic, grated
1 teaspoon horseradish
1 teaspoon Worcestershire sauce
½ teaspoon sea salt
¼ teaspoon black pepper
Directions: Whisk together all ingredients and enjoy with salad greens of choice.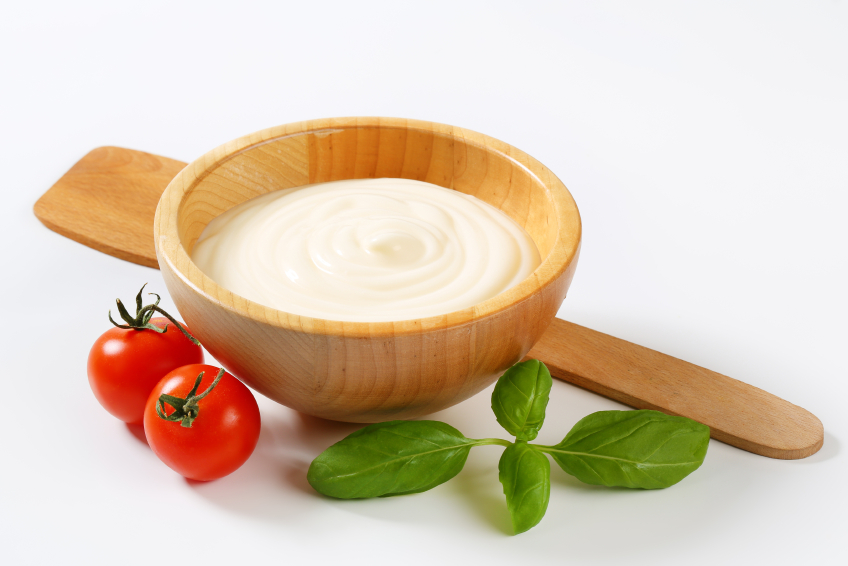 8. Green Goddess Dressing 
If you're in the market for a dressing that will highlight your fresh, seasonal vegetables, then this recipe is for you. Simply Recipes has created a dressing that  you can drizzle on salads or even use as a dip or cracker spread. This dreamy dressing yields 2 cups.
Ingredients:
2 teaspoons anchovy paste or 2-4 canned anchovies
1 small garlic clove, minced
¾ cup mayonnaise
¾ cup sour cream
½ cup chopped parsley
¼ cup chopped tarragon
3 tablespoons chopped chives
2 tablespoons lemon juice
Salt and black pepper to taste
Directions: Put all of the ingredients in the bowl of a blender or food processor and blend or pulse until you get an evenly smooth dressing, about 30-45 seconds. Serve as a dip, or toss with salad greens for a dressing. The dressing should last about a week in the fridge.
More from Life Cheat Sheet:
Want more great content like this? Sign up here to receive the best of Cheat Sheet delivered daily. No spam; just tailored content straight to your inbox.