8 Stunning Winter Wonderlands to Visit Around the World
Many of us call it quits on leaving the house (let alone the country) once the thermometer's plummeted past a certain point in wintertime, but as you'll soon see, this is a problematic attitude for any world traveler to adopt. The arrival of the winter frost will often bring out the best in Mother Nature: sheer ice cliffs, snow-dusted storybook villages, and craggy, snow-peaked mountaintops are among the sites you'll encounter on a single wintry jaunt around the globe. Pictures are worth a thousand words, so we'll leave it to Mother Nature herself to convince you with 8 of her finest frosty offerings around the world. We hope these wintry vistas will inspire you out of hibernation and into adventure!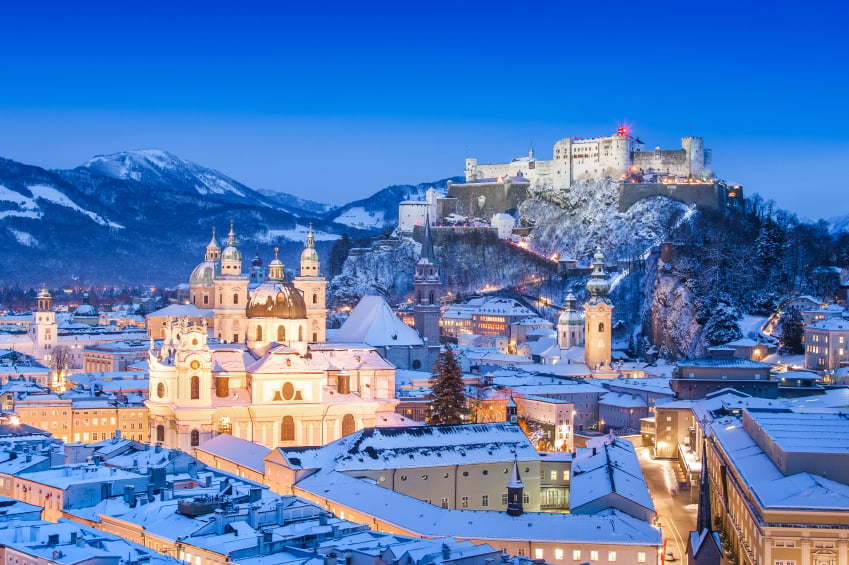 The hills are alive with the sound of … softly falling snow? Scenic Salzburg, Austria, served as the enchanting and storybook-esque set for The Sound of Music. Salzburg is equally charming at any time of year, but there's something about a blanket of snow that makes it all the more eye-catching. You'll visit Salzburg for its beauty, but you'll stay for its rich musical history and overall charm: Renowned composer Amadeus Mozart was born here, and the city's old-world cultural offerings are enough to leave any tourist in awe for weeks on end, Fodor's reports. Enjoy the city's exquisite architecture as you stroll the rambling streets, pausing now and then to appreciate a breathtaking view of mountains beyond.
2. Tallinn, Estonia Estonia doesn't enjoy the same degree of tourism as its western European counterparts, but this Baltic nation deserves the attention of any world traveler worth his or her salt. The nation's capital city, Tallinn, provides a bounty of arts- and culture-related activities for tourists, while historically-minded folk can seek out remnants of the defunct Soviet Union. Tallinn is more than just an artifact, though. It's also rife with contemporary cultural highlights: music festivals, ballets, and more take the city's stages nightly, reports The New York Times. Of course, you haven't truly enjoyed Tallinn until you've sampled traditional Baltic cuisine — beet root, wild boar, and more!
3. Shirakawa-go, Japan Tiny Shirakawa-go is nestled deep within a mountainous region in Japan and is a designated Unesco World Heritage Site for its sheer beauty and historical value. Treacherous surrounding terrain necessitated that the village be cut off from larger towns and cities for hundreds of years. To this day, Shirakawa-go retains its age-old roots, now serving as a popular "showcase" of traditional building styles and ways of life. The steep, thatched roofs and small, picturesque homes here will make you feel as though you've been sent back in time.
4. Moscow Russia's capital city is a cultural and historical landmark. Visitor must-sees begin with the Kremlin, Red Square, and the gorgeously spired St. Basil Cathedral (pictured above), but there is plenty more to see and do during a stay here, notes Moscow Tourism. Take in a show at the esteemed Moscow Ballet or simply explore the city's colorful and unique architectural traits.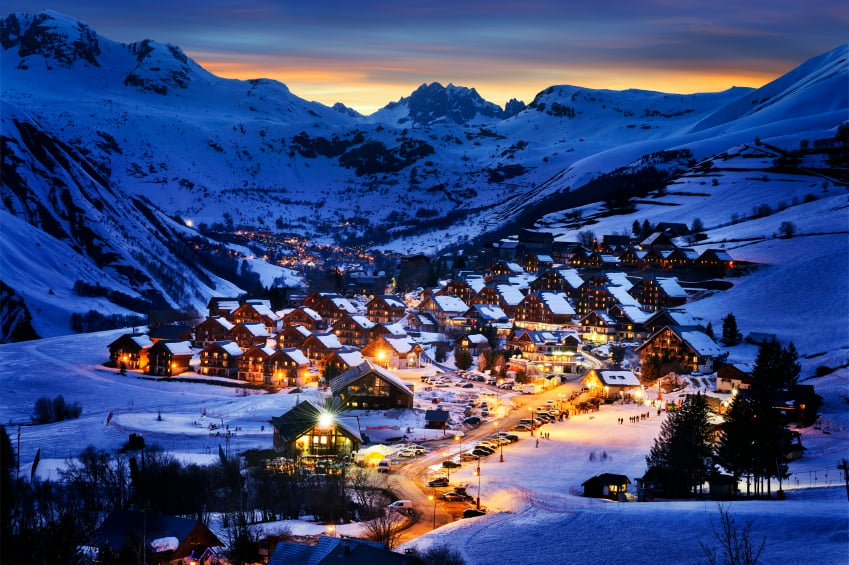 5. Saint-Jean d'Arves, French Alps Shrouded in the shadows of the magnificent French Alps, the hamlet of Saint-Jean d'Arves is akin to a miniature play set. It may be tiny, but it's a gorgeous site to behold, offering heaps of activities for curious visitors. The area is especially popular among skiers, granting snow sport lovers access to the largest ski area in the Maurienne Valley. In addition to skiing and sledding, visitors are encouraged to take winding walks through the village and its surroundings, or to explore the local farms, notes the commune's tourist office.
6. Lapland, Finland If you can stand temperatures as low as 22 degrees Fahrenheit, then northern Finland's snow-crested Lapland region could be the next winter wonderland destination on your list. Visitors say that the area is well worth enduring the cold, as it is a prime viewing spot for the famed Aurora Borealis, or Northern Lights. While you're here, appreciate the purity of the surrounding land and learn firsthand about the culture and customs of the indigenous Sámi people. Finnish Lapland's official tourism website even claims that the region is home to Santa Claus and his reindeer (we have yet to disprove this).
7. Plitvice Lakes National Park, Croatia Plitvice Lakes National Park represents the second Unesco World Heritage Site on our list. For thousands of years, the waters flowing over the chalk and limestone formations in this park have created a series of natural dams, resulting in incredible lake, cave, and waterfall formations throughout the region. The sight is especially marvelous when viewed in winter, offering a romantic backdrop of ice-glazed waterfalls and trees as far as the eye can see.
8. Neuschwanstein Castle, Germany Does Neuschwanstein Castle look familiar to you? It may be due to the fact that this landmark served as the architectural inspiration for Walt Disney World's Cinderella Castle. Neuschwanstein, set upon a rough, hilly landscape in Germany's Bavaria region, was built at the behest of the Bavarian King Louis II (alternatively known as "Mad King Ludwig"), according to the Encyclopedia Britannica. Ludwig's grandiose design never reached total completion, but castle tours still afford visitors a glimpse of the sumptuous lifestyle enjoyed by monarchs in the 19th century. Seeing the cool whites and grays of the castle reflected in freshly fallen snow makes Neuschwanstein a postcard-worthy sight to behold. More from Life Cheat Sheet:
Want more great content like this? Sign up here to receive the best of Cheat Sheet delivered daily. No spam; just tailored content straight to your inbox.