8 Sweet and Savory Recipes Rediscovering 4 Underrated Fruits
This time of year, all spotlights shine on citrus. It's no surprise — through the gray doldrums of winter, a bright round of citrus can chase the blues away. But what about the fruits that stand beside you all year, waiting for their turn? We're looking at the grapes, the pears, the bananas. We're even looking at cranberries, a fruit worth so much more than its one saucy holiday trick. While you have every reason and right to load up on armfuls of oranges and grapefruits, we pray that you don't leave these steadfast heroes of the counter fruitbowl out in the cold. There's more to a banana than bread, more to a pear than poaching, more to grapes than snacking, more to cranberries than saucing. Take another look and find the sweet and savory sides of these 4 underrated fruits in 8 recipes.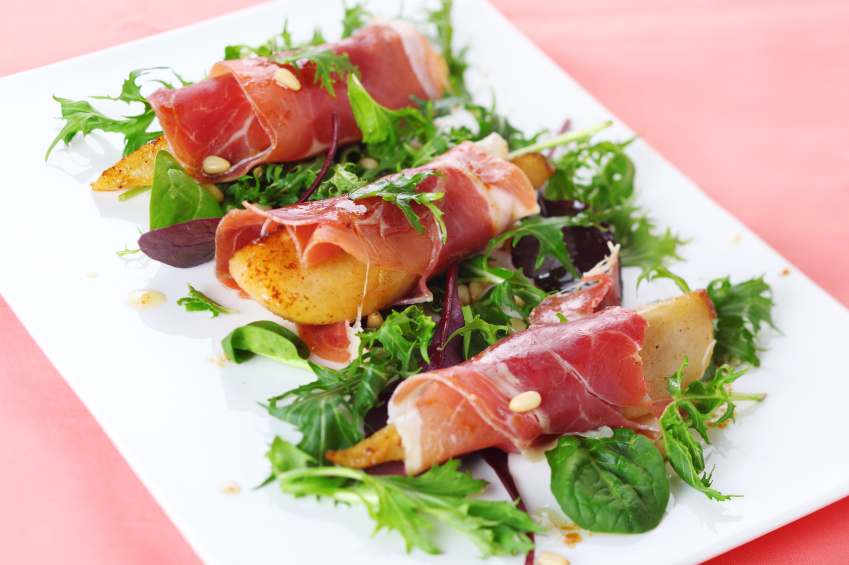 1. Pears With Blue Cheese and Prosciutto
Why let melon have all the fun? In this savory pear recipe from Real Simple, pear stands in for the classic cantaloupe and creates a neat little pocket for cheese. Though the recipe calls for blue cheese, it could also work in a more subdued manner with a brie, for those who have an aversion to blues.
Ingredients:
2 pears such as Bosc or Bartlett, each cut into 8 wedges
2 teaspoons fresh lemon juice
1 cup arugula
3 ounces blue cheese, cut into small pieces
6 ounces thinly sliced prosciutto, cut in half lengthwise
Directions: In a large bowl, toss the pears and lemon juice. Layer a slice of pear, an arugula leaf, and a piece of cheese on a piece of prosciutto and roll up.
2. Pear Pie With Red Wine and Rosemary
Don't let poached pears dominate your dessert pear repertoire, but you can borrow some of the best features of the classic for this pie. Pears are so often overshadowed by apples in the pie sector, but this one from Bon Appétit brings its rustic yet still sophisticated "A" game. The rosemary brings out the slight earthy quality of the pears, where the wine deepens the flavor significantly.
The pie crust here from pastry chef Kierin Baldwin is a special one — it uses a combination of flavorful butter with texturally important shortening as well as eggs and vinegar. You could experiment with this crust recipe, which is likely a new style for many home cooks, or fall back on your old faithful recipe.
Ingredients:
Pie Dough
3 tablespoons granulated sugar
1½ teaspoons kosher salt
3 cups all-purpose flour, plus more for dusting
12 tablespoons chilled unsalted butter, cut into pieces
¼ cup chilled vegetable shortening, cut into pieces
2 large egg yolks
1 teaspoon apple cider vinegar
Filling and Assembly 
¾ cup granulated sugar
2 tablespoons chopped fresh rosemary
1¾ cups dry red wine, divided
2 tablespoons unsalted butter, cut into pieces
5 teaspoons cornstarch
½ teaspoon ground cinnamon
5 teaspoons all-purpose flour plus more for dusting
1 teaspoon vanilla extract
½ teaspoon kosher salt
3 pounds firm but ripe pears (such as Comice, Anjou, or Bartlett), peeled, cored, thinly sliced
1 large egg, beaten to blend
3 tablespoons granulated sugar or raw sugar
Directions: Pulse granulated sugar, salt, and 3 cups flour in a food processor to combine. Add butter and shortening and pulse until mixture resembles coarse meal with a few pea-size pieces of butter remaining. Transfer to a large bowl.
Whisk egg yolks, vinegar, and ½ cup ice water in a small bowl. Drizzle half of egg mixture over flour mixture and, using a fork, mix gently just until combined. Add remaining egg mixture and mix until dough just comes together. There will be some unincorporated pieces.
Turn out dough onto a lightly floured surface, flatten slightly, and cut into quarters. Stack pieces on top of one another, placing unincorporated dry pieces of dough between layers, and press down 
to combine. Repeat process twice more (all pieces of dough should be incorporated at this point). Form dough into two 1-inch-thick disks. Wrap in plastic; chill at least 1 hour.
While the dough is chilling, start the filling. Bring granulated sugar, rosemary, and 1½ cups wine to a boil; cook, stirring occasionally, until reduced to about ⅔ cup, 5 to 8 minutes. Strain through a fine-mesh sieve into a small bowl. Whisking constantly, gradually add butter and whisk until syrup is smooth.
Whisk cornstarch, cinnamon, 5 teaspoons of flour, and remaining ¼ cup wine in a small saucepan set over medium heat; cook, whisking constantly, until thickened, about 1 minute. Slowly add syrup, whisking until smooth, then stir in vanilla and salt. Chill until cool, about 30 minutes.
Place a rack in lower third of oven and preheat to 375 degrees Fahrenheit. Toss pears and red wine syrup in a large bowl. Roll out 1 disk of dough on a lightly floured surface into a 14-inch round. Transfer to a 9-inch pie dish. Lift up edges and allow dough to slump down into dish. Trim, leaving about 1-inch overhang. Pour filling into crust and chill.
Meanwhile, roll out remaining disk of dough into a 14-inch round. Using a pizza cutter or a sharp knife, cut into 12 1-inch-wide strips. Arrange 6 strips crosswise across top of pie, spacing about 1-inch apart.
Arrange remaining 6 strips lengthwise across top of pie, lifting crosswise strips and weaving lengthwise strips over and under to form a lattice. Brush edge of dough with beaten egg and press ends of strips and bottom crust together to seal. Trim strips to same length as bottom crust, then fold bottom crust over lattice strips; crimp edge. Brush crust with beaten egg and sprinkle with granulated sugar. Chill in freezer 15 minutes.
Place pie dish on a rimmed baking sheet and bake 30 minutes. Reduce oven temperature to 350 degrees Fahrenheit, rotate pie, and continue baking, tenting with foil if crust is browning too quickly, until juices are bubbling and crust is golden brown, 60 to 75 minutes longer. Transfer to a wire rack and let cool at least 4 hours before slicing.
3. Banana Corn Fritters
It's an unusual sight, but bananas can really be great in savory applications. Starchy plantains are more commonly seen in savory dishes, but bananas shouldn't be left benched when dinner rolls around. Here, Eating Well shares a recipe for fritters that have a smoky and slightly sweet flavor that would pair well with pork, barbecue, black bean soup, or mexican dishes.
When making pan-fried fritters rather than deep-fried fritters, be sure to use enough oil. If you don't, you'll end up with pancakes.
Ingredients:
¾ cup yellow cornmeal
½ cup all-purpose flour
1 teaspoon baking powder
½ teaspoon salt
½ teaspoon ground cinnamon
¼ to ½ teaspoon ground chipotle chile or cayenne pepper
1¼ cups roughly mashed bananas
1 large egg
2 tablespoons milk or buttermilk
2 tablespoons canola oil, divided
Directions: Preheat oven to 400 degrees Fahrenheit. Coat a baking sheet with cooking spray.
Whisk cornmeal, flour, baking powder, salt, cinnamon and chipotle in a medium bowl. Mix banana, egg and milk in another medium bowl. Add the cornmeal mixture to the banana mixture and stir until just incorporated.
Heat 1 tablespoon oil in a large nonstick skillet over medium-high heat. Reduce heat to medium; using 2 tablespoons of batter for each, space 5 fritters evenly in the pan. Cook until golden brown, 30 seconds to 2 minutes per side. Transfer to the prepared baking sheet. Cook a second batch with the remaining oil and batter, adjusting heat to prevent burning.
Transfer the fritters to the oven and bake until puffed and firm to the touch, 8 to 10 minutes.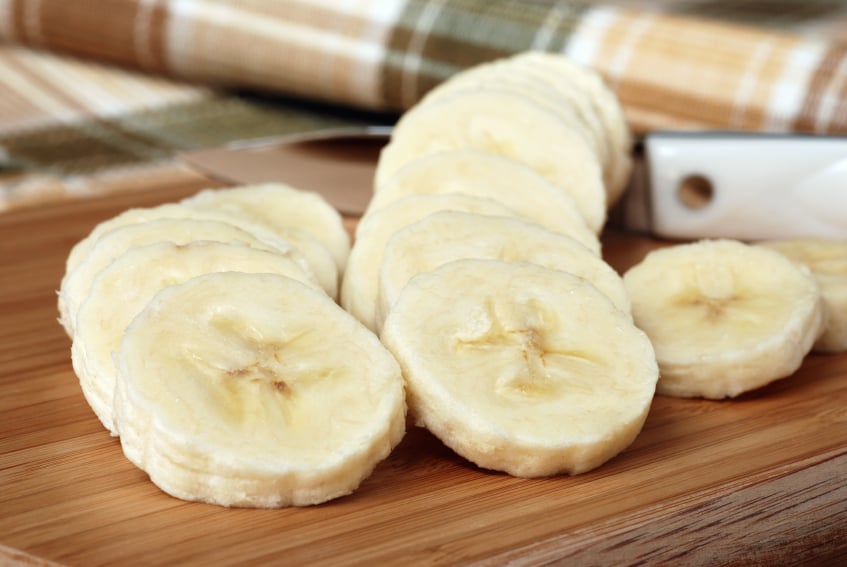 4. Caramelized Banana Upside-Down Cake
Bananas are seeing a little more love these days with the discovery that a blended frozen banana is similar enough to ice cream to satisfy a craving in a pinch, but they're still relegated to bread and cream pie. While there's nothing wrong with either of those dishes, bananas can bring much more flavor to the table. This upside down cake from Averie Cooks shows the sheer depth of flavor a banana can obtain through caramelization of its sugars, creating something truly amazing.
Ingredients:
½ cup unsalted butter
¾ cup light brown sugar, packed
3 extra-large ripe bananas or 4 small/medium, sliced in half horizontally and then sliced vertically
1 cup all-purpose flour
¾ cup granulated sugar
2 teaspoons baking powder
Pinch of salt
1 large egg
½ cup buttermilk
⅓ cup sour cream
3 tablespoons canola or vegetable oil
2 teaspoons vanilla extract
salted caramel sauce for drizzling, optional
Directions: Preheat the oven to 350 degrees Fahrenheit. Spray a 9-inch springform cake pan with cooking spray; set aside.
In a small, microwave-safe bowl, melt the butter, about 1 minute on high power.
Pour the butter into the cake pan. Use your finger to run a bit of butter around the side of the pan to ensure it's well-greased. Evenly sprinkle the brown sugar over the butter.
Fan banana slices cut side down out from center of pan like the spokes of a wheel covering the entire pan with banana slices. Add 8 to 10 short banana pieces around sides of pan, spaced uniformly; set pan aside.
In a large bowl, whisk together flour, granulated sugar, baking powder, and salt; set aside. In a separate small bowl, whisk together egg, buttermilk, sour cream, vegetable oil, and vanilla.
Add the wet mixture to the dry, mixing lightly with a spoon or folding with a spatula until just combined. Don't overmix.
Gently turn batter out into prepared pan, being careful to not disturb the banana slices on the bottom or sides of pan. Fill pan to about ¾-full.
Place pan on a cookie sheet as insurance to catch anything that may leak from springform pan and bake for about 38 to 40 minutes, or until center is set, lightly golden browned, and springy to the touch. A toothpick inserted in the center should come out clean or with a few moist crumbs.
Place pan on a wire rack and allow cake to cool for at least 1 hour before inverting, slicing, and serving. Optionally before serving, drizzle with salted caramel sauce.
5. Gorgonzola and Grape Pizza
Grape focaccia is a Tuscan classic that doesn't get nearly as much play-time in the U.S.,  but is re-envisioned here by Gourmet via Epicurious with two kinds of cheese and just a splash of sweet Vin Santo wine. The grapes are luscious and the fontina is salty and the gorgonzola is sweet and a bit funky, all coming together for a memorable slice.
Ingredients:
Dough
1 (¼ ounce) package active dry yeast
1¾ cups unbleached all-purpose flour
¾ cup warm water, between 105 and 115 degrees Fahrenheit
1 teaspoon salt
½ tablespoon olive oil
Topping:
⅓ cup Vin Santo
1 tablespoon sugar
1½ cups red seedless grapes, halved lengthwise
5 ounces Italian fontina, rind discarded and cheese cut into ¼-inch dice
2 ounces gorgonzola dolce, crumbled
½ teaspoon coarsely ground black pepper
Directions: Stir together yeast, 1 tablespoon flour, and ¼ cup warm water in a cup and let stand until mixture appears creamy on surface, about 5 minutes. If mixture doesn't appear creamy or bubbly, discard and start over with new yeast.
Whisk salt into 1¼ cups flour in a large bowl, then add yeast mixture, oil, and remaining ½ cup warm water and stir until smooth. Stir in enough flour — ¼ to ½ cup — for dough to begin to pull away from side of bowl.
Knead dough on a floured work surface with floured hands, reflouring when dough becomes too sticky, but using as little flour as possible, until dough is smooth, soft, and elastic, about 8 minutes. Form dough into a ball and dust generously with flour. Put dough in a medium bowl and cover bowl with plastic wrap, then let dough rise in a warm, draft-free place until doubled in bulk, about 1¼ hours.
At least 45 minutes before baking pizza, put pizza stone on oven rack in lower third of oven and preheat to 500 degrees Fahrenheit.
Do not punch down dough. Gently dredge dough in a bowl of flour to coat, then transfer to a parchment-lined pizza peel or overturned baking sheet. Lightly flour parchment. Pat out dough evenly with your fingers and stretch into a 13-inch round.
Bring Vin Santo with sugar to a boil in a small heavy saucepan over moderate heat, stirring until sugar is dissolved, then boil, uncovered, until reduced to about 1 tablespoon, about 5 minutes. Add grapes to saucepan and stir gently to coat with syrup, then transfer to a bowl. Add cheeses and pepper to bowl, then stir to combine.
Arrange topping on dough leaving a 1-inch border.
Slide pizza on parchment onto pizza stone. Bake pizza until dough is crisp and browned and cheese is golden and bubbling in spots, 14 to 16 minutes. Using peel or baking sheet, transfer pizza to a cutting board. Cool 5 minutes and remove parchment before slicing.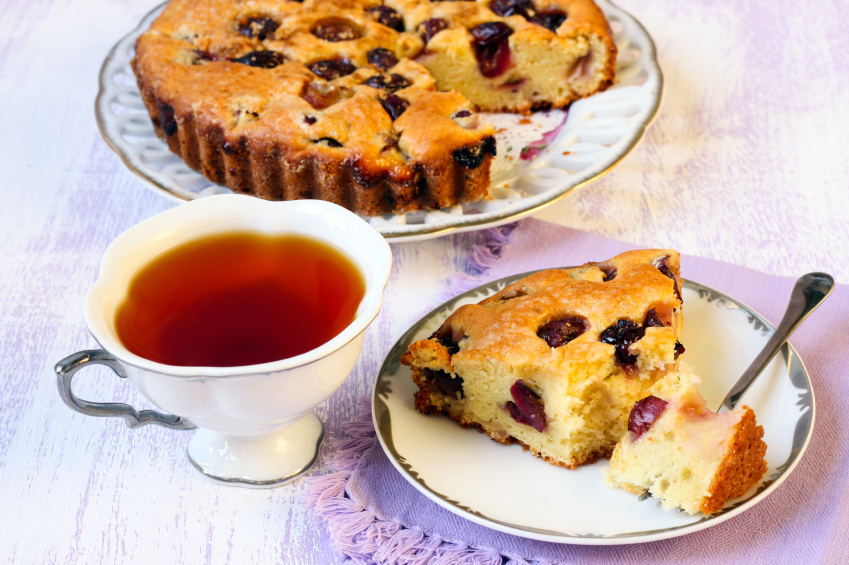 6. Harvest Cake with Grapes and Syrup
This cake is a staple at Long Meadow Ranch, where they use their own sangiovese grapes and juice to make this cake featured in Food & Wine. For yours, though, you can substitute any seedless red table grape and unsweetened grape juice.
Ingredients:
1½ cups all-purpose flour
1 teaspoon salt
¾ teaspoon baking powder
2 large eggs
⅔ cup granulated sugar
⅓ cup milk
¼ cup extra-virgin olive oil
4 tablespoons unsalted butter, melted
Finely grated zest of 1 lemon
Finely grated zest of 1 small orange
1 teaspoon pure vanilla extract
2 cups seedless red grapes
1 quart unsweetened grape juice
Confectioners' sugar, for dusting
Directions: Preheat the oven to 350 degrees Fahrenheit. Butter and flour a 9-inch springform pan. In a small bowl, whisk the flour with the salt and baking powder. In a large bowl, whisk the eggs with the granulated sugar until pale yellow. Whisk in the milk, olive oil, melted butter, lemon zest, orange zest and vanilla. Fold in the flour mixture, followed by 1½ cups of the grapes. Scrape the batter into the prepared pan.
Bake the cake for 15 minutes. Dot the top of the cake with the remaining ½ cup of grapes and bake for about 40 minutes longer, until a cake tester inserted in the center comes out clean. Transfer the cake to a rack, carefully remove the ring and let cool to room temperature.
Meanwhile, in a large saucepan, boil the grape juice over high heat until reduced to 1 cup, about 25 minutes. Let the grape syrup cool to room temperature.
Remove the cake from the base and transfer to a serving platter. Dust the top with confectioners' sugar. Cut the cake into wedges and serve with syrup.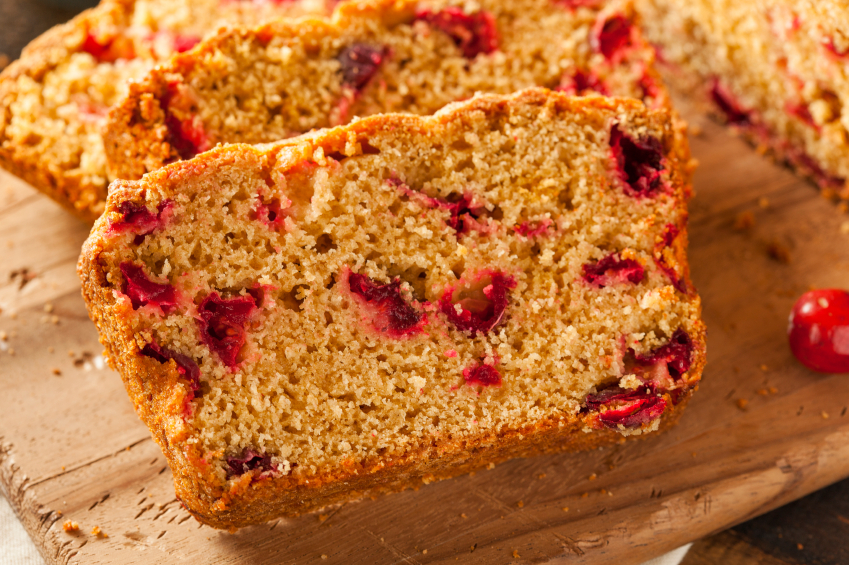 7. Savory Cheddar and Cranberry Soda Bread
Cranberries really only see the light of day during the holiday months as a sauce of some sort, but there's more to these tart little gems than just jellied sauces. In this soda bread from Joy the Baker, they team up with cheddar (yes, cheddar!) for a dynamic duo. Not only does this bread include shredded cheddar, it also stars cheddar powder for extra cheesy flavor without all the stringiness. You can find good-quality cheddar powder from King Arthur Flour. Excess can be applied to popcorn and quick mac and cheese, as Joy points out.
Ingredients:
2½ cups all-purpose flour
½ cup cheddar powder
2 teaspoons baking powder
1 teaspoon baking soda
½ teaspoon salt
3 tablespoons granulated sugar
¼ cup cold unsalted butter, cut into ½-inch cubes
2 cups grated sharp cheddar cheese
1 cup fresh cranberries
¾ cup coarsely chopped pecans
1¼ cup buttermilk
1 large egg
Directions: Place a rack in the upper third of the oven and preheat oven to 375 degrees Fahrenheit. Lightly grease and flour an 8½-by-4½-inch loaf pan.
In a large bowl, combine flour, cheese powder, baking powder, baking soda, salt, and sugar. Work cold butter into the dry ingredients until the mixture is crumbly. Toss in the cheese, cranberries, and pecans.
In a small bowl, whisk together buttermilk and egg. Add the wet ingredients to the dry ingredients and gently stir until thoroughly combined.
Spoon the dough into the prepared pan and spread evenly.
Bake for 55 to 65 minutes or until a skewer inserted in the center comes out with just a few moist crumbs.  Create a foil tent to cover the bread if it browns too much during baking.
Remove from the oven and allow to rest for 10 minutes before inverting onto a wire rack.  Allow to cool before slicing or the bread will crumble.
8. Cranberry Ice Cream With White Chocolate Chunks
Though it has the pretty pink of strawberry, its sexier cousin, this ice cream from Serious Eats packs much more of a punch. It uses the perfect tartness of cranberries to balance the out-of-control sweetness of white chocolate in ice cream. For a consistently scoopable ice cream, add a slug of vodka to the base before freezing.
Ingredients:
1 (12-ounce) bag cranberries
1 cup granulated sugar, divided
2 cups heavy cream
1 cup whole milk
Salt
5 large egg yolks
4 ounces white chocolate, cut into chunks
Directions: In a medium saucepot, heat cranberries and ⅓ cup sugar on medium-high heat until cranberries just begin to get hot. Cover pot and lower heat to medium-low. Cook 10 minutes, stirring often, until berries soften and burst. Transfer berry mixture to blender and purée. Pass cranberry purée through fine mesh strainer. The mixture should yield about 1 cup of smooth cranberry purée. Set aside to cool.
In large sauce pot, heat together cream, milk, ⅓ cup sugar, and pinch of salt over medium-low heat until just scalded, when bubbles form around edges of cream. Meanwhile, use electric beater to beat together egg yolks and remaining ⅓ cup sugar, until mixture is pale and thick.
Once cream mixture is hot, pour ⅓ of it into egg yolk mixture and whisk quickly to temper egg yolks. Pour mixture back into pot with remaining cream, and cook over low heat. Use wooden spoon to constantly stir custard until thick enough to coat back of spoon, about 170 degrees Fahrenheit. Pass custard through fine mesh sieve into large bowl. Whisk in cranberry mixture. Cover cranberry custard, and chill in the refrigerator until thoroughly chilled, at least 4 hours.
Freeze according to the manufacturer's directions. Just before the ice cream is completely churned, add white chocolate chunks. Transfer to lidded container, and freeze for at least 4 hours. Let stand at room temperature 10 minutes before scooping and serving.
More from Life Cheat Sheet:
Want more great content like this? Sign up here to receive the best of Cheat Sheet delivered daily. No spam; just tailored content straight to your inbox.