8 Ways to Travel Anthony Bourdain's California
If an escape to California is on your travel books, why not sit back, relax, and let Anthony Bourdain's No Reservations guide you to where you need to go for food and drink? On at least four shows, Bourdain visited the state, leaving a trail that traveling foodies will certainly want to cover. To help plan your journey, here is a recap of a few of the places he visited, where they are located, along with price information and what they are known for.
Indio, California: Shields Date Farm
Located 130 miles East of Los Angeles in the Coachella Valley (yes, that Coachella) is Indio, California and Shields Date Garden. In operation since 1924, a walk around the property will take you through the 17-acre date farm, and a trip to the café will have you sampling American and Mexican inspired dishes — and obviously plenty of dates. Shields notes that its pancakes are a particular specialty, as well as the milkshake, which Bourdain tried as well. For anyone curious about a milkshake made with dates, there is even a recipe online, but it does require the brands date crystals. It was featured on the "US Southwest" show.
Rancho Mirage, California: Lord Fletcher's
If you fancy a bit of jolly old England in the California desert, your cravings can be satiated at Lord Fletcher's. Dinners at the restaurant run between $26 and $44, while pub fare checks in between $4 and $12. Cocktails in the pub start at 5 p.m., and the restaurant serves dinner Tuesday through Saturday from 5:30 p.m. — the restaurant recommends booking a reservation. Open for more than forty years, Fletcher's features traditional English decor to match its British-themed menu, which includes roasts and Scottish Salmon. Bourdain visited during the "US Desert" episode.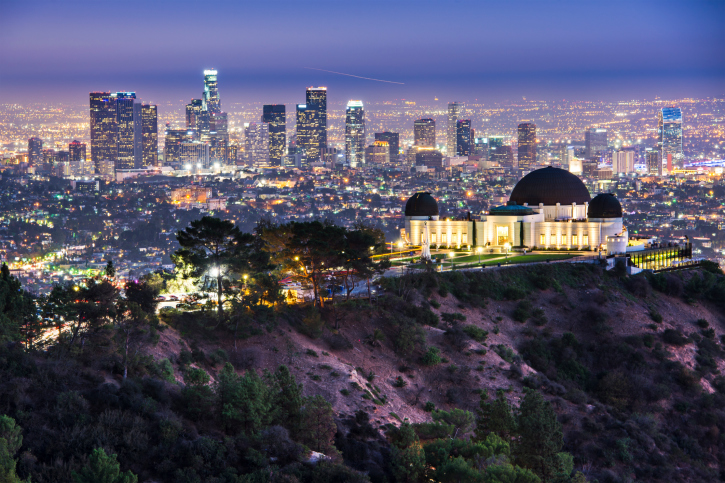 Los Angeles, California
Philippe the Original
Lovers of the French dip take notice, because you'll certainly want to venture to the place that claims to have started it all: Philippe the Original. Buyer, be aware that only cash will be accepted, and that lines start in front of the deli carvers. Breakfast, soups, and other offerings are on tap for anyone who does not want a turkey, ham, lamb, beef, or pork sandwich served on French bread with gravy for dipping. Prices are generally under $10, making this a great choice for lunch when you don't want to spend too much money in the middle of the day.
Roscoe's House of Chicken and Waffles
Another institution, with something completely different on the menu is Roscoe's House of Chicken and Waffles. There are several locations around the LA area, and the restaurant is popular with celebrities, tourists, and residents alike. Started in 1975 by Herb Hudson, the East Bay Express says Roscoe's helped to popularize the chicken-waffle combination on the West Coast, and make it mainstream. When you go, expect to have several choices on how to order your chicken and waffles, along with other soul food dishes incase you prefer your waffles without the added protein (you can also just order chicken or waffles, but when in Rome…). Yelp gives it a $$ rating, with dishes being between $8 and $30.
Sapp Coffee Shop and Bhan Kanom Thai
Soul food and sandwiches have a distinctly American taste to them, but there are many other cuisines worth sampling in LA, like Thai. Bourdain made two Thai-related stops on his LA episode, to Sapp Coffee Shop and Bhan Kanom Thai. At the former, you'll find a price friendly menu, and rave reviews about the Thai Boat Noodles — a dish No Reservations thinks everyone should order too. But don't fill up too much, and skip dessert because you'll be headed to Bhan Kanom Thai for your Thai dessert needs. Again, the menu has a lot of wallet friendly options, so if you're craving coconut ice cream, grilled bananas, and sticky rice, why not order it all?
San Francisco, California
Ferry Building Marketplace
Providing food and shopping for residents and visitors is the Ferry Building Marketplace. The market is housed in the historic ferry building, which first opened in 1898. A preservation project turned it from travel hub into a must-see marketplace. To fully discover the building, take advantage of the free tours on Tuesdays and Saturdays, starting at noon. Prices will vary by market stall and shop, but Yelp gave it a moderate $$ designation. Ferries still use the building, adding an extra touch of atmosphere to this already unique location. You should not expect a marketplace if you hit up another destination from the San Francisco show, That's It Market. Instead you'll discover a liquor store and deli that serve massive tortas that receive rave reviews.
Tadich Grill
All of those ferries and views of the water aren't the only way to take advantage of the Bay Area's location. For locally sourced seafood, you'll want to head to Tadich Grill, an institution in California. In 2005, Tadich had been open in some iteration or another for 155 years, and SF Gate attributed its longevity to a fuss-free take on dining. Not only has it stayed it business, but it has stayed popular too. The figures from 2005 were that between 600 and 800 people could show up on any given day to stand in line (Tadich doesn't take reservations) to eat at the famed San Francisco seafood spot. Your wallet will be a bit squeezed – menu items run between $31 and $60 – but if you are a fan of good, local seafood, you need to take a bite of history at Tadich.
Red's Java House
On tap at Red's Java House are spectacular water views, burgers, and beer. With menu items under $15, and a lot of them under $10, this is a budget-friendly stop on your San Francisco sojourn. As you walk up to the front, the no-frills restaurant may not appear like anything spectacular, but when you are led around to the seating in the back, you'll see that you came to the right place. An outdoor patio right next to the water is the exact setting you want when want ice cold beer or good sandwiches while taking a break from sight-seeing and exploring.
More From Wall St. Cheat Sheet: