9 Scintillating Ice Cream Sundae Recipes
What makes for a truly great ice cream sundae? Well, that depends on who you ask. Some people are all about the toppings, and other insist the flavor of ice cream is what matters most. Another group will emphasize what it is served with — cookies, brownies, bananas — while yet another says it is balancing all of those factors that is the key to a fabulous ice cream sundae. Here are nine recipes with a bit of everything that elevate your ice cream to a superb sundae.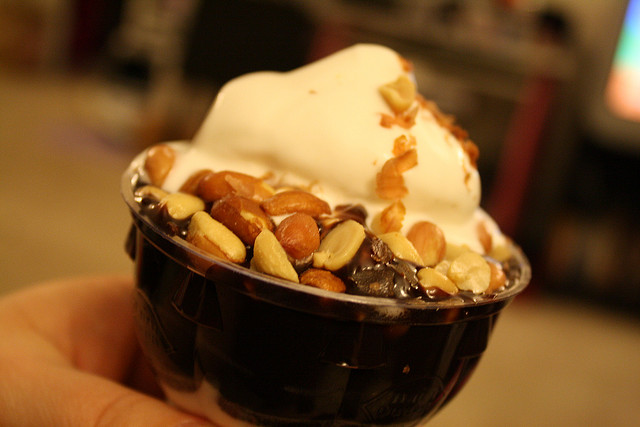 1. Milk Chocolate Peanut Butter Sundaes
Starting off this sundae soiree is a simple recipe from Baked Bree. The addition of salted peanuts at the end will be just the salty crunch factor your sundae needs.
Ingredients:
¾ cup cream
½ cup milk chocolate chips
½ cup smooth peanut butter
3 tablespoons corn syrup
vanilla ice cream
salted peanuts
Directions: Put all of the ingredients in a saucepan. Put the saucepan over medium heat and cook until it all melts together. I told you that you had it in you. Put the sauce in a jar until you are ready to use it.
If making this for a party, get your ice cream scooped and in bowls and keep them in the freezer until ready to serve it. Warm the sauce in the microwave for a few seconds. Pour the warm sauce over the ice cream. Sprinkle some peanuts on top.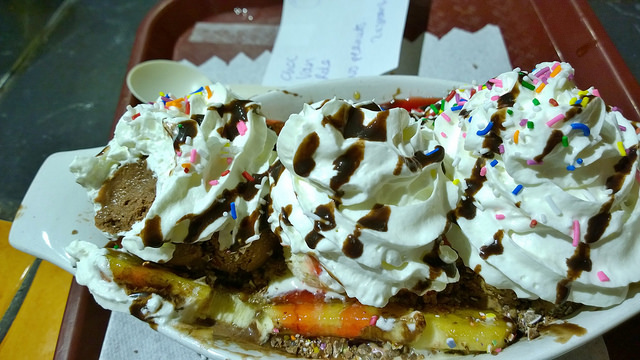 2. Grilled Banana Splits
You've probably never had a banana split quite like this one from the Food Network. Any number of ice creams would taste wonderful with the grilled bananas, not just strawberry, and sprinkles are never wrong when topping a sundae.
Ingredients:
2 teaspoons brown sugar
½ teaspoon ground cinnamon
6 firm bananas, split in ½, lengthwise, in their peels
strawberry ice cream
½ cup candied pecans, or nut of choosing
fresh whipped cream
hot fudge sauce
Maraschino cherries
mint sprigs, for garnish
Directions: Preheat the grill to medium heat. Mix the sugar and cinnamon together in a small bowl. Sprinkle the bananas with sugar and cinnamon mixture. Put them, cut side down, on the grill and cook until grill marks appear, about 2 to 3 minutes. Flip over and cook until the peel just starts to pull away from the banana. Remove the bananas from the grill and peel. Add 2 banana halves to each banana split dish. Top with strawberry ice cream, candied pecans, whipped cream and hot fudge sauce. Put a cherry on top and garnish with a sprig of mint.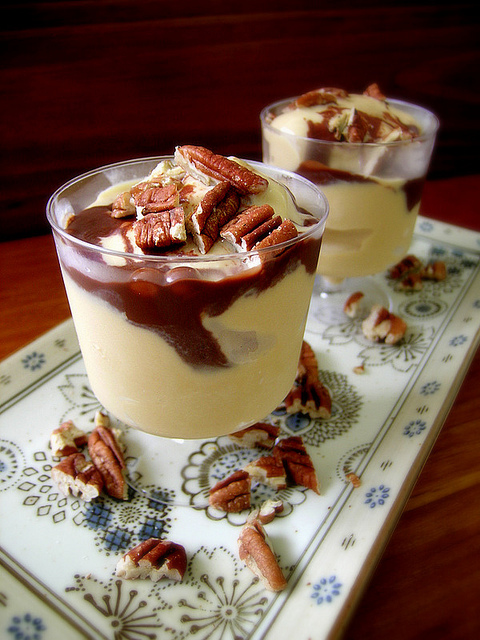 3. Bourbon Pecan Caramel Sauce
An adults-only topping that will make the kids' sugar highs more bearable comes from Laughing Over Spilled Milk. The gooey goodness is perfect for ice cream, but pairs well with pies and yogurt too.
Ingredients:
½ cup bourbon
1 teaspoon lemon juice
2 cups white granulated sugar
2 cups heavy cream
1 teaspoon salt
1 tablespoon vanilla paste (may substitute extract)
1 cup pecans, roughly chopped and toasted
Directions: In a high-sided saucepan, pour the bourbon and lemon juice. Gently pour the sugar into the center of the pan, allowing it to spread towards the edges – do not stir. Cook over medium heat for 4 to 6 minutes, swirling the pan occasionally. Keep a close eye – the sugar can quickly burn as it changes color. When it is a dark amber, remove from heat.
Immediately add the cream – don't be alarmed as the caramel seizes and hisses. Stirring with a wooden spoon, return the pan to low heat and cook until the sauce thickens (5 to 10 minutes). Add salt and vanilla, stir to combine. Add pecans. Store sauce in an airtight container in the refrigerator. Sauce will keep for up to 1 month.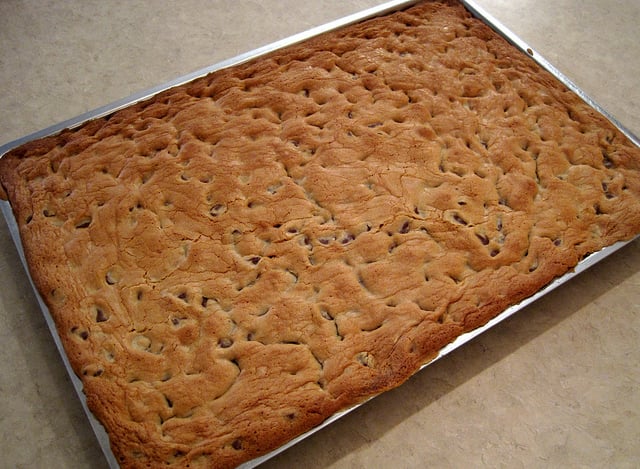 4. Sundae Cookie Bars
Ice cream becomes a topping when you make the sundae cookie bars from Buns in My Oven. Two traditional toppings are baked into the bars, giving the old sundae a new twist.
Ingredients:
1 cup (2 sticks) butter, softened
½ cup granulated sugar
¾ cup packed light brown sugar
1 teaspoon vanilla extract
2 eggs 2½ cups all-purpose flour
1 teaspoon baking soda
½ teaspoon salt
2 cups (12-ounce packages) semi-sweet chocolate chips
¼ – ½ cup Hot Fudge ice cream topping, softened
¼ – ½ cup Caramel ice cream topping, softened
Directions: Preheat the oven to 350 degrees. Line a 9 x 13 baking dish with parchment paper or spray with cooking spray. In the bowl of a stand mixer, beat together the butter and sugars until light and creamy. Beat in the vanilla and eggs, one at a time, until thoroughly combined.
In a small bowl, combine the flour, baking soda, and salt. Gradually add the flour mixture to the butter mixture, beating well.
Stir in the chocolate chips. Use your hands to press half of the dough into the bottom of the baking dish. (It will be a pretty thin layer and you'll really need to press it in.)
Spread the hot fudge sauce in a thin, even layer over the cookie dough. Use just enough to completely cover the dough. Spread the caramel sauce over the hot fudge in a thin layer, using just enough to completely cover. Take small chunks of the remaining cookie dough and flatten them into small pieces in your hand and place each piece in a single layer over the top of the caramel. You'll need to press the pieces pretty thin in order to have enough to mostly cover the top. It's OK if there are a small gaps, the cookies will spread as they bake. Bake for 25 to 35 minutes, checking for the doneness you prefer.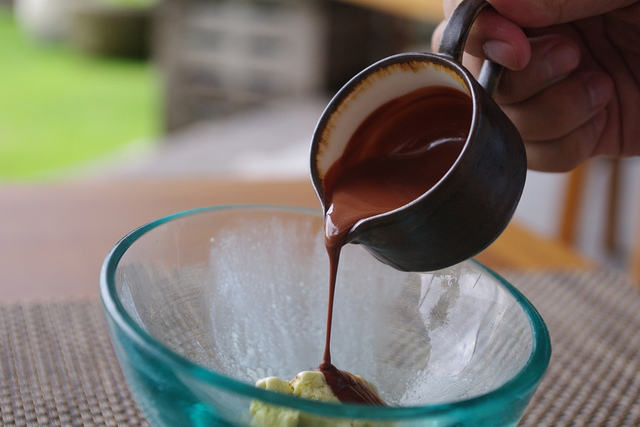 5. Spumoni Sundaes
The Cilantropist's sundae was inspired by Italian spumoni ice cream. The ice cream is layers of flavor, usually cherry, pistachio, and then chocolate or vanilla. The sundae is a play on this, involving two types of ice cream, and hot fudge to combine the flavors.
Ingredients:
1 pint vanilla ice cream
1 pint pistachio ice cream
chopped pistachios
Espresso Hot Fudge
⅔ cup heavy whipping cream
2 tablespoons honey
1½ teaspoon instant coffee or espresso (I used 1 packet Starbucks Via)
3.5 ounces bittersweet chocolate, not less than 60 percent cacao, chopped
2 tablespoons unsalted butter
Amaretto Cherry Sauce
⅓ cup amaretto
⅓ heaping cup of cherry preserves with whole cherries, or 1/4 cup preserves without whole berries
¼ cup chopped cherries (optional if not using preserves with whole cherries)
Directions: To make hot fudge sauce, add whipping cream, honey, and instant espresso to a small saucepan, and heat until just simmering (not boiling). Remove from heat, and stir in the chocolate and butter until smooth. Set aside to cool (or refrigerate overnight).
For the cherry sauce, add amaretto and cherry preserves to a small saucepan, bring to a boil over high heat, then reduce heat to medium and simmer for about 4 to 5 minutes or until the sauce has thickened and is reduced to a little more than 1/3 cup. Set aside to cool (or refrigerate overnight). (If your preserves did not have whole cherries in them, you can add the chopped cherries to the sauce. Soak them for 2 to 3 hours before serving.)
To assemble the sundaes, re-warm hot fudge sauce and cherry sauce in the microwave. In each bowl, layer the ingredients starting with hot fudge at the bottom, followed by vanilla ice cream, cherry sauce, pistachio ice cream, and topping the sundae with more hot fudge and chopped pistachios. Or just throw it all in a bowl any which way you like. Eat immediately.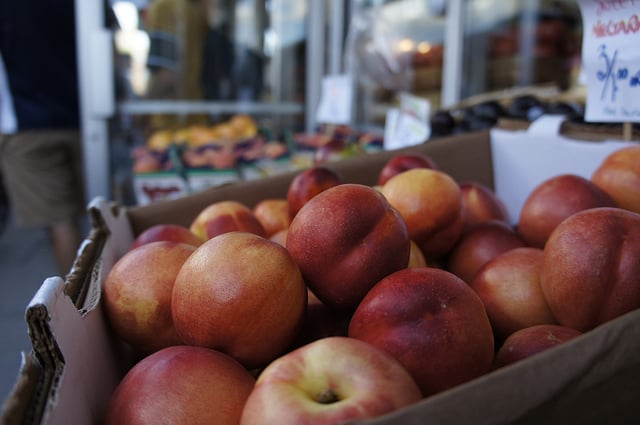 6. Summer Sundae
Summer is the time of year generally associated with ice cream sundaes, so why not take advantage of some of the best summer produce in a fruit-filled sundae from The Best Remedy? It offers the perfect break from the usual chocolates and caramels while remaining sweet and cool.
Ingredients:
½ pint fresh raspberries
½ pint fresh blueberries
2 tablespoons sugar
4 pitted nectarines, sliced
¼ cup pecan pieces, toasted
1 to 2 pints vanilla ice cream
Directions: Puree berries in processor. Transfer puree to sieve set over bowl and strain, pressing with rubber spatula to extract as much pulp and juice as possible. Place nectarines in medium bowl. Sweeten to taste, tossing with sugar 1 tablespoon at a time. Let stand 15 minutes.
Spoon some sauce into bottom of four sundae dishes. Top with 2 tablespoons nectarines, some pecans, 2 scoops ice cream, more berry sauce, and more nectarines. Sprinkle with remaining pecans.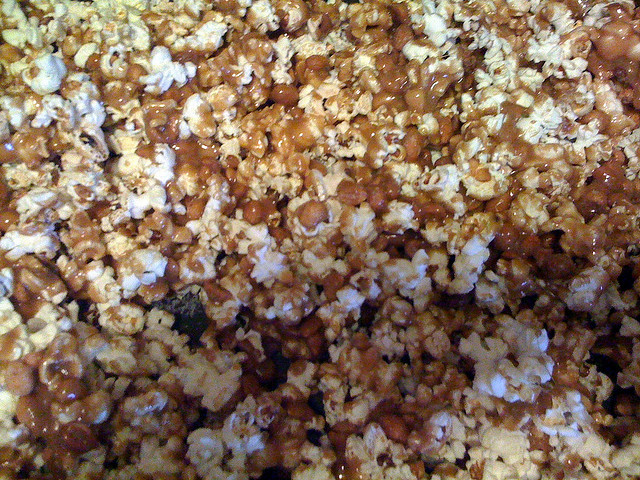 7. Popcorn Crunch Sundae
From Epicurious, the star of this sundae show is the popcorn crunch topping. You need to work quickly when adding the caramel to keep it from hardening, but the topping can be made up to one week ahead if you store it in an airtight container.
Ingredients:
6 tablespoons unsalted butter, cut into 1/2-inch pieces, plus more for pan
3 cups popped popcorn
½ cup salted roasted peanuts
¾ cup sugar
2 tablespoons light corn syrup
⅓ cup sugar
¼ cup natural unsweetened cocoa powder
3 tablespoons light corn syrup
¼ cup (½ stick) unsalted butter
1 ounce semisweet chocolate, chopped
½ teaspoons vanilla extract
⅛ teaspoon kosher salt
2 pints dulce de leche ice cream
Directions: To make the popcorn crunch, coat a rimmed baking sheet with butter; set aside. Combine popcorn and peanuts in a large mixing bowl. Bring sugar, corn syrup, and 2 tablespoons water to boil in a medium saucepan, stirring to dissolve sugar. Add 6 tablespoons butter and stir until melted. Continue cooking, stirring often, until caramel is a deep amber color, 10-12 minutes.
Working quickly, pour caramel over popcorn and peanuts and, using a heatproof spatula, mix to coat. Transfer to prepared baking sheet and let cool completely. Break into pieces.
Make the fudge sauce by whisking sugar, cocoa powder, corn syrup, and 1/4 cup water in a small saucepan until smooth. Bring just to a simmer over medium heat. Remove from heat; mix in butter, chocolate, vanilla, and salt until smooth. Cover to keep warm.
Serve ice cream topped with popcorn crunch and fudge sauce.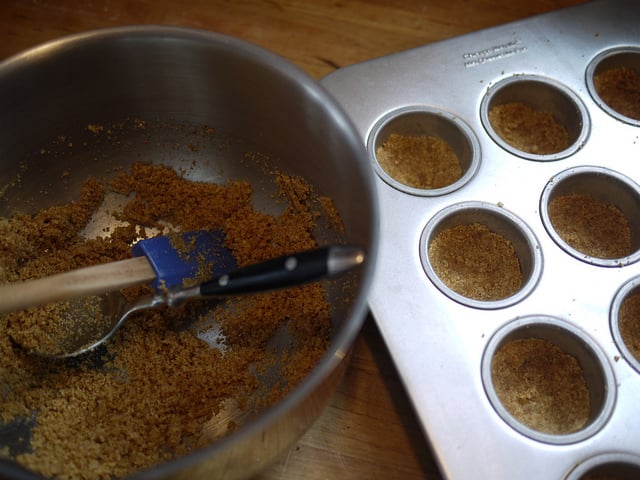 8. Indoor S'more Sundae
Melissa d'Arabian gave her recipe for indoor s'more sundaes to the Food Network. Prepared in muffin tins, the sundaes are served in graham cracker crusts.
Ingredients:
¾ cup graham cracker crumbs (about 5 whole graham crackers)
3 tablespoons butter, melted
2 tablespoons sugar
½ teaspoon cinnamon
salt
4 scoops vanilla ice cream
1½ cups mini marshmallows
½ cup semisweet chocolate chips
2 tablespoons whole milk
Directions: For the graham cracker crust, mix the graham cracker crumbs, butter, sugar, cinnamon and a sprinkle of salt together in a bowl. Firmly press the crust into muffin tins to make individual crusts. Top each crust with a scoop of vanilla ice cream. Press the mini marshmallows into the ice cream, covering the scoop completely. You will have four s'more "domes." Freeze at least 1 hour.
For the quick chocolate sauce, immediately before serving, heat the broiler to low. Toss the chocolate chips with the milk in a ramekin or small bowl and microwave 30 seconds, stir until smooth and set aside. Place the s'more domes under the broiler until marshmallows brown, about 30 seconds. Watch them constantly as they burn easily. Place each s'more on a plate and drizzle with the chocolate sauce.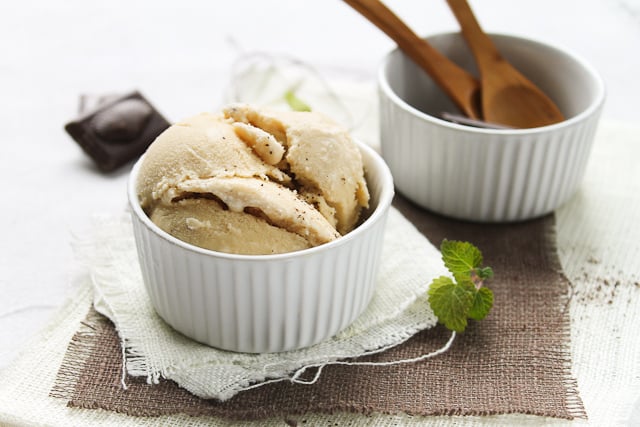 9. Coffee Maple Sundae
The Meaning of Pie is keeping things simple, using the best ingredients available for a sundae that only has three ingredients. Use your favorite brands of each for a sweet sundae that takes no time to make.
Ingredients:
1 scoop of coffee ice cream
1 tablespoon real maple syrup
1 tablespoon chopped pecans
Directions: Place the ice cream in a dish. Drizzle maple syrup over the ice cream and sprinkle the pecans on top. Serve and enjoy!
More From Wall St. Cheat Sheet: