6 Flaxseed Recipes Adding More Omega-3s to Your Diet
Omega-3 fatty acids are critical for body function, but we do not produce these essential fatty acids (EPA, DHA, ALA) on our own. WebMD says that to get this good fat into our system, we need to consume foods rich in omega-3s. With flaxseeds, you can easily get one of those (ALA) into your diet through baking and blending. The omega-3 fatty acid content is off the charts for flaxseeds, and World's Healthiest Foods ranks it as the top source for omega-3s out of all 127 foods in its database. In addition to providing one part of the omega-3 equation, research suggests that flaxseeds are high in antioxidants and lignans as well, which bring benefits to our cardiovascular systems and have anti-inflammatory properties.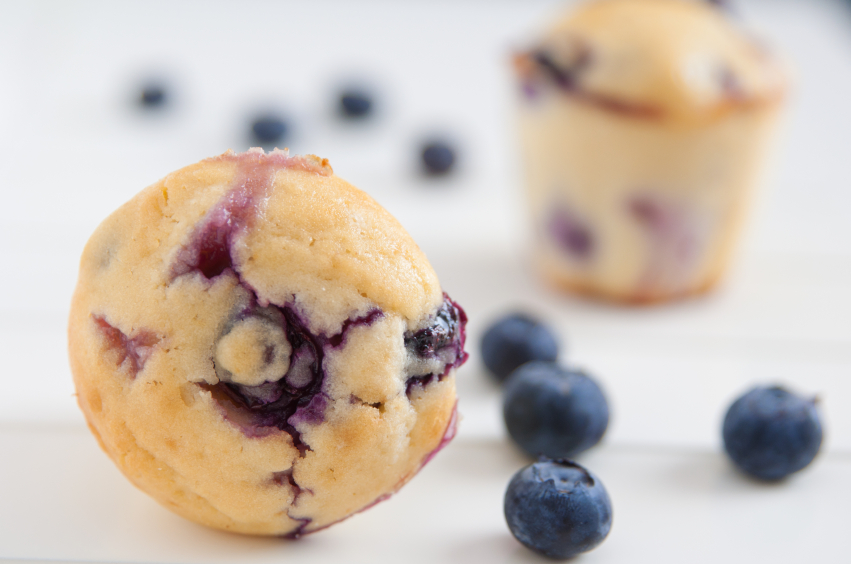 1. Blueberry Flaxseed Muffins
Flaxseed first thing in the morning is possible with a batch of Spark Recipe's blueberry muffins. Flaxseeds aren't the only item in the ingredient list making these muffins better for you than what you pick up at the bakery. Whole wheat flour, SFGate explains, has a better nutritional profile than all-purpose, including more fiber and vitamins.
Ingredients:
1 tablespoon flaxseeds
1 cup blueberries
1 cup quick oats
1 cup low fat buttermilk
1 cup whole wheat flour
1 teaspoon baking powder
½ teaspoon baking soda
¼ teaspoon cinnamon
1 teaspoon salt
1 whole egg
¼ cup unsweetened applesauce
¾ cup brown sugar
Directions: Preheat oven to 375 degrees Fahrenheit. Spray muffin pans with nonstick spray or line with paper liners. Use a clean coffee grinder or high-power blender to roughly grind the flax seeds, trying not to process them into a mealy texture. Skip this step if you have pre-ground flax.
Wash and dry the blueberries. In a small bowl, combine the oats and buttermilk, and let stand at room temperature for five minutes. In a medium bowl, combine the flour, baking powder, baking soda, cinnamon, and salt; mix with a fork to blend and set aside. In a large bowl and using a hand mixer, beat the egg, applesauce, brown sugar at medium speed for 3 minutes. Blend in the oat-buttermilk mixture. Stir in the flour mixture only to combine, try not to overwork the mixture. Fold in the blueberries. Fill muffin cups ¾ full and top with a sprinkle of flax seed. Bake 15 minutes or until a toothpick inserted into the center comes out clean.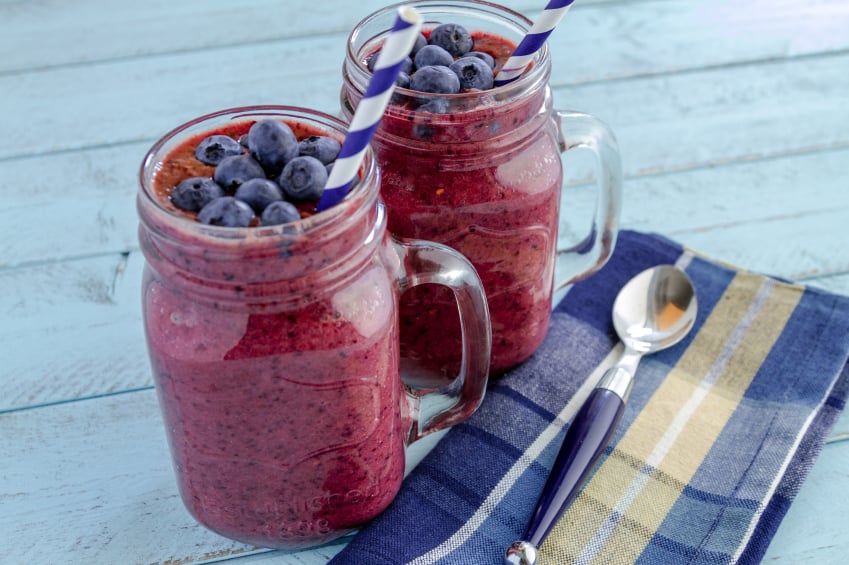 2. Berry Banana Flaxseed Smoothie
Anyone who wants to drink their breakfast or have a healthy cool treat can try the smoothie from Lean It Up. Use fresh or frozen fruit when blending this beverage, and if you opt out of the protein powder, consider adding a few drops of vanilla extract to give your smoothie another element of flavor and bit more sweetness. It yields 2 servings.
Ingredients:
½ cup blueberries
½ cup raspberries
½ cup  strawberries
½ large banana
1½ cups coconut almond milk (almond milk or skim milk works as well)
2 tablespoons ground flax seeds
1 scoop of vanilla whey protein powder (optional)
3 ice cubes
Directions: Put all of the ingredients together in a large blender. Blend until smooth and pureed, without completely liquifying the entire smoothie — about 15 to 20 seconds on high.
3. Lemon Loaf
Cooking Light has snuck flaxseed into this citrusy quick bread. With a sweet, lemony glaze drizzled on top of the bread, no one will be able to guess that you added a healthy ingredient into the mix. We'll let you decide whether or not you want to share this secret.
Ingredients:
Cooking spray
1 tablespoon granulated sugar
¼ cup flaxseed
1 cup granulated sugar
2 large eggs
2 cups all-purpose flour
1½ teaspoons baking powder
½ teaspoon baking soda
½ teaspoon salt
¾ cup low-fat buttermilk
¼ cup vegetable oil
2 teaspoons grated lemon rind
1 teaspoon vanilla extract
½ cup powdered sugar
1 tablespoon fresh lemon juice
Directions: Preheat oven to 350 degrees Fahrenheit. Coat an 8 by 4-inch loaf pan with cooking spray; sprinkle with 1 tablespoon granulated sugar. Set pan aside. Place flaxseed in a blender or clean coffee grinder, and process until ground to measure about 6 tablespoons flaxseed meal; set aside.
Combine 1 cup granulated sugar and eggs in a large bowl; beat at high speed of a mixer 3 minutes or until mixture is thick and pale. Lightly spoon flour into dry measuring cups; level with a knife. Combine flaxseed meal, flour, baking powder, baking soda, and salt; stir well with a whisk. Combine buttermilk, oil, rind, and vanilla. Add flour mixture to egg mixture alternately with buttermilk mixture, beginning and ending with flour mixture.
Spoon batter into prepared pan. Bake for 55 minutes or until a wooden pick inserted in center comes out clean. Cool in pan 5 minutes on a wire rack; remove from pan. Cool completely on wire rack. Combine powdered sugar and lemon juice; drizzle over top of loaf.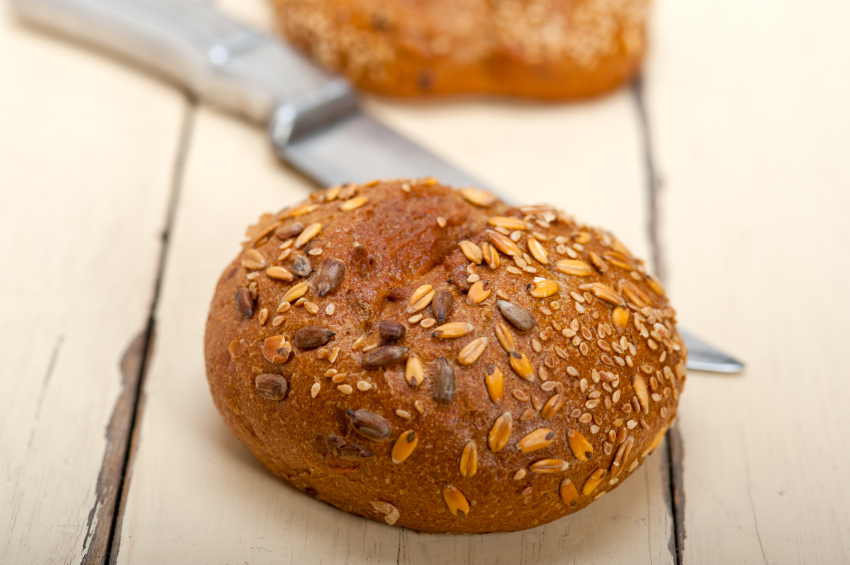 4. Whole Grain Flaxseed Rolls
Flaxseed isn't reserved for breakfast or dessert. Yeasted dinner rolls were on the receiving end of Shape and Linwood Health Foods recipe makeover. Instead of a bowl of white dinner rolls at your next gathering, try these whole grain rolls instead. It makes approximately 20 rolls.
Ingredients:
1 cup water
1 cup 2 percent milk
1 ½ tablespoons brown sugar
1 package dry yeast (about 2 ¼ teaspoons)
½ cup ground flaxseed, plus 2 tablespoons
2 cups whole-wheat flour
2 cups all-purpose flour, divided
2 teaspoons salt
Vegetable oil cooking spray
1 tablespoon water
1 large egg white
Directions: In a large bowl, combine water and milk and microwave for 1½ minutes, until slightly warm. Add sugar and yeast to dissolve and let stand 5 minutes. In a separate bowl, mix ½ cup ground flaxseed, whole-wheat flour, 1¾ cup all-purpose flour, and salt together. Slowly stir dry ingredients into milk mixture to form a soft dough. Turn dough out onto a floured surface and knead until smooth and elastic, about 10 minutes, adding enough remaining all-purpose flour to prevent dough from sticking to hands, it will feel tacky.
Place dough in a large bowl coated with cooking spray, then turn so all sides are coated with spray. Cover and let rise in a warm place that's free of drafts for an hour or until dough is doubled in size. Punch dough down, cover, and let rest 5 minutes.
Divide dough into 20 equal portions. Keeping them covered to prevent dough from drying, shape each into a ball. Place balls 2 inches apart on a large baking sheet lined with parchment paper or coated with nonstick cooking spray. Cover and let dough rise 45 minutes or until doubled in size. Preheat the oven to 425 degrees. Uncover rolls and cut a ¼-inch deep "X" on the top of each roll using kitchen scissors. Combine water and egg white and brush over rolls. Sprinkle remaining flaxseed over top of rolls, if desired. Bake for 15 minutes or until rolls are browned on bottom and sound hollow when tapped. Remove from pan and cool on a wire rack.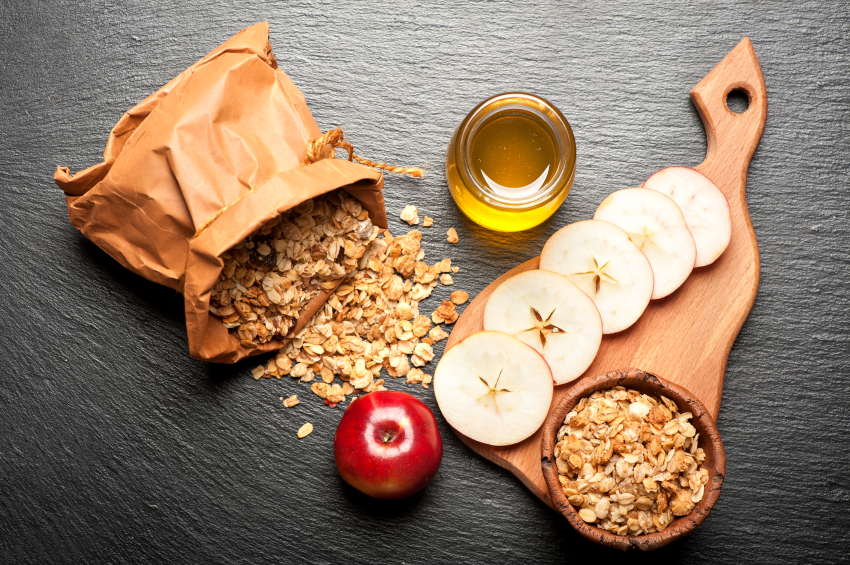 5. Flaxseed Granola
Sprinkled over yogurt, or paired with fresh fruit, the flaxseed granola from AllRecipes.com is a crunchy way to get your flax fix for the day. Flaxseed meal refers to ground flaxseeds, so if you have the seeds on hand, you can grind it into a fine meal using a blender, food processor, or coffee grinder.
Ingredients:
4 cups rolled oats
1 cup wheat germ
½ cup flaxseed meal
½ cup brown sugar
½ cup raw sunflower seeds
½ cup chopped pecans
½ cup sliced almonds
1 teaspoon ground cinnamon
1½ teaspoons salt
⅓ cup canola oil
¼ cup honey
1 teaspoon vanilla extract
½ cup water
Directions: Preheat the oven to 300 degrees Fahrenheit. In a large bowl, mix together the oats, wheat germ, flax seed meal, brown sugar, sunflower seeds, pecans, almonds, cinnamon and salt. In a separate bowl, whisk together the oil, honey, vanilla and water. Pour the wet ingredients over the dry, and mix until evenly blended. Spread in a greased 9 by 13-inch or 11 by 7-inch baking pan. Bake for 1 hour in the preheated oven, stirring every 20 minutes, or until toasted. Let cool completely before storing in an airtight container.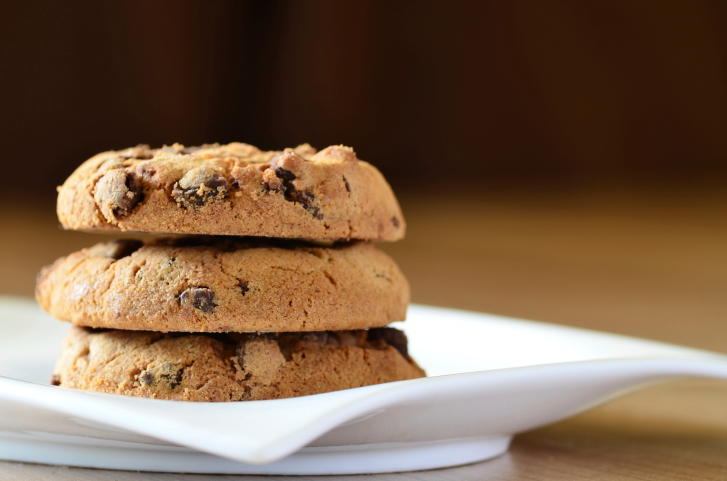 6. Chocolate Chip Cookies
The Pioneer Woman's chocolate chip cookie recipe looks like your run-of-the-mill treat until you find the line calling for 2 tablespoons of flaxseeds. The recipe demonstrates how easy it is to add a pinch of flaxseeds to a recipe without altering the outcome of whatever you happen to be baking; it yields about 36 cookies.
Ingredients:
½ cup margarine
½ cup butter, softened
1 cup firmly packed brown sugar
½ cup white sugar
2 whole eggs
2 teaspoons vanilla extract
2¼ cups plus 2 tablespoons, all-purpose flour
1 teaspoon (heaping) instant coffee granules
1 teaspoon baking soda
1½ teaspoon Salt
2 tablespoons flaxseed, slightly crushed with rolling pin, or ground
¾ cup chocolate chips (semi-sweet, dark, or milk)
1 cup (heaping) milk chocolate chips
Directions: Preheat oven to 375 degrees Fahrenheit. In a bowl, stir together butter, margarine, brown sugar, and white sugar until combined. Add eggs and vanilla and stir together. In a separate bowl, stir together flour, instant coffee, baking soda, and salt. Add to wet ingredients in batches, stirring gently after each addition. Stir in flaxseed. Stir in chocolate chips. Drop balls of dough on a cookie sheet and bake for 11 to 13 minutes. Remove from cookie sheet and eat warm.
More from Life Cheat Sheet:
Want more great content like this? Sign up here to receive the best of Cheat Sheet delivered daily. No spam; just tailored content straight to your inbox.