Appetizer Recipes You Need for Your Next Party
Whether you're attending a party or are hosting a get-together, preparing delicious appetizers is a wonderful way to enhance any social gathering. Appetizers also ensure you have tasty treats to serve without spending too much time in the kitchen. These deviled eggs, grilled shishito peppers, and nacho scoops will quickly become the life of the party. Here are six mouth-watering appetizer recipes that are guaranteed to appease any appetite.
1. Nacho Scoops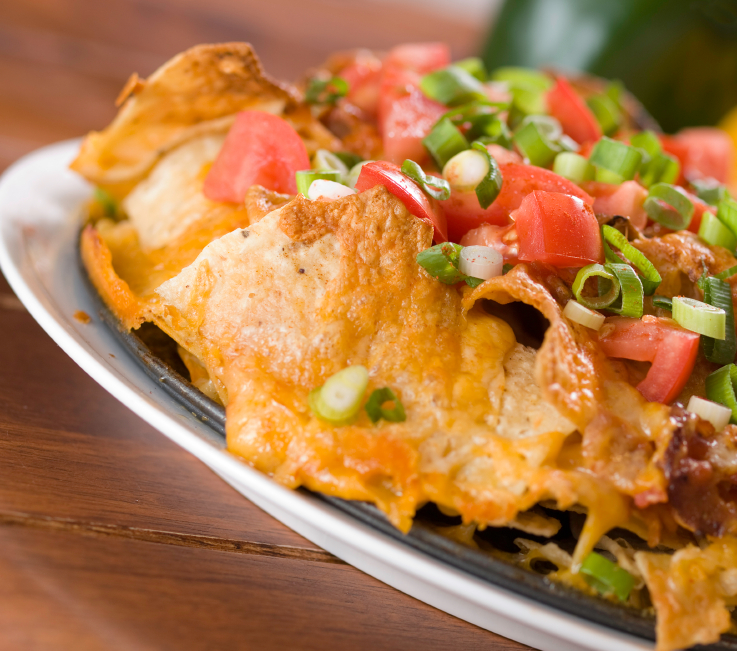 Prepare a big platter of these appetizing nacho bites, which are filled with spicy cheese and beef. Taste of Home's recipe, which yields 12 dozen servings, is easy, creamy, and delicious.
Ingredients:
¾ pound ground turkey or beef
1 medium onion, finely chopped
1 medium sweet red pepper, finely chopped
1 envelope taco seasoning
1 can (14½ ounces) diced tomatoes and green chilies, undrained
1 can (4 ounces) chopped green chilies
8 ounces pepper jack cheese, cubed
4 ounces process cheese, cubed
4 ounces cream cheese, softened, cubed
1 package (12 ounces) tortilla chip scoops
2 cups (8 ounces) shredded Mexican cheese blend
Sour cream and pickled jalapeño slices
Directions: Preheat the oven to 375 degrees Fahrenheit. Cook the beef, onion, and red pepper over medium heat in a large skillet until meat is no longer pink; drain. Stir in the taco seasoning, tomatoes, and green chilies. Cook and stir for 5 to 7 minutes or until mixture is thickened. Reduce heat to low, and stir in the pepper jack, process cheese, and cream cheese until melted.
On an ungreased baking sheet, place 4 dozen scoops. Add a rounded teaspoon of beef mixture to each. Sprinkle with Mexican cheese blend. Bake at 375 degrees Fahrenheit for about 5 minutes or until heated through. Garnish each with sour cream and a jalapeno pepper slice. Repeat with remaining tortilla chip scoops.
2. Deviled Eggs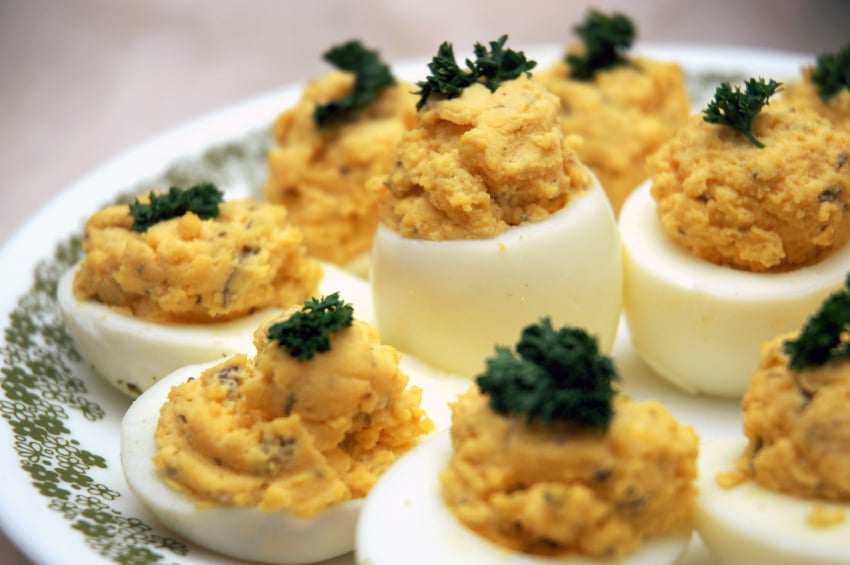 This is a perfect appetizer for any potluck. Eating Well's recipe replaces some of the egg yolks with nonfat cottage cheese, ensuring the filling remains rich while also reducing some of the fat. The recipe yields 24 servings and only contains 2 grams of fat.
Ingredients:
12 large hard-boiled eggs, peeled
⅓ cup nonfat cottage cheese
¼ cup low-fat mayonnaise
3 tablespoons minced fresh chives or scallion greens
1 tablespoon sweet pickle relish
2 teaspoons yellow mustard
⅛ teaspoon salt
Paprika for garnish
Directions: Using a sharp knife, halve eggs lengthwise. Gently remove the yolks. Place 16 yolk halves in a food processor, discarding the remaining 8 yolk halves. Add cottage cheese, mayonnaise, chives (or scallion greens), relish, mustard, and salt, processing until smooth. Spoon about 2 teaspoons yolk mixture into each egg white half. Sprinkle with paprika, if desired.
3. Grilled Shishito Peppers with Sesame Oil and Salt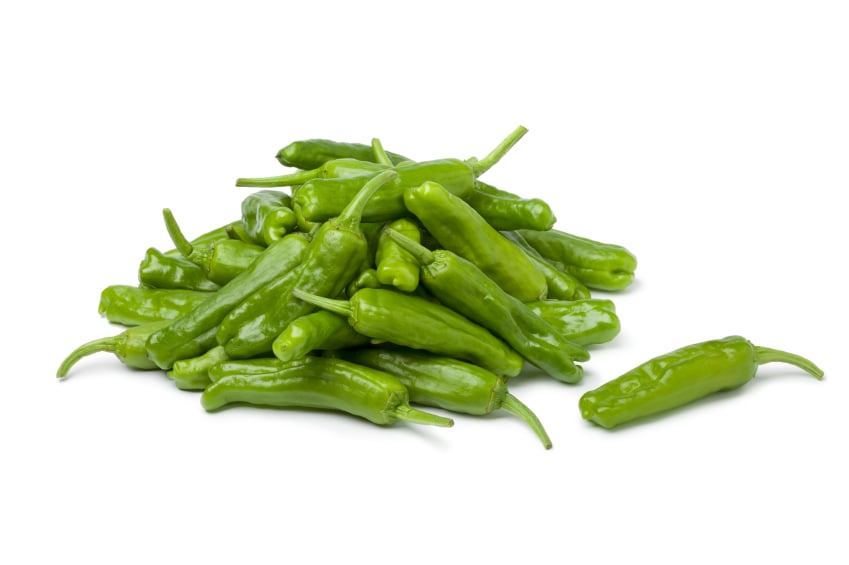 Make sure you provide your guests with plenty of cold beverages to wash down Serious Eats' spicy recipe. This unique recipe yields 4 servings, and you'll need skewers to grill the peppers to perfection.
Ingredients:
1 pound shishito peppers
2 tablespoons Asian (dark) sesame oil
Coarse sea salt
Directions: Skewer the shishito peppers crosswise on bamboo skewers, leaving about half of the skewer exposed. Lightly brush the peppers on both sides with the sesame oil and season them with sea salt. Set up the grill for direct grilling and preheat it to high. When ready to grill, brush and oil the grill grate.
Arrange the skewered peppers on the hot grate with the aluminum foil shield under the exposed ends of the skewers to keep them from burning. Grill the peppers until sizzling and browned on both sides, 2 to 4 minutes per side. Serve the peppers hot off the grill with extra salt on the side for sprinkling.
4. Flank Steak with Balsamic Barbecue Sauce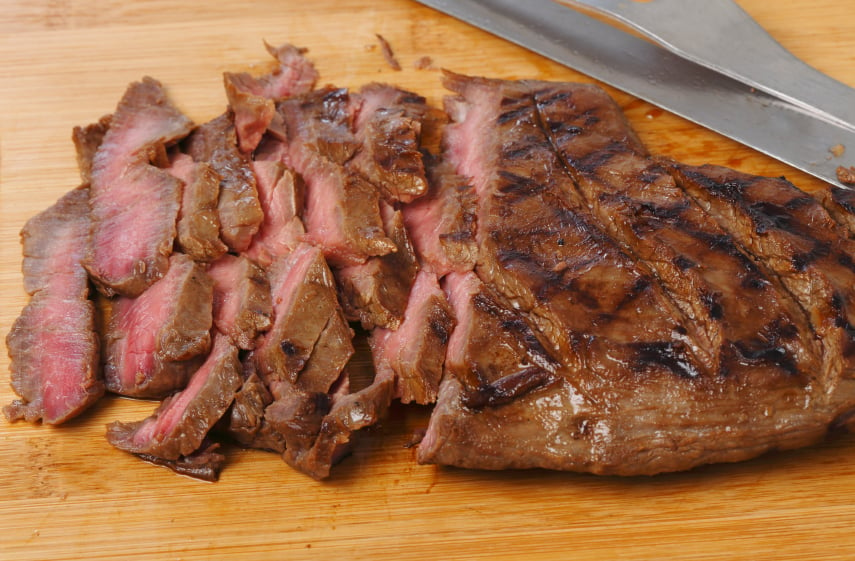 Fire up the grill in preparation for this Food Network dish. The easy and delicious recipe, which yields 4 servings, is a combination of well-seasoned flank steak and grilled, cheesy bread, topped off with an added crunch from the sliced scallions.
Ingredients:
Sauce and steak
1½ cups balsamic vinegar
2 tablespoons canola oil
1 small onion, coarsely chopped
1 large clove garlic, coarsely chopped
½ cup ketchup
1 tablespoon ancho chile powder
1½ teaspoons paprika
2 teaspoons Dijon mustard
1½ teaspoons red wine vinegar
1½ teaspoons Worcestershire sauce
1 small chipotle chile in adobo sauce, chopped
1½ teaspoons packed dark brown sugar
2 teaspoons honey
2 teaspoons molasses
Kosher salt and freshly ground pepper
2 pounds flank steak
Cheesy bread
1 French baguette, halved lengthwise and cut into 4-inch pieces
Extra-virgin olive oil
Kosher salt and freshly ground pepper
1 cup grated Monterey Jack cheese
Sliced scallions, for serving
Directions: To make the sauce, in a small saucepan, bring the balsamic vinegar to a simmer over medium heat and cook until reduced by about half, 15 to 20 minutes. Set aside. In a heavy-bottomed saucepan, heat 1 tablespoon canola oil over medium-high heat. Add the onion and cook until soft, 3 to 4 minutes. Add the garlic and cook 1 minute. Add the ketchup and 3 tablespoons water and bring to a boil. Reduce the heat to a simmer and cook 5 minutes. Add the reduced balsamic vinegar, chile powder, paprika, mustard, red wine vinegar, Worcestershire sauce, chipotle chile, brown sugar, honey, and molasses.
Simmer until thickened, stirring occasionally, 10 minutes. Puree with an immersion blender or transfer to a blender and puree until smooth. Season with salt and pepper. Pour the sauce into a bowl and let cool to room temperature. Before grilling, let the steak sit 30 minutes at room temperature. Meanwhile, preheat a grill to high. Brush the steak with the remaining 1 tablespoon canola oil and season liberally with salt and pepper. Grill over direct heat until browned on one side, about 3 minutes, then turn over and grill until the other side is browned, about 3 more minutes. Move to a cooler part of the grill, away from direct heat.
Baste with the sauce and continue grilling, turning several more times, until medium rare, about 5 more minutes. Transfer to a cutting board and loosely tent with foil. Let rest 10 minutes. Meanwhile, make the cheesy bread. Brush the cut side of each piece of bread with olive oil and season with salt and pepper. Grill on both sides. Remove from the grill and top each piece with a mound of grated Monterey Jack cheese. Put the bread on a piece of aluminum foil and return to the grill to melt the cheese. Transfer to a serving platter. Thinly slice the steak against the grain. Arrange the steak slices on the bread and garnish with sliced scallions.
5. Grilled Bacon Jalapeño Wraps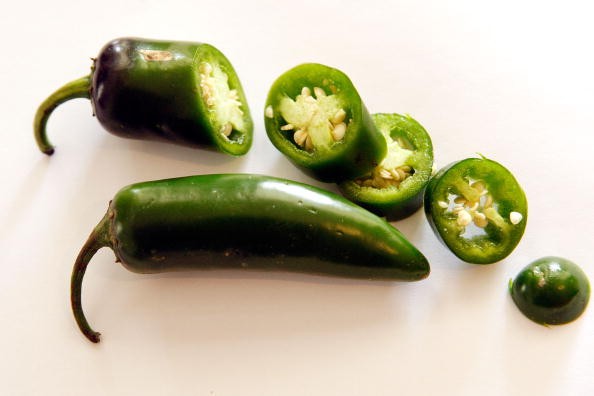 Each bite of Allrecipes.com's jalapeño wraps is oozing with cream cheese and crunchy bacon. Barbecuing this easy-to-make appetizer on the grill creates a crisp, delicious, and slightly spicy dish. The recipe yields 6 servings.
Ingredients:
6 fresh jalapeño peppers, halved lengthwise and seeded
1 (8-ounce) package cream cheese
12 slices bacon
Directions: For high heat, preheat an outdoor grill. Spread cream cheese to fill jalapeño halves. Wrap with bacon. Secure with a toothpick. Place on the grill and cook until bacon is crispy.
6. Spicy Guacamole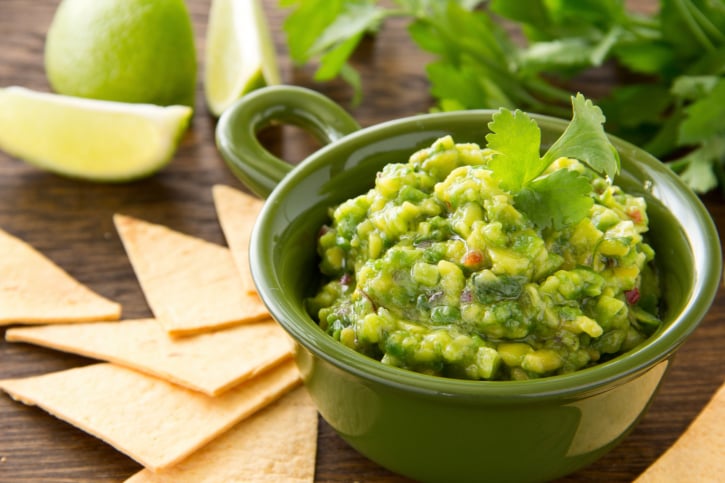 Thanks to the serrano chilies, Food.com's guacamole recipe has a spicy kick to it. If you want to amp it up even more, add a touch of hot sauce, as well. Your guests will love this creamy and fresh-flavored dip.
Ingredients:
1 large ripe avocado, peeled, pitted
2 teaspoons fresh lime juice
½ cup chopped fresh cilantro
¼ cup finely chopped onion
2 garlic cloves, finely chopped
2 large serrano chilies, seeded, chopped
¼ teaspoon salt
Directions: Using a fork, mash avocado with lime juice in small bowl. Add cilantro, chopped onion, chopped garlic, serrano chilies, and salt, and stir to combine.