Are Americans Too Broke to Dine Out?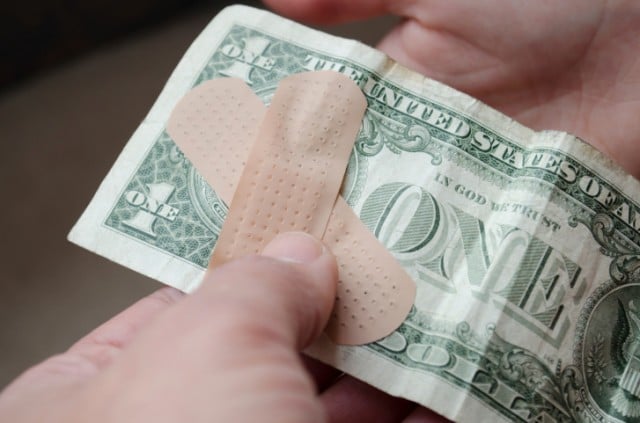 Dining out is practically a professional sport in America. No matter what the occasion, millions of people travel to their favorite venues on a weekly basis. Appetizers are the warm up, entrées are the main event, and dessert is the sweet taste of victory for consuming more calories in a single sitting than you ever thought possible. While America is still one of the most obese countries in the world, some restaurants have yet to recapture their pre-recession glory days.
Crowds are diminishing at casual dining restaurants. According to new findings from the NPD Group, visits to full service and dinner reliant restaurants with a lower check than fine dining reached a six-year low in the year ending February 2014. Since 2009, casual dining traffic has declined at a rate of two percent each year, totaling a loss of 7.1 million visits. Major chains have held up better than smaller chains because of their ability to advertise and offer more specials, but price sensitivity is likely to remain a concern given the financial shape of consumers.
Bankrate recently announced that its Financial Security Index, which gauges how Americans feel about their personal finances, declined in May for the second consecutive month. Sentiment on job security turned negative for the first time since November 2013, while only 18 percent of Americans said they felt more secure in their jobs than one year ago. People are also less comfortable with their savings and debt levels compared to a year earlier.
"Casual dining operators must reinvent offerings that have lost their luster and introduce new promotions and menu items to attract customers and encourage repeat visits," explained Bonnie Riggs, NPD restaurant industry analyst. "Consumers will wait you out once you have shown your willingness to provide regular discounts. Until you reach the price point that delivers the value they have come to expect, they will stay away or find other restaurants that meet their value expectations."
Some restaurants are clearly appealing more to consumers than others. For the most recent quarter, Darden Restaurants (NYSE:DRI) posted a 19.6 percent decrease in net earnings on a year-over-year basis. The parent company of the Olive Garden also experienced a 1.1 percent decrease in total sales. In May, Darden announced it would sell its struggling Red Lobster business to Golden Gate Capital for $2.1 billion in cash.
In contrast, casual dining outlets such as Brinker International (NYSE:EAT), the parent company of Chili's, and DineEquity (NYSE:DIN), the parent company of Applebee's and IHOP, have performed quite well. Net earnings at both companies jumped about 16 percent in the most recent quarter. Even the more traditional dining outlet Sonic (NASDAQ:SONC) has shown an appetite for growth. Earnings at America's favorite drive-in surged 40 percent year-over-year in the three months ended February 28. Sonic plans to open 1,000 locations over the next ten years.
More From Wall St. Cheat Sheet:
Follow Eric on Twitter @Mr_Eric_WSCS