Are $1 Menus Really a Good Deal?
Most of us have driven through a fast food line at one time or another. And, when you don't want to spend more than a few bucks, those dollar menus can be pretty enticing. With choices often ranging from a cheeseburger, to fries, to a taco, or even a dessert, dollar menus offer items that are either small in size, or items that contain an inexpensive combination of ingredients. You certainly will not find an Angus burger or a steak taco on a $1 menu.
But, even though these items only cost $1 or $2, are they a good value for you — the consumer? We wanted to find out by analyzing a few of the most popular dollar menus: Taco Bell's Dollar Cravings Menu and McDonald's Dollar Menu & More.
Taco Bell's Dollar Menu
Every item on this cravings menu cost $1, and it consists of the following items (which may vary by location):
Shredded chicken mini quesadilla
Spicy tostada
Beefy Fritos burrito
Cheesy bean and rice burrito
Spicy potato soft taco
Cheese roll-up
Caramel apple empanada
Triple layer nachos
Beefy mini quesadilla
Cinnamon twists
Cinnabon delights
Only three of the items on this dollar menu contain meat — the beefy Fritos burrito, the shredded chicken mini quesadilla, and the beefy mini quesadilla. The remainder of the items use beans, potatoes, or cheese as a main filler.
Here's a breakdown of the estimated cost of a few of the items on this dollar menu, if you were to cook these items yourself at home. All pricing information comes from the Bureau of Labor Statistics "Average Retail Food and Energy Prices" for October 2014, and for the food items that were not listed on the BLS chart, the information was obtained from Food Lion and Walmart stores in Beaufort, S.C.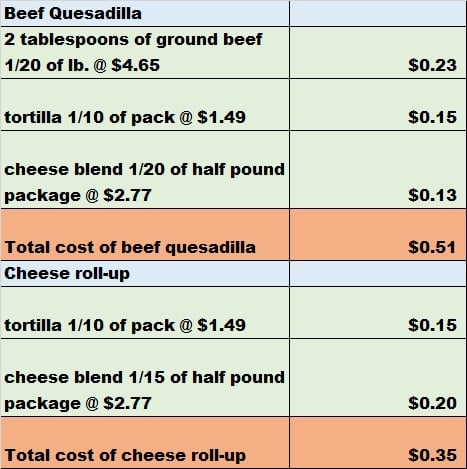 Now, of course, these amounts don't factor in convenience, which is something we're willing to pay for. Some people are willing to pay more for convenience than others, depending on their schedules and what obligations they have to fulfill.
Because comparing fast food prices to food at home is kind of like comparing apples to oranges, perhaps a more effective measure is comparing dollars and serving sizes in grams. The chart below breaks down the cost per gram of select Taco Bell Cravings menu items with other items on their menu. Do you receive more food for your money with the dollar menu?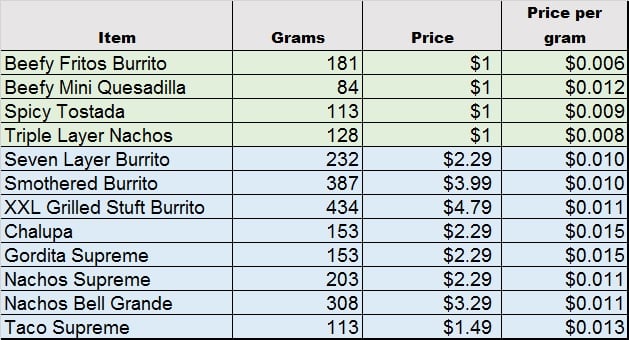 For some items, like triple layer nachos and the beefy Fritos burrito, you do save a little bit of money per gram by going with the dollar menu, but overall, the cost per gram is about the same, at around 1 cent per gram.

Does the same idea apply at McDonald's?
McDonald's is the fast food restaurant of fast food restaurants. When most people think of fast food, they think of the "golden arches," and as most popular fast food restaurant, the chain had 21.3% of the U.S. market share as of 2013.
Its Dollar Menu & More contains the following items at the following prices (which may vary by location):
Grilled onion cheddar burger: $1
Jalapeno double: $2
Bacon McDouble: $2
McDouble: $1.19
Double cheeseburger: $1.59
Buffalo chicken ranch: $1
McChicken: $1
20 Chicken nuggets: $5 ($1.19 for 4 piece)
Fruit N' Yogurt parfait: $1
Sweet tea: $1
Vanilla cone: $1
Soft baked chocolate chip (or oatmeal raisin) cookies: $1
Just like at Taco Bell, most of McDonald's inexpensive value menu items are in smaller serving sizes. Overall, the cost per 1 gram serving balances out.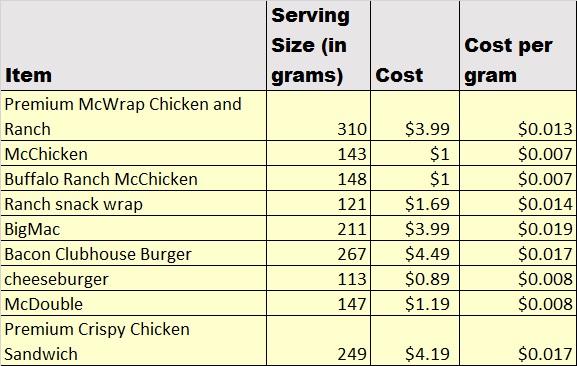 The bottom line
Of course fast food is never the ideal choice. It's not all that good for you, and it's almost always more expensive than cooking yourself at home. But, considering 80% of us eat fast food at least once per month, it's a part of our diets, and our monthly budgets.
If you only have a small amount of money to spend on fast food, the dollar menu certainly isn't a bad deal when compared to other fast food menu items. You are having someone cook your food for a few bucks, and that's a bargain for such convenience. Keep in mind, however, that you get what you pay for, and you are receiving less food (and maybe even quality) when you pay less.
More from Personal Finance Cheat Sheet: