Bake the Best: 8 Sweet and Savory Bread Pudding Recipes
Since it can be sweet or savory, bread pudding can be served at any time of the day, from breakfast to dessert. According to the Daily Gazette, recipes for bread pudding first emerged sometime during the 11th or 12th century as a way for the spendthrift to use stale or leftover bread. These frugal bakers were among the lower classes, and the dish was once known in England as "poor man's pudding." Stale bread remains a vital part of the dish, but bread pudding has gone from humble to gourmet. The dish can still be budget friendly are effortless to make, and the numerous recipes are a practical addition to your life. This is why we're presenting eight — four sweet, four savory — bread puddings for you to sample.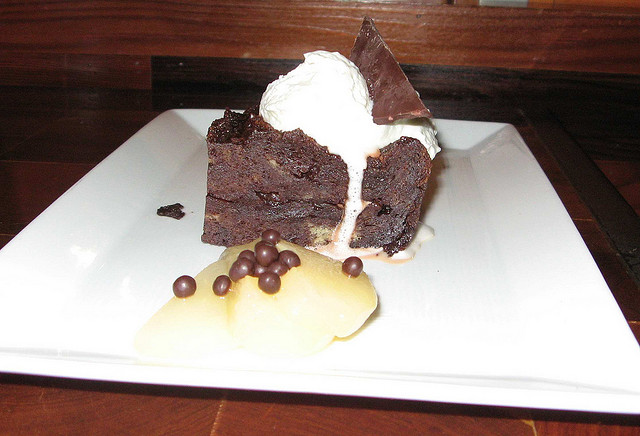 1. Dark Chocolate Bread Pudding
For a baked, chocolatey, supremely simple bread pudding, follow this recipe from King Arthur Flour. Tailor the dessert to your liking when you select a bread. Some will rejoice in a brioche or challah, and a less sugary taste can be achieved through a rustic or white bread.
Ingredients:
10-12 slices bread, cut into ½-inch cubes, to yield about 6½ cups bread cubes
1½ cups (6 ounces) semisweet chocolate, chopped, or chocolate chips
1 cup (7 ounces) sugar
½ cup (1½ ounces) cocoa, unsweetened baking cocoa or Dutch-process
3 cups (24 ounces) milk or half-and-half
6 large eggs
½ teaspoon salt
2 teaspoons vanilla extract
Directions: Lightly butter the bottom and sides of a 2-quart baking dish, 9-by-13-inch pan, or equivalent. Toss the bread cubes with 1 cup of the chopped semisweet chocolate and place in the prepared pan. Combine the remaining chopped chocolate with the sugar, cocoa, and 1½ cups of the milk or half-and-half in a saucepan set over low heat.
Cook, stirring, until the chocolate is melted and the mixture is thickened and smooth. Transfer to a large bowl and whisk in the remaining milk or half-and-half. Whisk in the eggs, salt, and vanilla. Pour the mixture over the bread cubes and let rest for 30 minutes or so at room temperature, until the chocolate custard has been absorbed by the bread. While the pudding is resting, preheat the oven to 325 degrees Fahrenheit.
Bake the pudding for 45-50 minutes, until it's set. Remove from oven and let cool for 10 minutes to allow the custard to fully set before serving. Serve warm with whipped cream, ice cream, or dusted with confectioners' sugar.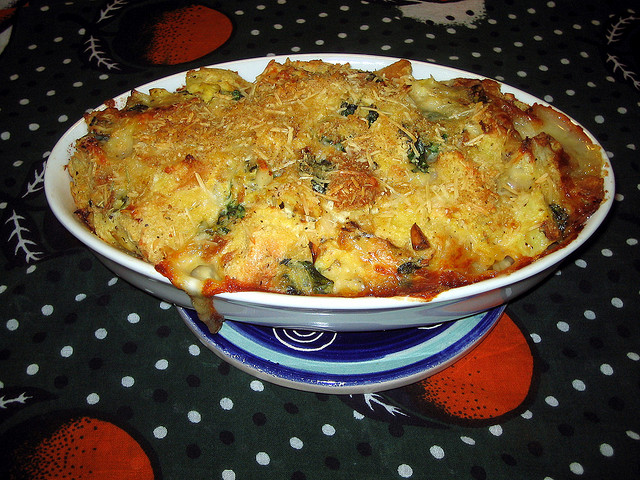 2. Spinach and Artichoke Bread Pudding
As an appetizer, Emeril's spinach and artichoke bread pudding can replace and update your dip version of this pairing. It also makes a savory, flavorful side dish that's ideal for dinners, potlucks or any occasion where you need to serve a crowd; this recipe yields 8-10 servings.
Ingredients:
¼ cup extra-virgin olive oil
3 pounds spinach, washed, stems removed
2 cups chopped yellow onions
1 tablespoon coarsely chopped garlic
1 tablespoon plus 2 teaspoons Italian seasoning blend
2½ teaspoons salt
1¼ teaspoons freshly ground black pepper
3 (8½-ounce) cans quartered artichoke hearts, tough outer leaves removed
6 large eggs
3 cups heavy cream
2 cups milk
2 tablespoons fresh lemon juice
12-14 cups 1-inch cubes day-old French bread
1 pound Brie cheese, rind removed, cut into ½-inch cubes
½ cup freshly grated Parmesan cheese
¼ cup minced fresh parsley
Directions: Preheat oven to 350 degrees Fahrenheit. Grease a 9-by-13-inch baking dish with 1 tablespoon olive oil. Bring a medium pot of water to a boil. Add the spinach and cook until just wilted, about 30 seconds. Drain and rinse with cold water. Once cool, squeeze as much water as possible from the spinach, then coarsely chop and reserve; you should have about 3 cups.
Heat 1 tablespoon olive oil in a large skillet over medium-high heat. Add the onions and cook until golden brown and tender, about 5 minutes. Add the garlic, 2 teaspoons of Italian seasoning, ½ teaspoon salt, and ¼ teaspoon black pepper and cook, stirring, until the garlic is fragrant, about 30 seconds. Add the artichokes and cook, stirring, another 2 minutes. Remove from the heat and reserve.
Combine the eggs, cream, milk, lemon juice, remaining 1 tablespoon Italian seasoning, remaining 2 teaspoons salt, and remaining 1 teaspoon pepper in a large bowl. Whisk to combine. Add the bread cubes, spinach, artichoke mixture, Brie, ¼ cup Parmesan, and parsley, and stir to combine. If the bread does not absorb all of the liquid immediately, then let rest until it does, about 20 minutes. Pour the bread pudding mixture into the prepared dish, sprinkle the remaining ¼ cup Parmesan over the top, and drizzle with the remaining 2 tablespoons olive oil. Bake until firm in the center and golden brown, about 1 hour. Serve warm.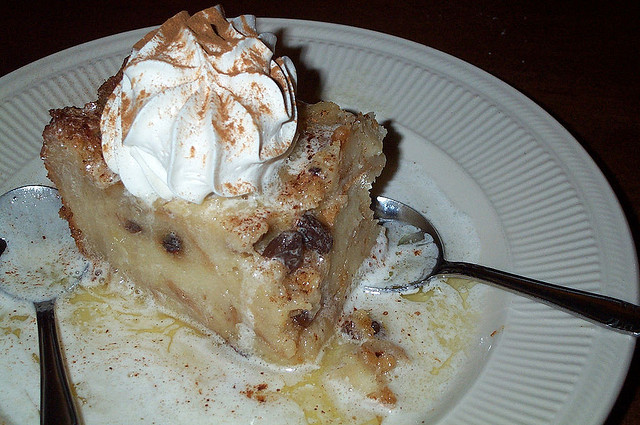 3. New Orleans-Style Bread Pudding
Returning to the sweet side of life and bread puddings is Cooking Light's take on New Orleans-style bread pudding. Slightly lighter, it is still a superbly rich dish that pairs well with a scoop of vanilla ice cream.
Ingredients:
¼ cup raisins
2 tablespoons bourbon
1¼ cups 2 percent reduced-fat milk
½ cup sugar
1 tablespoon vanilla extract
½ teaspoon ground cinnamon
¼ teaspoon ground nutmeg
dash of salt
3 large eggs, lightly beaten
4½ cups (½-inch) cubed French bread (about 8 ounces)
cooking spray
Sauce
½ cup sugar
¼ cup light-colored corn syrup
¼ cup butter
¼ cup bourbon
Directions: To prepare pudding, combine raisins and 2 tablespoons bourbon in a bowl. Let stand 30 minutes. Drain mixture in a sieve over a bowl, reserving liquid. Combine reserved liquid, milk, and next six ingredients (milk through eggs) in a large bowl, stirring well with a whisk. Add bread, tossing gently to coat. Spoon mixture into an 8-inch square baking dish coated with cooking spray. Sprinkle evenly with raisins, pressing gently into bread mixture. Cover with foil; chill 30 minutes or up to 4 hours.
Preheat oven to 350 degrees Fahrenheit. Place dish in a 13-by-9-inch baking pan; add hot water to pan to a depth of 1 inch. Bake, covered, for 20 minutes. Uncover and bake an additional 10 minutes or until a knife inserted in center comes out clean.
To prepare sauce, combine ½ cup sugar, corn syrup, and butter in a small saucepan over medium heat. Bring to a simmer; cook 1 minute, stirring constantly. Remove from heat; stir in ¼ cup bourbon. Serve each bread pudding piece warm with about 1 tablespoon sauce.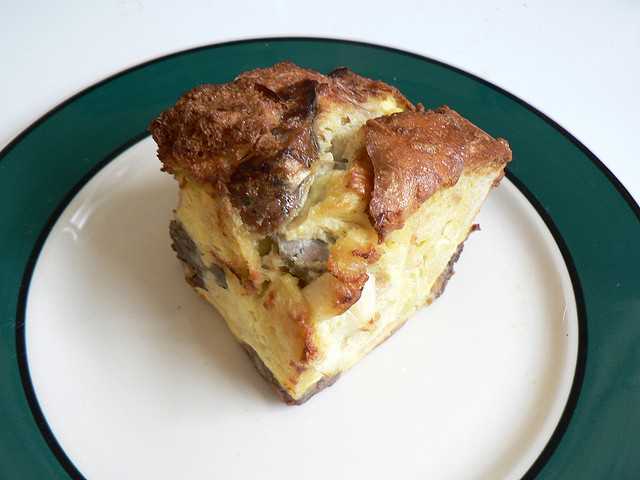 4. Onion and Brussels Sprouts Bread Pudding
Mark Bittman shared this bread pudding with Today, and it serves between four and six. The dish can be made up to two days before serving. If you plan on preparing it ahead of time, reheat in a 325 degree Fahrenheit oven for 15 minutes, covered. Then, if you'd like a crispy crust, uncover for an additional 5 minutes.
Ingredients:
6 tablespoons (¾ stick) unsalted butter, plus butter for the pan
1 large onion, sliced
2 cups trimmed and halved Brussels sprouts
3½ cups milk
3 tablespoons chopped fresh parsley
1 tablespoon chopped fresh thyme
salt and freshly ground black pepper
8 thick slices day-old good quality rustic white bread, crusts removed if very thick
3 eggs
2 cups grated Gruyère, Emmental, cheddar, or Jack cheese
boiling water, as needed
Directions: Put 2 tablespoons of the butter in a pan over medium-high heat. Add the onion and Brussels sprouts and cook until the onions begin to soften and the sprouts turn bright green, about 5 minutes.
Preheat oven to 350 degrees Fahrenheit. Warm the milk, remaining 4 tablespoons butter, parsley, and a good sprinkling of salt and pepper in a small saucepan over low heat just until the butter melts. Meanwhile, butter a 1½-quart or 8-inch square baking dish and cut or tear the bread into bite-sized pieces – not too small. Put the bread in the baking dish and pour the warm milk mixture over it. Let it sit for a few minutes, occasionally submerging any pieces of bread that rise to the top. Beat the eggs briefly and stir them into the bread mixture along with the cheese and Brussels sprouts mixture. Set the baking dish in a larger baking pan and pour boiling water into the pan to within about an inch of the top of the dish.
Bake for 45-60 minutes, or until a thin knife inserted in the center comes out clean or nearly so; the center should be just a little wobbly. Run under the broiler for about 30 seconds if you like, to brown the top a bit. Serve hot or store, covered, in the refrigerator for up to two days.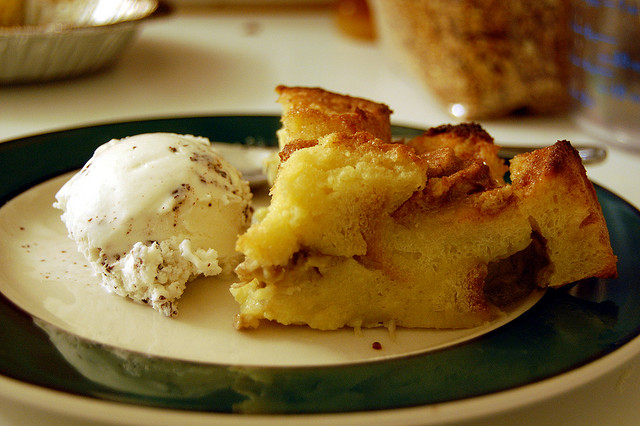 5. Tres Leches Bread Pudding
For Kelsey Nixon's bread pudding, you won't be heating up the oven because your dessert will be baking in a crockpot. Like a traditional tres leches cake, the bread pudding puts three different kinds of milk to use in the base, and adds a fourth in the sauce.
Ingredients:
nonstick spray
2¼ cups whole milk
1 (14-ounce) can sweetened condensed milk
1 (12-ounce) can evaporated milk
½ cup sugar
1 tablespoon vanilla extract
1 teaspoon ground cinnamon
1 teaspoon kosher salt
9 large egg yolks
1 loaf challah bread, cut or torn into 1-inch pieces (stale is best)
¾ cup slivered almonds, toasted
freshly whipped cream, for serving
Cinnamon sugar sauce
¾ cup sugar
8 tablespoons (1 stick) unsalted butter
½ cup buttermilk
1 tablespoon light corn syrup
1 teaspoon vanilla extract
½ teaspoon ground cinnamon
pinch salt
1 teaspoon baking soda
Directions: Coat the insert of a slow cooker with nonstick spray. Line the insert with aluminum foil for easy removal, leaving some foil overhand for handles. Meanwhile, in a large mixing bowl, whisk together the whole milk, sweetened condensed milk, evaporated milk, sugar, vanilla, cinnamon, salt, and egg yolks. Toss in the cubed bread and the almonds, and mix to coat all the bread.
Add the mixture to the slow cooker, and cover and cook on low until the center of the bread pudding is set, about 4 hours. While the pudding cooks, make the sauce. In a heavy-bottomed saucepan, combine the sugar, butter, buttermilk, corn syrup, vanilla, cinnamon, and salt, and bring to a boil over medium-high heat. Remove from the heat and slowly add the baking soda. At first, the sauce will bubble up –just keep stirring. The sauce will thicken as it cools.
Remove the lid and cool. Use the foil handles to lift the bread pudding from the slow cooker. Drizzle individual servings with cinnamon sugar sauce and top with freshly whipped cream.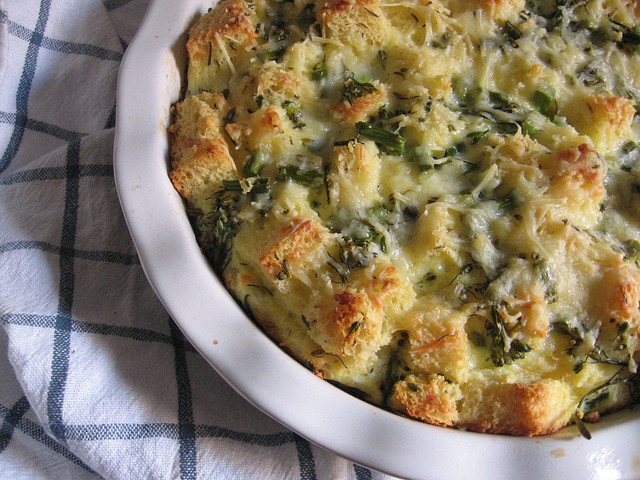 6. Kale and Mushroom Bread Pudding
With Martha Rose Shulman's bread pudding recipe for The New York Times you'll find a new way to enjoy your kale and prevent bread from being tossed out because it is stale.
Ingredients:
1 bunch kale, any type, stemmed and washed thoroughly in two changes of water (more if necessary)
1 tablespoon extra-virgin olive oil
½ pound mushrooms, sliced
1 teaspoon fresh thyme leaves, coarsely chopped
1-2 garlic cloves (optional)
½ pound stale bread, preferably whole grain, sliced about 1 inch thick
2 ounces Gruyère cheese, grated (½ cup)
1 ounce Parmesan cheese, grated (¼ cup)
salt and freshly ground pepper
4 eggs
2 cups low-fat milk
Directions: Bring a medium or large pot of water to a boil, salt generously, and add the kale. Cook 2-3 minutes, until tender but still colorful. Transfer to a bowl of cold water, then drain and squeeze out excess water. Chop coarsely and set aside. If using garlic, cut one of the garlic cloves in half and rub the slices of bread with the cut side. Then, mince all of the garlic. Cut the bread into 1-inch squares.
Heat the oil over medium-high heat in a heavy, wide skillet and add the mushrooms. Cook, stirring often, until they begin to soften and add the thyme, garlic, salt, and pepper to taste. Continue to cook for another minute or two, until the mushrooms are tender and fragrant. Stir in the kale, toss together, and remove from the heat.
Preheat oven to 350 degrees Fahrenheit. Oil or butter a 2-quart baking dish, soufflé dish or gratin. In a large bowl, combine the bread cubes, mushrooms and kale, and two cheeses, and toss together. Transfer to the prepared baking dish.
Beat together the eggs and milk. Add salt to taste and a few twists of the pepper mill, and pour over the bread mixture. Let sit for 5-10 minutes before baking so that the bread can absorb some of the liquid. Place in the oven and bake 40-50 minutes, until puffed and browned. Remove from the oven and serve hot or warm.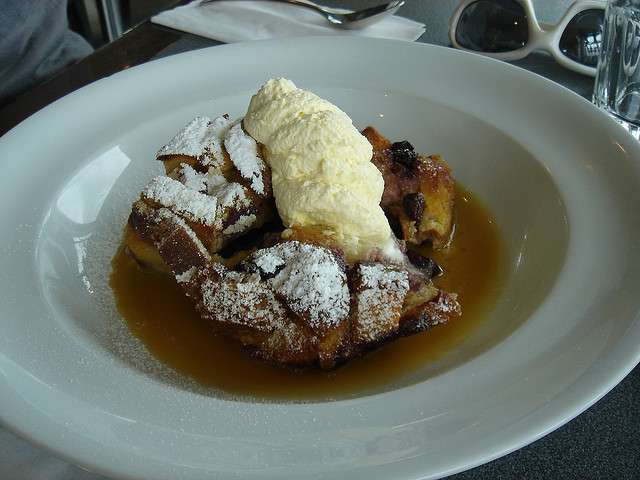 7. Blueberry Bagel Bread Pudding
Food.com has a great way to save money on making desserts. If you don't have an abundance of spare bagels lying around and want to make a crowd-pleasing treat, hit up your local bakery to see if they are selling day-old bread that you can buy at a discounted price. The result will be this bread pudding, which gets an extra dose of blueberries with a few cups of fresh or frozen fruit.
Ingredients:
5 regular-size blueberry bagels (torn into bite-size pieces)
2 cups milk
½ cup whipping cream, un-whipped
¾ cup sugar, more if you like it sweet
¼ cup unsalted butter, melted
1 teaspoon orange zest
½ teaspoon vanilla
½ teaspoon cinnamon
¼ teaspoon nutmeg
3 large eggs, beaten
2 cups blueberries (fresh or frozen; if frozen, do not thaw)
Directions: Preheat oven to 400 degrees Fahrenheit for a 9-by-9-inch baking dish or 375 degrees Fahrenheit for eight individual baking dishes. Generously butter your baking dish. Place torn bagels in large mixing bowl; pour over milk and cream. Let absorb for about 10 minutes.
Meanwhile, melt butter and let it cool. When cooled, mix with beaten eggs and remaining ingredients. Combine with bagel mixture, distributing blueberries evenly in mixture. Pour into prepared baking dish; place in center of oven. Bake uncovered for about 35-40 minutes or until knife inserted in center come out clean. If using individual dishes, reduce baking time to 30 minutes; test for center for doneness on each.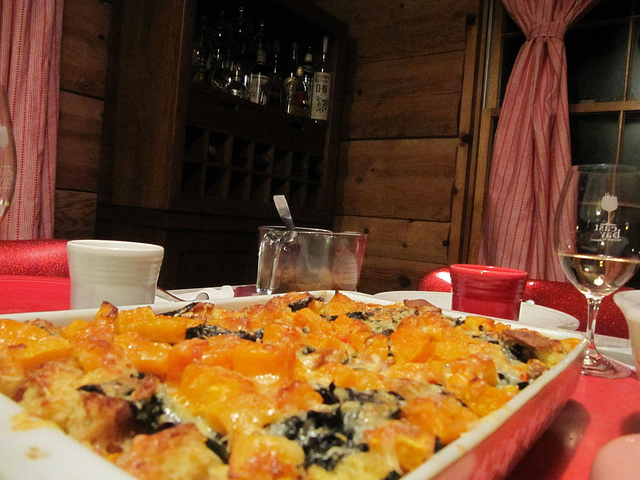 8. Tomato, Sausage, and Cheddar Bread Pudding Recipe
If the previous savory bread puddings haven't convinced you that you can serve it as a side, main dish or appetizer, maybe this Taste of Home recipe will finally sway your opinion. It makes about 12 servings.
Ingredients:
3 cups (12 ounces) shredded sharp cheddar cheese
1 can (28 ounces) diced tomatoes, drained
1 pound bulk Italian sausage, cooked and crumbled
4 green onions, thinly sliced
¼ cup minced fresh basil or 1 tablespoon dried basil
¼ cup packed brown sugar
1 teaspoon dried oregano
1 teaspoon garlic powder
3 cups cubed French bread
6 large eggs
1½ cups heavy whipping cream
½ teaspoon salt
½ teaspoon pepper
½ cup grated Parmesan cheese
Directions: Preheat oven to 350 degrees Fahrenheit. In a large bowl, combine first eight ingredients. Stir in bread. Transfer to a greased 13-by-9-inch baking dish. In the same bowl, whisk eggs, cream, salt, and pepper; pour over bread mixture. Sprinkle with Parmesan cheese. Bake 45-50 minutes or until a knife inserted near the center comes out clean.
More From Wall St. Cheat Sheet: