6 Warm and Toasty Dessert Recipes
Roasting your dessert, or some of its ingredients, is a great way to create sophisticated sweets that are both effortless and elegant. Cooking Light explains that roasting, which involves putting your food in an uncovered pan in the oven, is one of the easiest cooking methods to use. By roasting already sweet foods, such as cocoa, bananas, and cherries, the oven's dry, hot air helps concentrate and intensify their sugary flavors, creating sizzling sweets that are perfect for dessert. Here are 6 toasty treats to make tonight.
1. Roasted Banana-and-Macadamia Pudding Cake
Food & Wine's stunningly sweet dish is filled with roasted bananas, which enhance your cake's flavor by adding notes of caramelized sugar throughout. If you'd like to get a head start on this dish, you can make the honey cream the day before and refrigerate it overnight.
Ingredients:
Cake:
2 large, ripe bananas, unpeeled
1½ cups all-purpose flour
1 teaspoon baking powder
½ teaspoon cinnamon
¼ teaspoon ground cloves
¼ teaspoon freshly grated nutmeg
¼ teaspoon salt
2 cups sugar
2 large eggs, lightly beaten
1½ cups buttermilk
1 teaspoon baking soda
3 tablespoons unsalted butter, melted
¼ cup heavy cream
1 teaspoon finely grated orange zest
1½ cups unsalted roasted macadamia nuts, coarsely chopped
Honey Cream:
¼ cup plain whole-milk yogurt
¼ cup honey
¼ teaspoon finely grated lime zest
¼ teaspoon finely grated orange zest
2 tablespoons Amarula Cream liqueur or Kahlua
⅔ cup heavy cream
Directions: Preheat the oven to 350 degrees Fahrenheit. Butter a 9-by-13-inch baking dish. Put the bananas on a rimmed baking sheet and bake for about 45 minutes, until dark and soft. Let the bananas cool, then open the peel and scoop the roasted banana pulp into a large bowl. Meanwhile, in a medium bowl, whisk together the all-purpose flour, baking powder, cinnamon, ground cloves, freshly grated nutmeg, and salt.
Using a handheld electric mixer, beat the roasted bananas with the sugar until a purée forms. Then beat in the eggs. In a small bowl, stir together the buttermilk and baking soda, then add to the banana mixture. At low speed, gradually beat in the flour mixture. Gently beat in the melted butter, heavy cream, and finely grated orange zest. Fold in the macadamia nuts.
Spread the batter in the prepared dish and bake for about 1 hour, until a cake tester inserted in the center of the cake comes out clean. Let the cake cool to warm. In a small bowl, whisk the yogurt with the honey, finely grated lime zest, finely grated orange zest, and the liqueur. In a large bowl, beat the heavy cream until softly whipped. Gently fold in the honey-yogurt. Cut the cake into squares and serve with dollops of the honey cream.
2. Roasted Sweet Potato Cheesecake with Maple Cream
Sunset's recipe calls for roasted sweet potatoes, which pair perfectly with this creamy cheesecake's cinnamon and nutmeg flavors. It yields 12-16 servings. If you'd like something warm to sip while you enjoy this dessert, we suggest making Taste of Home's Easy Espresso to serve alongside it.
Ingredients:
2 dark orange-fleshed sweet potatoes (1¼ to 1½ pounds total)
1 tablespoon melted butter
2 teaspoons lemon juice
3 packages (8 ounces each) cream cheese, regular or light, at room temperature
¾ cup granulated sugar
½ cup firmly packed light brown sugar
4 large eggs
¼ cup whipping cream
¼ cup sour cream
¼ cup maple syrup
1½ teaspoons ground cinnamon
1 teaspoon ground nutmeg
½ teaspoon ground ginger
Pecan Crust:
¼ cup coarsely chopped pecans
1¼ cups fine graham cracker crumbs
2 tablespoons sugar
5 tablespoons melted butter
Maple Cream:
¾ cup whipping cream
¼ cup maple syrup
Directions: Preheat oven to 375 degrees Fahrenheit. Peel sweet potatoes and cut in half lengthwise. Place in a 9-by-13-inch baking pan and brush with melted butter. Bake until potatoes are soft when pressed, 45 to 55 minutes. Meanwhile, prepare crust. Bake in same oven with potatoes until lightly browned all over, 10 to 12 minutes. Scrape any charred spots off potatoes, then cut potatoes into chunks. Whirl in a food processor or mash in a bowl with lemon juice until smooth.
Reserve 1 cup; save any extra for another use. Reduce oven temperature to 325 degrees Fahrenheit. In a bowl, with a mixer on high speed, beat cream cheese until fluffy. Gradually beat in granulated and brown sugars, scraping down sides of bowl occasionally, until mixture is well blended and smooth. Beat in eggs, one at a time, until blended. Add reserved sweet potato mixture, the whipping cream, sour cream, maple syrup, cinnamon, nutmeg, and ginger.
Mix on low speed until well-blended. Wrap bottom of cheesecake pan with heavy-duty foil, pressing it up the sides. Pour batter over crust. Put cheesecake pan in a 12-by-15-inch roasting pan at least 2 inches deep. Set pans in oven and pour enough boiling water into roasting pan to come halfway up sides of cheesecake pan. Bake until cake barely jiggles in the center when gently shaken, about 55 minutes. Remove pans from oven.
Lift cheesecake pan from roasting pan and let cool completely on a rack, about 1 hour, then chill until cold, at least 1½ hours, or up to 3 days. Up to 6 hours before serving, cut around inside of pan rim to release cake; remove rim. With a pastry bag, pipe dollops of maple cream onto cake. Or serve maple cream separately, to spoon onto each wedge. To make the crust, whirl ¼ cup coarsely chopped pecans in a blender until finely ground; you should have ¼ cup.
In a bowl, mix pecans, 1¼ cups fine graham cracker crumbs, 2 tablespoons sugar, and 5 tablespoons melted butter. Pour into a 9-inch cheesecake pan with removable rim (2¼ inches tall). Press mixture evenly over bottom of pan. For the maple cream, in a bowl, with a mixer on high speed, beat ¾ cup whipping cream until stiff peaks form. On low speed, beat in ¼ cup maple syrup just until blended.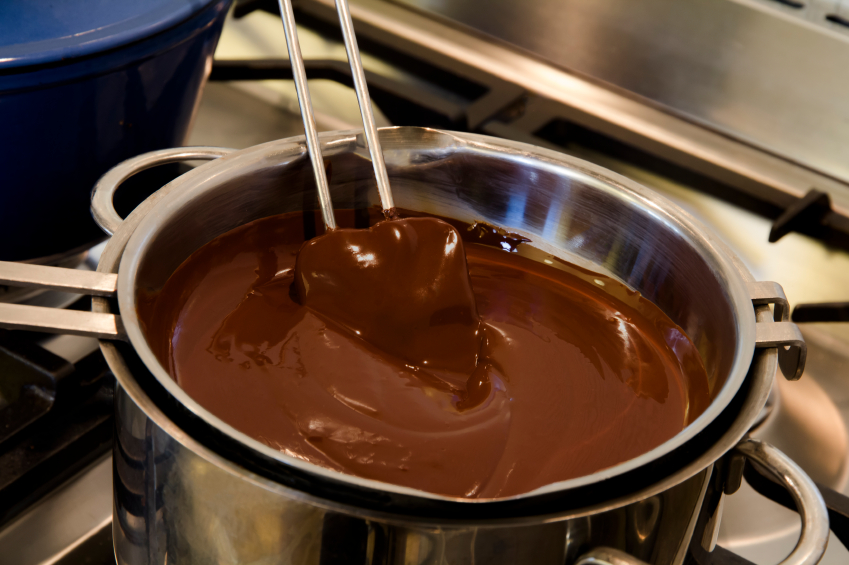 3. Roast Cherry Dark Chocolate Brownie Sundaes
Gooey chocolate brownies pair perfectly with roasted cherries and a scoop of ice cream. Closet Cooking's recipe yields 9 servings. For those who want to add another homemade element to this dessert, we recommend preparing it with Southern Living's Vanilla Bean Ice Cream.
Ingredients:
2 cups cherries, pitted and halved
6 ounces dark chocolate (70 to 75% preferred or bittersweet), coarsely chopped
½ cup (1 stick) unsalted butter
¾ cup all-purpose flour
½ teaspoon baking powder
½ teaspoon salt
3 large eggs
1⅓ cups sugar
1 teaspoon vanilla extract
2 cups cherries, pitted and halved
¼ cup port wine
¼ cup sugar
Directions: Toss the cherries in the port, place them on a baking sheet in a single layer, roast in a preheated 450 degrees Fahrenheit oven for 30 minutes and set aside to cool. Melt the dark chocolate and butter in a double boiler. Mix the flour, baking powder, and salt. Mix the eggs, sugar, and vanilla extract; mix in the melted chocolate and fold in the flour followed by the cherries.
Pour the mixture into a greased 8-by-8-inch baking pan and bake in a preheated 350 degrees Fahrenheit oven until a toothpick pushed in the center comes out clean, about 15 to 20 minutes. Meanwhile, bring the cherries, port, and sugar to a boil in a saucepan over medium heat, reduce the heat and simmer until thick and syrupy, about 30 to 40 minutes. Serve brownie on top of vanilla ice cream.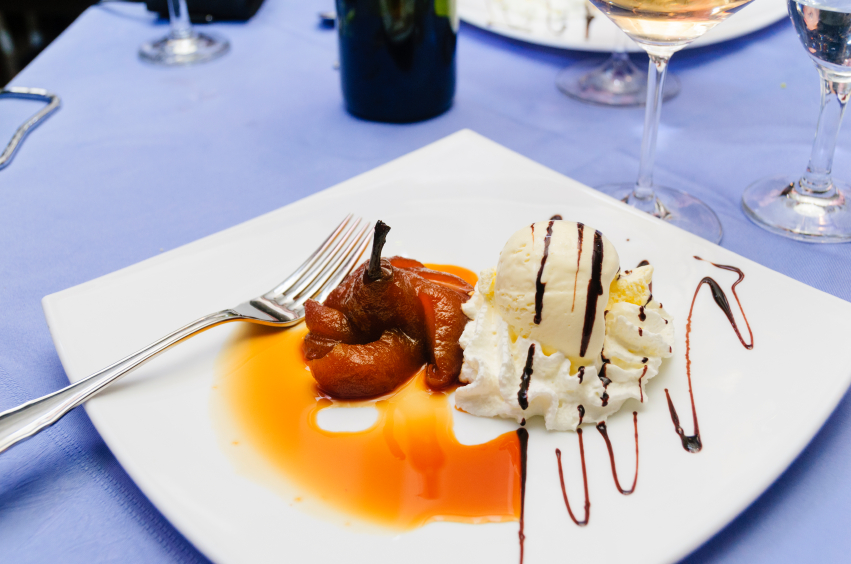 4. Roasted Pears with Maple Syrup Caramel
To prepare Always Order Dessert's recipe, you'll roast your pears until they're tender, and then create a maple syrup glaze that's filled with lovely caramel flavors. This easy-to-make treat yields 6 servings.
Ingredients:
6 very ripe pears, quartered or cut into eighths (don't peel)
½ cup pure maple syrup
½ cup butter, melted
Juice of 1 lemon (about 2 tablespoons)
1 tablespoon pure vanilla extract
1 rounded teaspoon ground cinnamon
1 teaspoon kosher salt
Directions: Preheat oven to 400 degrees Fahrenheit. Butter an 8-inch baking pan. Arrange the quartered pears skin-side up on the buttered baking pan. In a separate bowl, whisk together the maple syrup, melted butter, lemon juice, vanilla, cinnamon, and kosher salt. Pour over the pears. Place in the oven and roast for about 20 minutes. Remove pan from oven, use a spoon or tongs to flip the pears, then return to the oven for another 10 minutes. Serve immediately while still hot over yogurt or vanilla ice cream.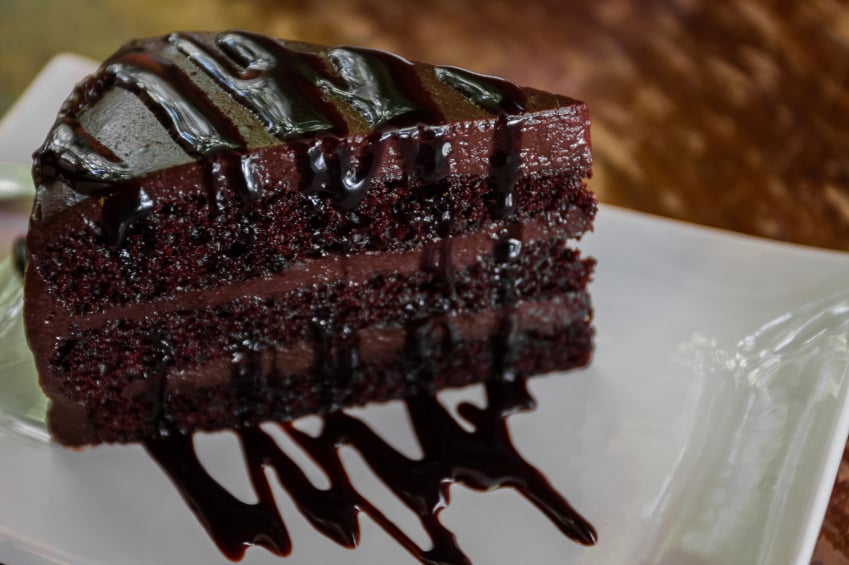 5. Roasted Cocoa Gluten-Free Chocolate Cake
Roasting your cocoa unlocks its rich and complex flavors, ensuring you have an indulgent cake that will entice your tastebuds. Delicious Everyday's recipe creates a gluten-free dessert that yields 12 servings.
Ingredients:
Cake:
½ cup plus 1 tablespoon cocoa
6 large eggs
7 ounces almond meal
1 cup of caster sugar
2 teaspoons baking powder
½ teaspoon baking soda
Salted Chocolate Glaze:
1 cup cream
7 ounces 70% cocoa chocolate, chopped
Pinch of sea salt flakes
Directions: Preheat the oven to 300 degrees Fahrenheit and line a baking tray/sheet with baking paper. Add the cocoa powder and spread it into an even layer and roast for 2 hours, stirring every 20 minutes to ensure it doesn't catch and burn. Leave to cool completely before making the cake. Grease a 7-inch springform pan and preheat the oven to 350 degrees Fahrenheit. Place the ingredients in the bowl of a food processor and process until smooth. Pour the batter into the springform pan and bake for 35 to 50 minutes.
Check the cake after 30 minutes as you may need to cover it with foil to prevent burning before the cake is cooked through. Remove from the oven and let the cake cool completely in the tin before removing. To make the glaze, place the cream in a small saucepan and bring to a boil over a medium heat. Remove from the heat and add the chocolate and leave to sit for a minute. Add the sea salt and whisk to combine. Leave to cool at room temperature until the glaze is a spreadable consistency and not too runny. Spread the glaze across the top of the cake and ease it down the sides with an offset spatula.
6. Goat Cheese Mousse with Roasted Blueberries
If you're looking for a classic dessert to serve at your next dinner party, we suggest making Savory Simple's Goat Cheese Mousse with Roasted Blueberries. It's a light-tasting, palate-cleansing dish that your guests will love. It yields 6-8 servings.
Ingredients:
1½ cups heavy cream, cold
¼ cup granulated sugar
5 ounces goat cheese, room temperature
2-3 cups blueberries
Directions: Preheat the oven to 400 degrees Fahrenheit and line a baking sheet with aluminum foil. Place the goat cheese in a large bowl and set aside. In a large stand mixer with the whisk attachment, beat the heavy cream and sugar to a stiff peak. Spoon half of the whipped cream into the bowl with the goat cheese and vigorously whisk until smooth. Add the remaining whipped cream and gently fold to combine.
Cover and chill in the refrigerator. Place the blueberries on the prepared baking sheet and roast in 4 minute intervals, shaking the pan at each interval to ensure that the berries roast evenly. They should be nice and roasted after 12 to 16 minutes. Spoon the mousse into small bowls and top with the roasted blueberries.
More from Life Cheat Sheet:
Want more great content like this? Sign up here to receive the best of Cheat Sheet delivered daily. No spam; just tailored content straight to your inbox.