Baking With Butterscotch: 6 Fall-Flavored Recipes
When people imagine fall desserts, pumpkin is usually the first flavor that comes to mind. Pumpkin bread, pumpkin muffins, pumpkin pancakes — it's safe to say pumpkin steals the seasonal stage in autumn, but there are a number of other sweet flavors that shouldn't be discounted, and one of those is butterscotch. Butterscotch proves that brown sugar and butter are a match made in confectionary heaven, and the flavor stars in a number of its own mouthwatering recipes. This fall, in case you want to mix things up on your dessert table, whip up a butterscotch-centric sweet treat and remind your party guests what flavor they've been neglecting as they sip their pumpkin spice lattes and nibble on their pumpkin scones. Few things taste better than butterscotch and these 6 recipes prove it.
1. Oatmeal Butterscotch Blondies
Butterscotch blondies, anyone? These hearty, chewy squares of butterscotch goodness topped with shredded coconut will make you forget all about pumpkin, and what's more, they're made with oatmeal, so they're practically healthy. Le Creme de la Crumb has the formula for this mouthwatering treat that is loaded with butterscotch chips and has a number of secret ingredients (read: coconut flakes and browned butter), and believe it or not, these babies come together in 40 minutes or less.
Ingredients:
½ cup coconut flakes
1 cup butter
2 cups brown sugar
2 eggs
1 tablespoon vanilla
1½ teaspoons coarse sea salt, divided
1 teaspoon baking powder
2 cups flour
1½ cups old fashioned rolled oats
1 tablespoon milk
2 cups butterscotch chips
Directions: Preheat oven to 350 degrees Fahrenheit. Line a 9 by 13-inch baking pan with nonstick foil and spray with cooking spray. Melt butter in a medium sauce pan over medium-high heat. Continue to cook 3-5 minutes until butter becomes a dark amber/golden color, and remove from heat. While butter is browning, add coconut flakes to a medium pan and cook over medium-high heat 3-5 minutes stirring throughout. When the flakes begin to brown, remove from heat.
In a large bowl, combine browned butter, brown sugar, eggs, and vanilla and mix until smooth. Add toasted coconut flakes and mix again until smooth. In another medium bowl, combine flour, baking powder, 1 teaspoon salt, and oats and whisk to combine. Gradually stir flour mixture into wet ingredients until all ingredients are incorporated. Stir in 1 tablespoon milk to help bring mixture together. Gently stir in butterscotch chips. Press mixture into prepared pan and bake for 20-25 minutes until mixture is set and top looks dry. Immediately after removing from the oven, sprinkle with remaining ½ teaspoon sea salt. Allow to cool completely before cutting into bars and serving. Store in airtight container.
2. Butterscotch Chocolate Chip Cookies
You also have the option of making butterscotch chocolate chip cookies for your guests, and if you choose to do so, you should follow this recipe from Stuck on Sweet. If you don't think chocolate chip cookies could get any better, you've probably never added butterscotch chips to the mix, but it is the season, and the time is now. Grab your baking essentials and get going. This dessert formula is easy to follow and enlists cornstarch to give your cookies that always-sought-after chewy texture.
Ingredients:
¾ cup unsalted butter, softened
¾ cup brown sugar
¼ cup granulated sugar
1 egg
2 teaspoons vanilla extract
2 cups all purpose flour
2 teaspoons cornstarch
1 teaspoon baking soda
½ teaspoon salt
¾ cup semi-sweet chocolate chips
¾ cup butterscotch chips
Directions: Preheat oven to 350 degrees Fahrenheit. In the bowl of a stand mixer fitted with a paddle attachment, cream together butter and sugars until fluffy and light in color. Add egg and vanilla and blend in. In a seperate bowl, mix flour, cornstarch, baking soda, and salt. Add flour mixture to the dough. Stir in chocolate and butterscotch chips. Using a standard-sized cookie scoop or tablespoon, drop dough onto a prepared baking sheet. Bake for 8-10 minutes until barely golden brown around the edges. Let cool, on the sheet, on a wire rack for five minutes. Remove from baking sheet and let cool completely.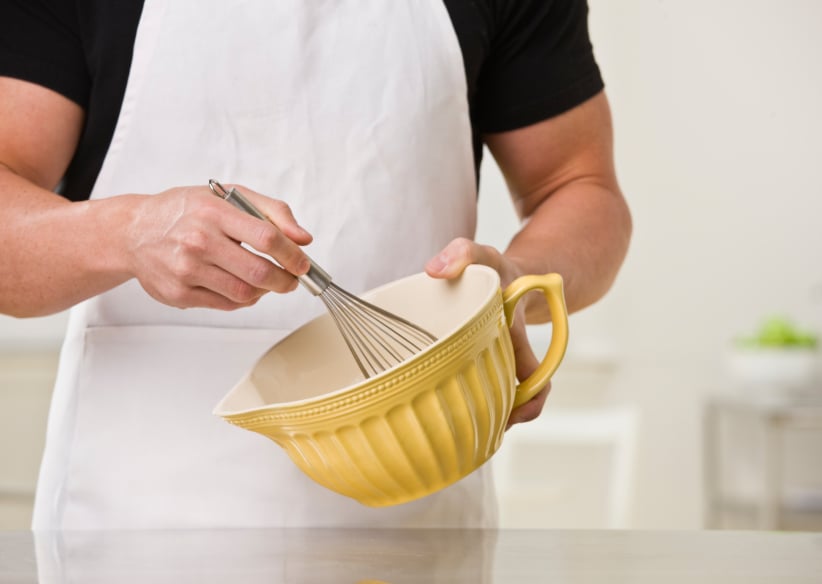 3. Skinny Pumpkin Butterscotch Bars
If you still can't get pumpkin out of your head, try these Skinny Pumpkin Butterscotch Bars from Skinnytaste and have the best of both worlds. Unsurprisingly, the pumpkin and butterscotch flavors pair perfectly and come together to form a dessert that tastes decadent, but actually isn't diet-devastating thanks to pumpkin purée. Fall treats can be delicious and nutritious. Pumpkin is a vegetable after all!
Ingredients:
2 cups all purpose flour (Gold Medal)
1/2 teaspoon baking soda
1/4 teaspoon salt
1 1/2 teaspoons pumpkin pie spice
1/8 teaspoon ground cinnamon
2/3 cup granulated sugar
2/3 cup brown sugar, unpacked
1/4 cup melted unsalted butter
2 large egg whites
1/4 cup pumpkin purée
2 teaspoons pure vanilla extract
2/3 cup butterscotch chips
Frosting
8 ounce 1/3 less fat cream cheese, softened
1/2 cup powdered sugar
2 ounces melted semi-sweet chocolate
1/2 teaspoon vanilla extract
Directions: Preheat oven to 350 degrees Fahrenheit. Lightly spray a 9 by 13-inch non-stick baking pan with cooking spray. In a large bowl, combine the flour, baking soda, salt, pumpkin spice, and cinnamon and stir to blend. In another bowl, whisk the sugars with the butter, egg whites, pumpkin, and vanilla until light and fluffy.
Whisk the dry ingredients into the wet ingredients in two additions until the batter is very well-blended. If the batter looks more "crumbly" than smooth, add just a drop of water at a time until it smooths out. Fold in butterscotch chips. Spread batter onto the baking pan using the back of a measuring cup to smooth evenly. Bake 14-16 minutes, until the edges are light brown and a toothpick inserted comes out clean. Don't over-bake or your bars will be dry. Let it cool completely on wire rack.
Meanwhile, prepare the frosting: In a large bowl, use an electric mixer to beat the cream cheese, powdered sugar, and vanilla until well-blended. Frost bars and drizzle with the melted chocolate.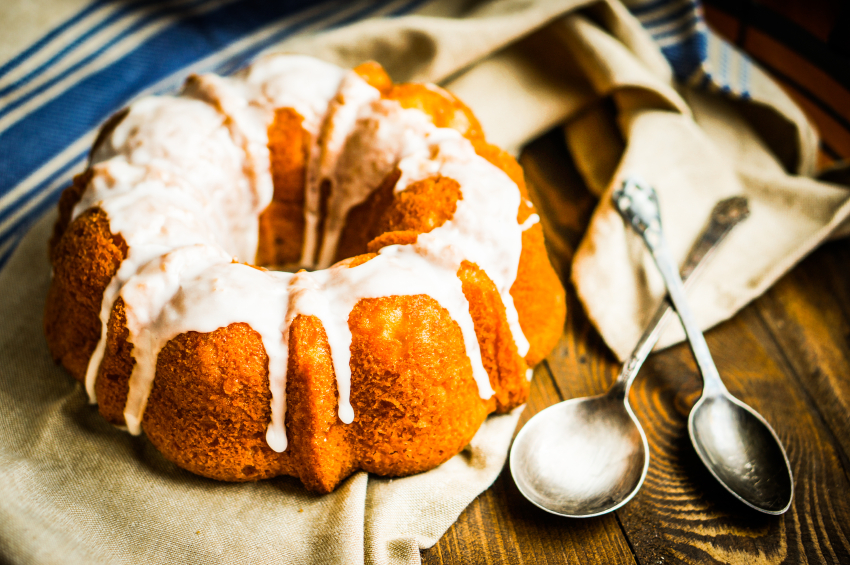 4. Butterscotch Bundt
Fancy a fall-flavored bundt cake? If so, make this treat from Food Librarian. Butterscotch bundt cakes are just as good as they sound, and as is the case with most bundt cakes, they're easy to perfect as long as you have a bundt pan. The key ingredients to a perfect butterscotch cake include brown sugar, butter, and of course, butterscotch chips, so as long as you have those (and a handful of other baking staples), you're good as gold. Preheat your oven and get ready for a super sweet cake.
Ingredients:
1 3/4 cup (350 grams) light brown sugar, packed
3/4 cup sour cream
3/4 cup (1 1/2 sticks) butter, room temperature
4 eggs, room temperature
3 1/3 cup (466 grams) flour
1 tablespoon baking powder
1 1/4 teaspoon salt
1 1/4 cups milk
3/4 cup (132 grams) butterscotch chips
Glaze
1/4 cup (1/2 stick) butter
1/4 cup (50 grams) light brown sugar, packed
2 tablespoons milk or half & half
1 cup sifted powdered sugar
1 tablespoon vanilla
Directions: Preheat oven to 325 degrees Fahrenheit and grease a 10- or 12-cup Bundt pan. In a medium bowl, whisk together the flour, baking powder, and salt to combine. Using an electric mixer with paddle attachment, cream butter and sugar together until light and fluffy, about 3-4 minutes. Add eggs one at a time, blending well after each addition. Blend in sour cream. Scrape down sides of bowl.
On slow speed, alternately add 1/3 of the flour mixture with 1/2 the milk, beginning and ending with the flour mixture until blended. Scrape down sides of bowl to combine. Add 1/3 of the batter to the Bundt pan. Sprinkle half the butterscotch chips on top, avoiding the sides of the pan. Add half the remaining batter into the pan, spreading out to cover the first layer and chips. Add the remaining chips on top, followed by the rest of the batter. Smooth out the top. Bake for 50-60 minutes or until a skewer comes out clean. Remove from the oven and place on wire rack and let cool for 15 minutes. Remove from pan and let cool completely before glazing.
For the glaze, in a medium saucepan, stir together the butter, brown sugar, and milk (or half & half). Bring to a boil. Remove from heat and stir in the powdered sugar and vanilla. Stir until smooth. Pour hot glaze over cake.
5. Brown Butterscotch Pie
Brown Butterscotch Pie time. Read this recipe from Chow and weep that you haven't been making it for years. Luckily, it's still autumn and you have time. Regardless of whether you want to make your own crust or not, get ready for the sweetest pie filling of your fall. The nutty flavor of this pie will blow you away and the filling formula only calls for 8 easy ingredients.
Ingredients:
All-purpose flour, for flouring the work surface
1 (12-inch) pie crust
1 vanilla bean, split lengthwise, seeds scraped and reserved and pod reserved (or 1 teaspoon vanilla extract)
2 cups whole milk
1 cup heavy cream
4 tablespoons unsalted butter (1/2 stick)
3/4 cup packed dark brown sugar
9 large egg yolks
3 tablespoons cornstarch
Directions: Heat the oven to 350 degrees Fahrenheit and arrange a rack in the middle. Lightly flour a work surface and roll the dough out into a round approximately 12 inches in diameter and 1/4-inch thick. Line a 9-inch pie plate with the dough and trim off the excess. Pierce the bottom of the crust all over with a fork, line it with a piece of parchment paper or aluminum foil, and fill it with pie weights or dried beans. Bake until the crust starts to set, about 15 minutes. Remove the pie weights and parchment paper and continue to bake until the crust is dry and slightly brown, about 10 to 15 minutes more. Remove to a wire rack and set aside.
Combine the vanilla seeds and pod (or vanilla extract, if using), milk, and cream in a small saucepan and bring to a simmer over medium-high heat. Remove from the heat. Meanwhile, melt the butter in a large saucepan over medium heat. Add 1/2 cup of the brown sugar, stir to combine, and cook, stirring often, until the mixture bubbles and there is a toasted smell, about 5 minutes. Carefully whisk in the hot milk mixture and remove the saucepan from the heat to cool slightly, about 5 minutes. Remove and discard the vanilla pod.
In a large bowl, whisk together the remaining 1/4 cup of brown sugar, egg yolks, and cornstarch until well-blended and the whisk leaves a trail when lifted out of the mixture, about 3 minutes. Scrape down the sides of the bowl with a rubber spatula. While whisking constantly, slowly pour a third of the milk mixture into the egg yolk mixture and whisk until well-combined. Add the egg mixture back to the remaining milk mixture and place the saucepan over medium-low heat. Cook, constantly scraping the bottom of the saucepan with a rubber spatula, until the mixture coats the back of a spoon, about 7 to 10 minutes; set aside. Pour the mixture into the pie crust and bake until the edges are set but the middle still jiggles slightly, about 25 to 30 minutes. Place the pie on a wire rack and let it cool completely, about 2 hours. Serve at room temperature or cold.
6. Salted Butterscotch Fudge
Lastly, some sugary sweet finger-food for your fall. Enter: Salted Butterscotch Fudge from Crazy for Crust. We all know that sea salt pairs perfectly with chocolate, but did you know it effectively complements the butterscotch flavor, too? That it does, and if you make this easy fudge, you'll see what we mean. Enlisting only 6 ingredients, this fudge formula is fool-proof and will yield your sweet treat in no time. Unlike most fudge recipes, this one from Crazy for Crust doesn't call for a candy thermometer, and if that's not reason enough to whip this up, we don't know what is.
Ingredients:
1 cup chopped pecans
3 cups butterscotch chips
1 tablespoon butter
1 can (14 ounces) sweetened condensed milk
1 teaspoon vanilla extract
1/4 teaspoon sea salt (or kosher salt)
Directions: Line a 9 by 9-inch pan with foil and spray with cooking spray. Toast pecans in a small frying pan over low heat. Stir continuously, and do not walk away. As soon as you smell them, remove them from the heat and place on a plate or a cookie sheet to cool. Place butterscotch chips, butter, and sweetened condensed milk in a medium saucepan over low heat. Stir until all three are melted together. Keep the heat on low. Once the butterscotch, butter, and milk are melted together, remove from heat and stir in vanilla and pecans. Pour into prepared pan. Immediately sprinkle with salt. Let cool until room temperature, then refrigerate until firm.
More from Life Cheat Sheet:
Want more great content like this? Sign up here to receive the best of Cheat Sheet delivered daily. No spam; just tailored content straight to your inbox.