Baking With Pears: Try These 7 Sensational Fall Recipes
The Greek poet Homer once called pears a "gift from the gods," according to Jules Janick, a professor of horticulture at Purdue University. To this day, the fruit remains a worldwide favorite, particularly during its peak ripeness in the fall season. Although it may seem tough to find the perfect pear at the supermarket, keep this trick from USA Pears in mind: Pears are unique in that they ripen best off the tree. Take a hard, green one home from the grocery store — in a day or two, it will soften to perfection. They're delicious raw and are versatile enough to be baked into recipes both sweet and savory.
Explore the fruity potential of pears this fall by baking them into these 7 recipes.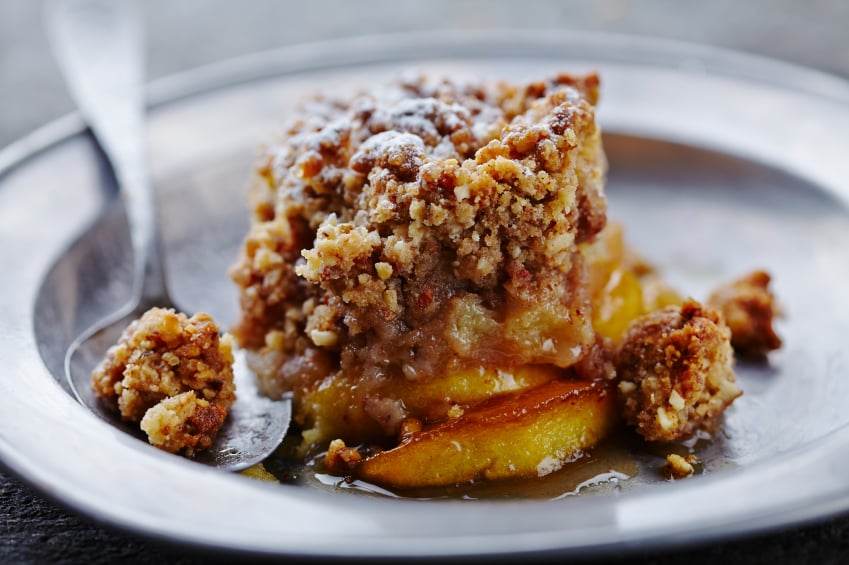 1. Pear-Cinnamon Crisp
Like most fruits, pears make a wonderful feature component to classic dessert dishes like tarts, cobblers, and crisps, to name a few. The Pioneer Woman's Pear Crisp brings to light the sweet, tart autumnal flavors of the fruit with the addition of cinnamon. To truly perfect this dish, serve it fresh out of the oven — and don't forget a cold scoop of ice cream on the side! The recipe takes about an hour to complete and serves 4 people.
Ingredients:
Filling
4 to 5 whole large pears
⅔ cup sugar
¼ teaspoon salt
Topping
1½ cups all-purpose flour
⅓ cup sugar
⅓ cup firmly packed brown sugar
½ teaspoon cinnamon
½ cup pecans, very finely chopped
1 stick butter, melted
Directions: Preheat oven to 350 degrees Fahrenheit.
Peel, core, and dice pears. Place into a bowl and stir together with ⅔ cup sugar and ¼ teaspoon salt. Set aside.
In a separate bowl, combine flour, sugar, brown sugar, cinnamon, and pecans. Stir together. Drizzle melted butter gradually, stirring with a fork as you go until all combined.
Pour pears into a baking dish; top with crumb topping. Bake at 350 degrees Fahrenheit for 30 minutes. Place pan on top rack of oven for an additional 10 minutes, or until topping is golden-brown. Serve warm with vanilla ice cream.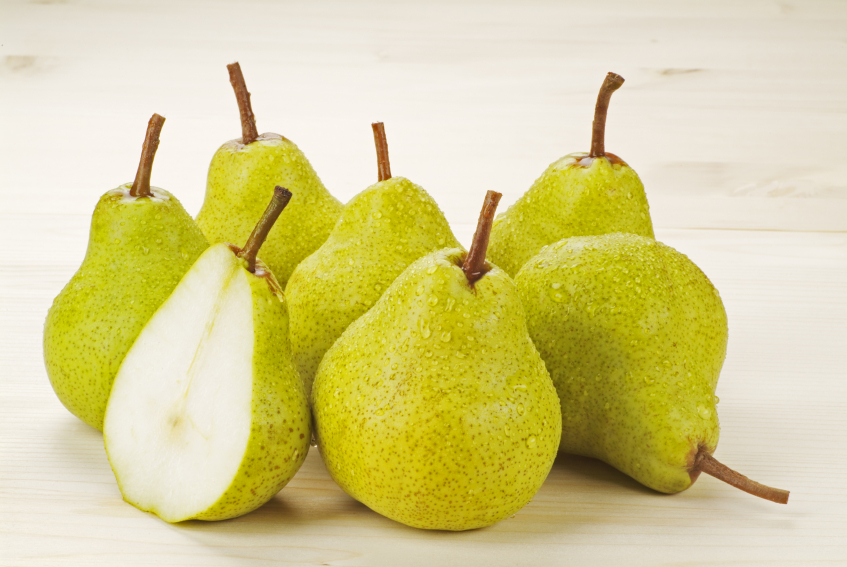 2. Sausage-Stuffed Baked Pears
Sweet and savory elements come together in this breakfast dish from Chow, which blends the taste of pears with sausage and spices. Baking your pears and stuffing for about 35 minutes will result in a tantalizingly soft morning meal for the family. Chow's recipe yields 12 servings and takes around 70 minutes to complete.
Ingredients:
1 tablespoon canola oil
6½ firm medium pears
½ medium red onion, small dice (about 1 cup)
1 medium celery rib, small dice (about ¼ cup)
1 medium garlic clove, minced
½ pound breakfast sausage links
1 large egg, lightly beaten
1¼ cups fresh breadcrumbs
3 tablespoons whole milk
½ teaspoon ground cinnamon
1 teaspoon paprika
Directions: Heat oil in a medium frying pan over medium heat. Peel and core ½ pear, then cut into small dice. Combine diced pear with onion and celery, and season with salt and freshly ground black pepper. When oil shimmers, add pear mixture to the frying pan and sauté until onion is translucent, about 5 minutes. Add garlic and cook until just soft, about 1 minute more.
Remove pear mixture from heat and transfer to a medium bowl. Allow mixture to cool in the refrigerator for about 15 minutes.
Remove sausage from its casing. Crumble sausage into cooled pear mixture. Add egg, breadcrumbs, milk, cinnamon, and paprika. Mix well. To ensure mixture is properly seasoned, form a small patty and sauté it in a pan over medium heat until browned and cooked through, about 2 minutes per side. Taste and adjust seasoning. Repeat if necessary.
Heat the oven to 350 degrees Fahrenheit and arrange a rack in the middle. Cut remaining 6 pears in half lengthwise and remove the stems. Cut off a small slice from the uncut side of each pear to create a flat base for the pear to rest on while roasting. Using a melon baller or a small spoon to scoop out the core and another ½ inch or so around the core to create a hole for the sausage mixture. Season each pear with salt and freshly ground black pepper.
Divide sausage mixture among pears, filling each half generously. Place stuffed pears in a baking dish. Bake until pears are soft and stuffing is browned on top and cooked through, about 35 minutes.
3. Spiced Pear Oatmeal Bars
Oh My Veggies shares this simple, cinnamon-spiced recipe, which combines the simplicity of oatmeal with the deliciousness of a cake. These sweet pear-and-granola bars are a great snack at any time of day — but if you prepare them ahead of time, they're an especially quick and easy on-the-go breakfast. The recipe takes 45 minutes to complete and yields 6 to 8 servings.
Ingredients:
2¼ cups old-fashioned rolled oats
1½ teaspoons ground cinnamon
¼ teaspoon ground ginger
⅛ teaspoon ground cloves
Dash of nutmeg
½ teaspoon baking powder
1 egg
1¾ cups milk
1 teaspoon vanilla extract
⅓ cup maple syrup
1 cup diced pears (about 1 pear)
Directions: Preheat oven to 375 degrees Fahrenheit.
Combine the oats, spices, and baking powder in a medium bowl.
Beat the egg in a second bowl. Stir in the milk, vanilla, and syrup, then pour the wet mixture into the oat mixture. Fold in the pears.
Spray a square baking dish with oil or cooking spray. Pour oatmeal into the baking dish and bake for 25 to 35 minutes, or until set and beginning to brown. Serve immediately, or, if freezing, allow the oatmeal to cool, then cut it into 6 to 8 pieces.
4. Fresh Pear Bread
Fresh, tart flavors infuse this bread with the taste of fall. Packing it with heart-healthy walnuts — which are about 9 grams of protein per ½ cup, according to the 
U.S. Department of Agriculture
— gives it a wonderful and satisfying crunch. This recipe is a great way to use up your ripe or over-ripened pears.
Taste of Home's recipe
yields 2 loaves of pear bread, or about 32 servings in total, and takes 75 minutes to make.
Ingredients:
3 eggs
1½ cups sugar
¾ cup vegetable oil
1 teaspoon vanilla extract
3 cups all-purpose flour
2 teaspoons baking powder
2 teaspoons ground cinnamon
1 teaspoon baking soda
1 teaspoon salt
4 cups finely chopped peeled ripe pears (about 4 medium)
1 teaspoon lemon juice
1 cup chopped walnuts
Directions: In a bowl, combine the eggs, sugar, oil and vanilla; mix well. Combine flour, baking powder, cinnamon, baking soda and salt; stir into the egg mixture just until moistened. Toss pears with lemon juice. Stir pears and walnuts into batter (batter will be thick).
Spoon into two greased 9-by-5-inch loaf pans. Bake at 350 degrees Fahrenheit for 55 to 60 minutes or until a toothpick inserted near the center comes out clean. Cool for 10 minutes before removing from pans to wire racks.
5. Pear and Cheddar Casserole
All Recipes shares this mouthwatering mix of sweet pears and savory cheddar flavors, browned to a perfect crisp in the oven. It's an unusual combination, but the flavors blend well to make a hearty side dish for lunch or dinner. The recipe takes an hour to complete and yields 4 servings.
Ingredients:
6 cups peeled and sliced pears
1 tablespoon fresh lemon juice
½ cup light brown sugar, packed
3 tablespoons cornstarch
¾ teaspoon ground cinnamon
⅛ teaspoon ground cloves
½ cup shredded sharp cheddar cheese
½ cup all-purpose flour
½ cup light brown sugar, packed
¼ cup unsalted butter
Directions: Preheat oven to 400 degrees Fahrenheit. Butter a 2-quart casserole dish.
Toss pears with lemon juice in a bowl. Combine ½ cup light brown sugar, cornstarch, cinnamon, and cloves together in a separate bowl. Add sugar mixture to pear mixture; toss to coat. Transfer to the prepared casserole dish. Sprinkle pear mixture with cheddar cheese.
Combine flour and ½ cup light brown sugar in a food processor; pulse to mix. Cut butter into flour mixture until crumb consistency. Sprinkle topping over cheddar cheese layer.
Bake in the preheated oven until top is golden-brown, about 45 minutes.
6. Peppered Pear and Goat Cheese Scones
According to Whole Foods, distinctively flavored goat cheese is lower in fat, calories, and cholesterol than the milk products of cows. Try wedding the savory flavors of goat cheese with sweet pear by baking these scones from Girl Cook's World. They're a great gluten-free option to serve as a side with dinner or to enjoy with your morning breakfast. Recipe yields 8 to 12 scones and takes an hour to complete.
Ingredients:
1 cup plus 3 tablespoons superfine rice flour
½ cup potato starch
½ cup tapioca starch
2 tablespoons sugar
1 tablespoon baking powder
1 teaspoon xanthan gum
1 teaspoon salt
1¼ teaspoons freshly ground black pepper
8 tablespoons cold butter, cut into small pieces
1 pear, peeled, cored, and diced
4 ounces goat cheese, roughly crumbled
½ cup plain yogurt, preferably whole milk
2 tablespoons milk, plus extra for brushing
Directions: Preheat oven to 375 degrees Fahrenheit and line a baking sheet with parchment paper or a nonstick baking mat.
Place the rice flour, potato starch, tapioca starch, sugar, baking powder, xanthan gum, salt, and pepper in a large bowl and mix to combine. Add the butter and use your fingers to break it up into small pieces and incorporate into the dry ingredients, but do not overwork it and melt the butter.
Add the pear and goat cheese and carefully mix. In a small bowl, whisk together the yogurt and 2 tablespoons of the milk. Pour into the flour mixture and gently fold to combine. Use your hands to divide the dough into roughly 8 to 12 scones, depending on how large you'd like them to be. Arrange on the prepared baking sheet, leaving about an inch of space between the scones. Gently flatten the top slightly and then brush with milk. Sprinkle with a little extra ground black pepper, if desired.
Place in the preheated oven and bake 22 to 25 minutes, or until the tops are lightly golden. Remove from oven and transfer to a cooling rack.
7. Rustic Pear Tart
Ellie Krieger's piquant pear tart recipe comes courtesy of the Food Network. Indulge yourself with its light, flaky crust and a zesty pear filling, all topped with a simple honey glaze. The recipe takes 2 hours and 10 minutes to complete and yields 6 servings. Each slice contains 220 calories and just 8 grams of fat, making it equal parts healthy and delicious. Enjoy!
Ingredients:
Crust
½ cup whole-grain pastry flour or regular whole wheat flour
½ cup all-purpose flour
2 teaspoons granulated sugar
⅛ teaspoon salt
4 tablespoons cold, unsalted butter, cut into small pieces
2 tablespoons low-fat buttermilk
3 tablespoons ice water
Filling
3 medium pears
1 tablespoon lemon juice
1 tablespoon plus 1 teaspoon cornstarch
3 tablespoons light brown sugar
⅛ teaspoon ground cinnamon
Glaze
1 teaspoon honey
¼ teaspoon boiling water
Directions: Glaze – To prepare the crust, in a medium bowl, whisk together the whole-wheat pastry flour, all-purpose flour, granulated sugar, and salt. Add the butter, and using two knives or a pastry cutter, cut the butter into the flour mixture until you get a pebbly, course texture. In a small bowl, combine the buttermilk and ice water. Using a fork, gradually mix the buttermilk mixture into the flour mixture. Pat the dough into a 4-inch round and wrap in plastic wrap. Refrigerate for 30 minutes.
Filling – In the meantime, preheat the oven to 425 degrees Fahrenheit. Peel the pears, core them, and cut into ¼-inch slices. In a large bowl, toss the pear slices with the lemon juice. Sprinkle in the cornstarch, brown sugar, and cinnamon, and toss until the pears are evenly coated. Set aside.
Crust – On a lightly floured surface, roll the chilled dough into a large circle about 9 inches in diameter. Line a baking sheet with parchment paper, and draping the dough over the rolling pin, transfer to the prepared baking sheet. If the dough breaks at all, patch it up with your fingers.
To assemble – Arrange the pears in a mound in the center of the dough, leaving a 2-inch border. Fold the border over the filling. It will only cover the pears partially and does not need to be even.
Bake the tart for 15 minutes, and then reduce the oven temperature to 350 degrees Fahrenheit, keeping the tart in the oven all the while; bake for another 40 minutes, until the pears are tender and the crust is golden-brown.
In a small bowl, stir together the honey and boiling water to make a glaze. When the tart is done, remove it from the oven and brush the honey glaze all over the top of the fruit and crust. Transfer to a plate to cool slightly. Cut into 6 wedges and serve warm or a room temperature.
More from Life Cheat Sheet:
Want more great content like this? Sign up here to receive the best of Cheat Sheet delivered daily. No spam; just tailored content straight to your inbox.