Be Like Bey: Get Fit the Beyonce Way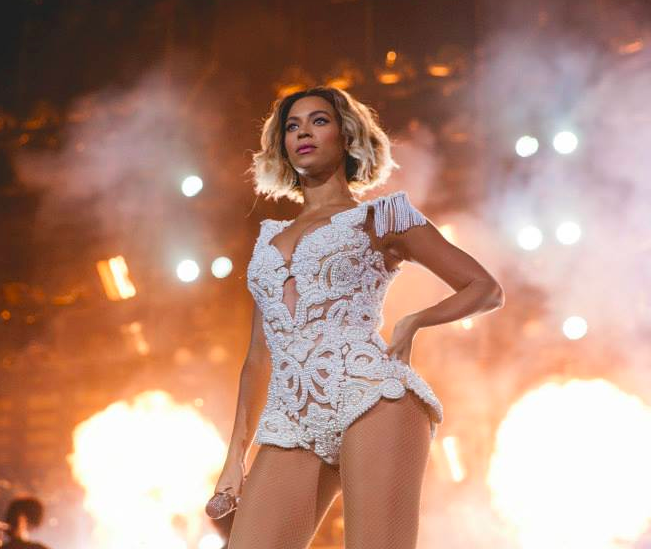 From her killer curves to her perfectly toned body, the reigning queen of pop is a fitness inspiration. Beyoncé's secret? Hard work, which is something she had to put into practice after the birth of her daughter, Blue Ivy. Not only did she want to lose the baby weight and tone up, but she wanted to motivate others to as well.
"I was 195 pounds when I gave birth," she told Us Weekly. "I lost 65 pounds. I worked crazily to get my body back. I wanted to show my body. I wanted to show that you can have a child and you can work hard and you can get your body back. I know that there's so many women that feel the same thing after they give birth. You can have your child and you can still have fun and still be sexy and still have dreams and still live for yourself."
Beyoncé successfully shed her baby weight, further adding to her outstanding list of accomplishments. Months after giving birth, she was back on stage performing. "Y'all have no idea how hard I worked!" Beyoncé told fans during her first concert back at Revel Beach's Ovation Hall in Atlantic City on Saturday night. "I had to lose 60 pounds. They had me on that treadmill. I ate lettuce!"
Ready to hear what the well-known pop diva did to shed her pounds? Take a look at these tips from Queen Bey herself.
Work out like Beyoncé
Beyoncé was focused on getting her body back after giving birth to her daughter. She was also the first to admit that it took a lot of hard work. "The truth is, it's a lot of sacrifice. It's more about your mental strength than physical strength. You have to push yourself. It doesn't matter what trainer you have. And it doesn't matter what program you're on. You have to be healthy and make the right choices," she said in a Fit Sugar article.
As soon as she got the go-ahead to exercise, Beyoncé focused on cardio, along with plyometric moves, such as lunges and jumps on and off a bench, per Us Weekly. She incorporated three 90-minute cardio sessions per week, mixing it up with running, dancing and crunches on an exercise ball.
But she doesn't do it alone. She credits her personal trainer, Marco Borges, for her fabulous body. He has Beyoncé use his signature Power Moves philosophy in her workouts, which is designed to save time by using multiple muscles at once. Borges even boasts that you can whip your body into shape in just five minutes a day. Want to give it a shot? Try his five-minute total body blast, as shown in Us Weekly.
Jumping Pliés: Stand with your feet wider than shoulder-width apart, your back straight and abs contracted. Lower yourself until your thighs are parallel to the floor, and using your glutes, legs and core, explode into a jump straight into the air and then return to your starting position to repeat.
Reverse Lunges: Begin standing with your feet shoulder-width apart and step back into a lunge. Be certain to maintain a straight back and tight abs throughout (the forward knee should be in a direct line over the heel for maximum safety). Return to your starting position and repeat on the opposite side.
Push-Ups: Borges says the push-up is one of the simplest and best body weight movements, targeting the muscles of the chest, arms, shoulders and core. Make sure you use good form. Begin in a plank position and lower yourself to the ground using your arms, flexing at the elbow. Once your chest is almost touching the ground, return to your starting position and repeat.
Dips: Place your hands by your sides (slightly behind you on a bench or flat surface) and lower yourself, flexing at the elbow, as low as you can. Return to your starting position and repeat.
Side Planks: Lie in a plank position with one hand flat on the ground and the other pointed straight to the sky with your feet stacked one over the other. Slowly drop your hips to the ground while maintaining a locked arm, using only your core. Return to your starting position and repeat.
Do each of the exercises for one minute each, and in just five minutes you'll have worked multiple muscles.
One of the things that makes Beyoncé's body so enviable is she manages to stay toned but also maintain her killer curves. Life&Style writes that top celebrity trainer Nicole Winhoffer says the trick is to work your muscles in a 360-degree motion. "Shaping the muscles at 360 degrees is important to maintain a feminine figure, rather than the conventional linear motion you see by using machines at gyms."
And if things start to get boring, do what Beyoncé does: just have fun. Beyoncé loves to dance, which helps keep her toned and burns major calories. Looking for a little extra motivation? Beyoncé recommends listening to music. "I'll put on a song that I really like and do [biceps curls with] five-pound weights [for] the whole song and just try to burn out," she told Self. And that's how you work your way toward a Beyoncé body.
Eat like Beyoncé
She's been known to partake in diet fads in the past. Remember the master cleanse she used to get ready for her role in Dreamgirls? But these days, Beyoncé is opting for healthy weight loss.
One of Beyoncé's most recent diets was a 22-day vegan diet, which her and her hubby, Jay-Z, did together. During an E Online interview, Borges breaks down exactly what the superstar ate. "She is all about health and wellness," he shared. "She just wants to feel good."
With her vegan diet, Beyoncé was all about produce, mainly eating fruits and veggies, and would try out fun vegan restaurants along the way. One of her go-to snacks was the 22Days Nutrition bars, which has flavors such as Peanut Chocolate-Chip Nirvana, Cherry Chocolate Bliss, and Pineapple Chocolate-Chip Wonder.
So, what's her diet like on a day-to-day basis?  There's no big trick – it's just healthy eating; she sticks mainly to produce and lean meats. "The transition [from vegan] was fairly easy, because [now] she's sticking to a mostly plant-based diet with some fish here and there," Borges said. She also tries to stay around 1,600 calories a day.
Want to eat like the pop star? Try this Red Quinoa, Almond and Arugula Salad, per Us Weekly, which serves two.
Ingredients:
2 tablespoons olive oil
1 tablespoon apple cider vinegar
1 teaspoon maple syrup
Sea salt and black pepper to taste
4 cups arugula, packed
1-1/2 cups cooked red quinoa, cooled
1-1/2 cups cantaloupe chunks
1/4 cup slivered almonds
Directions:
For the dressing: Whisk together the oil, vinegar and syrup. Add sea salt and pepper, as desired.
 On two serving plates divide the arugula, quinoa and cantaloupe. Sprinkle with the almonds and drizzle with the dressing. Enjoy!
More From Wall St. Cheat Sheet: