Beat the Heat, Sicilian Style: 8 Granita Recipes
Forget ice cream. To cool down this summer, you'll be making granitas. The ultimate solution for a cold, homemade sweet that doesn't require special kitchen equipment, granitas are said to have originated in Sicily. The Atlantic says the slushy, icy granita dates back to Medieval Sicilian times and consistency fluctuates depending on the maker and where you order one. Coffee flavors are common in the morning, and other varieties are available throughout the day. Lemon can be purchased year-round, while seasonal fruit will dictate many of your other options.
1. Meyer Lemon Mint Granita
Starting things off is the granita you can get at any time of the year: lemon. Savory Simple's Jennifer Farley has added another element to freshen up your long, hot, summer days: mint. This recipe makes about two cups' worth of granitas.
Ingredients:
4 Meyer lemons
1 cup filtered water
½ cup sugar
10 mint leaves
Directions: Using a vegetable peeler, zest long strips from two of the lemons and set aside. Juice the lemons through a fine mesh strainer. Combine the water and sugar in a saucepan and simmer on medium heat until the sugar dissolves. Take the pot off the heat and add the zest and mint. Allow the flavors to steep for 30 minutes while the mixture cools. Strain the zest and mint from the sugar syrup and stir in the lemon juice.
Pour the mixture into a brownie pan or flat-bottomed glass dish. Place in the freezer for 30 minutes. Stir the mixture very thoroughly with a fork and allow it to freeze for another 30 minutes. Repeat this process every 30 minutes for 3-4 hours. Make sure to mix the granita well every time, scraping down the sides. The idea is to prevent ice crystals from forming so that you wind up with a consistency similar to sorbet. If the mixture isn't stirred thoroughly, you might wind up with small blocks of ice, which aren't nearly as fun to eat. Three hours will give you a good granita, while 4 hours will guarantee the consistency if you're not planning to serve it immediately.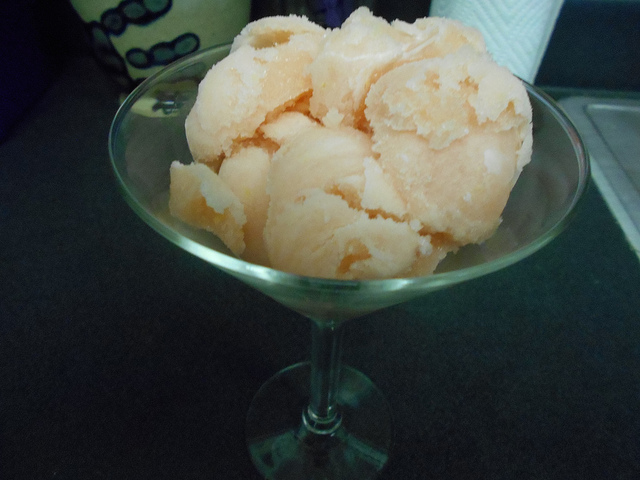 2. Apple Pie Granita
America meets Italy in Emeril's granita recipe from Food + Wine. Made with apple juice, you'll even get a few health benefits from your dessert. Fit Day says that apple juice generally has minerals like calcium, iron, manganese, magnesium, and potassium. If you don't substitute the all-natural apple juice, you'll also add a little vitamin C and B6.
Ingredients:
3 cups natural-style apple juice
½ cup sugar
1½ tablespoons fresh lemon juice
½ teaspoon ground cinnamon
pinch of freshly grated nutmeg
pinch of ground allspice
Directions: In a saucepan, combine all of the ingredients and cook over moderate heat, stirring, until the sugar has dissolved, 3 minutes. Pour into an 8-inch square glass baking dish. Freeze until icy around the edges, about 1 hour. Using a fork, scrape the icy shards into the center. Continue to freeze, stirring occasionally, until slushy throughout, about 3 hours longer. Scoop into bowls and serve.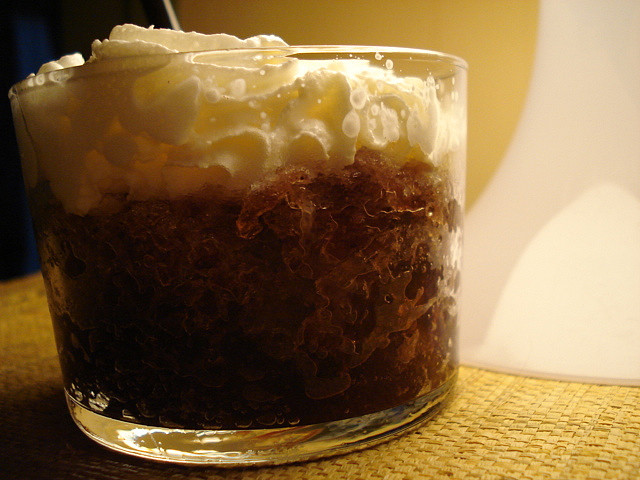 3. Granita di Caffè (Espresso Granita)
Strong coffee or espresso will give Saveur's espresso (or coffee) granita the caffeine kick it needs. On warm summer afternoons, granita di caffès help Sicilians keep their cool, and this recipe will make enough for two to four servings.
Ingredients:
½ cup sugar
⅓ cup strong brewed espresso (or strongly brewed coffee)
whipped cream and chocolate-covered espresso beans, for garnish
Directions: Heat sugar and 1 cup water in a 2-quart pan over medium-high heat. Dissolve sugar and stir in coffee; cool. Pour into an 8-by-8-inch baking dish; freeze. Stir mixture every hour as crystals form. Spoon into glasses; top with whipped cream and beans.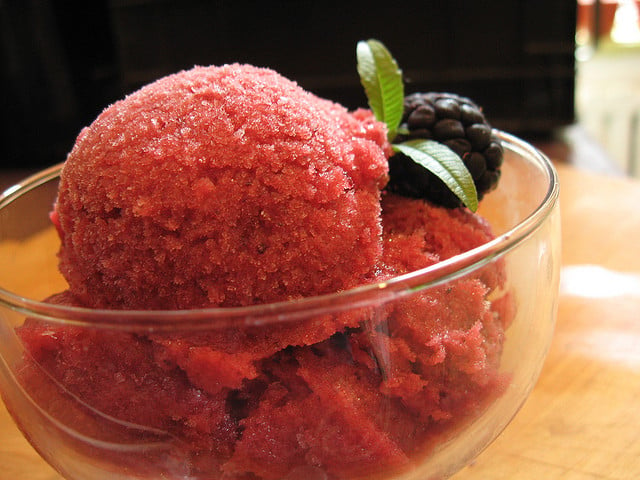 4. Blackberry Granita Parfait
In Desserts, Annabel Langbein expands on the basic granita by making it into a parfait. Her recipe comes from Williams-Sonoma and serves between six and eight. The granita can be made and stored in the freezer for four weeks; it's a refreshing dessert with or without the parfait cream.
Ingredients:
Granita
1½ cups granulated sugar
1 cup fresh or frozen blackberries
¼ cup fresh lemon juice
Parfait cream
½ cup cold heavy cream
¾ cup plain low-fat or whole yogurt
3 tablespoons confectioners' sugar
2 or 3 meringue cookies, crumbled (optional)
Fresh blackberries for garnish (optional)
Directions: To make the granita, in a nonreactive saucepan over medium heat, combine the granulated sugar and 3 cups water and cook, stirring until the sugar is dissolved. Add the berries, bring to a boil, and cook for 5 minutes. Remove from heat and stir in lemon juice. Using a blender, puree the mixture until smooth. Pour into a large, shallow metal baking pan and freeze until icy, about 4 hours. Break up with a fork and freeze for 2 hours more. Break up again, then refreeze. About 2 hours before serving, break up the mixture again with a fork and refreeze.
To make the parfait cream, in a bowl, whip the cream until soft peaks form when the whisk is lifted. Stir in the yogurt and confectioners' sugar. Cover and refrigerate. To serve, spoon alternating layers of granita and parfait cream into serving glasses, sprinkling the crumbled meringue cookies between the layers. Finish with a layer of parfait cream. Garnish with fresh berries and serve immediately.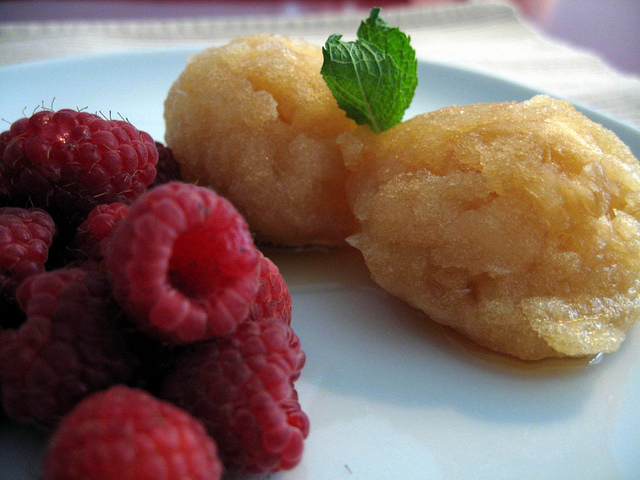 5. Iced Tea Granita
Any brewed tea can be turned into a granita with this recipe from Food 52. According to Cooks Info, 1 ounce of superfine (or caster) sugar is about 30 grams, or 2 tablespoons. Depending on the type of tea you brew, you may need more or less. This recipe makes two servings.
Ingredients:
250 milliliters (roughly 1 cup) freshly brewed tea, cooled
2 tablespoons lemon juice
1½ ounces (3 tablespoons) superfine sugar
Directions: Dissolve the sugar in the lemon juice over low heat and then mix with the tea. Strain into a plastic container with a lid. Freeze for 3 hours and then mix well, breaking up the crystals around the edge of the container and mixing them with the slushy center. Freeze for an additional 2 hours and mix again. When ready to serve, scratch up the granita with a fork and serve in small glasses. If you have made it ahead of time and it has frozen solid, place in the fridge for 30 minutes to soften a little before serving.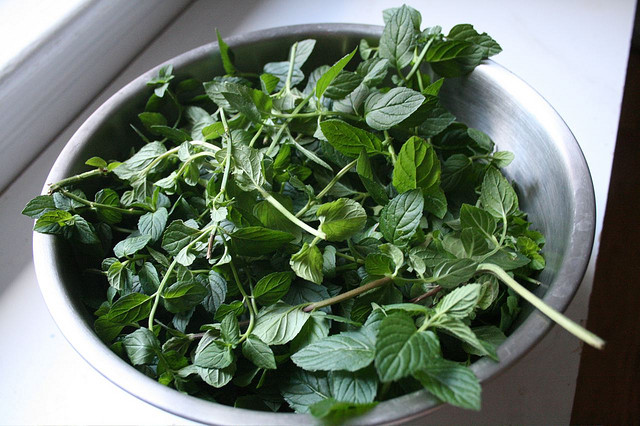 6. Mint Julep Granita
The over-21 crowd will find Cooking Light's mint julep granita a refreshing new twist on the summer classic they've been craving. Serve as cocktails or dessert — the recipe will make eight servings.
Ingredients:
3 cups water
1½ cups sugar
⅔ cup finely chopped fresh mint
1 cup bourbon
8 lime wedges
mint sprigs (optional)
Directions: Combine 3 cups water and sugar in a medium saucepan; bring to a boil, stirring until sugar dissolves. Stir in chopped mint. Remove from heat; cool completely.
Strain sugar mixture through a sieve into a 13-by-9-inch baking dish; discard solids. Stir in bourbon. Cover and freeze 8 hours or until firm. Remove mixture from freezer; let stand 15 minutes. Scrape entire mixture with a fork until fluffy. Place about ½ cup granita in each of 8 small bowls or glasses; serve with 1 lime wedge. Garnish with mint sprigs, if desired.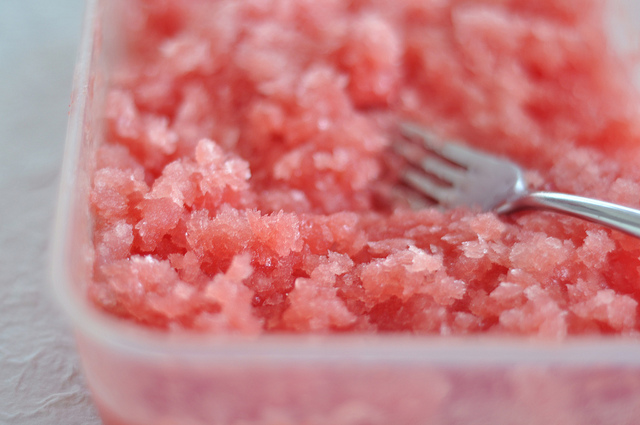 7. Watermelon Granita
Watermelon is already a summer thirst quencher, but The Pioneer Woman has given it the granita treatment. In terms of measurements, ½ of a seedless watermelon will be about 8 cups' worth of watermelon chunks. A regular watermelon can also be used, but you will have to strain out the seeds.
Ingredients:
½ whole seedless watermelon, cut into chunks (rind discarded)
2 whole limes, juiced
⅓ cup sugar
Directions: Place half the watermelon, half the lime juice, and half the sugar in a blender. Process until smooth, then pour into a separate bowl. Repeat with other half of ingredients. Pour into same bowl as other batch.
Transfer mixture to a 9-by-13-inch baking dish. Freeze for 2-3 hours, then begin the process of lightly scraping the top frozen layer. Return pan to freezer with the shaved ice on top; remove a couple of hours later and continue scraping. Repeat the occasional scraping process until the entire mixture is shaved. Store, covered in plastic wrap, until serving. Serve in glasses garnished with a twist of lime.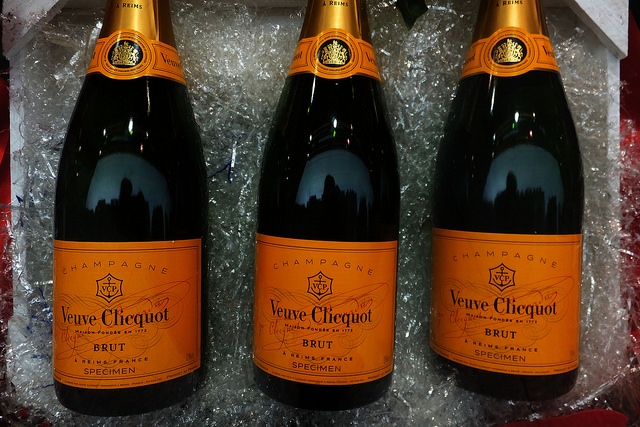 8. Champagne Granita
Bobby Flay is responsible for your classy champagne granitas. His recipe, via the Food Network, makes about eight servings and can only be made better by adding fresh fruit garnishes when you are ready to serve.
Ingredients:
1 cup sugar
1 cup water
2 lemons
1 (750-milliliter) bottle Champagne or other sparkling white wine, cold
Directions: Combine the sugar and 1 cup water in a saucepan. Bring to a boil and stir until sugar is dissolved. Remove from heat and place in the refrigerator until cold, about 1 hour. Using the finest grater you have, lightly scrape the skin of 1 lemon, removing only the top surface of the peel. Squeeze out the juice and remove the seeds from both lemons.
Open the Champagne or sparkling wine and pour it into a 9-by-12-by 2-inch pan. Mix in the simple syrup, lemon juice, and grated zest. Place mixture into the freezer. Check after 30 minutes. Using a wooden spoon, break up any ice formed on the sides and stir into the rest of the liquid. Continue to freeze and repeat this procedure every hour for at least 3 hours. Before serving, fluff the granita by "chopping" up any clumps with the spoon or gently whisking the frozen mixture. Spoon into small glasses or cups and serve.
More From Wall St. Cheat Sheet: