Beat the Winter Blues With 6 Vitamin D-Packed Recipes
Vitamin D offers incredible health benefits to our bodies, providing bone-strengthening, immunity-boosting, and mood-elevating properties alike. WebMD writes that while the human body can get a great deal of its daily vitamin D intake through sunlight, this isn't always an option in the bitingly cold winter months. To make up for lost sunlight, shift your diet to get adequate levels of this healthy nutrient!
Try these 6 meals for a delicious taste of vitamin D-packed goodness.
1. Salmon Fillets in Red Pepper Sauce
Add some heat to a dreary winter's day by indulging in these elegantly-spiced salmon fillets. The U.S. Department of Health and Human Services notes that fatty fishes such as salmon are one of the top dietary sources for vitamin D, making these fillets a delectable way to boost your daily health. Savormania's recipe for Salmon Fillets in Red Pepper Sauce takes 30 minutes to make and yields 8 servings.
Ingredients:
2 tablespoons olive oil

1 medium onion, diced

1 garlic clove, diced

8 thin salmon fillets, without skin

1 red pepper, diced

1½ cups water

¼ teaspoon turmeric

¼ teaspoon paprika

1½ tablespoons tomato paste


Salt and pepper, to taste
Directions: Heat the olive oil in the biggest skillet you have over medium heat. Season the salmon fillets with salt and pepper.
Add the onion and garlic to the skillet and sauté for 30 seconds, until fragrant. Add the salmon fillets and fry for 3 minutes on both sides to give them some color. Don't let them cook through, as the rest of the cooking will be done in the sauce. Be sure not to let the onion and garlic burn — if they start to turn too golden, move them to a plate and return them to the skillet when you prepare the sauce.
Add the red pepper, water, turmeric, paprika, and tomato paste. Bring the sauce to a boil, then reduce heat to low and simmer, uncovered, until the salmon is cooked through, about 7 minutes.
Serve salmon on a platter topped with a bit of sauce and red peppers.
2. Egg and Mushroom Bake
Eggs and Swiss cheese also make the cut for top vitamin D levels, the U.S. Department of Health and Human Services reports. This Egg and Mushroom Bake incorporates both ingredients into a luscious and savory brunch-time treat. This recipe, from Straight To The Hips Baby, is the ideal antidote to a chilly winter's day, packed with creamy, cheesy goodness and topped with breadcrumbs for a final crisp. It yields 8 servings.
Ingredients:
12 large eggs

3 cups cubed soft white bread, crusts removed

2 cups milk

12 to 16 ounces mushrooms, sliced

1¼ teaspoons salt

¼ teaspoon black pepper

¾ cup Panko breadcrumbs

Sliced Swiss cheese to cover top of dish (about 5 to 6 deli slices)

1 teaspoon garlic powder


4 tablespoons butter
Directions: Preheat oven to 400 degrees Fahrenheit.
Combine cubed, crustless, bread with milk and allow to soak for about 5 minutes, or until the bread is saturated. Drain and save the milk.
While soaking bread, place sliced mushrooms in a food processor and pulse until finely chopped. This usually takes about 10 to 12 one-second pulses.
Place the mushrooms in a nonstick pan with a pinch of salt and sauté them until cooked and almost dry, stirring occasionally (they will release and evaporate their own liquid as they cook).
Beat eggs, mixing in the conserved milk, salt, and pepper. Place 2 tablespoons of butter in a hot pan, then scramble the eggs until barely done.
Add the drained bread to the eggs and mix well, chopping up the bread and egg curds with your spatula as you mix to get the ingredients well incorporated. Add the cooked mushrooms and mix them in, as well. Place the mixture into a casserole dish and smooth out the top. Add thin slices of Swiss cheese to cover the top.
Melt the remaining 2 tablespoons of butter, and mix with the Panko breadcrumbs. Cover the Swiss cheese with the breadcrumbs and smooth out the layer, then sprinkle the garlic powder evenly on top of the completed dish.
Bake at 400 degrees Fahrenheit for 15 to 20 minutes, until breadcrumbs are golden-brown. Let cool for a few minutes, and enjoy.
3. Herb-Crusted Pork Tenderloin With Creamy Green Onion and Mustard Sauce
Keys To The Cucina's delectably juicy pork tenderloin is a wonderful dining option for family and friends alike. The tender meat is topped with a mild, Greek yogurt-based sauce boasting the flavors of rosemary, thyme, sage, and tangy Dijon mustard. While Good Housekeeping notes that pork itself is an easy means of getting your daily vitamin D boost, using a fortified Greek yogurt as your sauce base will further amp up the dish's vitamin D content. This Herb-Crusted Pork Tenderloin With Creamy Green Onion and Mustard Sauce takes an hour to make, with each batch yielding 4 to 6 servings.
Ingredients:
1 pork tenderloin

2 tablespoons extra-virgin olive oil

1 medium onion, chopped

1 teaspoon salt

1 teaspoon pepper

1½ teaspoons parsley

1 teaspoon fresh rosemary

¾ teaspoon thyme

½ teaspoon sage

½ cup plain Greek yogurt

1 green onion, minced

1 teaspoon Dijon mustard


Pinch of salt and pepper
Directions: Preheat oven to 350 degrees Fahrenheit.
Combine all spices from the salt to the parsley and mix well to combine. In a large baking dish, scatter chopped onions all around.
Drizzle a bit of extra-virgin olive oil on the pork tenderloin, then rub the spice mixture generously on all sides and nestle the pork on top of the onions. Cook for 50 minutes or until a thermometer reads 145 degrees Fahrenheit. While the pork is cooking, combine the Greek yogurt, Dijon mustard, and green onions. Finish with a pinch of salt and pepper. Let the pork rest for 5 minutes after removing it from the oven, then slice and top with the yogurt sauce.
4. Egg Salad Sandwich With Greek Yogurt
Get your lunchtime vitamin D fix with this easy, tantalizing recipe for an Egg Salad Sandwich With Greek Yogurt. The dish is made with a sweet, slightly tart kumquat poppy seed vinaigrette to result in a truly distinctive flavor. While some chefs prefer to lighten up their egg salad by removing a few of the yolks in the process, Health reminds nutrient-seekers that the yolk contains most of the vitamin D found in each egg. It's Yummi's recipe takes 25 minutes to make.
Ingredients:
8 eggs
1 stalk celery, diced small
3 tablespoons kumquat poppy seed vinaigrette (recipe below)
3 tablespoons plain Greek yogurt or mayonnaise
2 teaspoons sweet pickle relish
1 teaspoon fresh dill weed or ¼ teaspoon dried
¼ teaspoon kosher salt (more if desired)
½ teaspoon freshly cracked black pepper
Kumquat poppy seed vinaigrette
15 whole kumquats, scrubbed well and rinsed with cold tap water
¼ cup apple cider vinegar
1 tablespoon raw honey
½ teaspoon sea or kosher salt
¼ teaspoon freshly cracked black pepper
4 liquid ounces (½ liquid cup) extra-virgin olive oil
½ tablespoon poppy seeds
Directions: Place eggs in a saucepan and cover with cold water.
Bring eggs to a boil over high heat. As soon as water comes to a rolling boil, place a lid on the pan, remove from heat, and let eggs stay in hot water for 20 to 25 minutes.
Drain and rinse immediately with cold water to stop the cooking process. To easily peel the eggs, place them back into the pan, put the lid back on, and shake them a few times.
Peel eggs and place the eggs into a medium-size mixing bowl. Use a fork to break up and mash the eggs in the bowl. Add diced celery and all additional ingredients and use a spoon to stir and combine. Taste and season with additional salt and pepper, if desired.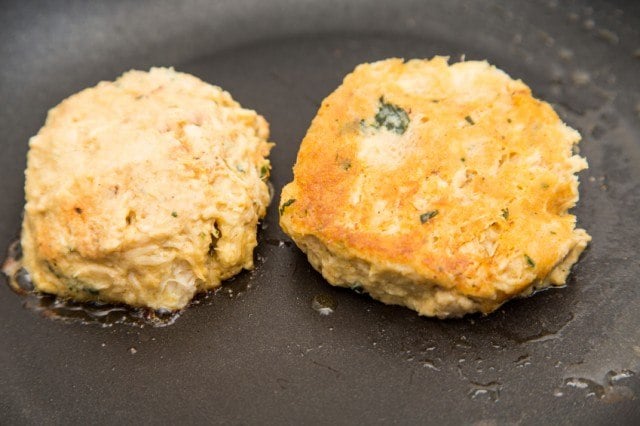 5. Tuna Patties With Greek Yogurt Coleslaw
Healthfully Ever After shares this easy, healthy recipe for Tuna Patties With Greek Yogurt Coleslaw to help give you your vitamin D fix for the day. Fatty fishes like tuna are loaded with the nutrient, and you'll love how the fish's flavors combine with zesty Dijon mustard and lemon to create a light and satisfying meal. This recipe yields 6 small tuna patties.
Ingredients:
Tuna cakes
2 (6-ounce) cans tuna, drained
2 teaspoons Dijon mustard
½ cup bread crumbs
1 teaspoon lemon zest
1 tablespoon lemon juice
1 tablespoon water
2 tablespoons chopped fresh parsley
2 tablespoons finely chopped white onion
Salt and freshly ground black pepper
A couple of squirts of Sriracha
1 raw egg
2 tablespoons olive oil
½ teaspoon butter (key to the browning)
Coleslaw
1 carrot, julienne peeled
¼ small cabbage, slivered
1 teaspoon celery seed
Dash of salt and pepper
1 tablespoon lemon juice
¼ cup mayonnaise
¼ cup nonfat Greek yogurt
Directions: Drain the liquid from the tuna cans. In a medium bowl, mix together everything except the butter and oil. Divide the mixture into 6 parts. With each part, form into a ball and then flatten into a patty. Place onto a wax paper-lined tray and chill for an hour. This keeps them together when cooking. Heat the olive oil and a little butter in a cast-iron or stick-free skillet on medium high. Gently place the patties in the pan and cook until nicely browned, 3 to 4 minutes on each side.
To make the coleslaw, julienne peel a carrot and shred the cabbage. Mix other ingredients in a bowl and toss vegetables in the dressing. Chill.
6. Sausage and Swiss Chard Rigatoni
Gather and Dine's comforting dinnertime dish makes a wonderfully flavorful option to serve your loved ones. Italian sausage and rigatoni are draped in a rich and tangy tomato sauce, enhanced with the delicate tastes of basil, oregano, and garlic. You'll get your fill of vitamin D through each bite of Italian pork sausage. Top it all off with layers of rich cheese to create a hearty dish that no one can resist. This Sausage and Swiss Chard Rigatoni recipe makes 6 servings.
Ingredients:
1 pound Italian sausage, casings removed

4 cups chopped Swiss chard

12 ounces rigatoni, cooked and drained

4 cups tomato sauce, divided

6 ounces provolone cheese, sliced

¾ cup sour cream

2 teaspoons dried basil

2 teaspoons dried oregano

2 teaspoons garlic powder

½ teaspoon ground black pepper

½ pound mozzarella cheese, sliced

1 cup freshly grated Parmesan cheese


Fresh parsley for garnish (optional)
Directions: Preheat oven to 350 degrees Fahrenheit.
In a large skillet, brown sausage on medium-high heat. Drain sausage and discard drippings. Lower heat to medium. Add Swiss chard and stir until just wilted.
Spray or lightly coat a 9-by-13-inch baking dish with olive oil. Spread rigatoni in the dish. Layer with 2 cups tomato sauce, provolone, sour cream, and sausage Swiss chard mixture. Evenly sprinkle with basil, oregano, garlic powder, and pepper. Next, layer with the mozzarella and remaining 2 cups tomato sauce. Top with Parmesan.
Bake 30 minutes until cheese is melty and casserole is thoroughly heated. Garnish with chopped fresh parsley and serve.
More from Life Cheat Sheet:
Want more great content like this? Sign up here to receive the best of Cheat Sheet delivered daily. No spam; just tailored content straight to your inbox.