Best Brunch Drinks: 10 Recipes to Sip Away the Morning
No great brunch is complete without drinks that complement the delicious spread of food you've prepared — but what to serve? Some people will want to sip spiked beverages while others are abstaining — whether they're too young or not interested in early morning drinking. We've rounded up ten drink recipes that will suit either crowd and make this brunch your best one yet.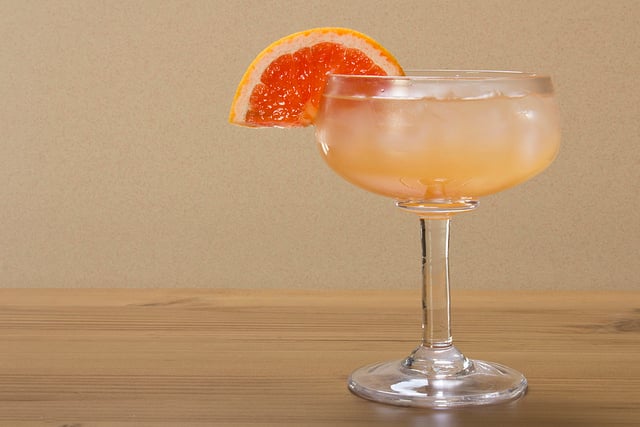 1. Pineapple Greyhound
The Greyhound traditionally is made with just vodka and grapefruit juice, but Williams-Sonoma has jazzed it up by adding pineapple as well. Adjust the ingredients as needed for more than one serving.
Ingredients:
ice cubes as needed
1 fluid ounce vodka
2 fluid ounces fresh pineapple juice
1½ fluid ounces fresh pink grapefruit juice
2 half-moon grapefruit slices
Directions: Fill a rocks glass or large tumbler with ice cubes up to the rim. Add the vodka, pineapple juice, and grapefruit juice and stir to combine. Garnish with the grapefruit slices.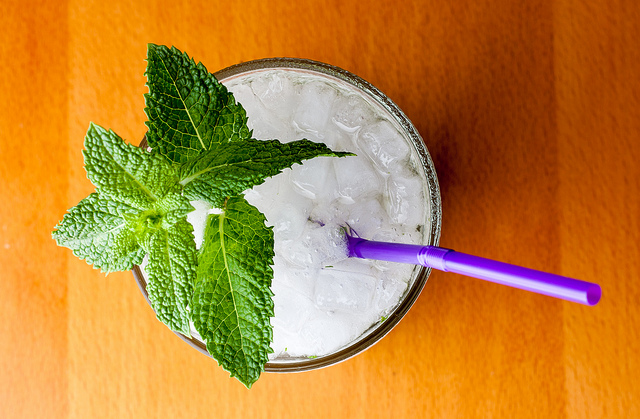 2. Nojito
With strong flavors, drinkers won't miss the alcohol in this nojito from Food.com, a booze-less take on the mojito. The amounts listed below make one drink, but by adjusting you could also fill a pitcher so guests can serve themselves.
Ingredients:
crushed ice
8 mint leaves
3 ounces lime juice
1½ ounces sugar syrup
2 ounces club soda
garnish with mint
Directions: Fill a pint glass one-third full with ice, then add mint leaves. Add the lime juice and sugar syrup. Lightly mash the leaves together with the liquid using a muddle stick or wooden pestle, careful not to tear the leaves. Fill the glass with more ice, then add club soda. Garnish with mint, serve, and enjoy!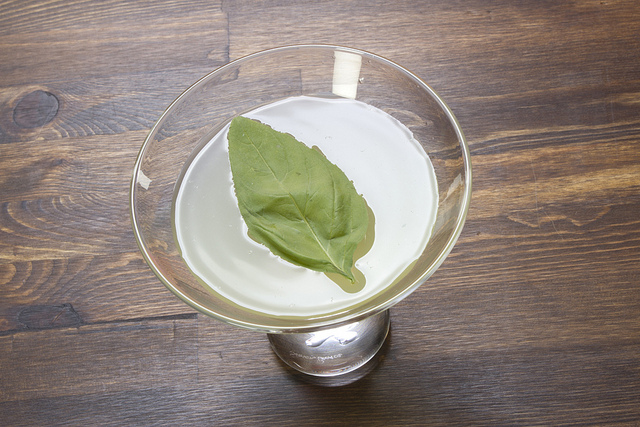 3. Pamplemousse
Even those who want to drink at breakfast may not want to drink a lot — and in that case the Pamplemousse from Food & Wine is the ideal offering.
Ingredients:
ice
1 ounce London dry gin
½ ounce St-Germain elderflower liqueur
1 ounce fresh grapefruit juice
½ ounce fresh lemon juice
1 large basil leaf, for garnish
Directions: Fill a cocktail shaker with ice. Add all of the remaining ingredients except the garnish and shake well. Pour through a fine strainer into a chilled coupe and garnish with the basil leaf.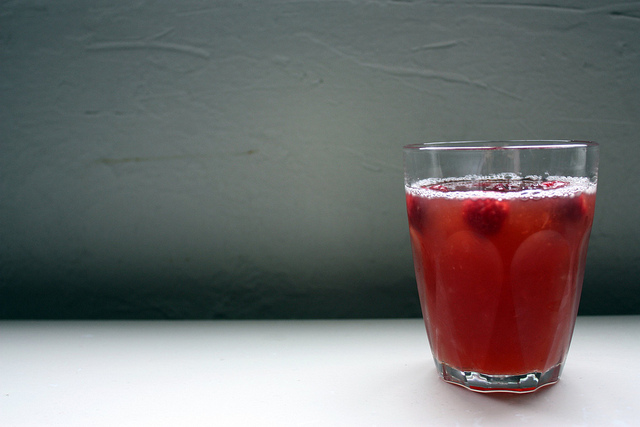 4. Sparkling Raspberry Lemonade
Cookie Monster Cooking has a refreshing, sparkling raspberry lemonade that serves between four and six. If you do not like raspberries, variations exist which use blueberries instead.
Ingredients:
½ cup water
½ cup granulated sugar
6 ounces fresh raspberries
1 cup freshly squeezed lemon juice (about 7 to 8 lemons)
3½ cups cold sparkling water
Directions: Start by making a simple syrup to sweeten the lemonade. In a small saucepan, add the ½ cup water and ½ cup granulated sugar. Heat over medium high, stirring occasionally, until the sugar has completely dissolved. Remove from the heat and set aside to cool slightly.
Add the raspberries to the bowl of a food processor. Process until smooth. Strain the raspberry puree through a fine mesh sieve to remove the seeds (using a wooden spoon to help push it through).
In a large pitcher or container, add the raspberry puree and lemon juice. Pour in the simple syrup (If you are not sure how sweet you want the lemonade, start with some of the syrup — you can always add more later. I used all of the syrup). Mix to combine. Right before serving, add in the sparking water and mix gently to combine (you can store the mixture in the refrigerator until you are ready to serve and then just add the sparkling water at the last minute).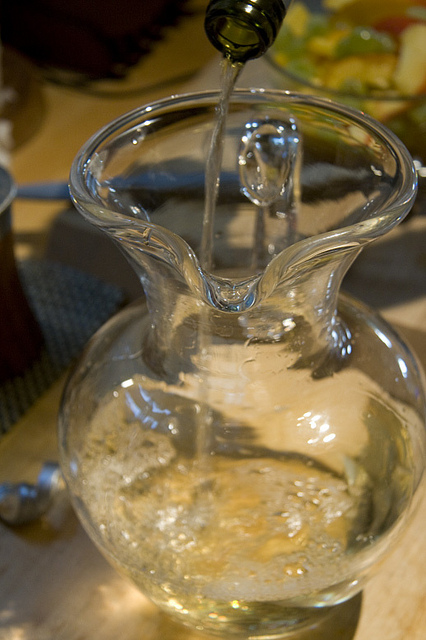 5. White Sangria
For a white, fruit filled sangria, use this recipe from Country Living. It is pitcher perfect, making 16 servings.
Ingredients:
3 bottles (750 milliliters each) dry white wine (Spanish Albariño)
1 cup brandy
¾ cup simple syrup (water and sugar)
¾ cup orange liqueur (Triple Sec or Cointreau)
3 green apples, cored and thinly sliced
2 lemons, thinly sliced
3 oranges, thinly sliced
4 fresh ripe peaches, peeled, pitted, and thinly sliced
ice
Directions: For the simple syrup, add ½ cup water and ½ cup sugar to a small saucepan. Bring to a boil and remove from heat. This yields ¾ cup of simple syrup.
For the sangria, in a 2-gallon container, stir together wine, brandy, syrup, and liqueur. Add apple, lemon, orange, and peach slices. Refrigerate for 2 hours; serve over ice.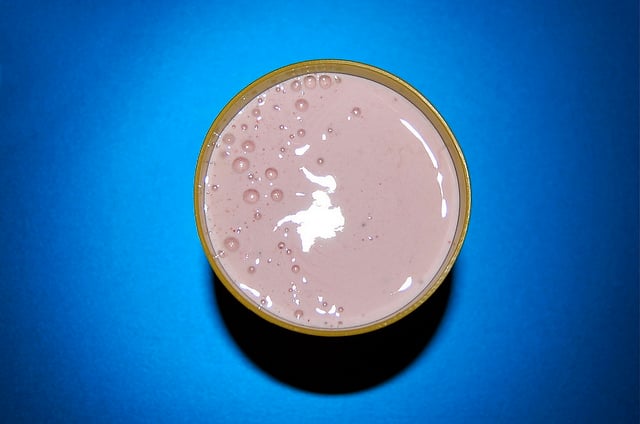 6. Summer Licuado
A licuado is similar to a smoothie in terms of ingredients and process, but it is lighter and more refreshing. Food52 explains it originated in Mexico, and the mint water elevates the drink to the next level. It yields about one quart.
Ingredients:
Mint Water
1 cup water
⅓ cup tightly packed mint leaves (about 25 to 30 large leaves)
Licuado
1 ripe to slightly over-ripe peach, peeled and sliced
20 raspberries
1 cup mint water
1 cup whole milk (plus extra if needed)
2-3 tablespoons honey
Directions: For the mint water, bring the water to a boil in a small pan. Remove from heat and add the mint leaves. Stir briefly, then cover the pan and allow to cool to room temperature. Strain the mixture into a measuring cup, pressing the leaves in the strainer to extract as much water as possible. Add enough water to equal 1 cup of mint water. Cover and refrigerate until thoroughly chilled.
To make the licuado, if your fruit is fresh: Peel the peach then slice it and freeze it in a single layer on parchment. Freeze the raspberries in a single layer on parchment as well. This can be done while you're making and chilling the mint water.
Combine all ingredients in blender, starting with 2 tablespoons honey and 1 cup milk. Pulse several times, then blend for 10 seconds. Taste for sweetness and add more honey if needed. Add a bit more milk if needed to thin. Blend 5 to 10 more seconds, until smooth and no chunks of fruit remain. Serve immediately, with a sprig of mint and/or a raspberry as garnish if desired. Savor the light fruit flavor and refreshing mint taste.
7. Bloody Mary
Individual drinkers can decide whether or not they want Southern Living's Bloody Mary to be alcoholic or not when you serve the vodka on the side. Or you can add it directly to the punch, which makes 1½ quarts.
Ingredients:
1 (46-ounce) container low-sodium vegetable juice, chilled
1 tablespoon freshly ground pepper
3 tablespoons fresh lime juice
1 tablespoon hot sauce
1 tablespoon Worcestershire sauce
½ teaspoon Old Bay seasoning
½ cup vodka (optional), chilled
Celery sticks (optional)
Directions: Combine vegetable juice, next 5 ingredients, and, if desired, vodka in a punch bowl or a pitcher. Serve over ice in glasses. Serve with celery sticks, if desired.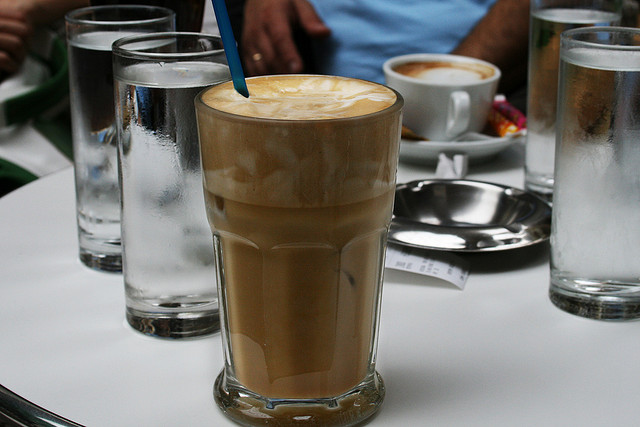 8. Frozen Café au Lait
Take a sip of New Orleans with The Slow Roasted Italian's frozen café au lait. The drink was inspired by a visit to the Café Du Monde and is a fantastic addition to any brunch or breakfast. It serves two.
Ingredients:
2 cups strong brewed Cafe Du Monde Coffee and Chickory Blend (or your favorite), frozen into ice cubes
1½ cups whole milk
2 tablespoons sugar (or your favorite sweetener)
Directions: Combine ingredients in a blender and chop until icy, then blend on high until you have your perfect consistency. I like mine pretty smooth, so I blend for a while. You may have to turn the blender off to scrape down the sides a few times and then turn the blender back on. If you have a high powered blender you may have to use your tamper to push the mixture around a little.
Pour into 2 glasses, serve, and enjoy!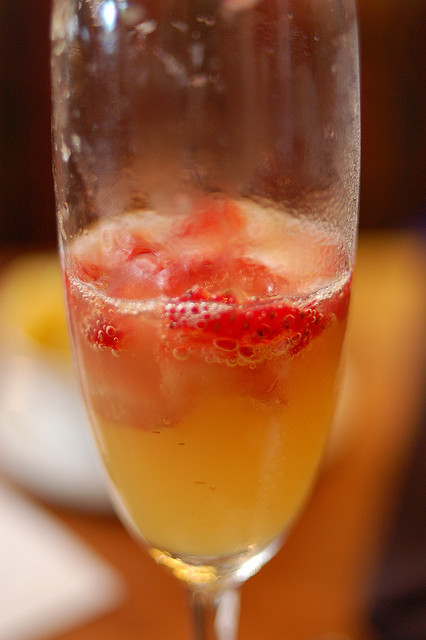 9. Strawberry, Lemon, and Basil Mimosa
Giada De Laurentiis provided Food Network with this mimosa recipe, which uses Prosecco. Prosecco is an Italian sparkling white wine, and you can substitute champagne.
Ingredients:
¾ cup packed fresh basil leaves
juice from 2 large lemons (about ½ cup fresh lemon juice)
½ cup agave or honey
8 medium fresh or frozen strawberries, thawed and sliced
one 750 milliliter bottle Prosecco, chilled
½ cup soda water or sparkling water, chilled
Directions: Combine the basil, lemon juice and agave in a pitcher. Using a wooden spoon, lightly crush the basil. Stir in the strawberries, Prosecco, and soda water. Pour into chilled champagne glasses and serve.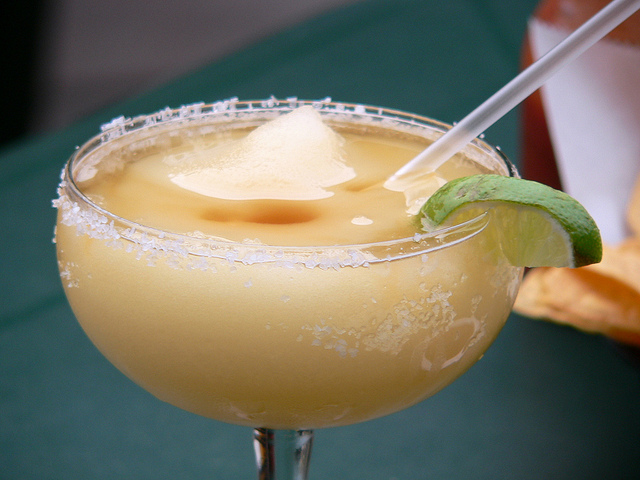 10. Virgin Banana Margarita
You could just take the alcohol out of your margaritas, or you could serve this twist on the drink from Martha Stewart. It is a combination of sweet and sour that is different from a regular banana smoothie, and not quite a margarita.
Ingredients:
½ cup freshly squeezed lime juice
lime wedges
Sanding sugar, for glasses
Ice cubes
3 bananas, peeled
¼ cup granulated sugar
¼ cup milk
Directions: To sugar-rim the glasses, rub a lime wedge around rim of 2 stemmed goblets. Fill a saucer with sanding sugar. Dip goblet, upside down, into sugar.
Fill blender half full of ice cubes. Add lime juice, bananas, granulated sugar, and milk; blend. Taste for sweetness, adding more sugar, if desired. Blend a few seconds more; pour into sugar-rimmed glasses. Serve immediately.
More From Wall St. Cheat Sheet: