7 Recipes Using Leafy Greens More Nutrient-Rich Than Kale
Kale isn't the only leafy green that is packed with vital nutrients. In fact, a study published in the Centers for Disease Control's Preventing Chronic Disease found that there are multiple leafy greens that are more nutrient-dense than kale, with the top 7 being watercress, Chinese cabbage, chard, beet green, spinach, chicory, and leaf lettuce. This is good news for healthy cooking: You now have a wide variety of nutrient-rich produce to cook with, ensuring you don't get bored making the same kale recipes over and over. Ready to start switching up your vitamin-rich produce? Here are 7 recipes that use leafy greens more nutritious than kale.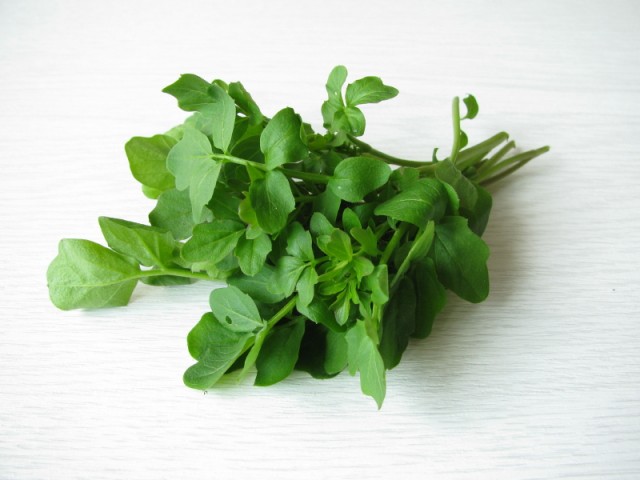 1. Orange, Watercress, and Tuna Salad
The study ranked watercress as the most nutrient-dense superfood. To reap the benefits of this small, crisp veggie, prepare Eating Well's recipe for orange, watercress, and tuna salad. The tuna steak pairs perfectly with the peppery flavor of the watercress, creating a healthy and fresh-tasting dish. It yields 4 servings.
Ingredients:
3 medium oranges
1 tablespoon canola oil
1 tablespoon rice vinegar
1 teaspoon minced crystallized ginger or fresh ginger
½ teaspoon ground coriander
½ teaspoon aniseed, chopped or crushed, divided
½ teaspoon kosher salt, divided
Pinch of cayenne pepper
1 to 1¼ pounds tuna steaks (about 1 inch thick), cut into 4 portions
¼ teaspoon freshly ground pepper
1 cup loosely packed tiny watercress sprigs or leaves (¾ to 1 inch long)
Directions: Peel oranges with a sharp knife, removing all peel and white pith. Working over a medium bowl, cut the segments from the surrounding membranes and let them drop into the bowl. Squeeze the peels and membranes over the bowl to extract all the juice before discarding them. Gently stir in oil, vinegar, ginger, coriander, ¼ teaspoon aniseed, ¼ teaspoon salt, and cayenne. Set aside.
Position oven rack 5 to 6 inches from the broiler; preheat to high. Cover a broiler pan with foil. Season tuna with the remaining ¼ teaspoon each aniseed, salt, and pepper. Place on the prepared pan. Broil for about 2 minutes per side for medium-rare, 4 minutes per side for medium, or to desired doneness. Stir watercress into the orange mixture. Slice the tuna, divide among four plates, and top with equal portions of the salad. Serve immediately.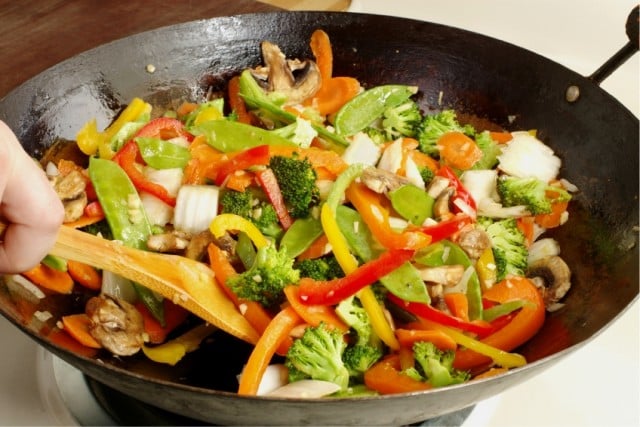 2. Spicy Stir-fry Chinese Cabbage
Incorporate Chinese cabbage into a dinner dish by preparing About.com's recipe for a spicy stir-fry. You'll also include garlic, onion, chile paste, wine, and soy sauce to create an easy-to-make meal that's got a bit of a kick to it.
Ingredients:
1 pound Chinese cabbage
1 large garlic clove
2 green onions (spring onions)
2 tablespoons vegetable or peanut oil, for stir-frying
2 to 3 teaspoons chile paste, according to taste
1 tablespoon Chinese rice wine, dry sherry, or white wine
½ teaspoon salt
¼ cup water
1 teaspoon sugar
1 to 2 teaspoons soy sauce, optional
1 teaspoon cornstarch mixed in 4 teaspoons water
Directions: Rinse the cabbage and pat dry. Remove the leaves and cut diagonally into 1-inch pieces. Finely chop the garlic. Rinse the green onion and cut into 1-inch lengths. Heat the wok and add 2 tablespoons oil. When the oil is hot, add the chile paste. Stir-fry for 30 seconds, then add the garlic. Stir-fry for a few seconds until fragrant, and then add the cabbage. Stir-fry the cabbage for 1 minute, splashing with the rice wine or dry sherry and stirring in the salt.
Add the water. Turn down the heat, cover, and simmer the cabbage for 3 minutes. Turn the heat back to medium-high. Stir in the sugar and green onion. Stir in the soy sauce, if desired. Push the cabbage to the sides of the wok. Give the cornstarch and water mixture a quick stir and add it in the middle, stirring quickly to thicken. Cook briefly to mix everything together. Serve hot.
3. Sauteed Swiss Chard With Parmesan Cheese
The lemon, cheese, and chard work together in AllRecipes.com's healthy dish to create a light-tasting side that's sure to satisfy. You can have this recipe, which yields 2 cups, ready to go in 25 minutes.
Ingredients:
2 tablespoons butter
2 tablespoons olive oil
1 tablespoon minced garlic
½ small red onion, diced
1 bunch Swiss chard, stems and center ribs cut out and chopped together, leaves coarsely chopped separately
½ cup dry white wine
1 tablespoon fresh lemon juice, or to taste
2 tablespoons freshly grated Parmesan cheese
Salt, to taste
Directions: Melt butter and olive oil together in a large skillet over medium-high heat. Stir in the garlic and onion, and cook for 30 seconds, until fragrant. Add the chard stems and the white wine. Simmer until the stems begin to soften, about 5 minutes. Stir in the chard leaves and cook until wilted. Finally, stir in lemon juice and Parmesan cheese; season to taste with salt if needed.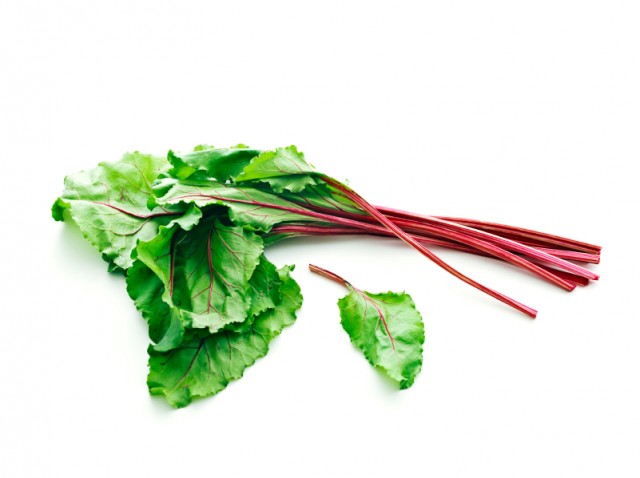 4. Beet Green Gratin
Beet greens are packed with fiber in addition to vitamins C and A, and are the green leaves found on top of a bundle of beets. Rather than throw this leafy beet top away, you should reap its nutritional benefits by preparing Food Network's beet green gratin. The recipe yields 6 to 8 servings.
Ingredients:
1 tablespoon butter
12 ounces sliced mushrooms
2 cloves garlic, minced
1 pound beet greens, cleaned and picked
Kosher salt and fresh ground black pepper
4 egg yolks, beaten
1 cups ricotta
½ cup grated Parmesan
½ teaspoon salt
¾ cup crumbled crackers
Directions: Preheat oven to 375 degrees Fahrenheit. Melt the butter in a saucepan. Add the mushrooms and garlic, and sweat. Add the beet greens and mix well. Remove pan from heat. Season with salt and pepper. In a separate bowl, combine the egg yolks, ricotta, Parmesan cheese, and salt. Combine everything and put into a lightly oiled 9-by-11-inch baking dish. Top with the crumbled crackers and bake for 30 minutes covered. Uncover and bake for an additional 15 minutes.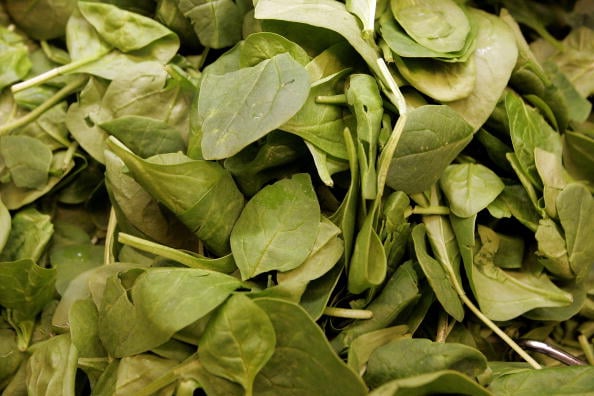 5. Spinach and Gruyere Souffle
Martha Stewart's spinach-packed recipe uses a thick cheese sauce to create a rich and creamy base. The spinach provides lutein, vitamin K, and iron, allowing you to indulge in a savory soufflé that's filled with nutrients. It yields 8 servings.
Ingredients:
2 tablespoons unsalted butter, room temperature, plus more for baking dish
⅓ cup plain dried breadcrumbs
5 cups (5 ounces) packed spinach, trimmed and washed
2 tablespoons all-purpose flour
¾ cup plus 2 tablespoons whole milk
½ cup grated Gruyere cheese
Coarse salt and ground pepper
2 large eggs, separated, plus 2 large egg whites
Directions: Preheat oven to 375 degrees Fahrenheit. Butter a round 1-quart tall-sided baking dish and dust with breadcrumbs; set aside. In a large skillet, heat 2 tablespoons water over medium-high. Add spinach and cook, stirring constantly, until wilted, about 4 minutes. Transfer to a strainer to cool; press to release liquid. In a medium saucepan, melt butter over medium until bubbling. Add flour and whisk until a paste forms.
Continue to cook until pale blond in color, 2 to 3 minutes. Whisking, gradually add milk. Cook, whisking, until lumps are gone and mixture is thickened, 3 to 5 minutes. Remove from heat. Stir in cheese until melted; season with salt and pepper. Transfer soufflé base to a large bowl. In a food processor, pulse spinach and egg yolks until coarsely pureed. Add ¼ cup soufflé base; pulse until blended. Stir spinach mixture into remaining soufflé base.
In a large bowl, using an electric mixer, beat 4 egg whites and pinch of salt on medium-high until stiff peaks form, about 3 minutes. In two additions, gently fold egg whites into soufflé base. Pour batter into prepared dish and bake until soufflé is tall, browned, and firm to the touch, about 35 minutes. Avoid opening oven during first 25 minutes of baking. Serve immediately.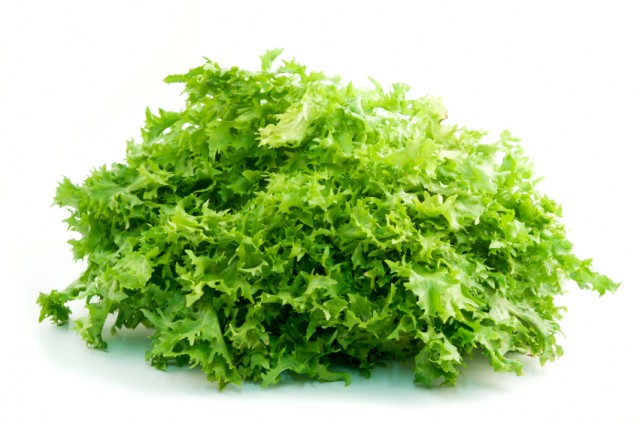 6. Orecchiette with Sausage and Chicory
Chicory, also sometimes referred to as curly endive, provides a hearty dose of vitamins A, C, E, and K, meaning it's a superfood you'll want to work into your produce rotation, according to Today. In this Food & Wine recipe, the chicory adds a touch of bitterness to the spicy sausage, creating a dish that is rich with fantastic flavors. It yields 6 servings.
Ingredients:
1 pound orecchiette
¼ cup extra-virgin olive oil
1 pound sweet Italian sausage, casings removed
2 garlic cloves, thinly sliced
½ teaspoon crushed red pepper
1 pound chicory or escarole, coarsely chopped and washed
Kosher salt
1 cup chicken stock or low-sodium broth
¼ cup grated pecorino, plus more for serving
2 tablespoons shredded mint
Directions: In a large pot of boiling salted water, cook the pasta until al dente. Drain well. Meanwhile, in a large, deep skillet, heat 2 tablespoons of the olive oil until simmering. Add the sausage and cook over moderately high heat, breaking it up with a wooden spoon, until browned, about 7 minutes. Using a slotted spoon, transfer the sausage to a plate. Add the garlic, crushed red pepper, and the remaining 2 tablespoons of olive oil to the skillet and cook until fragrant, about 1 minute.
Add the chicory with any water clinging to the leaves and season with salt. Cover and cook until wilted, about 2 minutes. Uncover and cook until the chicory is tender and the liquid has evaporated, about 5 minutes longer. Add the pasta to the skillet along with the sausage, chicken stock, and pecorino and cook over moderate heat, stirring constantly, until the liquid is slightly reduced and creamy, about 3 minutes. Stir in the mint and serve right away, passing extra cheese at the table.
7. Red Leaf Lettuce Salad with Sweet-and-Sour Dressing
Red leaf lettuce is rich in vitamins A and K, which ensure that your bones, skin, and eyes stay in tip-top shape, per Livestrong. This Southern Living recipe is an easy way to enjoy a fresh and nutrient-packed dish. The sweet-and-sour dressing gives this salad a tangy kick, creating an oh-so-satisfying side.
Ingredients:
1 bunch red leaf lettuce, torn
1 cup frozen peas, thawed
1 cup shredded mozzarella cheese
½ cup toasted slivered almonds
6 bacon slices, cooked and crumbled
Sweet-and-sour dressing
Dressing
⅓ cup sugar
2½ tablespoons vinegar
1 tablespoon diced onion
¼ teaspoon salt
¼ teaspoon garlic salt
⅛ teaspoon pepper
½ cup vegetable oil
Directions: To make the dressing, pulse first six ingredients in a blender 2 to 3 times or until smooth. With blender running, pour oil through food chute in a slow, steady stream; process until smooth. To make the salad, combine lettuce, peas, cheese, almonds, and bacon. Toss with sweet-and-sour dressing just before serving.
More from Life Cheat Sheet:
Want more great content like this? Sign up here to receive the best of Cheat Sheet delivered daily. No spam; just tailored content straight to your inbox.