8 Citrus Salads to Brighten Your Winter Table
It's winter, and that means cold, biting winds, ice and snow storms, and high heating bills. It also means citrus season is upon us! Not only are the bright colors of grapefruits and oranges joyously vibrant against the drab grays of winter, but they're packed with vitamin C to help ward off winter illnesses. Make your short, dark days bright and cheery with as many citrus salads as you can eat.
First, learn how to "supreme" a citrus fruit to make your segments beautiful and easier to eat in salad form. We'll use an orange as an example. Grab a really sharp knife. If you don't have really sharp straight-edge knives, grab a serrated knife. Start by slicing off the top and bottom of the orange. Set the orange down on a flat end and begin slicing off the peel from top to bottom, following the curve of the orange to preserve as much of the fruit and get rid of as much of the pith as possible. Then, cut out each segment by inserting your knife along the membrane, freeing a jewel-like orange segment ready for eating.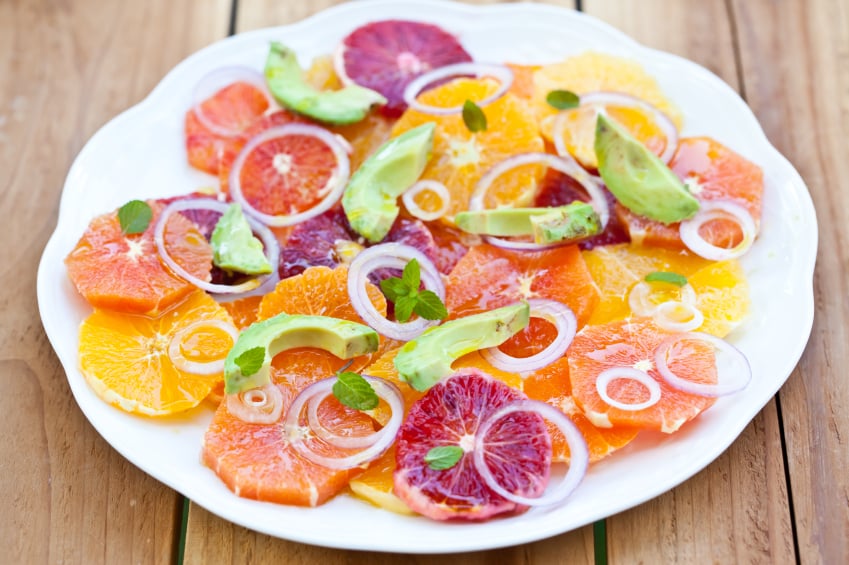 1. Citrus and Greens Salad With Avocado
This salad from Joy the Baker is all of the best things in one package, plus celery. If you don't like celery, feel free to leave it out. If you like the crunch and delicate flavor it provides, liven up the texture even more with a handful of little slices. With pink grapefruit, navel oranges, and blood oranges, it's a trifecta of winter color.
Ingredients:
1 pink grapefruit
2 blood oranges
1 naval orange
4 cups, shredded romaine lettuce
1 stalk celery, sliced
¼ cup coarsely chopped flat leaf parsley
1 ripe avocado, peeled and sliced into cubes
juice of half a lemon
2 tablespoons olive oil
salt and pepper to taste
¼ cup very coarsely chopped salty roasted cashews
Directions: To slice all of the citrus into rounds, cut the bottom and top off of each citrus fruit. Stand the fruit up on its bottom and slice down the fruit, removing all of the peel and as much of the pith as possible. Once entirely peeled, turn the citrus on it's side and slice into rounds. Set aside.
In a medium bowl, toss together lettuce, celery, parsley, half of the avocado, lemon juice, olive oil, salt, pepper, and half of the cashews. Toss well.
Arrange the citrus rounds on a round plate leaving space in the center of the plate for the greens. Add the tossed greens and garnish with the remaining avocado and cashew. Sprinkle with salt and pepper.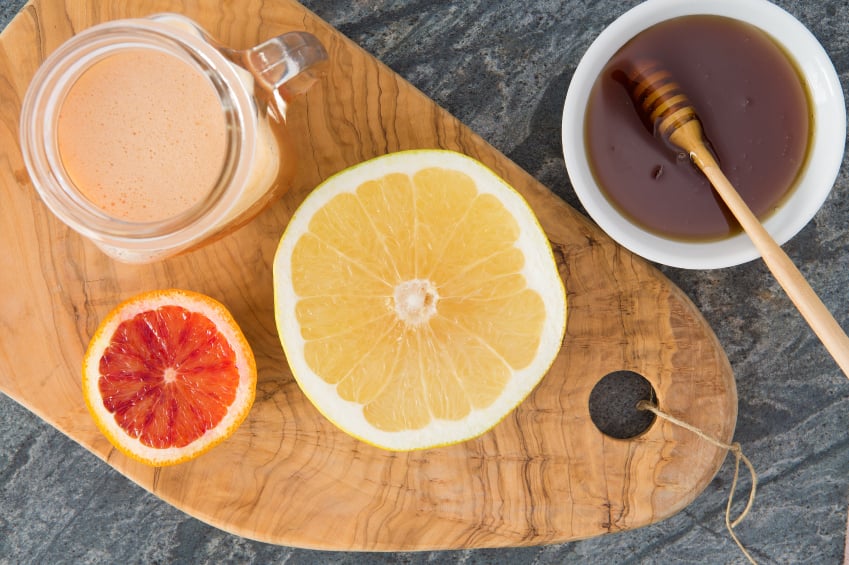 2. Winter Citrus Salad with Honey Dressing
In this salad from The Cooking Channel, the citrus is really the star. Thinly sliced red onion and freshly chopped tarragon add just enough of a savory bite to keep this from being classified as a fruit salad,  and the sherry vinegar keeps the honey in the vinaigrette bright enough to keep the salad from becoming too sweet.
Ingredients:
2 blood oranges or tangerines
1 pink grapefruit
1 navel orange
Salt
½ small red onion or shallot, chopped or sliced thinly
3 tablespoons extra-virgin olive oil
1 tablespoon sherry vinegar
½ teaspoon honey
Lime or lemon juice to taste
¼ teaspoon freshly chopped tarragon or a pinch dried tarragon
Directions: Peel citrus, removing as much pith as possible, and slice into wheels or half-wheels. Remove any pits, layer fruit on a serving dish, sprinkle with salt and garnish with chopped onion. Whisk together olive oil, vinegar, honey, lime juice, and tarragon until well combined; taste, adjust seasoning as needed and drizzle over salad.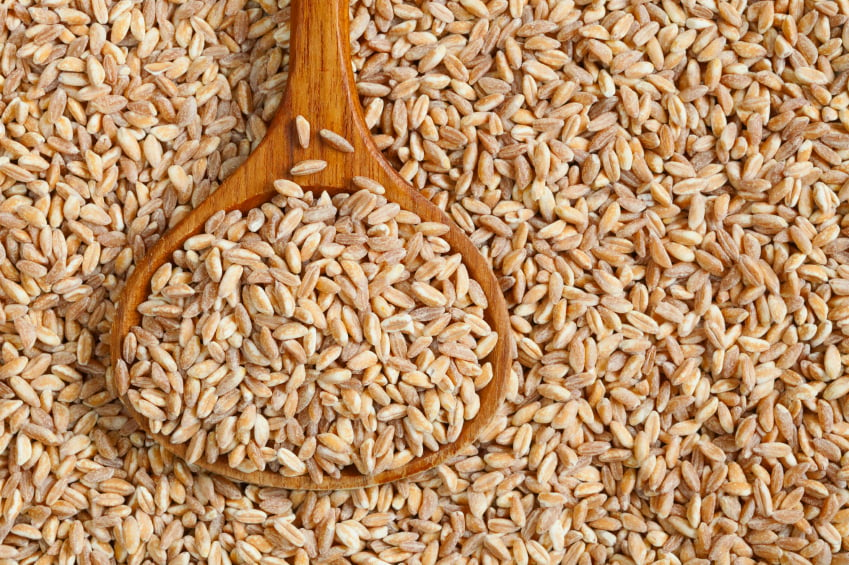 3. Farro Salad with Citrus Vinaigrette
When you want a hardier salad that has the heft of a grain and the brightness of citrus, make this farro salad from the Food Network. If you're looking for something interesting to bring to the office for a not-sad desk lunch, give this a try! Note that the farro should be cooked al dente; you want a little bite to the grains rather than a pile of mush.
Ingredients:
1 cup farro, lightly toasted
2 teaspoons salt, plus more for seasoning
2½ cups water, or stock
1 tablespoon orange zest
2 tablespoons fresh orange juice, from about ¼ orange
2 tablespoons minced shallot
2 teaspoons Dijon mustard
3 tablespoons white balsamic vinegar
⅓ cup extra-virgin olive oil
6 cups micro salad greens, washed and dried
½ cup Marcona almonds
⅓ cup prunes, chopped
⅓ cup dried cherries, chopped
¼ cup of ¼-inch diced red onions
½ cup of ¼-inch diced tart apple or firm pear
Directions: In a large, heavy saucepan over medium-high heat, add the farro, 2 teaspoons salt, and water or stock. Bring to a simmer, cover and cook, stirring occasionally, until the farro is tender, 35 to 45 minutes. Remove from the heat, drain any excess water, and set aside to cool.
While the grains are simmering, make the dressing. Whisk together the orange zest and juice, shallots, Parmesan, white balsamic vinegar, mustard, and olive oil. Add salt and pepper, to taste, and set aside.
Just before serving, in a large bowl, toss the farro with 3 tablespoons dressing and transfer to a large serving bowl. In the same large bowl, combine the salad greens with the almonds, prunes, cherries, apples, and onions and gently toss with 3 tablespoons remaining dressing, adding more dressing as needed. Plate the greens mixture on top of the faro and serve.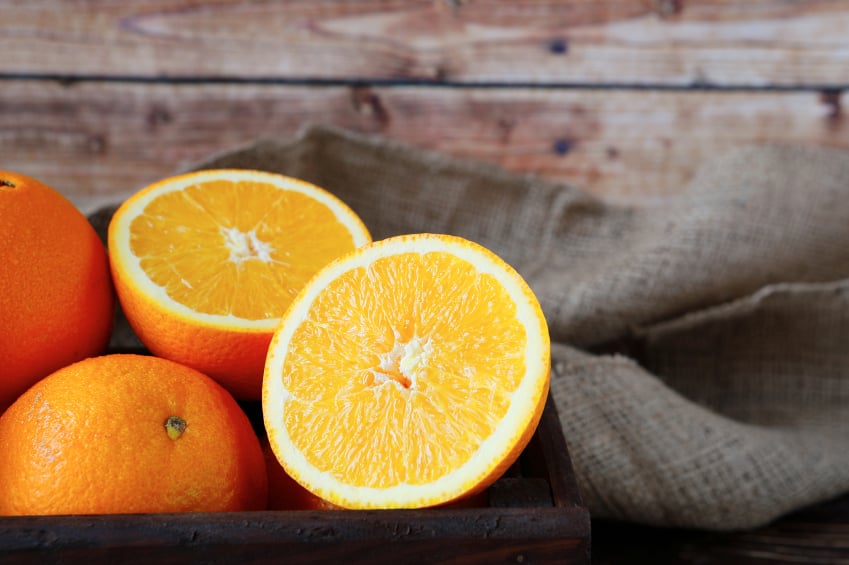 4. Citrus Salad with Fennel Vinaigrette
Rather than croutons, this juicy and bracing salad uses granola-ish sesame clusters for a nutty, seedy crunch. The slightly bitter radicchio or endive greens balance the sweetness of the fruit and the fennel bulb, making this salad from Bon Appétit hit all the high notes on the flavor spectrum.
Ingredients:
Sesame Clusters
1 large egg white
3 tablespoons sugar
½ teaspoon kosher salt
¼ teaspoon ground cinnamon
¼ teaspoon ground cloves
¼ teaspoon ground nutmeg
1 cup sesame seeds
Dressing And Salad
⅓ cup olive oil
¼ small fennel bulb, finely chopped, plus ½ cup chopped fronds
1 small shallot, finely chopped
2 tablespoons finely chopped peeled ginger
1 teaspoon fennel seeds, crushed
¼ cup white wine vinegar
2 tablespoons honey
Kosher salt and freshly ground black pepper
4 navel oranges, blood oranges, tangerines, and/or grapefruits
10 cups mixed hardy salad greens such as radicchio, frisée, and/or endive; about 1 pound
1 cup fresh flat-leaf parsley leaves
Directions: To make the sesame clusters, preheat the oven to 350 degrees Fahrenheit. Whisk egg white in a small bowl until slightly foamy; whisk in sugar, salt, cinnamon, cloves, and nutmeg. Add sesame seeds and toss to coat.
Spoon sesame mixture in clumps on a parchment-lined baking sheet and bake, stirring occasionally, until golden brown, 10 to 12 minutes. Let cool.
To make the salad and the dressing, heat oil in a medium skillet over medium heat. Add chopped fennel, shallot, ginger, and fennel seeds and cook, stirring often, until tender but not brown, 8 to 10 minutes. Mix in vinegar and honey. Let cool; season with salt and pepper.
Finely grate 1 teaspoon zest from 1 orange; set aside. Using a sharp knife, supreme citrus into segments.
Toss greens, parsley, fennel fronds, oranges, and dressing in a large bowl. Serve topped with sesame clusters and reserved orange zest.
5. Mixed Citrus Salad with Feta and Mint
For a really pretty presentation of a citrus salad that will have you daydreaming of warmer climes and breezy days, make this super simple salad from Smitten Kitchen. Deb used 1 pink grapefruit, 1 cara cara, 1 blood orange, and 1 minneola for this salad, but you can use any combination of any round citrus (not lemons or limes) you can find. Fun facts: A cara cara orange is one navel orange bred to another type of navel orange, and a minneola is a cross between a grapefruit and a tangerine.
Ingredients:
3 to 4 tablespoons red onion, diced small
4 citrus fruits
1 tablespoon red wine vinegar or lemon juice
1 teaspoon smooth Dijon mustard
1 tablespoon olive oil
Salt and freshly ground pepper, to taste
3 to 4 tablespoons feta cheese, chopped or crumbled
1 tablespoon fresh mint, chopped or julienned
Directions: Place your red onion in the bottom of a medium bowl. Nest a strainer over the bowl.
Chop off the ends of the citrus fruits and cut away the peel and pith as if you were going to supreme them, but cut into ¼-inch wheels instead. Place the wheels and any juices on your cutting board into the strainer. Letting the onion marinate in citrus drippings will soften the bite.
Spread the fruit slices out on a platter. Scoop out the onion bits, leaving the juices in the bowl, and sprinkle them over the fruit. Whisk one tablespoon of juice with red wine vinegar or lemon juice, mustard, and olive oil. Season with salt and freshly cracked black pepper. Drizzle the dressing over the citrus, sprinkle with feta and mint, adjust salt and pepper to taste, and serve immediately.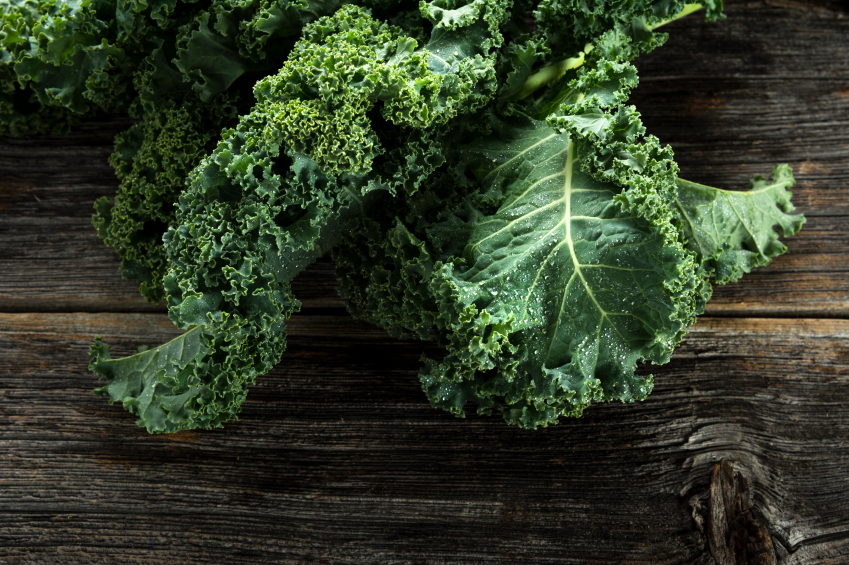 6. Kale Citrus Salad
For a citrus salad with really sturdy greens — ones that won't wilt under all the acid from the citrus and the vinaigrette — look to kale. This one has a little kick to it from the sliced jalapeño. Rhee from The Pioneer Woman suggests that adding some shrimp to this wouldn't go awry, but likely isn't strictly necessary. Slice the kale into thin ribbons and allow it to marinate in the dressing awhile to soften a bit.
Ingredients:
1 bunch of kale, de-ribbed and sliced into ribbons
1 whole jalapeño, seeded and sliced very thinly
3 whole tangerines or clementines, peeled and cut into chunks or supremed
4 ounces goat cheese
¼ cup orange juice, freshly squeezed or from your favorite brand
2 tablespoons olive oil
1 clove garlic, pressed or grated
1 teaspoon sugar
Salt to taste
 Black pepper to taste
1 heaping tablespoon sour cream or plain greek yogurt
Directions: To make the dressing, combine the orange juice, olive oil, garlic, sugar, salt and pepper in a small mason jar. Shake vigorously until all combined, then add the sour cream or yogurt and shake again until it's creamy. Alternatively, you could make this emulsion in a blender.
Toss the kale in half the dressing for a minute or so, then add the jalapeno slices and citrus pieces. Toss again until combined. Add more dressing to taste, storing extra dressing for future salads.
Right before serving, crumble the goat cheese and toss it into the salad.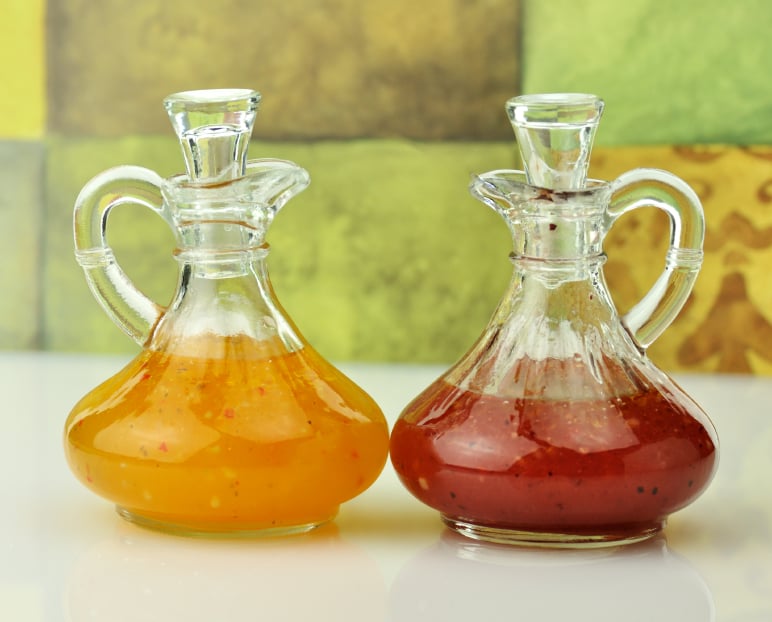 7. Citrus Vinaigrette
By making a big batch of this, you can easily make any salad into a citrus salad all week. This particular recipe from Bon Appétit is super simple, quick, and makes enough for 3 large salads.
Ingredients:
1 small shallot, finely chopped
¾ cup olive oil
¼ cup Champagne vinegar or white wine vinegar
3 tablespoons fresh lemon juice
2 tablespoons fresh orange juice
¼ teaspoon finely grated lemon zest
Kosher salt and freshly ground black pepper
Directions: Combine first 6 ingredients in a small jar; season vinaigrette to taste with salt and pepper. Shake to blend.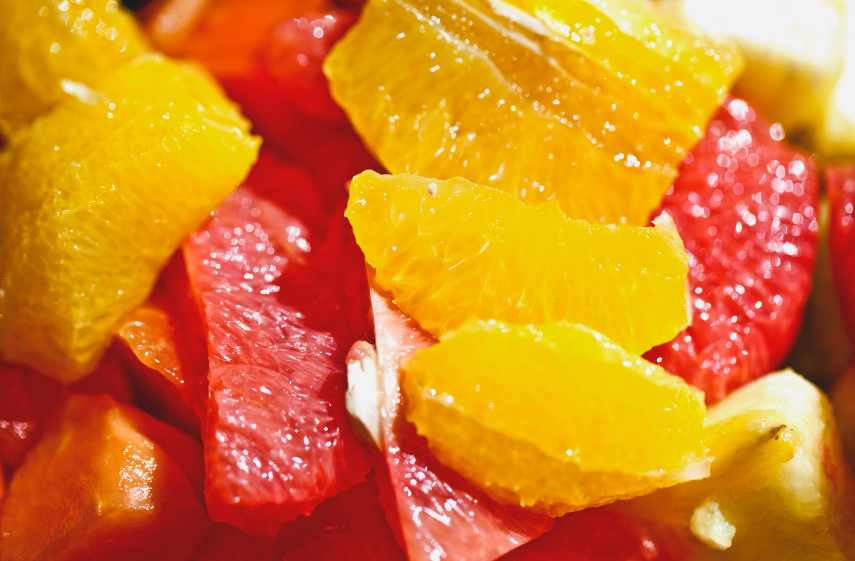 8. Citrus Salad with Candied Ginger
This salad from Food & Wine is just a straight up fruit salad, but with a zing from the ginger. It's a refreshing dessert with a bit of honeyed whipped cream or a midday snack all on its own.
Ingredients:
2 pink or red grapefruits
6 navel oranges
10 clementines
¼ cup sugar
2 tablespoons crystallized ginger, minced
¾ cup salted roasted almonds, such as marcona, chopped
Directions: Finely grate 1 teaspoon each of grapefruit zest, orange zest, and clementine zest into a large bowl and add the sugar.
Using a sharp knife, supreme the citrus and release the sections into a bowl. Squeeze the juice from the membranes over the fruit. Cut each clementine into eighths. Add to the bowl along with the sugar and ginger and stir. Sprinkle with the almonds just before serving.
More from Life Cheat Sheet:
Want more great content like this? Sign up here to receive the best of Cheat Sheet delivered daily. No spam; just tailored content straight to your inbox.