8 Brownie Recipes to Make You Drop That Boxed Mix
Though a boxed mix can help you whip up brownies in no-time flat, it usually produces fairly sub-par brownies. When you need to wait for the oven to preheat anyway, there's no reason to shave a minute off the prep time. If you're going to indulge in a brownie, why settle for less than fudgy, chewy, chocolate-laden perfection? These eight brownie recipes are barely more difficult than adding oil and eggs to a powdery box mix, but the results are astronomically better.
1. Classic Cocoa Brownies
The trick to these brownies (and, really, all brownies) is to never mix the batter at too high a speed. Incorporating air into the batter will make the brownies cakey, and if you want a cakey brownie, you may as well make a cake! Alton Brown undercooks his brownies just a bit to get the perfect consistency. Check yours at 45 minutes with a toothpick; if it comes out moist with a few crumbs sticking to it, they're ready. If it comes out still cloaked in wet batter, they need more time and you should get an oven thermometer, because it sounds like your oven is lying to you.
Ingredients:
Soft butter, for greasing the pan
4 large eggs
1 cup sugar, sifted
1 cup brown sugar, sifted
8 ounces melted butter
1¼ cups cocoa, sifted
2 teaspoons vanilla extract
½ cup flour, sifted
½ teaspoon kosher salt
Head to Food Network for the full recipe. 
2. Fudgy, Spicy Cinnamon Chile Brownies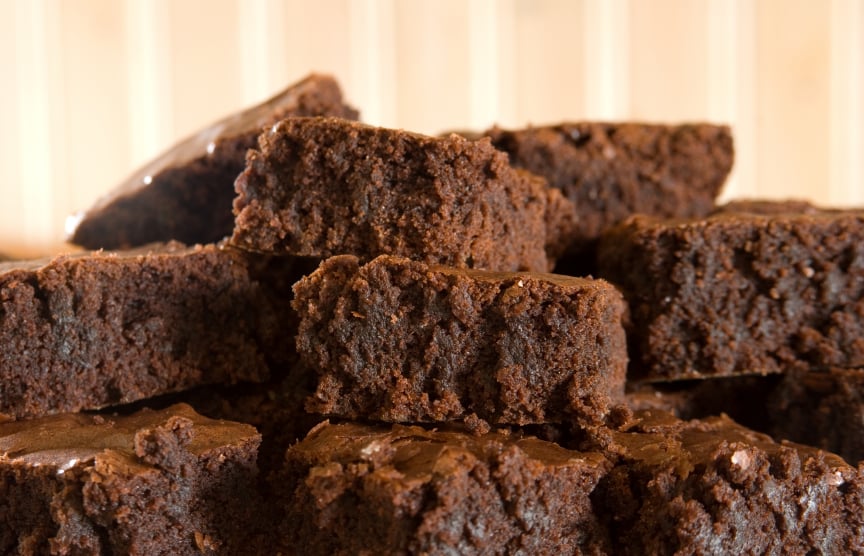 The kick of these brownies plays off of and accentuates the richness of the chocolate in the same way a little bit of salt balances something super sweet. The type of chile used in these Mexican chocolate-style brownies from Serious Eats can make or break them. Chipotle and ancho chiles are too smokey, while habañero chiles are too spicy and fruity. In a real pinch you can use cayenne, but the recommended chile for these brownies is guajillo, a rich, slightly acidic chile with medium heat that plays nicely with cinnamon and chocolate.
Ingredients:
5 ounces high quality dark chocolate, at least 72% cacao, finely chopped
10 tablespoons butter, plus extra for greasing
2 tablespoons guajillo, freshly ground
1 teaspoon ground cinnamon
1 teaspoon kosher salt
1¾ cups sugar
3 eggs
1 cup flour
Head to Serious Eats for the full recipe. 
3. Swirled Cheesecake Brownies
These brownies hail from Eating Well, so you know they're equally decadent and (almost) wholesome. They're made with whole-wheat flour, egg whites, and low-fat cream cheese. If you prefer a dutifully fudgy brownie and can manage the extra calories, use whole eggs. It is a brownie, after all.
Ingredients:
Cheesecake topping
4 ounces reduced-fat cream cheese
¼ cup sugar
1 large egg
1 tablespoon all-purpose flour
1 tablespoon nonfat plain yogurt
½ teaspoon vanilla extract
Brownies
⅔ cup whole-wheat pastry flour
½ cup unsweetened cocoa powder
¼ teaspoon salt
1 large egg
2 large egg whites
1¼ cups packed light brown sugar
¼ cup canola oil
¼ cup strong coffee, or black tea
2 teaspoons vanilla extract
Head to Eating Well for the full recipe. 
4. Super Moist Flourless Brownies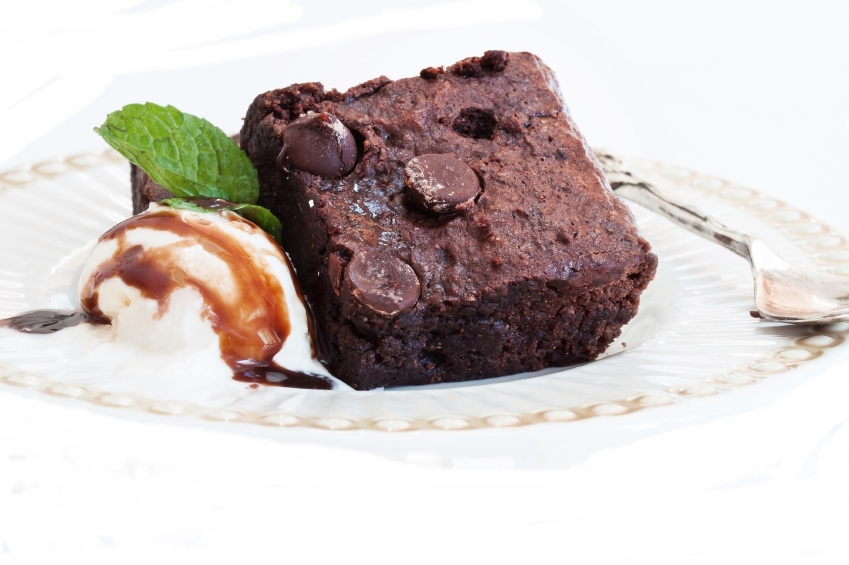 Hear us out before clicking the next button. These brownies take 40 minutes from start to finish, they can be made entirely in the bowl of a food processor, and with no oil or flour, they're on the healthy side of brownies. Now put on your adventure pants, because these brownies from My Whole Food Life are made from black beans. They're still very decadent, and think about how much extra protein you're getting from these!
This recipe is vegan as written, but you could trade the flax egg for a real egg. To make a flax egg, combine 1 tablespoon freshly ground flax or chia seed with 3 tablespoons water and refrigerate for 15 minutes.
Ingredients:
2 cups black beans, cooked or canned, drained and rinsed
2 cups chocolate chips
½ cup applesauce
1 flax egg
1 teaspoon vanilla extract
1 tablespoon cocoa powder
1 tablespoon maple syrup
½ teaspoon salt
Head to My Whole Food Life for the full recipe. 
5. Grasshopper Brownies
Rich chocolate brownies get a layer of green-tinted mint ganache topped with another layer of chocolate ganache for a decadent treat reminiscent of an Andes candy, but in fudgy form. Deb Perelman of Smitten Kitchen has some rules, here. The type of white chocolate is the most important factor in these brownies because even Ghiradelli won't do — too many artificial ingredients will make the mint ganache split irreparably. Perelman recommends Valrhona or Callebaut. The second chocolate rule is that the bittersweet chocolate must be exactly that. Not extra bitter, not unsweetened, and no more than 60% cacao. She also notes that you can skip the crème de menthe and add a drop or two of green food coloring.
Ingredients:
Brownie layer
1½ sticks unsalted butter
10½ ounces fine-quality bittersweet chocolate, finely chopped
1½ cups packed light brown sugar
3 large eggs, lightly beaten
1¼ teaspoons vanilla
¾ cup all-purpose flour
¼ cup plus 2 tablespoons unsweetened Dutch-process cocoa powder
¾ teaspoon salt
Mint ganache
½ cup heavy cream
10 ounces fine-quality white chocolate, chopped
2 tablespoons green crème de menthe
1 teaspoon peppermint extract
Chocolate ganache
1 cup heavy cream
10 ounces fine-quality bittersweet chocolate, finely chopped
Head to Smitten Kitchen for the full recipe. 
6. Rocky Road Brownies
Gooey marshmallow topping and walnuts team up with dense brownies for this dessert crossover. For the rockiest of roads, make these brownies from Joy the Baker and use them as a base for a rocky road brownie sundae. Tips from Joy: You are going to be melting the marshmallows under your broiler. Do not walk away from your broiler. Watch carefully. Unwatched brownies with marshmallows on top will catch fire under a broiler. Do not catch your brownies on fire. Do not walk away from your broiler.
Tip number two: Hot water is your friend when cutting the brownies, here. The marshmallows will try to stick to your knife, so run the blade under hot water after each slice you make.
Ingredients:
1⅔ cup granulated sugar
¾ cup cocoa powder
¾ cup butter
2 tablespoons strong coffee or water
2 large eggs
2 teaspoons vanilla extract
1⅓ cup all-purpose flour
½ teaspoon baking powder
¼ teaspoon salt
¾ cup chopped walnuts
2 cups miniature marshmallows
¼ cup milk chocolate chips
Head to Joy the Baker for the full recipe. 
7. Extra Fudgy Coconut Oil Brownies
Embrace the coconut flavor, because you can't escape it in these amazing brownies. It's slight and subtle, but it's there. With only five ingredients, these brownies from Pinch of Yum are heavy on the chocolate, coconut oil, and eggs but lighter on the flour, making them majorly fudgy.
Ingredients:
¾ cup coconut oil
4½ ounces unsweetened chocolate
1 cup packed brown sugar
3 eggs
1 teaspoon salt
¾ cup all purpose flour
Head to Pinch of Yum for the full recipe. 
8. Salty Dark Chocolate Brownies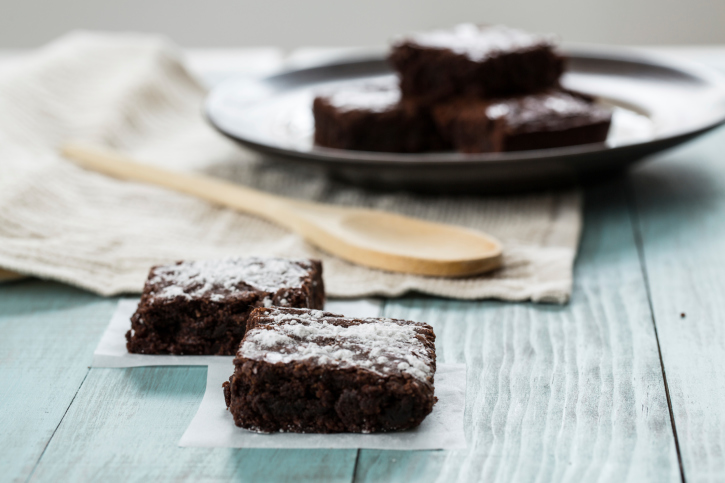 The secret to these brownies from David Lebovitz (which are his take on Ovenly's brownies) is black cocoa powder. Though not found everywhere, it's the same ingredient that gives Oreos that deep, dark cocoa flavor. You can find it through the King Arthur Flour website.
Ingredients:
1 cup unsalted butter, cubed, plus more for greasing the pan
1 cup natural unsweetened cocoa powder
¼ cup black cocoa powder
½ cup flour
2 teaspoons instant espresso powder
¾ teaspoon salt
4 large eggs, at room temperature
¾ cup granulated sugar
¾ cup, packed dark brown sugar
Flaky sea salt, such as fleur de sel or Maldon, for finishing
Head to David Lebovitz's blog for the full recipe.