Thanksgiving On a Budget: 4 Menus With Recipes That Save Money
You don't need to break the bank in order to host an elegant Thanksgiving feast that will delight your dinner guests. Using basic, low-cost ingredients, you can create show-stopping dishes that will appease your family and friends' appetites without wreaking havoc on your wallet. To help you stick to sensible, money-saving recipes, we've compiled 4 budget-friendly menus that are worthy of any turkey day feast. For a personalized menu that caters to your specific preferences, feel free to mix and match recipes.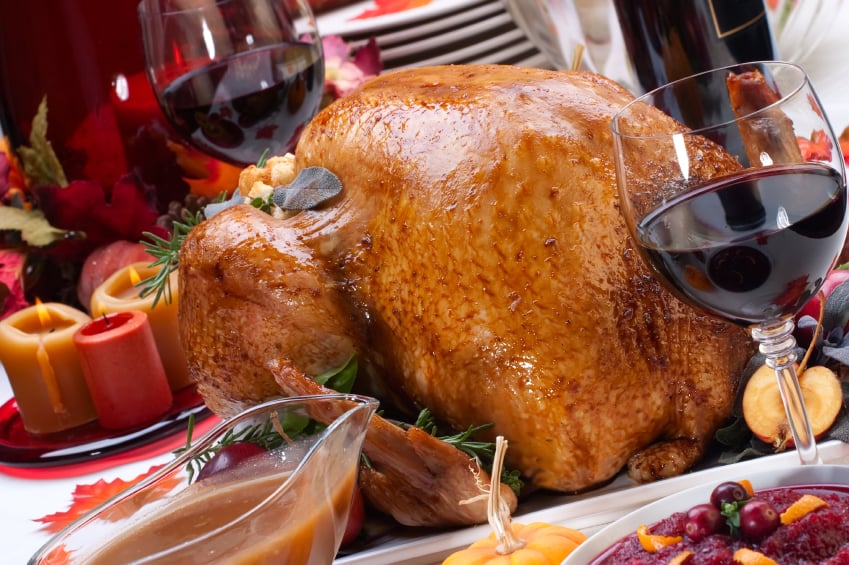 Menu 1
Sometimes, the simplest dishes are truly the tastiest. Food Network's Bay and Lemon Brined Turkey relies on a few basic spices and seasonings to give it its fabulous flavor, creating an enticing entree that's wonderful for your wallet.
This Sausage and Fall-Fruit stuffing is a refreshing-tasting dressing that's filled with cranberries, pork sausage, sage, and thyme. This recipe yields 8 servings, and All You estimates that each one costs $2.01.
Traditional Fluffy Mashed Potatoes are a must for any Thanksgiving meal. Luckily, Pocket Change Gourmet delivers a budget-friendly recipe that only calls for 5 basic ingredients.
Pillsbury presents a Broccoli-Cheese Breadstick Bake, which is a stunningly simple side that only requires 5 low-cost ingredients: Refrigerated breadsticks, pepper, cream cheese, onion, and broccoli with cheese sauce. This cheesy, gooey dish proves you can stick to a budget without compromising your meal's flavor.
The sweetest part of Taste of Home's Quick Cran-Apple Cobbler is that each serving costs approximately 52 cents to make. Filled with cinnamon swirl biscuit mix, cranberries, and apple fie filling, this decadent dessert is packed with fabulous fall flavors.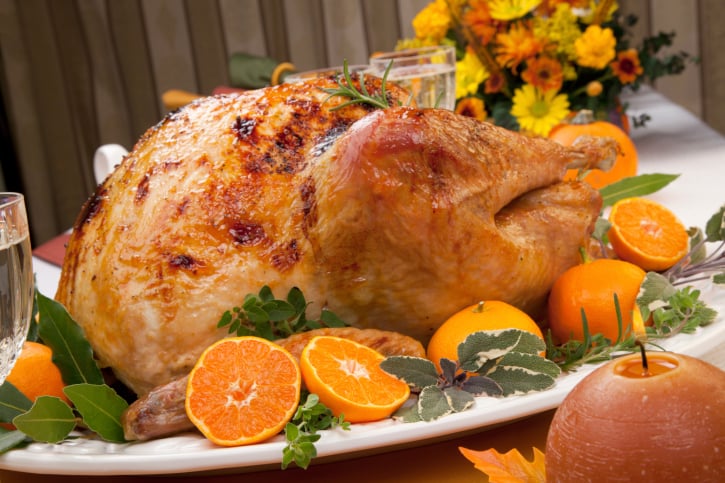 Menu 2
Roast Turkey with Oranges, Bay Leaves, Red Onions, and Pan Gravy creates an invigorating main entree to serve your family and friends. The best part? Gourmet's recipe via Epicurious will only cost you about $20 to prepare.
Using affordable and high-quality ingredients, you can easily create a savory side that will pair perfectly with your tantalizing turkey. Both your wallet and dinner guests will appreciate FWDailyNews.com's Green Bean Casserole.
Cranberries, oranges, and limes create a tart and tangy Cranberry Sauce that will entice your tastebuds. It will cost you $2.77 to make Budget Bytes' recipe, meaning each serving costs less than 50 cents.
By tossing cubed squash with garlic, butter, salt, pepper, and parsley, you can create Rasa Malaysia's Garlic Parmesan Roasted Butternut Squash. This superb side is great for your wallet and only requires 10 minutes of prep time.
Sweet spices, condensed milk, canned pumpkin, and a refrigerated pie crust create Food.com's Easy Pumpkin Pie. This sweet treat is sure to please your guests' palates.
Menu 3
Recipe 4 Living's Rosemary-Roasted Turkey is moist, perfectly seasoned, and calls for fresh ingredients that won't blow your budget.
There's a good chance you already have everything you need to make Celebrations' Simple Thanksgiving Gravy. Flour, stock, salt, pepper, and white wine create a creamy sauce that will complement your other dishes perfectly.
If you're looking for a colorful and simple dish to serve alongside your turkey, A Communal Table's Sauteed Brussels Sprouts with Pomegranate and Balsamic Vinegar is just what you need. The sensational side is packed with benefits: It's healthy, easy to make, tasty, and filled with low-cost ingredients.
Your guests will appreciate having Homemade Dinner Rolls to enjoy with their meal. Luckily, Say Yes' recipe is chock-full of kitchen staples that you most likely already have, ensuring you can serve buttery bread that's budget-friendly.
Sweet potatoes, butter, maple syrup, salt, and pepper are all you need to make Martha Stewart's recipe via Delish. If you're looking for an alternative to plain old mashed potatoes, these Maple-Whipped Sweet Potatoes are just what you need.
Life As Mom's Slab Apple Pie with Easy Crumb Top is a must-serve dessert that your guests will devour. This is another recipe that uses common pantry items — such as brown sugar, flour, cinnamon, and nuts — ensuring you can serve a heavenly treat without spending a bundle.
Menu 4
If you want to add a little flair to your Thanksgiving feast, we recommend making Food & Wine's Apple Cider-Braised Turkey Drumsticks. A few seasonings, apple cider, stock, and veggies are all you need to prepare this tasteful dish.
Your guests will love pairing their turkey with these Candied Yams from Allrecipes user LORIEANN29, which only require 4 ingredients and take 15 minutes to prepare.
Eating Richly's Easy Thanksgiving Stuffing calls for bread, shallot, celery, garlic, butter, broth, salt, and pepper, creating a mouthwatering dressing that is essential for any holiday feast.
Cheap Healthy Good estimates that Janice's Glazed Carrots will cost you $12.46, or $2.07 per serving to make. This sweet and simple side will quickly become one of your favorite holiday go-to's.
By preparing this Faux Pecan Pie, Southern Plate estimates that you can save between $5 and $7. Rather than using nuts, which are often expensive, you'll use crushed pretzels, butter, and sugar to create a topping that tastes surprisingly similar to a standard pecan pie.
If you're looking for a dreamy dessert that won't cost too much, Good Cheat Eats has just what you need. Sweet spices, vanilla, eggs, pumpkin purée, sugar, cream cheese, butter, and graham cracker crumbs will help you create this perfect-tasting Pumpkin Spice Cheesecake.
More from Life Cheat Sheet:
Want more great content like this? Sign up here to receive the best of Cheat Sheet delivered daily. No spam; just tailored content straight to your inbox.