These 6 Honey-Centric Recipes Are the Bee's Knees
Honey has been sought after for thousands of years as a sweet treat, and the process of making honey is pretty incredible. It takes nectar from about 2 million flowers to make a single pound of honey. A colony consists of tens of thousands of worker bees, which makes sense when you consider that one hive can produce up to 60 pounds of honey, but a single bee can only produce about one-twelfth of a teaspoon in its lifetime. The USDA reports that between domestic production and international imports, the U.S. consumes about 400 million pounds of honey a year. That's a lot of honey!
Technically, in order to be called honey, nothing can be added or taken away from the product. Other than sometimes heating to pasteurize it, no other processing should be done to the product. This isn't always the case, and a lot of major chain grocery stores and fast food joints ultra-filter their honey, removing all pollen, to keep it as crystal clear as possible. Here's the thing: crystallized honey is still more than fine to eat, and ultra-filtered honey has been known to cover up honey laundering scandals like illegally imported Chinese honey laden with antibiotics. If this concerns you, look for raw and/or organic honey.
Depending on where it's made and what flowers the bees are pulling from, honey can taste dramatically different. Orange blossom honey is a bit citrusy and wonderful in cakes and cookies; clover honey is mild and great as "table honey"; buckwheat honey is dark and strongly flavored and great for barbecue; eucalyptus honey tastes mildly medicinal; tupelo honey is particularly light colored and mild; and "mad honey" from Turkey, produced from a specific type of Rhododendron, is hallucinogenic and potentially deadly. We'll stick with the standard jars.
Here, we use its flavorful sweetness as a main ingredient in six savory and sweet recipes.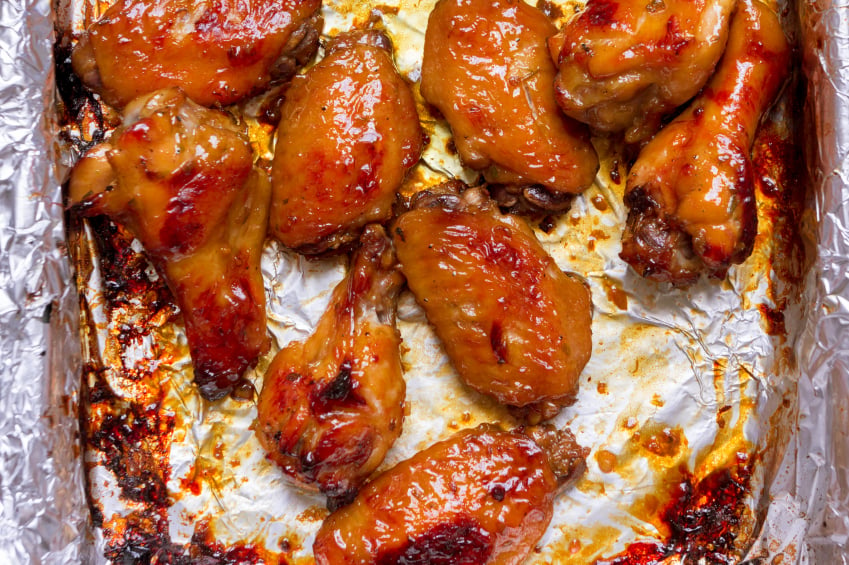 1. Baked Honey Sriracha Wings
These wings from Damn Delicious are spicy and sweet and salty, a combo that spells addictive. They're tossed in a buttery spice mixture and then baked and broiled, not deep fried, to crisp perfection. The sticky glaze is sweet with just a bit of kick to keep it really interesting. There are two ways you could go about choosing honey for this recipe: you could go for a deep, nutty, and kind of spicy chestnut honey that can stand up to the Sriracha, or you could choose a more mild honey like clover or orange blossom to not challenge the spicy sauce.
Ingredients:
Wings
2 pounds chicken wings
2 tablespoons unsalted butter, melted
1 tablespoon vegetable oil
1 teaspoon garlic powder
Kosher salt and freshly ground black pepper, to taste
1 tablespoon chopped fresh cilantro leaves
Sesame seeds, for garnish
Honey Sriracha glaze
5 tablespoons unsalted butter
1 tablespoon all-purpose flour
¼ cup honey
¼ cup Sriracha
1 tablespoon soy sauce
Juice of 1 lime
Directions: Preheat oven to 400 degrees Fahrenheit. Line a baking sheet with parchment paper.
To make the glaze, melt butter in a small saucepan over medium heat. Whisk in flour until lightly browned, about 1 minute. Stir in honey, Sriracha, soy sauce, and lime juice. Bring to a boil; simmer until slightly thickened, about 1 to 2 minutes.
In a large bowl, combine wings, butter, vegetable oil, garlic powder, salt and pepper, to taste. Place wings onto the prepared baking sheet and bake for 25 to 30 minutes, using metal tongs to turn at halftime. Brush wings with Sriracha glaze and broil for 3 to 4 minutes, or until crisp and crusted.
Serve immediately, garnished with cilantro and sesame seeds, if desired.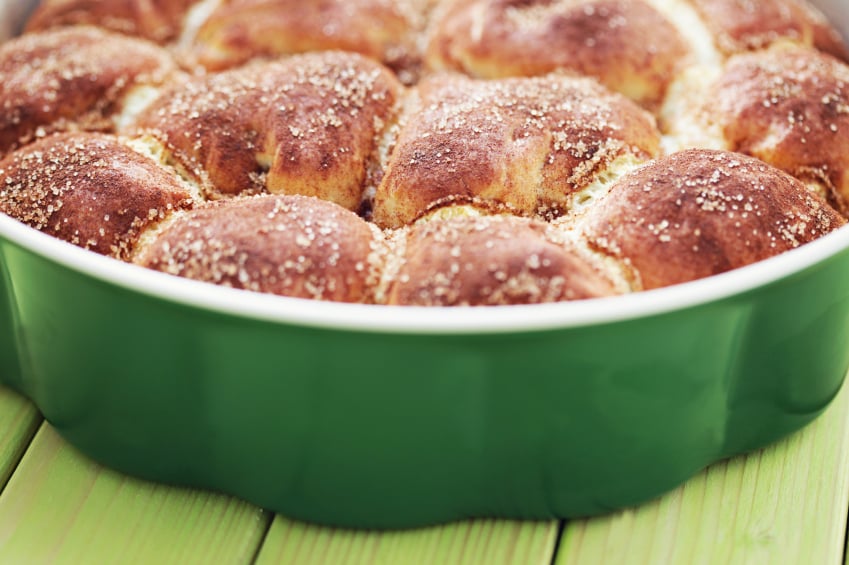 2. Honey Butter Rolls
These rolls are fluffy and light, just a little sweet, and perfect for any dinner. Many home cooks are afraid of cooking yeast breads. Don't be! Proofing the yeast in warm water is a surefire way to make sure it's alive and kicking and going to make your rolls rise. These rolls from Annie's Eats are full of honey, but if you wanted to make a honey butter to go with them, we recommend Alton Brown's recipe. Orange blossom honey is delicious here, though you could also use an alfalfa or fireweed honey. Depending on what the rolls are being served with, an herbaceous rosemary honey could work very well.
Ingredients:
2¼ teaspoons instant yeast
1 cup warm water, 105 to 115 degrees Fahrenheit
¼ cup honey
3 tablespoons canola oil
1¼ teaspoons salt
1 egg, lightly beaten
3½ to 4 cups bread flour
2 tablespoons butter, melted
2 tablespoons honey
Directions: In the bowl of an electric mixer, combine the yeast and warm water. Add the honey, oil, salt, and egg and mix well. Add 3 cups of the flour and mix until the dough comes together in a sticky mass. With the mixer on low speed, incorporate the remaining ½ to 1 cup of flour a few tablespoons at a time. Continue kneading on low speed for about 8 minutes, until the dough is smooth and elastic.
Transfer to a lightly oiled bowl, turn once to coat, and cover with plastic wrap. Let rise in a warm, draft-free spot until doubled in size, about 2 hours.
Turn the dough out onto a lightly floured work surface and knead for 30 seconds. Cover with a towel and let rest for 10 minutes. Punch the dough down and divide into 10 to 12 equal-size pieces. Shape each piece into a smooth ball and place into a round, lightly greased 9- or 10-inch round baking dish, spacing evenly. Cover and let rise in a warm, draft-free spot for 20 to 30 minutes.
Preheat oven to 400 degrees Fahrenheit. Mix together the melted butter and honey, and brush the tops of the rolls with the mixture. Sprinkle lightly with coarse salt. Bake for 15 to 20 minutes, until the tops are golden brown. Cover loosely with foil and continue to bake about 10 minutes more, or until the the center of the rolls registers 190 degrees Fahrenheit on an instant-read thermometer. Let cool slightly before serving.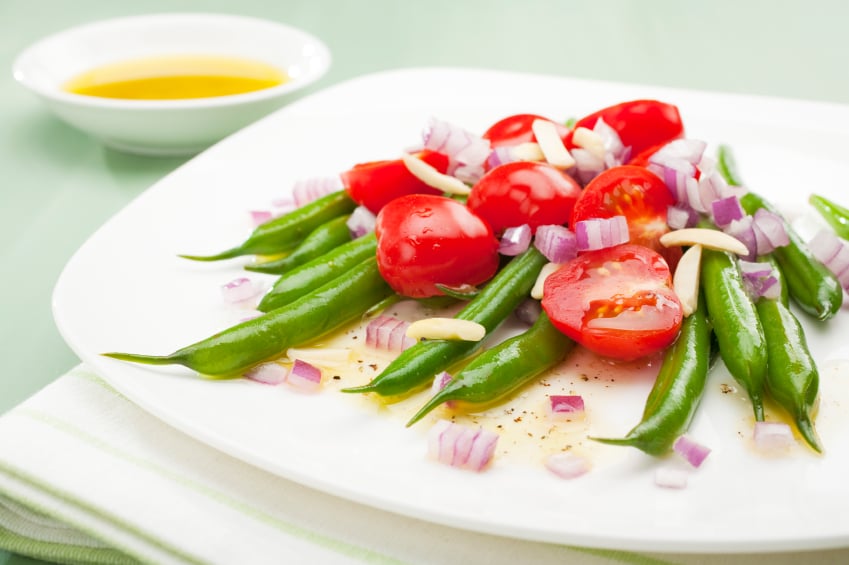 3. Bean and Tomato Salad With Honey Vinaigrette
This salad from Eating Well uses both green beans and freshly dried beans, which cook way more quickly than the kind you normally get at the supermarket. Our favorites come from Baer's Beans. Instead of having to soak them for hours to boil them for another hour, these cook up, without soaking, in about an hour. No need to plan a day ahead! Of course, you could always used canned white beans, but they just don't taste as good. Use an herbaceous honey like rosemary honey or something full-flavored like huckleberry honey.
Ingredients:
1¼ cups dried beans, preferably heirloom, or 2 (15-ounce) cans white beans, rinsed
1 teaspoon salt, divided
½ cup minced red onion
¼ cup cider vinegar
4 teaspoons honey
1 teaspoon peanut or canola oil
½ teaspoon freshly ground pepper, or to taste
8 ounces green beans, trimmed and cut into 2-inch pieces
1 pint cherry or grape tomatoes, halved or quartered
½ cup fresh basil leaves, thinly sliced
1 pound tomatoes, sliced
Directions: If using canned beans, skip to step 3. If using freshly dried beans, skip to step 2. If using normal dried beans, rinse and pick over for any stones, then place in a large bowl, cover with 3 inches of cold water, and soak at room temperature for at least 6 hours or overnight.
Drain the soaked beans, rinse, and transfer to a large saucepan. Add 6 cups cold water. Bring to a simmer, partially cover, and simmer gently, stirring once or twice, until tender but not mushy, 20 minutes to 1 hour, depending on the freshness of the dried beans. If at any time the liquid level drops below the beans, add 1 cup water. When the beans are about three-fourths done, season with ½ teaspoon salt. When the beans are tender, remove from the heat and drain.
Combine the beans, the remaining ½ teaspoon salt, onion, vinegar, honey, oil, and pepper in a large bowl. Stir, cover, and refrigerate to marinate for at least 1 hour or overnight.
Cook green beans in a large pot of boiling water until crisp-tender, about 5 minutes. Drain, rinse with cold water, and drain again. Pat dry and add to the marinated beans. Stir in cherry tomatoes and basil. Season with pepper.
To serve, arrange tomato slices around the edge of a serving platter or shallow salad bowl, and spoon the bean salad into the center.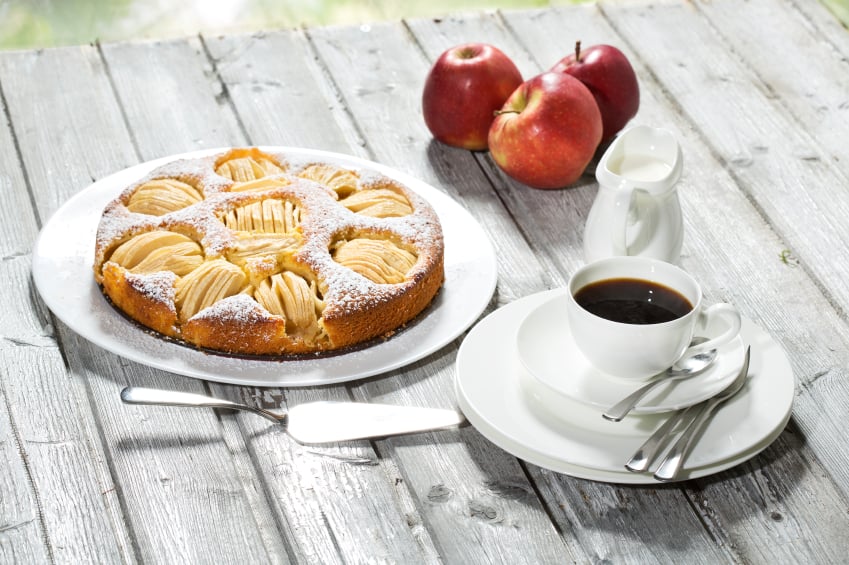 4. Sunken Apple and Honey Cake
This beautiful cake from Smitten Kitchen even looks like a beehive. It's perfect for Rosh Hashanah but amazing any time of year. The cake is not only "relentlessly cute" but also moist and light with a fantastically fine crumb. It's only mildly sweet on its own, which opens it up for a honey and sea salt finishing glaze. The glaze will make the cake shine and glisten for about an hour, and then the honey will sink in and it'll go back to be a matte finish. If you prefer a shiny cake, glaze right before serving. Apple blossom honey is the obvious choice for this cake, though a sweet firewood or slightly woodsy saw palmetto honey would also do well.
Ingredients:
Topping
4 small apples, halved, peeled, and cored
2 tablespoons fresh lemon juice
2 tablespoons granulated sugar
Batter
½ cup plus 1 tablespoon unsalted butter, at room temperature
¼ cup plus 2 tablespoons granulated sugar
¼ cup honey
1 teaspoon vanilla extract
3 large eggs, separated
2 good pinches of salt
2 teaspoons baking powder
1¼ cups all-purpose flour
Glaze
¼ cup honey
A good pinch of sea salt
Directions: Heat oven to 350 degrees Fahrenheit. Coat a 9-inch springform with butter or a nonstick spray. Line the bottom of the pan with a round of parchment paper.
Place peeled, halved, and cored apples cut-side-down on a cutting board. Use a knife to create parallel thin slices, but only cut halfway through each apple so that the apples stay intact.
In a bowl, toss apples with lemon juice and 2 tablespoons granulated sugar.
Beat butter and ¼ cup plus 2 tablespoons granulated sugar together in a bowl with electric beaters until fluffy. Add honey and beat until combined. Add vanilla and egg yolks, beating until just combined. Sprinkle salt and baking powder over cake batter and mix for just 5 seconds, until they disappear. Add flour, half at a time, mixing only until just combined.
In a separate bowl with cleaned beaters, beat egg whites until stiff. Stir ¼ of them into the cake batter to lighten it a little. Fold in the rest in three additions. It will seem impossible to fold in at first because the batter is so stiff, but it will loosen with careful folding. Only fold the last addition of egg whites until it has mostly disappeared. Work quickly but gently to preserve the airiness that will give the cake its lift.
Spread cake batter in prepared cake pan, smoothing the top. Arrange apple halves face-down over the cake batter. No need to press the apples into the batter. You can pour any extra lemon juice and sugar in the bowl over the apples.
Bake cake for 35 to 40 minutes, until a toothpick or skewer inserted into the center of the cake comes out clean. Let rest on a cooling rack for 5 minutes, then cut around the cake to make sure it's not sticking to the pan at all, and unhinge the sides. Let cake cool completely.
Before serving, if you'd like the glaze to look glossy, warm ¼ cup honey and a good pinch of sea salt until it liquefies to the point where it makes a thin glaze. Brush honey-salt mixture over cooled cake.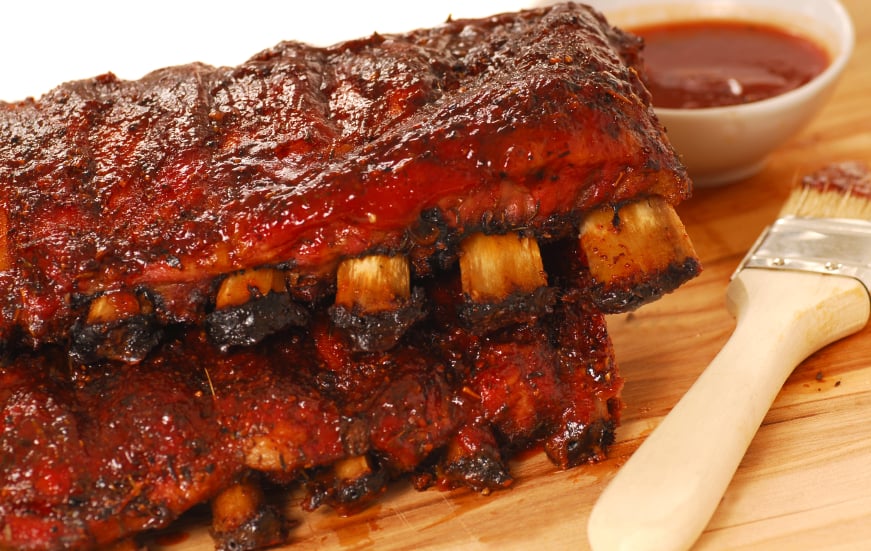 5. Honey Chipotle Ribs
These finger-licking ribs from Pati's Mexican Table are filled with the smoky flavor of chipotle chiles — dried and smoked jalapeños — and no grill is required for this recipe. Of course, feel free to use your grill if you'd like; these are great finished over fire! Use a dark, strong honey like buckwheat or chestnut for these ribs.
Ingredients:
1 cup ketchup
⅔ cup honey
4 tablespoons sauce from chipotles in adobo sauce
3 chipotle chiles from chipotles in adobo sauce, minced, seeded optional, or more to taste
10 garlic cloves, pressed or minced
2 tablespoons olive oil
¼ cup Dijon mustard
¼ cup apple cider vinegar
2 tablespoons Worcestershire sauce
4 tablespoons soy sauce
1 teaspoon freshly ground black pepper
2 tablespoons dried oregano
3 pounds baby back or spare ribs
Directions:
In a medium bowl, combine the ketchup, honey, sauce from the chipotles, chipotle chiles, garlic, olive oil, Dijon mustard, apple cider vinegar, Worcestershire, Maggi, black pepper, and oregano. Mix well.
Line a large roasting pan with parchment paper or aluminum foil. Pour some sauce on the bottom of the pan, put in the ribs, and pour the remaining sauce on top. Cover with foil, sealing the entire top of the pan, and marinate for 30 minutes up to 24 hours. If marinating more than 30 minutes, keep the ribs refrigerated.
When ready to cook the meat, remove it from the refrigerator. Preheat oven to 350 degrees Fahrenheit. Roast ribs in foil for 1½ hours. Take the ribs from the oven and carefully remove the aluminum foil. Spoon the thickened sauce from the bottom of the pan on top of the ribs and place them back in the oven to roast another 20 to 30 minutes, or until they are beautifully browned and sticky. Remove from the oven, let rest, then slice into 2- to 3-bone pieces and pile on a platter.
Alternatively, after you remove the foil, you can finish off the ribs on the grill at medium heat for about 15 minutes.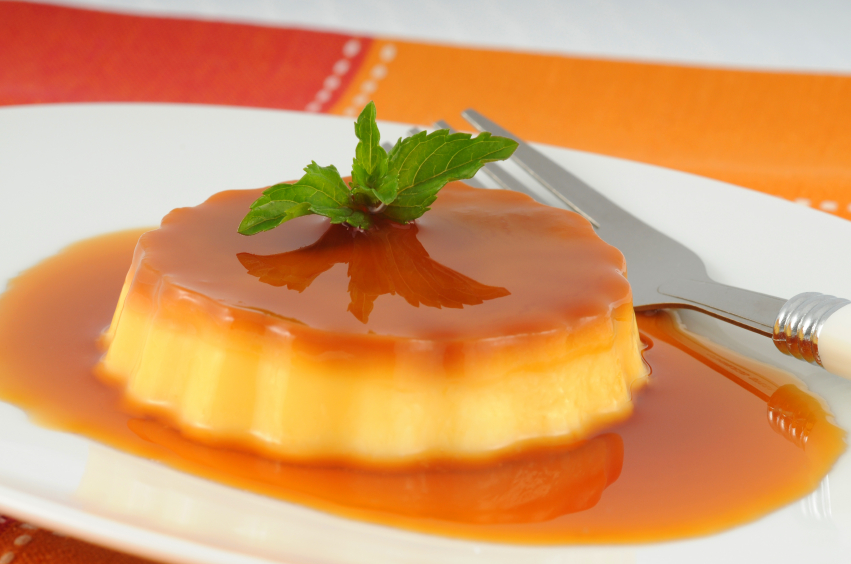 6. Honey Flan
This is an elegant make-ahead dessert from Southern Living. To get the flans to release easily, let the custard cups sit in an inch of warm water for a few minutes before unmolding. With this dessert, you could use a light, floral honey like lavender, orange blossom, general wildflower, or borage, or you could go more toward a heather honey with burnt caramel notes.
Ingredients:
½ cup sugar
7 tablespoons honey, divided
1 (14-ounce) can sweetened condensed milk
1 cup milk
3 large eggs
1 large egg yolk
¼ teaspoon kosher salt
Directions: Preheat oven to 350 degrees Fahrenheit. Sprinkle sugar in a 3-quart saucepan; place over medium heat and cook, gently shaking pan, 4 minutes or until sugar melts and turns a light golden brown. Slowly stir in 3 tablespoons honey. The mixture will clump a little; just gently stir just until melted. Remove from heat and immediately pour hot caramelized sugar into 6 (6-ounce) ramekins.
Process condensed milk, next 4 ingredients, and remaining 4 tablespoons honey in a blender 10 to 15 seconds or until smooth; pour evenly over sugar in each ramekin. Place ramekins in a 13-by-9-inch pan. Add hot tap water to pan to a depth of 1 inch. Cover loosely with aluminum foil.
Bake for 30 to 35 minutes or until slightly set. Flan will jiggle when pan is shaken. Remove ramekins from water bath; place on a wire rack. Cool 30 minutes. Cover and chill 3 hours. Run a knife around edges of flans to loosen; invert flans onto a serving plate.
More from Life Cheat Sheet: