Calling All Peanut Butter Lovers! 8 Recipes to Satisfy Cravings
You've celebrated National Peanut Butter and Jelly Day, made your own nut butters, and now it is time to celebrate the glory of peanut butter in its own right. Good old peanut butter isn't just a sandwich staple, but is a lovely addition to other kitchen creations like cakes, frostings, and snacks. Here are eight great recipes with a healthy dose of peanut butter.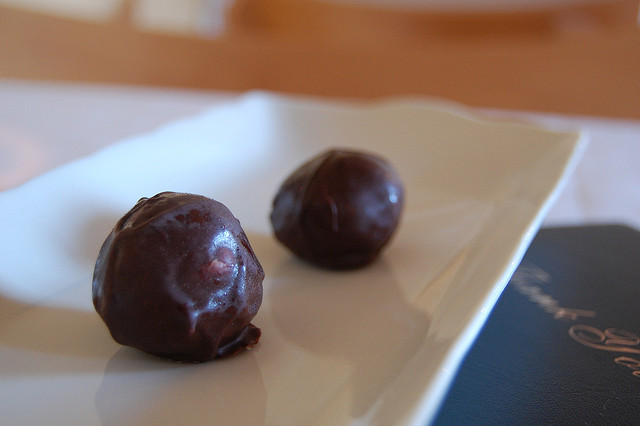 1. Chocolate Covered Frozen Peanut Butter and Banana Bites
Not Enough Cinnamon will have you getting your peanut butter fix by making mini banana-PB sandwiches that are frozen and dipped in chocolate.
Ingredients:
3 medium-ripe bananas, sliced
¼ cup peanut butter
10 ounces baking chocolate
Directions: Arrange half of the banana slices on a baking sheet lined with parchment paper. Spread with peanut butter. Top with the other half of banana slices and freeze for about one hour.
In the meantime, cut chocolate in pieces and put ⅔ of it in a microwave safe bowl. Microwave on medium power for 30 seconds, stir, then repeat in 15 seconds interval until the chocolate has melted. Add ⅓ remaining chocolate and keep stirring until it is fully melted. It's called tempering chocolate. It will allow the chocolate to have a glossy texture and to set correctly.
Remove bites from the freezer and dip them into melted chocolate. You have to work quickly before the bites start to thaw and get mushy. If you want to take you time, you can work with one bite at a time and leave the others in the freezer. Using two forks, dip one bite in melted chocolate and roll it to cover all sides. Using one fork, remove bite from chocolate. With the other fork, remove excess chocolate and arrange the bite back on baking sheet. Freeze at least 3 hours or until ready to serve. Keep them in the freezer.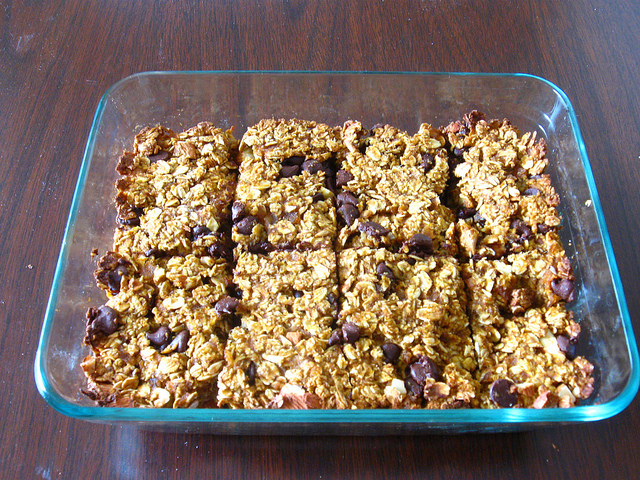 2. Trail Mix Bars
When you need a portable, energizing snack, make these bars from The Hot Plate. Use whatever ingredients you have on hand but don't skip on the peanut butter and honey, they act to bind all the other add-ins together.
Ingredients:
2 cups old fashioned oats
½ cup Rice Krispies
½ cup Chex cereal
⅓ cup dried cranberries
⅔ cup mini M&Ms or mini chocolate morsels
⅓ cup sunflower seeds
⅔ cup honey
⅓ cup smooth peanut butter
Directions: In a large mixing bowl combine the old fashioned oats, Rice Krispies, Chex, cranberries, M&Ms and sunflower seeds. Heat honey and peanut butter in a microwave safe dish for 30 seconds or until softened. Pour over trail mix and mix thoroughly.
Transfer trail mix into a 9-inch x 13-inch baking dish. Place your hand in a freezer bag and use it to evenly spread the trail mix in the dish. Pack down firmly. Refrigerate the trail mix bars for 1 hour before cutting and serving.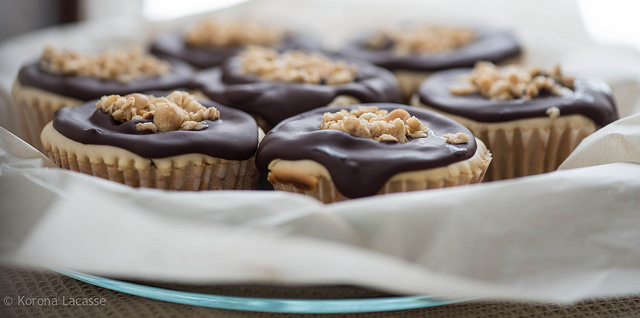 3. Fudge Frosted Peanut Butter Cake
After realizing no plain peanut butter cake had been featured, A Kitchen Addiction whipped one up and — because peanut butter and chocolate is a perfect pairing — topped it with a chocolate fudge frosting. You can also make it into a cupcake treat, lessening the baking time.
Ingredients:
Cake
⅓ cup creamy peanut butter
1 cup water
½ cup butter
1 cup sugar
1 cup brown sugar
2 cups flour
½ teaspoon salt
1 teaspoon baking soda
2 eggs
½ cup milk
1 teaspoon vanilla extract
Frosting
1½ cups sugar
3 tablespoons unsweetened baking cocoa
⅓ cup milk
⅓ cup butter
1 teaspoon vanilla extract
Directions: Preheat oven to 375 degrees Fahrenheit. Lightly spray a 9×13 inch baking dish with non-stick cooking spray. In a medium saucepan, melt together peanut butter, water, and butter over medium heat. Stir to prevent scorching. Remove from heat. In a large bowl, whisk together sugars, flour, salt, and baking soda. Stir in peanut butter mixture. Add eggs, milk, and vanilla extract and beat until well-combined.
Pour batter into prepared baking dish. Bake for 25 to 30 minutes or until toothpick inserted in the center comes out clean. Remove to a wire rack to cool. In a medium saucepan, stir together sugar and baking cocoa. Add in milk and butter. Bring to a boil over medium heat. Stir constantly to prevent scorching. Boil for 5 minutes. Remove from heat and add vanilla. Beat with a sturdy spoon until glossy and thickens. This will take a few minutes.
Spread over cooled cake. Frosting hardens as it cools, so work quickly. Cut into pieces and serve.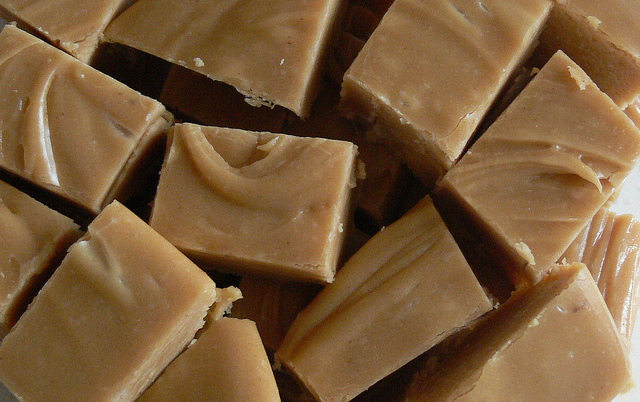 4. Peanut Butter Fudge
With only four ingredients and no candy thermometer required, this fudge from The Sugar Hit could not get much easier. After it is made, be sure to store it in the fridge.
Ingredients:
1 cup (100g) peanut butter (smooth or crunchy, your call)
1 stick (100g) butter
2 tablespoons double cream
3 cups icing sugar, sifted
Directions: Grease and line an 8-inch square tin with baking paper. Place the peanut butter, butter, and cream into a saucepan and stir over a low heat until melted and smooth. Place the icing sugar into a large mixing bowl.
Pour the melted peanut butter mixture into the icing sugar, and stir to combine into a soft, stiff paste. Transfer the fudge mixture to the lined pan and smooth the top with a palette knife. Refrigerate at least 2 hours or until firm, cut into squares, and store covered in the fridge.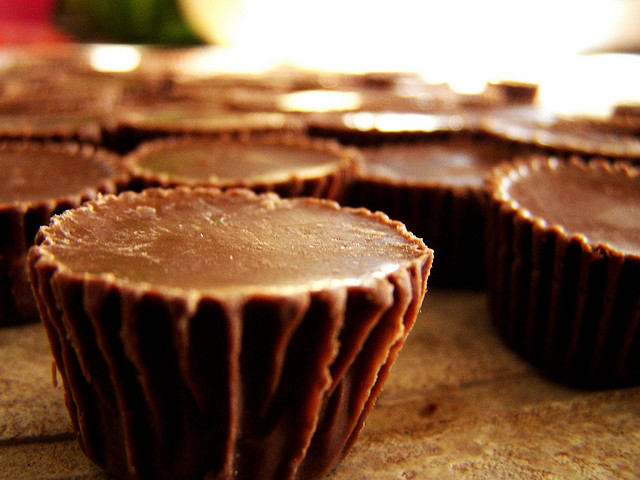 5. Peanut Butter Cup Cookie Dough Dip
Get away from the usual desserts and snacks by serving Family Food and Travel's cookie dough dip. It pairs with pretzels or, for a healthier snack, apple slices.
Ingredients:
½ cup butter
½ cup brown sugar
½ cup smooth peanut butter (I used Kraft light)
6 oz cream cheese at room temperature
1 cup icing sugar
1 tsp vanilla
1.5 cups chopped Mini Reese Peanut Butter Cups
Directions: In a stand mixer cream butter and brown sugar. Add peanut butter and cream cheese and mix until smooth. Add icing sugar in small doses. Add vanilla mixing until combined. Add chopped Mini Reese Peanut Butter Cups and mix thoroughly.
Transfer to one large bowl or a variety of smaller bowls. Place in the fridge and chill until set (or up to two days).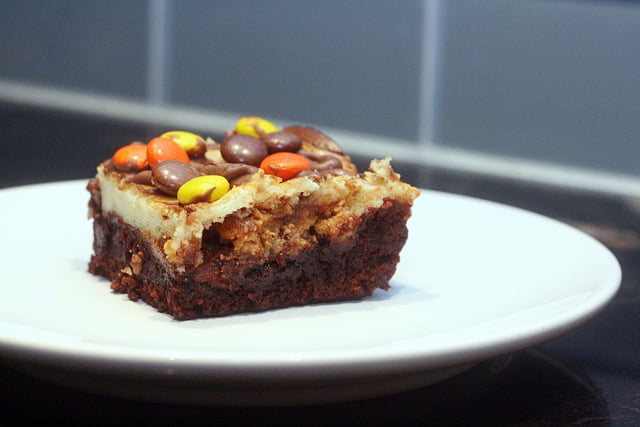 6. Peanut Butter Cheesecake Brownie Bars
Dessert is better when you don't have to choose between two options. Thanks to The Recipe Critic, there is no need to pick cheesecake or brownies for dessert because you get both — and of course peanut butter – with this recipe. For even extra peanut butter and chocolate, top with Reese's candies.
Ingredients:
Brownie layer
¾ cup butter
6 ounces dark chocolate, chopped
1½ cups sugar
½ cup brown sugar, packed
1½ teaspoon vanilla
3 large eggs
1 cup all-purpose flour
¾ cup semi-sweet chocolate chips
Peanut butter cheesecake layer
8 ounces block bream cheese, softened
¼ cup butter, softened
1 egg
½ cup sugar
½ teaspoon salt
½ teaspoon vanilla extract
1 cup creamy peanut butter
Directions: Preheat your oven to 350 degrees Fahrenheit. Line a 9 × 13 inch pan with aluminum foil for easy removal of the bars. Spray with cooking spray and set aside.
In a microwave safe bowl or using a double broiler, melt the ¾ cup of butter and chopped dark chocolate. Stir every 30 seconds, being careful not to let the chocolate burn. Whisk sugar and brown sugar to the melted chocolate mixture. Then add the vanilla and eggs until it it is fully incorporated. Lastly, stir the flour until incorporated. Pour this mixture into your prepared 9×13 inch pan. Sprinkle with ¾ cups chocolate chips and set aside.
To make the cheesecake layer, in a stand mixer using the paddle attachment, cream together the cream cheese and softened butter about 2 minutes until fluffy. Mix in the egg, sugar, salt, and vanilla on high for another 2 minutes. Mix in the peanut butter for 2 minutes. Pour the cream cheese layer over the brownie layer and spread it out so that it is smooth on the top and completely covers the brownie layer. Bake for 35 to 40 minutes. The top and edges should be slightly golden and the center is set.
Let the bars completely cool and refrigerate for at least an hour or overnight before serving.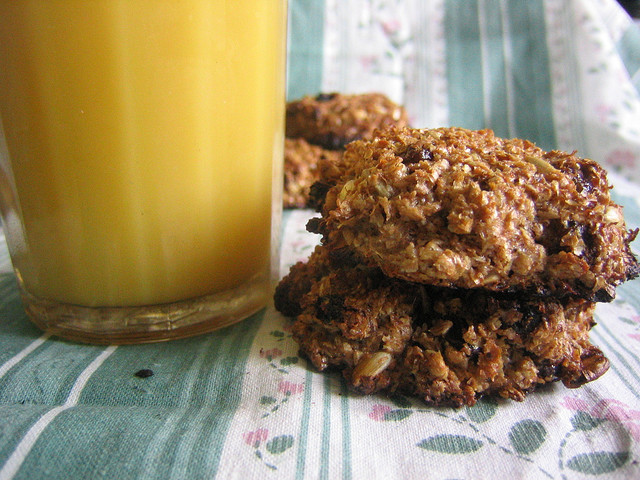 7. Peanut Butter Breakfast Cookies
For breakfast on the go, make the breakfast cookies from Chelsea's Messy Apron the night before you need to dash out the door. The cookies don't require any baking, and have healthy additions like flaxseed and oats. If you'd like, you can also add a melted chocolate drizzle (made from 3 tablespoons milk or dark chocolate chips), or put raisins, chopped up nuts, craisins, mini chocolate chips (about 2 tablespoons) in the cookies as well.
Ingredients:
½ cup creamy peanut butter
2 tablespoons honey or agave nectar
1 teaspoon vanilla extract
pinch of salt, optional
½ cup rice krispie cereal
¼ cup flaxseed or sub oat flour (instructions in post)
½ cup old-fashioned oats, not cooked
Directions: In a medium-sized bowl, combine the peanut butter, honey, vanilla, and salt. Microwave for 20 to 30 seconds and stir until combined. In that same bowl, add in the rice krispie cereal, flaxseed, and oats. Stir together until completely combined.
Add in the optional add-ins if desired. Form balls with the mixture and then flatten the balls in your hand to create a cookie shape. If desired, melt 3 tablespoons of milk chocolate chips in the microwave. Put the melted chocolate in a small resealable bag and cut a small hole in the tip of the bag. Drizzle the chocolate across the cookies and let the chocolate harden. Store cookies in an airtight container for 4 to 5 days or freeze for up to 3 months.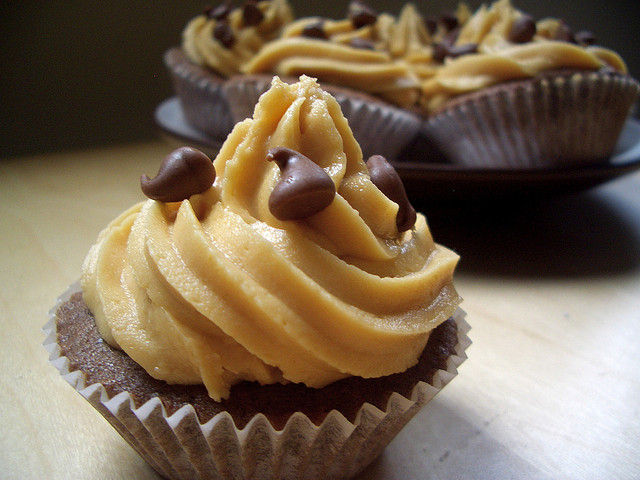 8. Fluffy Peanut Butter Frosting
Take a break from your normal buttercreams, chocolates, and vanillas with this fluffy frosting from AllRecipes.com. It is perfect for cakes, cupcakes, or even just on its own!
Ingredients:
½ cup butter, softened
1 cup creamy peanut butter
3 tablespoons milk, or as needed
2 cups confectioners' sugar
Directions: Place the butter and peanut butter into a medium bowl, and beat with an electric mixer. Gradually mix in the sugar, and when it starts to get thick, incorporate milk one tablespoon at a time until all of the sugar is mixed in and the frosting is thick and spreadable. Beat for at least 3 minutes for it to get good and fluffy.
More From Wall St. Cheat Sheet: