Celebrate Labor Day With 7 Crowd-Pleasing Grilled Meat Recipes
A celebration of the American worker, Labor Day is also known as the unofficial end of the summer season. The long weekend presents one of the last chances for inviting friends and family over to fire up the grill while enjoying the weather, so why not send off the season properly? The following 7 grilled recipes aren't meant for a small dinner, with each yielding at least 6 servings. Double the recipes if needed, and then start inviting people over for a farewell to the outdoor cooking season.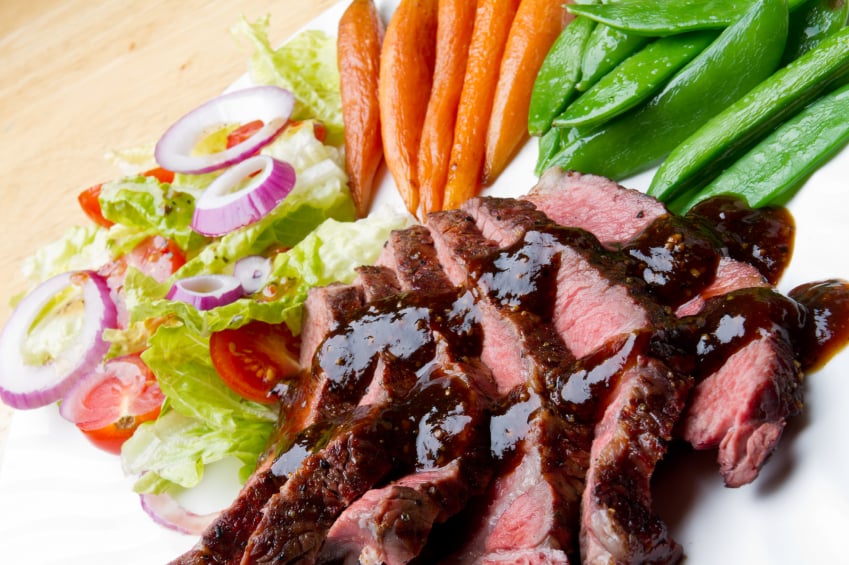 1. Shiraz-Soy Tri-Tip
Flavored with a Shiraz (Syrah) and soy sauce, this marinated beef recipe from Sunset serves between 10 and 12. For a healthy side, grill vegetables at the same time as you prepare the tri-tip.
Ingredients:
¾ cup Shiraz (Syrah) wine
⅔ cup soy sauce
¼ cup vegetable oil
¼ cup balsamic vinegar
¼ cup lemon juice
2 tablespoons Worcestershire
2 teaspoons Dijon mustard
1½ teaspoons minced garlic
1 beef tri-tip (about 2½ pounds), fat trimmed, rinsed and patted dry
Directions: In a gallon-size zip-top plastic bag, combine Shiraz, soy sauce, oil, vinegar, lemon juice, Worcestershire, mustard, and garlic. Add tri-tip and seal bag. Chill at least 2 hours or up to 1 day, turning occasionally.
Lightly oil a barbecue grill over a solid bed of medium coals or medium heat on a gas grill. Lift tri-tip from marinade and lay on hot grill; discard marinade. Close lid on gas grill. Cook tri-tip, turning every 5 minutes, until rare in center of thickest part (still pink; cut to test), 125 to 130 degrees Fahrenheit on a thermometer, about 25 minutes, or until as done as you like. Let meat rest 5 minutes, then cut across the grain into thin, slanting slices.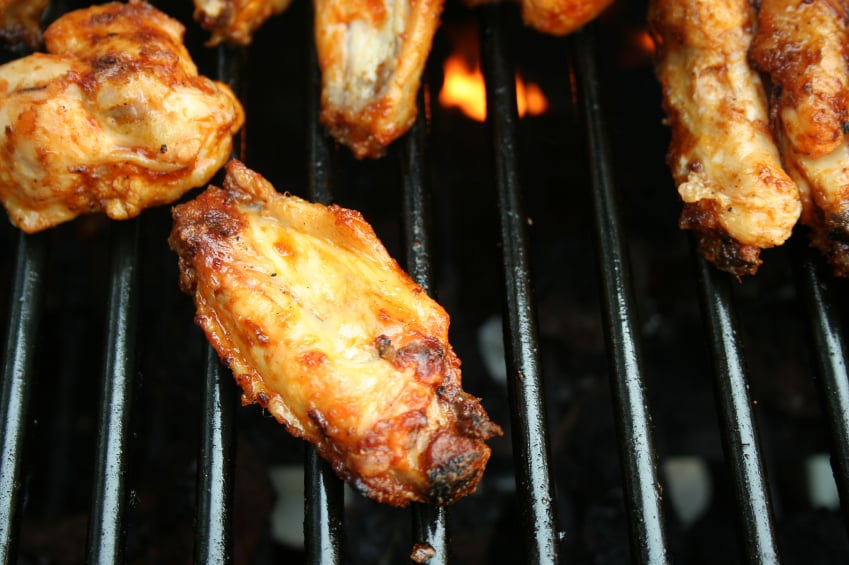 2. Grilled Buffalo Wings
The plate of buffalo wings you'll set out on the buffet table after making this recipe from Chow will quickly disappear as guests pass through the line. Serve with blue cheese dressing and celery if desired; it yields 6 to 8 starter-sized servings.
Ingredients:
1½ cups (12 ounces) mild to medium hot sauce
½ cup buttermilk
½ teaspoon garlic powder
3 pounds chicken wings, separated into 2 pieces and wing tips discarded
Vegetable oil, for oiling the grill
4 tablespoons unsalted butter (½ stick), melted
Blue cheese dressing (optional)
Celery sticks (optional)
Directions: Place 1 cup of the hot sauce, the buttermilk, and garlic powder in a large resealable plastic bag and stir to combine. Add the wings and seal the bag, pressing out any excess air. Turn the bag to coat the wings evenly. Let marinate in the refrigerator, turning occasionally, for at least 2 hours or up to 12 hours.
Heat an outdoor grill to medium high. When the grill is ready, use tongs to rub the grate with several layers of paper towels dipped in vegetable oil. Remove the wings from the marinade, letting any excess drip off, and discard the marinade. Place the wings on the grate in a single layer so they're not touching. Cover the grill and cook, flipping the wings occasionally with tongs, until they're no longer pink at the bone and the skin is slightly charred in spots, about 25 minutes total.
When the wings are almost ready, combine the remaining ½ cup hot sauce and the melted butter in a large bowl and set aside. Add the cooked wings to the bowl and toss to coat. Serve immediately with blue cheese dressing and celery sticks, if desired.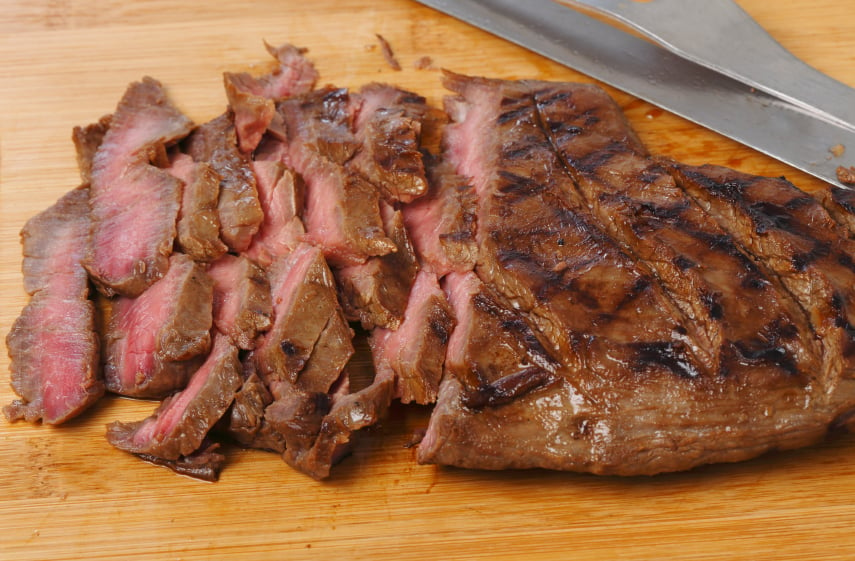 3. Spice-Rubbed Flank Steak with Spicy Peach-Bourbon Sauce
Flank steak, or London broil, is a great option for when you need to cook for a crowd. This recipe from Cooking Light tops robustly seasoned grilled beef with a sweet peach-flavored barbecue sauce. It serves 8.
Ingredients:
Sauce
1 teaspoon vegetable oil
¾ cup chopped Vidalia or other sweet onion
2 garlic cloves, minced
1½ cups peach nectar
3 tablespoons brown sugar
2 tablespoons cider vinegar
3 tablespoons bourbon
2 tablespoons ketchup
1½ teaspoons Worcestershire sauce
½ teaspoon crushed red pepper
1 tablespoon fresh lime juice
Steak
1 tablespoon brown sugar
1¼ teaspoons garlic powder
1¼ teaspoons ground cumin
1 teaspoon salt
1 teaspoon ground coriander
1 teaspoon paprika
¾ teaspoon dry mustard
¾ teaspoon freshly ground black pepper
2 (1-pound) flank steaks, trimmed
Cooking spray
Directions: To prepare sauce, heat oil in a medium saucepan over medium-high heat. Add onion and garlic; sauté 5 minutes or until tender. Add nectar, 3 tablespoons sugar, and vinegar. Bring to a boil; cook until reduced to 1 cup (about 15 minutes). Add bourbon, ketchup, Worcestershire, and red pepper; cook over medium heat 2 minutes, stirring occasionally. Remove from heat and stir in the lime juice. Cool slightly. Pour the sauce into a blender and process until smooth.
Prepare grill. To prepare steak, combine 1 tablespoon sugar and next 7 ingredients (1 tablespoon sugar through black pepper); rub over both sides of steak. Place steak on grill rack coated with cooking spray; grill 7 minutes on each side or until desired degree of doneness. Cut steak diagonally across grain into thin slices. Serve with sauce.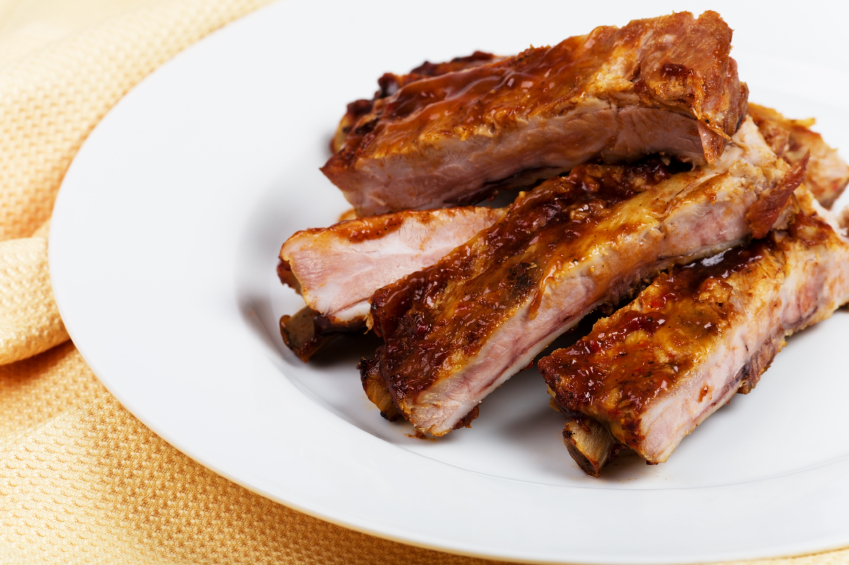 4. Sweet Chili and Root Beer Baby Back Ribs
Ribs are another crowd-friendly, crowd-pleasing option for your Labor Day celebrations. Follow Fine Cooking's recipe for easy, mouthwatering ribs that serve 6 to 8.  You can make your own kecap manis with this recipe, if desired.
Ingredients:
2 racks baby back pork ribs (about 5 pounds total), silverskin removed
Kosher salt
¼ cup plus 2 tablespoons kecap manis (sweet soy sauce)
¼ cup root beer
¼ cup sweet chili sauce, preferably Mae Ploy brand
2 tablespoons hot chili sauce, preferably Sriracha
Directions: Let the ribs sit at room temperature for about 1 hour. Meanwhile, prepare a gas or charcoal grill fire for indirect cooking over low (300-degree-Fahrenheit) heat. Lightly oil the grill grates.
Sprinkle the meat side of the ribs with 2 teaspoons salt. Arrange the ribs, bone side down, in a single layer over the cool zone of the grill. Close the lid and cook the ribs until tender, about 2 hours. To test if they're done, insert a knife into the rib meat — if it slides out without pulling at the meat, they're ready. The meat should be tender but not falling off the bone. Remove the ribs from the grill and transfer to a large rimmed baking sheet lined with foil.
Increase the temperature of the indirect grill fire to 350 degrees Fahrenheit. In a medium bowl, mix the kecap manis, root beer, and both chili sauces. Set aside ½ cup of the sauce for serving. Brush the ribs on all sides with the remaining sauce. Return the ribs to the cool zone of the grill and cook, turning once, until nicely lacquered, about 15 minutes total.
Let the ribs rest, tented with foil, for about 10 minutes before cutting and serving with the reserved sauce for dipping or for drizzling over the ribs.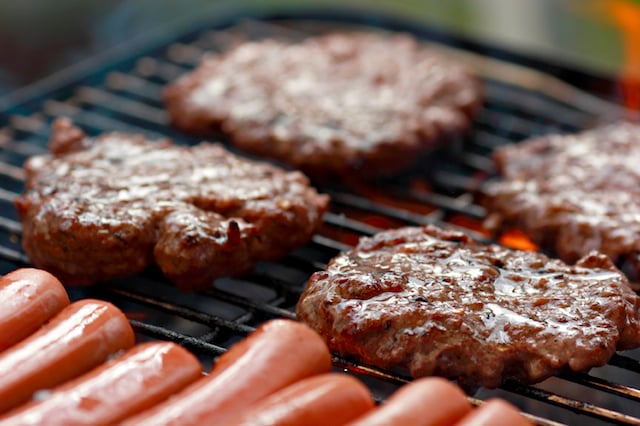 5. Hawaiian Hamburgers With Grilled Pineapple
No matter where you celebrate Labor Day, bring a bit of the Hawaiian islands along with this burger recipe from Food.com. Topped with slices of grilled pineapple, it will make between 7 and 8 burgers.
Ingredients:
⅓ to ½ cup honey, to taste
¼ teaspoon cinnamon
¼ teaspoon paprika
¼ teaspoon curry powder
⅛ teaspoon ginger powder
1 pinch nutmeg
2 pounds extra lean ground beef
2 tablespoons fresh minced garlic, or to taste
2 green onions, finely chopped, or use 1 small yellow onion
Black pepper
2 teaspoons seasoning salt, or to taste, or use white salt
¼ cup low sodium soy sauce
8 slices of fresh pineapple rings, or use canned pineapple slices; fresh is better
Hamburger buns and lettuce, for serving
Directions: In a large bowl, whisk/mix the first 6 ingredients together until well blended. Add in the ground beef with garlic, green onions, black pepper, and salt; mix to combine. Shape the ground beef into 7- to patties (about 1 inch thick). Place the shaped patties on a baking sheet; cover with plastic wrap and refrigerate for about 6 hours.
Grill the burgers over medium-high heat, brushing with soy sauce while grilling. Grill for about 6 minutes per side. The last 4 minutes of grilling, place the pineapple slices on the grill; lightly brown on both sides (about 2 minutes per side). Place a lettuce leaf on each crusty bun. Top with a grilled burger and then a slice of grilled pineapple.
6. Pig Candy
Guests won't need too much encouragement to try candied bacon, or pig candy. The recipe from Serious Eats yields between 12 and 14 strips, but if your friends and family members are bacon addicts, you may need even more than that.
Ingredients:
½ cup dark brown sugar
⅛ teaspoon cayenne pepper
1 pound thick cut bacon
¼ cup maple syrup
Directions: In a small bowl, mix together brown sugar and cayenne pepper. Lay bacon strips on a wire rack set inside a foil-lined baking sheet. Sprinkle ⅔ of the brown sugar mixture on top of the bacon strips.
Light one chimney full of charcoal. When all the charcoal is lit and covered with gray ash, pour out and arrange the coals on one side of the charcoal grate. Set cooking grate in place, cover grill, and allow to preheat for 5 minutes. Place entire baking sheet with bacon on grill rack, cover, and cook until sugar starts to caramelize and bacon begins to crisp around the edges, about 15 minutes.
Brush bacon slices with maple syrup, flip, and brush second side with syrup. Sprinkle on remaining brown sugar mixture, cover, and continue to cook until bacon fully crisps, about 10 to 15 minutes more. Remove from grill, let cool, then serve.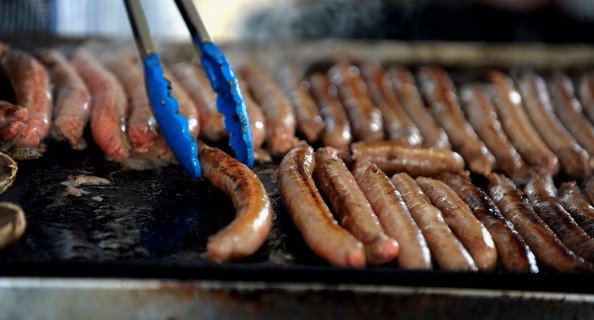 7. Beer Brats
Rick Rollo provided Bobby Flay and the Food Network with this beer-flavored bratwurst recipe that deserves a place at your Labor Day celebrations. Have a variety of toppings so that people can top their brats to suit their tastes.
Ingredients:
1 dozen brats
Beer, to cover
1 medium large sweet onion
2 ounces (½ stick) butter
Directions: Place brats in a Dutch oven with onions and butter; cover the brats with beer. Bring to a boil and reduce to simmer until brats are cooked. Remove brats and set aside beer mixture. Grill brats until golden brown and return to beer mixture until ready to serve. Serve brats on fresh-baked brat buns with sauerkraut, onions, green peppers, ketchup, and/or mustard.
More from Life Cheat Sheet:
Want more great content like this? Sign up here to receive the best of Cheat Sheet delivered daily. No spam; just tailored content straight to your inbox.