Cinnamon Season: 6 Recipes That Will Spice Up Your Fall
For many people, fall is all about pumpkin. Pumpkin bread, pumpkin spiced lattes, pumpkin pancakes — consumers can't get enough, but as wonderful it tastes in a variety of baked goods, drinks, and soups, we also shouldn't forget about the other fall flavors, because they're pretty delicious, too. One warming spice that is especially popular in the fall is cinnamon, and that's what we're focusing in on today.
Cinnamon adds great flavor and smell to baked goods and desserts, and it also effectively complements a handful of other flavors. Check out these 6 recipes where the spice especially shines, and sooner rather than later this fall, you may forget all about pumpkin.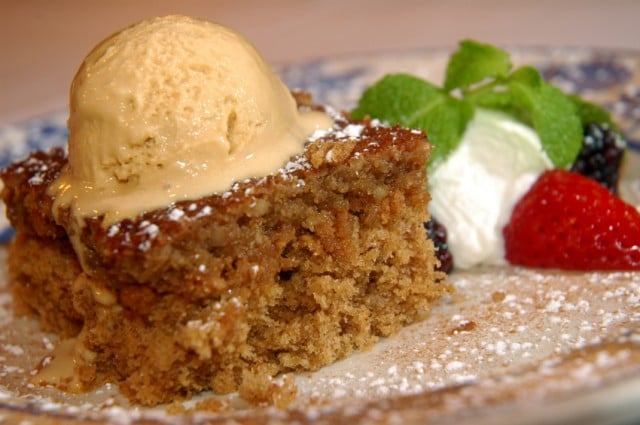 1. Cinnamon Apple Cake
This first recipe is the perfect treat to get your sweet tooth ready for fall. Cooking Light has the foolproof formula for Cinnamon Apple Cake and we promise it's easy to follow. Warm cinnamon spices paired with seasonal apples facilitate the perfect fall dessert, and with an ingredient list made up of easy baking staples and a prep time of 10 minutes or less, you really have no reason not to make this for your loved ones once the crisp temperatures roll around.
Ingredients:
1¾ cups sugar, divided
½ cup stick margarine, softened
1 teaspoon vanilla extract
6 ounces block-style fat-free cream cheese, softened (about ¾ cup)
2 large eggs
1½ cups all-purpose flour
1½ teaspoons baking powder
¼ teaspoon salt
2 teaspoons ground cinnamon
3 cups chopped peeled apple (about 2 large)
Cooking spray
Directions: Preheat oven to 350 degrees Fahrenheit. Beat 1½ cups sugar, margarine, vanilla, and cream cheese at medium speed of a mixer until well-blended (about 4 minutes). Add eggs, 1 at a time, beating well after each addition. Combine flour, baking powder, and salt. Add flour mixture to creamed mixture, beating at low speed until blended.
Combine ¼ cup sugar and cinnamon. Combine 2 tablespoons cinnamon mixture and apple in a bowl, and stir apple mixture into batter. Pour batter into an 8-inch springform pan coated with cooking spray, and sprinkle with remaining cinnamon mixture. Bake for 1 hour and 15 minutes or until the cake pulls away from the sides of the pan. Cool the cake completely on a wire rack, and cut using a serrated knife.
2. Sweet Potato Cinnamon Rolls
If you're not afraid of yeast, also try these (healthy!) sweet potato cinnamon rolls this fall, courtesy of Eat, Live, Run. Prepackaged rolls are so last season. This sophisticated sweet potato breakfast will be what's hot this fall. Grab your superfood and get ready to impress your overnight guests. Not only will they be amazed at your ability to master homemade cinnamon rolls, they also won't believe the delicious treats they are enjoying are actually somewhat healthy.
Ingredients:
4 tablespoons butter
⅔ cup milk
½ cup mashed sweet potato (about 1 sweet potato, baked)
½ cup sugar
2 eggs
2 packets active dry yeast (¼ ounces each)
4¼ cup flour
2 teaspoons cinnamon
1 teaspoon salt
1 teaspoon nutmeg
½ teaspoon allspice
½ teaspoon cardamom
FIlling
½ cup brown sugar
1 tablespoon cinnamon
4 tablespoons butter, very soft
Glaze
1 cup powdered sugar
1 tablespoon milk
1 teaspoon vanilla extract
Directions: Heat the milk and the 4 tablespoons butter together in a small pan on the stove over low/medium heat until the butter melts and the milk is warm to the touch. Remove from heat, let cool about 10 minutes (temperature should be around 100 degrees Fahrenheit) sprinkle in the yeast and stir so yeast will dissolve. Let yeast mixture sit for five minutes.
Meanwhile, combine the mashed sweet potato and eggs in the bowl of an electric mixer with the paddle attachment. In another bowl, whisk together the flour, sugar, salt, cardamom, cinnamon, nutmeg and allspice. Add flour mixture to the sweet potato mixture. With mixer running on low speed, slowly pour in the yeast and milk. Knead for about six minutes on medium speed with either a paddle attachment or dough hook. The dough should be smooth and elastic when you're done.
Place dough in a greased bowl, cover with a dishcloth, and set in a warm area to rise for 1 hour 15 minutes. Mix together the brown sugar and cinnamon in a small bowl. Remove dough and punch dough on a lightly floured surface. Roll out to a large rectangle and spread soft butter on top. Sprinkle brown sugar mixture on top keeping an inch bare around the sides. Gently roll up dough so it resembles a log. Slice dough into ½-inch slices and place in a greased 9 x 13-inch dish. Cover with a dishcloth and let rise for another 45 minutes.
Preheat oven to 350 degrees Fahrenheit. Bake rolls for 25 minutes. Let cool while you make the glaze. For the glaze, mix together the powdered sugar, milk, and vanilla extract. If glaze seems too runny, add a little more powdered sugar. Place glaze in a small plastic bag and snip the tip off. Make swirls over the cooled rolls and serve.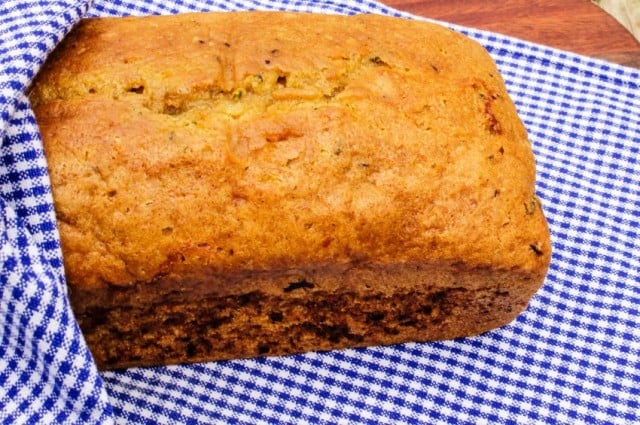 3. Cinnamon Swirl Quickbread
In comparison, here's a different kind of bread that doesn't require yeast — a quickbread! But not just any quickbread, it's a Cinnamon Swirl Quickbread from Taste of Home. This breakfast will surely pull you out for underneath your covers, even when the brisk fall temperatures move in. Warm your house by preheating your oven and get ready for your home to smell like bliss. This bread can be made in an hour on any morning, and will freeze well, though we can guarantee there probably won't be leftovers.
Ingredients:
2 cups all-purpose flour
1½ cups sugar, divided
1 teaspoon baking soda
½ teaspoon salt
1 cup buttermilk
1 egg
¼ cup canola oil
3 teaspoons ground cinnamon
¼ cup confectioners' sugar
1½ to 2 teaspoons milk
Directions: Preheat oven to 350 degrees Fahrenheit. In a large bowl, combine flour, 1 cup sugar, baking soda, and salt. Combine buttermilk, egg, and oil; stir into dry ingredients just until moistened. In a small bowl, combine cinnamon and remaining sugar. Grease the bottom only of a 9 x 5-inch loaf pan. Pour half of the batter into pan; sprinkle with half the cinnamon-sugar. Carefully spread with remaining batter and sprinkle with remaining cinnamon-sugar; cut through batter with a knife to swirl. Bake 45-50 minutes or until a toothpick inserted in center comes out clean. Cool 10 minutes before removing from pan to a wire rack to cool completely. Combine confectioners' sugar and enough milk to reach desired consistency; drizzle over loaf. Yield: 1 loaf.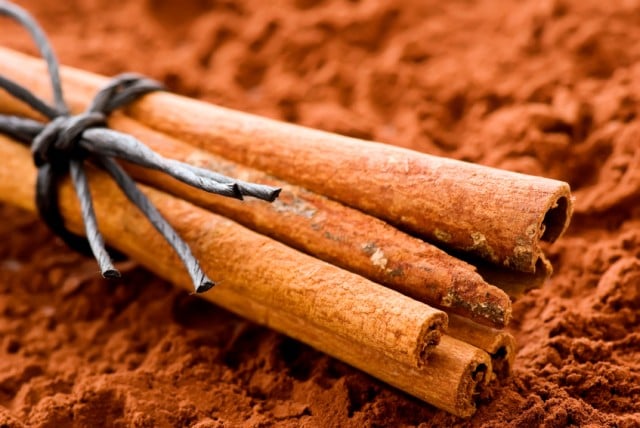 4. Cinnamon Pinwheels
A different take on the tried-and-true cinnamon rolls are these Cinnamon Pinwheels from All Recipes. While these cinnamony sweet treats don't require any rising time, we promise they're just as satisfying as the doughy rolls, and they require a lot less time to come together. These pinwheels are perfect for those who like their cinnamon desserts crisp and crunchy, and the recipe will feed as many as two dozen.
Ingredients:
1 cup butter
1½ cups all-purpose flour
½ cup sour cream
3 tablespoons white sugar
1 teaspoon ground cinnamon
3 tablespoons white sugar
1 tablespoon water
Directions: Cut butter or margarine into flour with pastry blender. Stir in sour cream. Cover and refrigerate at least 8 hours. Mix together 3 tablespoons sugar and the cinnamon. Divide dough into halves.
Roll 1 half into rectangle, 20 x 7 inches, on a sugared, well-floured cloth-covered board. Sprinkle with half of the sugar-cinnamon mixture. Roll up tightly, beginning on the 7 inch side. Roll other half of dough into a 20 x 7-inch rectangle. Sprinkle with remaining sugar-cinnamon mixture. Place loose end of roll on the 7 inch side of the rectangle; pinch edges to seal. Continue to roll up tightly; pinching edges of dough into roll to seal. Wrap and refrigerate at least 1 hour but no longer than 48 hours.
Preheat oven to 350 degrees Fahrenheit. Cut roll into ¼-inch slices. (For easier cutting, wrap a length of thread around roll at ¼ inch increments and pull tightly until slice is cut.) Place about 2 inches apart on ungreased cookie sheet. Mix 3 tablespoons sugar and the water; brush over cookies. Bake until golden brown, 20-25 minutes.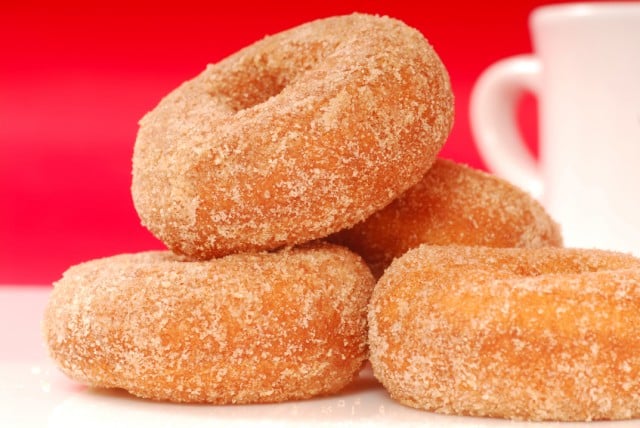 5. Apple Cinnamon Baked Donuts With Brown Butter Glaze
Taking things up a notch, we come to these Apple Cinnamon Baked Donuts with Brown Butter Glaze from Joy the Baker. Bon appétit! If you think Dunkin Donuts is the only place that can perfect your favorite sweet treat, think again. You can make donuts right in your very own kitchen, and even make them healthier. Baked donuts are less greasy than their fried counterparts, but they're just as tasty — especially when the apple cinnamon flavor is involved. This recipe enlists all the warming spices to get you in the fall mood with seasonably flavored donuts — just make sure you don't forget to buy the right pan.
Ingredients:
Donuts
1 cup all-purpose flour
¾ teaspoon baking powder
¼ teaspoon baking soda
½ teaspoon salt
½ teaspoon ground cinnamon
½ teaspoon freshly grated nutmeg
¼ teaspoon ground ginger
⅓ cup packed light brown sugar
3 tablespoons unsalted butter (but we'll only use 2 tablespoons of browned butter for the recipe)
1 large egg
½ cup buttermilk
1 teaspoon pure vanilla extract
½ cup peeled and grated fresh apple
Glaze
1½ cups powdered sugar
pinch of salt
2 tablespoons unsalted butter
1 teaspoon pure vanilla extract
3 to 4 tablespoons whole milk
Directions: Place a rack in the upper third of the oven and preheat oven to 350 degrees Fahrenheit. Lightly grease a donut pan and set aside. In a medium bowl, whisk together flour, baking powder, baking soda, salt, spices, and brown sugar. Set aside.
In a small saucepan over medium-low heat, melt all of the butter (including the butter needed for the glaze). Butter will begin to crackle and pop as it melts. That's the water melting out of the butter. Once the water has evaporated, the butter will quiet down and begin to brown. Keep an eye on it — it browns quickly. The butter will begin to smell nutty. Remove from heat and immediately transfer browned butter (brown bits and all) to a small bowl.
In a small bowl whisk together egg, buttermilk, and vanilla extract. Measure out 2 tablespoons of browned butter and whisk into the wet ingredients. Add the wet ingredients all at once to the dry ingredients. Add the grated apple. Stir together until no flour bits remain and all of the ingredients are well combined. Try not to over-mix the batter. That might create rubbery donuts. Use a small spoon to dollop batter into the prepared pan. Smooth out and fill each donut in the pan three-quarters full with batter.
Place in the oven and bake for 8 to 10 minutes. Keep an eye on them and try not to over-bake them. Remove from the oven and allow to cool in the pan before inverting onto a wire rack to cool completely.
While the donuts cool, make the glaze. To make the glaze, in a medium bowl, whisk together the powdered sugar and salt. Add 2 tablespoons of browned butter, vanilla extract, and 2 tablespoons milk. Whisk to combine. Add more milk to make the glaze more spreadable. Once the donuts are completely cool, use a butter knife to spread each donut with glaze. Allow to rest for 15 minutes in the fridge to harden the glaze. These donuts are best serve the day they're made.
6. Snickerdoodles
We conclude our list with a simple fall favorite: snickerdoodles. Give this recipe from Inspired Taste a try and remind yourself how good these chewy classic cookies are. Rolled in cinnamon sugar, the buttered cookies will melt in your mouth and be sure to take away your post-summertime sadness. Snickerdoodles also teach an important baking lesson: a simple and classic dessert never disappoints.
Ingredients:
2½ cups all-purpose flour
2 teaspoons cream of tartar
1 teaspoon baking soda
½ teaspoon kosher salt
16 tablespoons unsalted butter, at room temperature
1½ cups granulated sugar
½ teaspoon vanilla extract
2 large eggs, at room temperature
¼ cup granulated sugar
1½ tablespoons ground cinnamon
Directions: Sift or whisk flour, cream of tartar, baking soda, and the salt together, then set aside. In a large bowl, using a handheld mixer on medium speed beat the butter, sugar, and vanilla together until light and fluffy, 3 to 4 minutes. (Or, use a stand mixer fitted with the paddle attachment.) Reduce speed to low. Add the eggs one at a time, beating well after each addition. Scrape the sides and bottom of the bowl then add the flour mixture in three parts, just mixing until it disappears. Wrap with plastic wrap and chill dough at least 30 minutes or up to 3 days. To make the coating, in a small bowl, mix the sugar and cinnamon together.
To bake the cookies, preheat your oven to 400 degrees Fahrenheit. Line two baking sheets with parchment paper or use silicon baking mats. Shape heaping tablespoon-sized mounds of cookie dough into balls. Roll in the cinnamon-sugar mixture and place 2 inches apart onto baking sheets. Bake the cookies for 8 to 10 minutes, until the cookies have puffed a little and the tops look set. The cookies should be light golden. Cool on baking sheets for 5 minutes then transfer to a cooling rack to cool completely.
More from Life Cheat Sheet:
Want more great content like this? Sign up here to receive the best of Cheat Sheet delivered daily. No spam; just tailored content straight to your inbox.